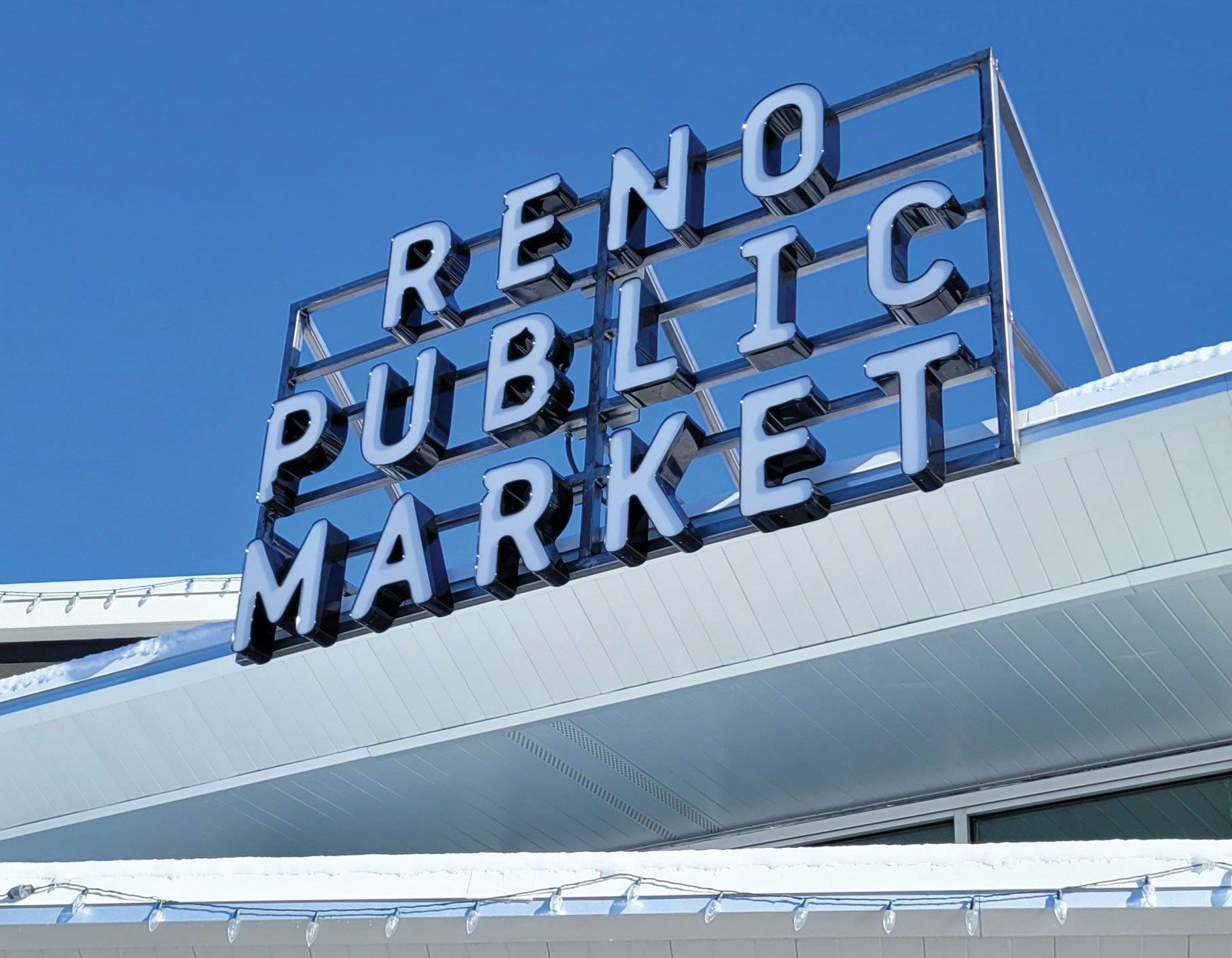 The $58 million Reno Public Market was built on the site of the former Shoppers Square, photo by Jeramie Lu, courtesy Reno Public Market
26 Apr

Best New Place to Eat, Drink and be Merry
Reno Public Market's Food Hall opens with focus on diverse food and community fun
With the recent launch of the Reno Public Market Food Hall, the Biggest Little City has followed in the footsteps of other evolving metro areas where the culinarily curious can comingle amidst cold-pressed juices and crepes, ceviche and churros, all under one roof.
Developed on the site of the 1960s-era Shoppers Square at the corner of South Virginia and Plumb Streets, the $58 million Reno Public Market is the result of a partnership between the Casazza family, owner of the property for over 50 years, and El Dorado Hills-based developer Foothill Partners, which specializes in rehabbing tired retail.
Conceived in 2016 and constructed over a four-year period, the Reno Public Market (RPM), which bills itself as Midtown's southern anchor, is the name of the entire still-upgrading shopping center currently home to a shiny new Sprouts Farmers Market, the grocery chain focused on natural and organic products.
Reno's West Street Market with its handful of snug eateries—The Pizza Collective, Maya's South Indian and Sabrina's West Street Kitchen—was the city's first foray into creating a community dining hub. The Reno Public Market Food Hall brings together 20 diverse food vendor stalls, a central bar, brewpub and a few locally merchandised shops.
Designed by Reno-based Frame Architecture, Inc., the cavernous new glass, concrete and steel structure is anchored by award-winning FiftyFifty Brewing; the Truckee-based business, which was the first signed but the last to build out, is slated to open this fall.
"Andy and Alicia Barr (FiftyFifty owners), good friends from our work in Truckee, were the first call I made when we started conceptualizing a food hall," says Doug Wiele, president of Foothill Partners, which also had a hand in the Truckee Railyard project. "I said, 'I'm gonna need beer,' and Andy said, 'I'm in.'" 
The 6,500-square-foot FiftyFifty space, which can hold up to 250 people, with additional seating outdoors, includes both a brewing facility and full-service restaurant designed with a farm-to-table approach in mind. Head brewer Dana Fleming plans to use wooden vessels called "foeders" to brew beers in the same style as their award-winning Eclipse line, a collection of wax-sealed bourbon barrel-aged (some from local Old Trestle and Frey Ranch distilleries) stouts, and plans to incorporate area ingredients like malts, fruits and berries.
"We will still be pouring our core brands, but we wanted Reno Public Market's FiftyFifty to be almost an independent entity where we can try some incredible new flavors for Reno patrons," Fleming stated in a release.
Sixteen of the Food Hall's 20 spaces are occupied at the moment (see sidebar for current list); about half of the purveyors are regulars at the popular seasonal Idlewild Park Food Truck Fridays. "I think most of them intend to keep their food truck operation going," says Wiele. "Reno has this very vibrant food truck scene, but rather than a form of livelihood that's only good for four or five months a year, here they have something that keeps them engaged every day."
The Food Hall was designed to make it easy for vendors to set up shop in each of the identical stalls. "We developed these on a plug-and-play basis, putting all the big capital items in place—all the hoods, fire systems, sinks, utilities, waste lines," says Wiele. "All the restaurateur has to do is roll in their grill or wok, range and refrigeration, prep table and front counter." They are licensed for a two-year term with some minimum sales volume requirements.
Ryan Weeks, owner of Fusion Wok & Roll, offers eclectic noodle and rice bowls and rolls like pork-and-veggie-filled lumpia topped with peanut garlic sauce.
"I've been a true believer in the project from the moment I heard about it—that it would create a leading local space for food culture and space to bring together our community, from food to entertainment and arts," says Weeks, dubbed "The Mayor" by RPM management for his informal leadership and willingness to help other food truck friends find their footing.
After ordering, customers are messaged when their purchase is ready for pickup. Seating for some 500 patrons includes wooden picnic tables on the ground floor and assorted quieter areas on the second-floor mezzanine, including a nook with old filing drawers and throwback phone called the Introvert Lounge, "for folks who want to be here but not in the middle of a crowd," says Weile.
In warmer weather outdoor patios offer additional options on the west side of the building as well as adjacent to Main Vein coffee shop. 
Local arts and artists are an important and integral part of the Food Hall. Muralist Bryce Chisholm created the vibrant freehand spray-paint mural of the Black Rock Desert at sunset, a begoggled Burning Man festivalgoer gazing out from the mezzanine wall. A freestanding neon sculpture was designed and built by Ken Hines, longtime owner of Color of Neon. Paige Gomez, whose full-time job is doing hand-lettered signs for Trader Joe's, did all the graphics and wayfinding. "This place is a palette for art," says Wiele.
Curating the permanent and rotating pieces displayed throughout the building is easy thanks to the involvement of Nettie Oliverio, who chaired Reno Arts and Culture Commission and Public Art Committee for several years. "We get an idea of what we would like to see here then find the artist," says Oliverio, who adds that the venue will host Artown events and programming in July. In addition, a purpose-built studio for PBS Reno will facilitate streaming content and programming to and from the main stage, called "Live at Faye's," and its video screen.
Crowned by a purple neon sign recovered and rebuilt during construction, Faye's was a Shoppers Square boutique owned by the larger-than-life Faye Zanay, who had catered to high society clients in pre-war Berlin and later suffered through some of its terrible times, eventually moving to Las Vegas then Reno (she and her husband were also part owners of the Tahoe Biltmore and Crystal Bay Casino). In addition to live music, the stage hosts events such as the weekly food vendor Thursday Throw-Down culinary competition, DJ tunes, trivia nights, gospel brunches and pop-up pilates, yoga and fitness classes set up at various spots around the building.
"We are constantly planning new events, entertainment and programming for our guests to enjoy," says Jeremy Barker, principal and chief executive officer for Fort Lauderdale-based food hall operator FIRETEN Hospitality. "We are getting ready to start some great kids programming—art, music and dance classes, et cetera. We want to capture and showcase as much local and regional talent, culture and art as possible."
In addition, the retail shops that flank the wings off the Food Hall are focused on regionally and thoughtfully produced hand-crafted items. Jen Gurecki, who co-founded Coalition Snow in Truckee (now based in Reno), opened Far Out, where, in addition to Coalition skis and snowboards, she sells outdoor and lifestyle goods and hard-to-find items from her global travels that she calls "an experiential versus online shopping experience." Across the hall, Gurecki's nonprofit, Zawadisha, features women-made crafts from Africa next to Maker's Paradise art gallery. Wyld Market Collective sells ceramics to sustainable skincare created by Reno-Tahoe residents. The iconic Junkee Clothing Exchange, which owner Jessica Schneider is relocating from her original North Virginia Street rambling store, plans to open in October.
Already a place for pop-up birthday parties and book clubs, Reno Public Market's Food Hall aims to be an authentic and inclusive living room of sorts.
"We wanted this to be a community gathering place," says Foothill Partners' Wiele. "But we cannot just feel like we fell out of the sky from somewhere else and landed here," he adds. "We really wanted this to be indigenous, really wanted it to be a reflection of the merchants and not of the developer. We wanted this to feel like the natural evolution of Midtown."
Reno Public Market Food Hall, 299 E. Plumb Lane, Reno, NV, (775) 993-3220, renopublicmarket.com. Open six days a week (closed Tuesdays) from 11 a.m.–10 p.m., and Sundays from 11 a.m.–8 p.m.
Reno Public Market Food Hall culinary purveyors and vendors
• Morning Glory: Raw food and cold press juices
• Batch & Co: Baked goods and treats
• Miches Vatos: Micheladas and ceviche
• Main Vein Coffee Co: Coffee and treats
• Pie-Ya: Pizza
• Fuego Street Tacos: Street tacos, burritos and quesadillas
• Wok n Roll: Asian fusion
• V's Churro Bar: Churros and churro sundaes
• A La Parrilla Latin Food: Guatemalan, Colombian and Argentine fare
• Bite Me: Loaded fries
• Burger NV: Burgers and sandwiches
• Crepes & Craft: Sweet and savory crepes, breakfast sandwiches and waffles
• Los Cipotes Salvadoran: Salvadoran food
• Bone Appetit Bar-B-Que Grill: Southern barbecue
• Brazilian Gourmet: Brazilian food
• Noodle Station: Noodles, bao, beer
• Honey Bar Reno: Beer, wine and spirits
• FiftyFifty Brewing Co.: Craft beer and full-service restaurant (fall opening planned)
---
Incline Village-based Susan D. Rock is Tahoe Quarterly's longtime Food & Wine editor.