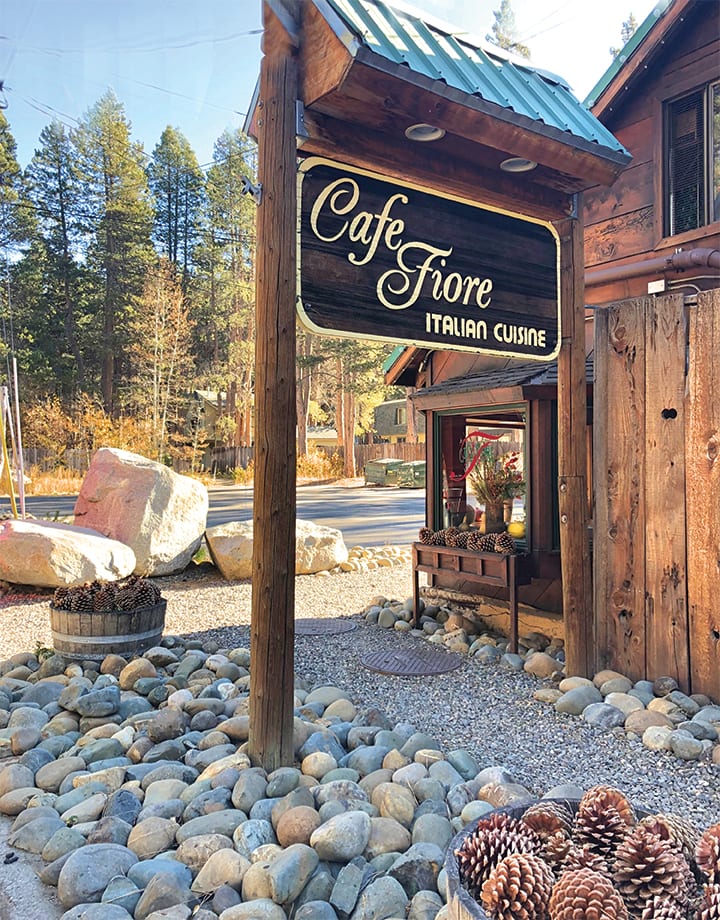 Tucked into a snug cabin along Ski Way, Cafe Fiore dishes up its Italian cuisine at just seven tables, courtesy photo
27 Nov

Cabin Fever
Plan ahead to dine at one of Cafe Fiore's seven tables
Sometimes a cold, dark Tahoe night calls for a cozy cabin in the woods. Bonus if it comes with warm and filling fare and a well-stocked wine cellar. Thankfully, a few of these gems await around the lake.
Tucked away on South Lake Tahoe's Ski Run Boulevard a snowball's throw from Heavenly Mountain Resort, the long-running Cafe Fiore, which serves traditional and contemporary Italian cuisine, is a truly tiny rustic restaurant. Just seven tables are set nightly in the snug and simple wooden chalet, its soft lighting and intimate setting leading couples and good friends to linger long into the evening.
Chef Gilberto Ramos, who also designed and carved the 9-foot-tall weathered wood and metal guitar sculpture that stands outside the entrance, along with some of the artwork on the walls inside, has managed the menu and compact kitchen for some 25 years. Owner Nick Ashmore, an architect by training, tends to the lengthy and well-assembled wine list, with over 300 labels focused primarily on producers from California and Italy. Bottles range from the lofty cellars of Opus One, Silver Oak and Heitz to value wines by the glass from Enkidu in the Russian River Valley and Sonoma County's Maldonado Vineyards. A team of friendly and efficient wait staff deftly maneuver about the small space, tending to five additional tables outside during the warmer months.
Many of the restaurant's dishes have passed the test of time. One such selection is Ramos' signature eggplant crepes appetizer, which found its way into the pages of Gourmet magazine: thinly sliced eggplant wrapped around smoked salmon, then sautéed and served atop a rich sherry cream and sun-dried tomato sauce. Assuming that all carbohydrate caution has been tossed to the wind, order a basket of garlic bread to soak up any remaining sauce.
In addition to the minestrone soup or a mixed green salad dressed with roasted shallot vinaigrette that come with entrées, other salad options might include a seasonal Caprese with a balsamic drizzle made with heirloom tomatoes that Ramos picked up at the farmers market that morning.
Pasta of all shapes and sizes figures predominantly on the menu, from linguine with chicken, sausage, onions, peppers, butter, garlic and sherry, to a spicier spaghetti with Italian sausage, prosciutto, tomatoes, spinach, red chillies, garlic and olive oil. Vegetarians can twirl a fork around the Fettuccine alla Calabrese—garlic, artichoke hearts, broccoli, olives, pine nuts and tomatoes in a light white wine sauce. Seafood stars in the classic Fra Diavolo tossed with linguine and finished with a spicy marinara sauce. Lobster even makes an appearance atop fettuccine with mushrooms, garlic and tomatoes in a lemon tarragon sauce. Another signature dish, Di Mare alla Fiore, features seafood and fresh fish sautéed in a white wine, garlic caper and lemon butter sauce over linguine.
Among the poultry options, the boneless breast sautéed with wild mushrooms, artichoke hearts and tomatoes and served with a sherry wine cream sauce is a customer favorite. Several veal dishes include the classic saltimbocca prepared with prosciutto and mozzarella and finished with mushrooms in a Marsala wine sauce. For something beefier, the filet mignon medallions on toast points, finished with a Dijon mustard green peppercorn cream sauce, has long occupied a top spot on the menu.
Nightly specials include long-running dishes such as the not-on-the-menu-but-not-so-secret swordfish breaded and pan-seared to seal in its juices then finished in the oven and served with a rich lemon butter caper sauce—crusty brown on the outside and moist and meaty inside.
Entrées are served with a family-style dish of various sides, such as pesto pasta, roasted tomatoes, potatoes and carrot puree.
For dessert, tiramisu, flourless chocolate cake and specials like poached pear rolled in almonds are at the ready. But most folks keep dessert a simple affair and opt to finish with the silky-smooth house-made white chocolate ice cream with fresh berries.
Coveting one of those seven tables? One thing quaint and cozy is not—spontaneous. Be sure to book well in advance.
---
Susan D. Rock is TQ's longtime Food & Wine editor.
---
Cafe Fiore
1169 Ski Run Blvd., South Lake Tahoe
(530) 541-2908
Open from 5:30 p.m. nightly.