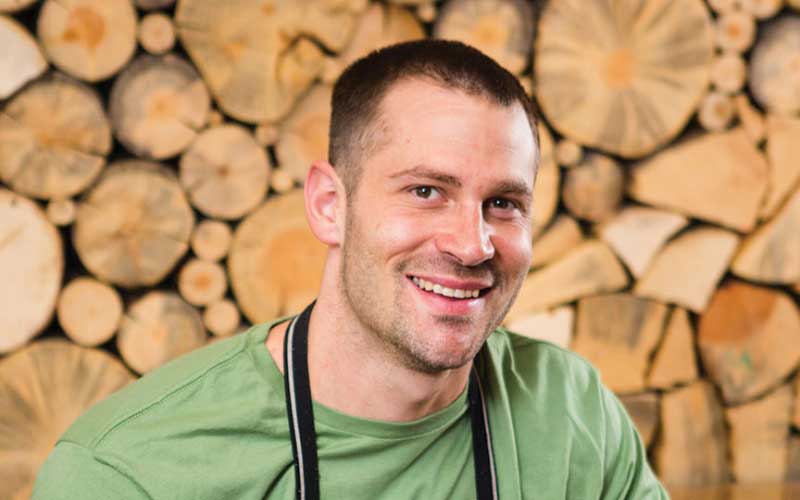 Chef Justin Kaplan, photo by Jen Schmidt
29 Jun

Chopping Block: Q&A with Justin Kaplan, executive chef of Cold Water Brewery & Grill

A native of Princeton, New Jersey, Justin Kaplan launched Lookout Lodge at Martis Camp in Truckee, Nine41 Eatery & Bar in Incline Village and Cold Water Brewery & Grill in South Lake Tahoe, where, as executive chef, he designs and oversees a menu of California comfort food to complement the lineup of hand-crafted beers brewed on site.
What's your earliest culinary memory?
Watching my Jewish grandmother make matzo ball soup—and my aunt tactfully carve the Thanksgiving turkey.
Do you have a formal culinary education?
I graduated from Fairleigh Dickinson University with a business degree. I have worked underneath some of the greatest chefs (David Drake and Scott Anderson in New Jersey) and my training was through practical experience.
What brought you to Tahoe?
I moved to Tahoe three years ago from the East Coast, where I owned a restaurant, Palate, from 2009 to 2013. I was recruited by Martis Camp in Truckee to open their new lodge at the base of Lookout Mountain at Northstar. I was seeking a different lifestyle and I wanted to travel and explore.
Tell us about your family.
The majority of my family lives in New Jersey. My brother just recently moved to South Shore.
Favorite ingredients?
My favorite ingredients change seasonally—fruits, vegetables and even livestock. But, non-seasonally influenced would have to be staple ingredients such as flour and eggs, because of how versatile and integral they are; independently or combined they can transform into an array of very different things.
Go-to kitchen tool/implement?
The knife. We have so many different ones and we take care of them as an extension of our own body.
What's in your home fridge right now? 
Shamefully—condiments, juice, milk, deli meats. I spend most of my time at Cold Water.
How do you come up with your recipes?
My recipes originate from the design process. Menu item dishes: I begin with over 50 ideas and then narrow them down based on feasibility, sourcing, production requirements, et cetera. Then we begin testing and tweaking ingredients and flavors, finally finishing with a single dish.
What's the biggest challenge/most fun aspect of beer-centric cooking?
Beer passion and culture is growing so fast. Food and cuisine should match the craftsmanship. A challenge I face is the desire to serve food beyond basic bar food. I approach the ingredients and try to exploit them in the best way possible and I want my patrons to be open-minded and enjoy California comfort cuisine.
Favorite Cold Water brewed beer?
Mr. Toad's Wild Rye. It's great to drink and we currently offer it in two of our dishes on the menu.

Courtesy photo
South Lake Tahoe's annual Sample the Sierra food festival features the Sierra chef challenge, in which two chefs face three heats of cooking against one another, using a mystery box of locally grown ingredients. What's the secret to your win last year?
Wouldn't be much of a secret then. I used a variety of cooking methods. I grilled, smoked, fried, sautéed and then combined the secret ingredients in unique flavor pairings—grilled eggplant soup with scallops, blackberry and mint.
How will you defend your title at this year's event at Bijou Community Park on September 17?
Taking the same approach—using the ingredients to the best of their ability—and pulling out some modern methods.
What do you like to do for fun when you're not in the kitchen?
Fitness is a very important aspect of my life: skiing, trail running and biking. One of my greatest pleasures is trying new restaurants.
---

Photo by Jen Schmidt
Chef Kaplan's recipe for Lemon Shandy Marinade
"The chicken recipe is what we do to our birds here at Cold Water," says Kaplan, whose lemon shandy roast chicken starts with Fulton Valley Farms free-range, all-natural chicken. "It adds great flavors and helps keep the meat moist during cooking. Any cut of chicken will work."
Ingredients: 
Makes five cups (will keep in refrigerator for about a week)
4 cloves garlic, minced
1 T. ginger, grated
1 t. coriander
1 t. curry powder
16 oz. Greek yogurt
16 oz. lemon shandy beer (Cold Water uses its Waterhouse wheat brew)
2 lemons, juiced
Directions: Mix all ingredients in a bowl. Pour over chicken and marinate for eight hours, then roast or cook as desired.