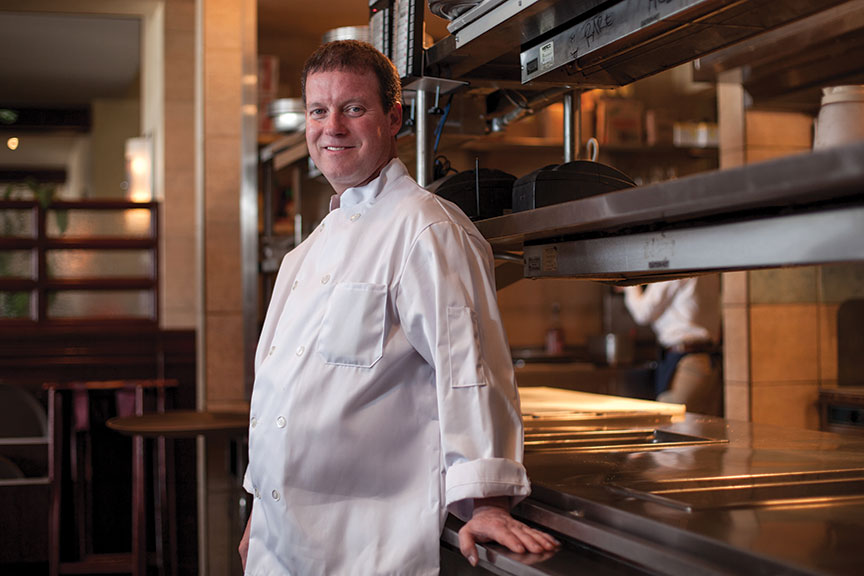 06 Jul

Chopping Block: Q&A with Peter Brinckerhoff

Born in Glen Cove, New York, and raised on Long Island and in Sarasota, South Shore–based Peter Brinckerhoff is corporate executive chef for Tom Turner's Tahoe Restaurant Collection around The Lake: Bar of America in Truckee, Gar Woods Grill & Pier in Carnelian Bay, Caliente in Kings Beach and Riva Grill in South Lake Tahoe.
What's your earliest 

culinary memory?
Making chocolate chip cookies with my grandmother.
Where did you learn 

to cook?
I actually didn't go to culinary school. I trained under some top chefs in Florida as an intern at the Longboat Key Club for Chef Charles Vosburgh and at the Hyatt for Roger Michael.
You've been here over 

20 years. What brought 

you to Tahoe?
I transferred with the Hyatt.
Married? Kids? Dog?
Still looking for the right woman; I have a stepdaughter and two dogs.
Do you have a go-to 

ingredient?
It's the one I just found. I like to get to know everything I can with a new ingredient that I have never used in the past.
Preferred kitchen 

implement?
Isi container (whipped cream dispenser)
Favorite tequila?
Clase Azul Reposado
What's in your home fridge right now?
Beer, chardonnay, sriracha, duck confit, homemade yogurt, pork belly, fruits and veggies.
How do you manage menus for four different restaurants?
I have a lot of help. We share a lot of ideas and always have more than enough dishes for our menu changes.
What's your secret to 

winning South Lake Tahoe's Sample the Sierra (September 6 this year) four years in a row?
I try and take a new cooking procedure to the event and execute it in a very small time frame. I have just been lucky enough to finish on time each year.
How do you relax in 

the summer?
Enjoying the outdoors in Tahoe. Biking, kayaking, hiking with my dogs.
Top South Shore spot?
I really like Fallen Leaf. Quiet beaches, nice trails and you can take the dogs.