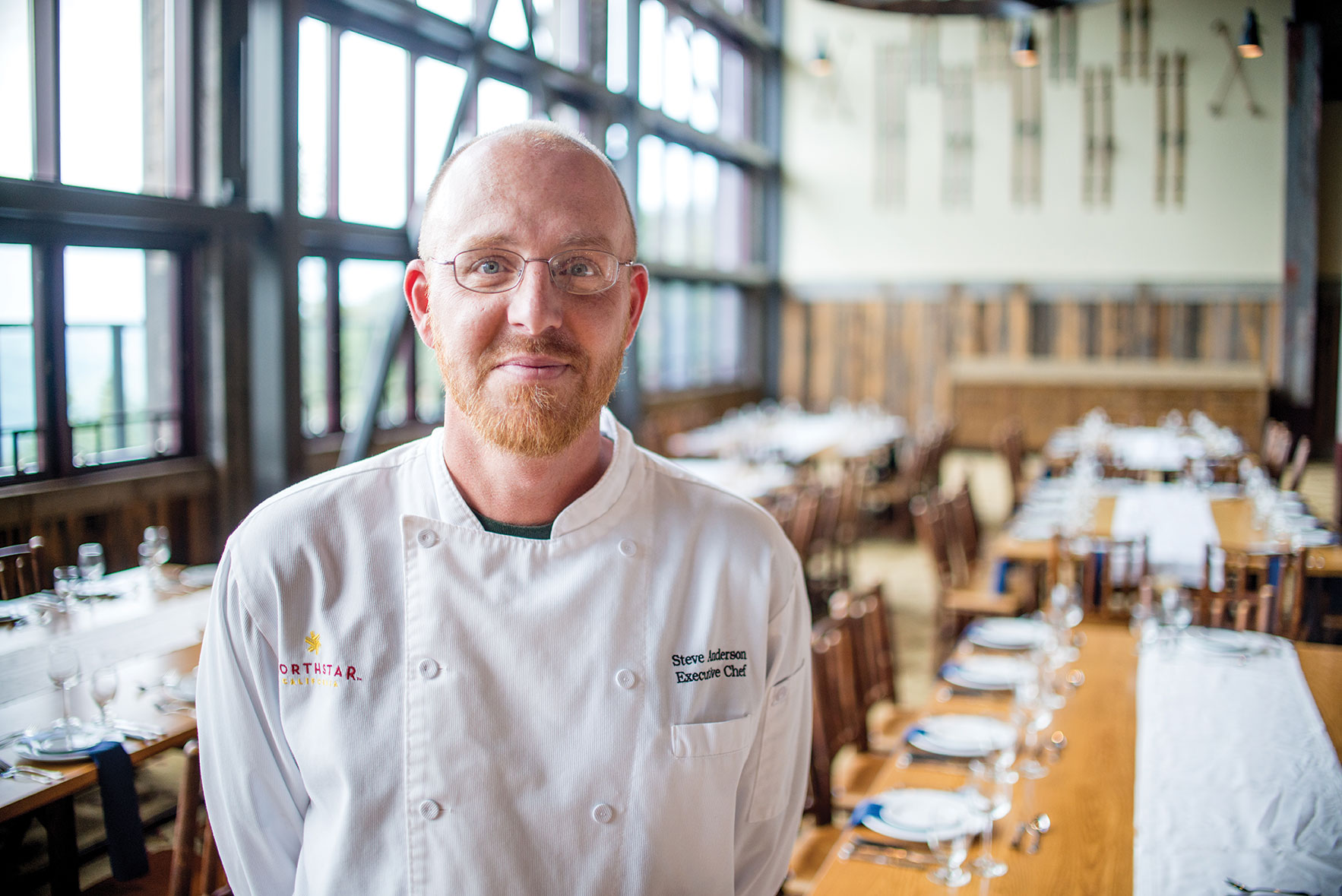 Steve Anderson, photo courtesy Northstar California
09 Dec

Chopping Block: Q&A with Steve Anderson, Executive Chef at Northstar California

Born in Bowling Green, Kentucky, and raised in Pittsburgh, Pennsylvania, Northstar California executive chef Steve Anderson has 26 restaurant openings under his belt, including the resort's flagship Zephyr Lodge in 2012. Anderson, who ran his own restaurant and catering business in Crestone, Colorado, for a decade, also served as executive chef at Sugar Bowl Ski Resort from 2004–07. He lives in Truckee with his wife Jeremy, who practices Ayurvedic medicine at Tahoe Yoga and Wellness, daughters aged 10 and 7, two dogs and two cats.
What's your earliest 

culinary memory?
Washing dishes and prepping at a Pittsburgh restaurant at 14 years old. When I was 16 years old, one of the line cooks walked out and I saw my opportunity. I jumped behind the counter and, in essence, jump-started my culinary career.
How would you describe your style of cooking?
I use a mix of German, French, Southwestern and Italian techniques.
Do you have a favorite 

ingredient?
You just can't beat fresh seafood or fresh vegetables—we always work with the freshest ingredients. It makes all the difference.
Preferred local purveyors?
Northstar California and I have a great relationship with the Tahoe Food Hub, the University of Nevada, Mountain Valley Meats, Habeger Produce and Kanaloa Seafoods. The Northstar culinary team's mission is to source the freshest, most sustainable ingredients from local suppliers.
Go-to kitchen implement?
A hand-mixer or just one nice sauté pan.
What do you like best about being a chef at a ski resort?
Each day begins with a hike around the mountain to various dining locations at Northstar. It is challenging and exciting doing outdoor mountain cooking and the variety of all dining culinary venues at Northstar keeps things fresh and new. I like the continuity of working at a year-round resort, and being able to merge my passions for cooking and the outdoors in the gorgeous Truckee setting, sharing this lifestyle and food know-how with my family. Both of my girls are in the Northstar Ski & Snowboard School and immersed in the active, outdoor lifestyle that the area provides.
What keeps you busy at Northstar in the offseason?
The shoulder season is when Northstar's culinary team wraps up the previous season, hires and trains new team members, and is busily updating menus with new dishes and dreaming up new concepts to implement in Northstar's mountain dining.
What's in your home 

fridge right now?
Fruit, veggies and some really beautiful flank steaks.
Favorite Northstar ski run?
I love lapping Washoe with my daughter.
What do you like to do when not cooking?
I enjoy skateboarding with my kids, attending live music shows and coaching the soccer team my kids play on. I love spending time with my wife and kids whether we're playing sports or volunteering for the Sierra Expeditionary Learning School by mentoring and facilitating Northstar's Mountain Kids' Cook-Off Culinary Competition scheduled for next summer—I'm really excited about that event.
---
Bacon-Wrapped Tahoe Ultimate S'more Recipe

Bacon-wrapped Tahoe ultimate s'more, photo by Chris Bartkowski, courtesy Northstar California
Kahlua Caramel Sauce 
Ingredients:
2 c. sugar
2 tbsp. honey
¼ c. water
1½ c. heavy cream
3 oz. Kahlua
¼ lb. butter, cubed
Directions: Heat cream and Kahlua to a simmer. Bring sugar, honey and water to boil on high heat. Brush down the inside of the pot twice while the mixture is on its way to a dark, caramel color with water and a pastry brush. Do not stir. When mixture reaches a dark amber color, turn to low heat and slowly add cream, whisking constantly. It will boil up rapidly; be sure your hands do not get into the steam. Remove from heat and whisk in butter. Cool completely before using.
Tahoe Ultimate S'more 
Ingredients:
Bacon
Marshmallows
Nature Valley dark chocolate granola thins
Hawaiian sea salt (for sprinkling)
Directions: In the oven, partially cook (80 percent to crispy) five-inch lengths of bacon. Remove from oven, cool for one minute, wrap around marshmallow so bacon overlaps itself one-quarter-inch. Immediately skewer onto stick (through bacon). Gently toast bacon and marshmallow until marshmallow ends are golden and bacon is lightly caramelized. Have two Nature Valley dark chocolate granola thins ready to go, chocolate side up. Place bacon marshmallow on bottom thin, use top thin to help you pull the stick out. Immediately drizzle marshmallow with Kahlua caramel and ganache sauces, sprinkle lightly with Hawaiian sea salt (remember bacon is already salty stuff!). Put top thin on as a lid, chocolate side down.
White Chocolate Ganache 
Ingredients:
1 lb. white chocolate chips
₁₈ c. heavy cream
2 pats unsalted butter
Directions: Place all ingredients in a mixing bowl, cover with plastic wrap. Place over a saucepan with one inch water. Bring water to a simmer, remove bowl from saucepan when chips are visibly softened. Whisk until smooth. Place in pastry bag. Keep at room temperature for use.