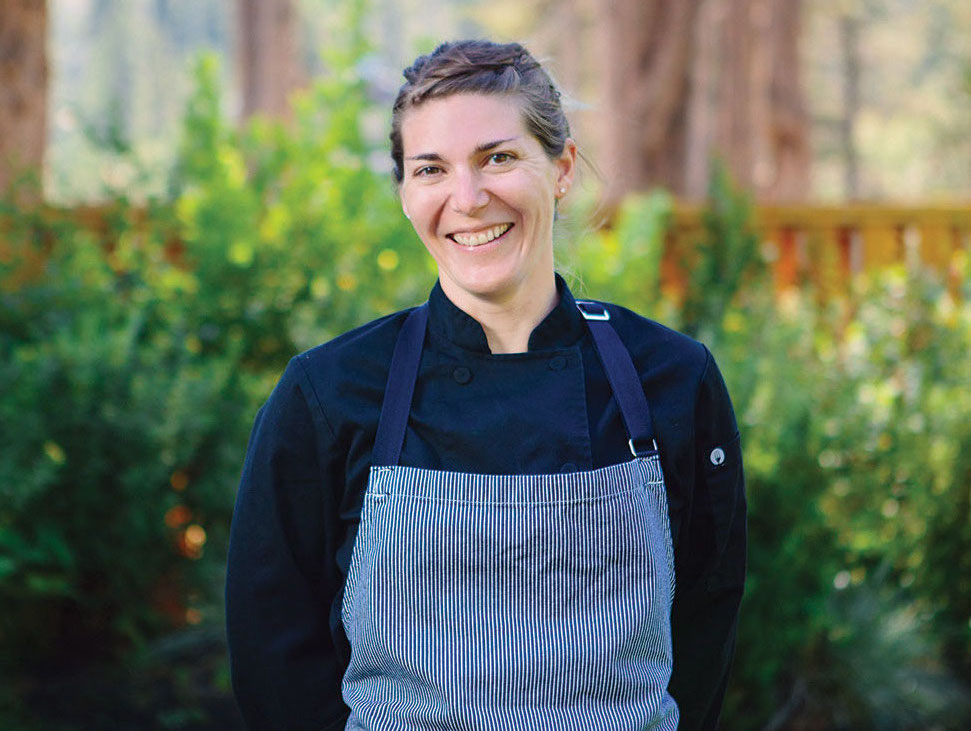 05 Oct

Chopping Block: Q&A with Tiffany Swan, executive chef at Squaw Alpine

Born and raised in a fishing and hunting family in a small town surrounded by strawberry farms near Portland, Oregon's Columbia River, Tiffany Swan, the newly elevated executive chef of Squaw Valley Alpine Meadows, oversees all food outlets and experiences at both resorts.
What's your earliest culinary memory?
Sitting with my family on the bow of my grandfather's fishing boat off the coast of Canada, dipping freshly harvested steamer clams in garlic butter. I was 5 years old at the time.
Formal culinary education/experience?
I have a food science degree from UC Davis (along with a nutrition minor) and a culinary arts degree from the Culinary Institute of America. I also have a wine-making certification, sommelier level 1 certification (working on level 2) and a baking science certification.
What brought you to Tahoe?
I love the outdoor activities, the culture and the beauty of the mountains, but Tahoe specifically drew me because of the food culture that can be influenced by the nearby Bay Area. I joined Squaw Valley Alpine Meadows to open the MTN ROOTS food trucks and change the image of ski-resort dining.
Tell us about family, significant other or four-legged friend?
This June, I married my sweetie at our home in Tahoe.
Favorite ingredient(s)?
Can I have two? Salt and lemon are two of my favorites. Both potentiate other flavors so that the freshness of the ingredients can really shine through.
Go-to kitchen tool/implement?
Lists. Even with challenges of older equipment, poorly designed spaces and events all over the mountains, the one item that makes all of our food amazing and exceeds our guests' expectations is the planning and organization that leads up to that singular beautiful plate. Not even the sharpest knife in the world can do that.
What's in your home fridge right now?
It's pretty empty, since I am often eating at Squaw Alpine instead of home, but there is always a stash of lemons, apples, arugula or kale, and an assortment of cheeses in there, along with a few home-canned jams and pickles, and some brandied cherries for cocktails. Plus I always have at least three pints of ice cream working at any given time. Ice cream is my vice.
Changes we might see on resort menus? 
I believe in local, sustainable and simply prepared cuisine. Our menus are constantly evolving to reflect this while also ensuring we are appealing to our guests' desires, exceeding their expectations and offering them flavors they didn't even know they craved. We want our guests to come here for the food, not just the skiing.
Favorite downhill run?
On powder days, I head right to Solitude [at Squaw]. It isn't steep or gnarly, but I have a lot of fun in the trees back there. Favorite summertime Squaw Alpine run is up Granite Chief to the PCT with a dip in the creek on the way back down.
Anything else we should know?
Rocker@Squaw is the place to visit for après—13 beers on tap, giant nachos for the whole table, a customizable signature burger and locally sourced food from the Tahoe Food Hub.
High Camp, at 8,200 feet, features epic views and seasonal house-made items, such as our award-winning pheasant soup and Sierra poutine. Stop at Gold Coast for easy on-mountain dining for usual ski favorites like hearty beef chili and the Squaw burger, plus made-to-order salads and popular sweet-and-sour chicken.
---

Juicy brined and roasted chicken
Chef Swan's Recipe for Juicy Brined and Roasted Chicken
This recipe comes from Squaw Valley's Farm-to-Table dinner series, which runs both in winter and summer in partnership with Tahoe Food Hub. The multi-day process ensures optimal juiciness and flavor.
Ingredients: 
1 air-chilled Mary's chicken (preferred free-range and organic poultry raised in the San Joaquin Valley, but you can substitute any bird), cut into pieces
1 c. dark brown sugar
1 c. kosher salt
6 cloves garlic
1 tsp. whole peppercorns
2 c. water
4 c. ice
(2 tbsp. oil)
Equipment:
4-quart sauce pan or stock pot
Sauté pan or griddle
Tongs
Sheet pan
Parchment paper
Thermometer
Active Time:
45 minutes
Inactive Time:
48-plus hours
To Brine: 
Combine sugar, salt, garlic, peppercorns and water in a sauce pan and bring to simmer to dissolve the sugar and salt. Remove from heat and let cool to room temperature. Add ice to the liquid and stir to melt (does not have to melt completely; solution should taste salty like the sea and very sweet). Add chicken pieces to the liquid, cover, date and refrigerate for up to 48 hours but not less than 24.
To Finish: 
Heat oven to 400°F. Remove chicken from the liquid and pat dry with a paper towel. Do not season chicken with additional salt, but you may add pepper to taste. Heat sauté pan (or multiple pans or griddle) to medium-high heat. Add oil and then add chicken skin-side down, working in small batches. Do not let chicken pieces crowd one another in the pan, as this will prevent good browning. Let chicken sit for a minute or two, or until browned. The goal is to sear and color the meat, but not cook through. Using tongs, transfer chicken skin-side up to a parchment sheet-lined sheet pan (this helps with cleanup later; foil works just as well if you do not have parchment). Place chicken in oven and bake for about 20 minutes or until internal temperature reaches 165°F. Garnish with chopped herbs and serve alongside your favorite seasonal vegetables.