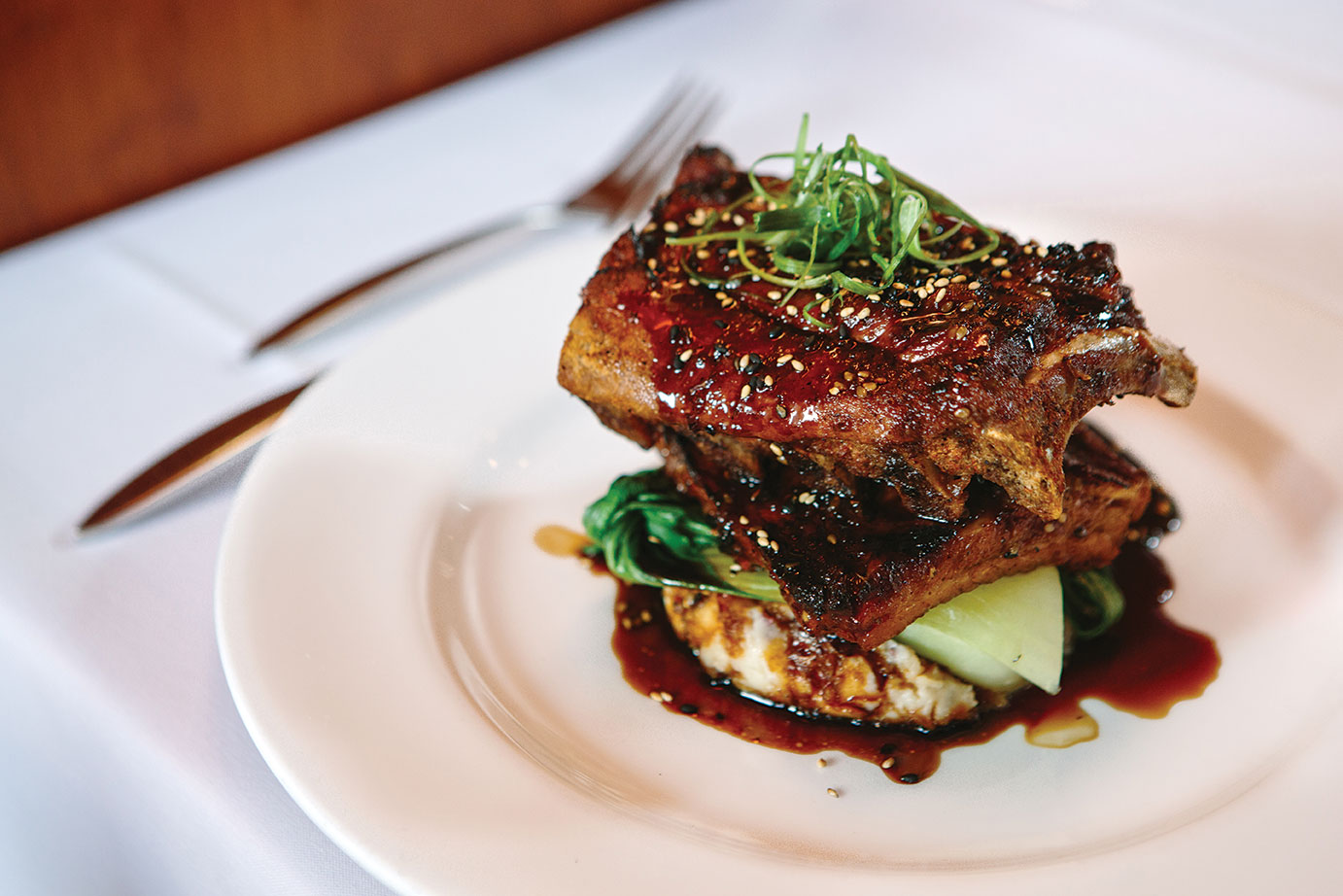 Kalani's signature baby back pork ribs, photo by Jen Schmidt
02 Dec

High-elevation Aloha
Kalani's on South Shore warms winter with Hawaiian Island fare
Snowboards, surfboards, sushi. The Tahoe-Hawaii connection is a well-travelled one, and the shortest distance between the two happy places might be Kalani's at Lake Tahoe, where waves of Pacific Rim flavors are served in an upscale but chill mountain setting.
Located at South Lake Tahoe's Heavenly Village, the restaurant was opened in 2004 by Oahu born and bred pals Dean Chung and Wil Horie, who still reside on the island but have a long-running relationship with the Sierra.
"We bought a house lot in Gardnerville, Nevada, in 1974 and were so impressed by the beauty of Lake Tahoe and the surrounding area, especially the ski resorts," says Horie, who was a corporate executive in Tokyo and owned a successful shabu shabu restaurant there.
"We eventually bought a unit in Tahoe Donner that we used extensively since my children were attending universities in San Francisco and often visited The Lake. My partner, Dean Chung, approached me with the idea of a destination dining spot outside of the casino restaurants. I thought it was a great idea and as we were doing our informal survey we found the location in Heavenly Village and began the negotiations that same day."

Crab-crusted mahi-mahi, photo by Jen Schmidt
Horie, who tries to get to Tahoe twice a year, also owned a pair of Italian restaurants in Shanghai that just sold. He is currently partner with his son in a Japanese restaurant, Chotto, in San Francisco.
Chung brought his wife and five kids to Truckee to snowboard every winter, staying at Horie's townhouse at Tahoe Donner.
"We quickly fell in love with the area," says Horie, who owned nightclubs in Hawaii. "A lot of kids get stuck living in Hawaii and never venture outside of the island chain. I wanted my kids to see an example of taking a chance and opening a business outside of Hawaii." He also wanted his kids to attend college on the mainland, plus have a place to convene for holidays.
Executive chef Garret Gonzalez, a Bay Area native who worked at Kalani's when it opened and made his way up to sous chef before heading to Southern California to further his culinary career, recently returned to oversee the kitchen.
"I also spent time in Oahu, as well as India and Thailand, which have heavily influenced my cooking style," says Gonzalez, who tries to collaborate with local farmers and ranchers, such as Jacobs Family Farms in Gardnerville, on new menu items. "I like to keep things relatively simple and make sure everything on the plate works together."
Kalani's seasonal menu focuses on blending fresh ingredients from Hawaiian regional cooking with Asian and European techniques and influences. The airy contemporary restaurant, which plays a hip Hawaiian music soundtrack, can seat 100 in the dining room and another 30 in the Puka Lounge. Additional outdoor seating is available in the summer. Guests browse the menu, perhaps with a signature mai tai in hand, while enjoying lavash with mango butter.
Not surprisingly, seafood shines here—fresh fish is flown in daily from Honolulu. The nine-seat sushi bar turns out a variety of island-themed rolls like the Haleakala, made with deep-fried soft-shell crab, gobo, cucumber, kaiware sprouts, avocado, enoki mushrooms, bonito and ponzu. Hawaiian ahi poke mixed with bigeye tuna, scallions, white onion, sesame chili oil, soy and kukui nuts is outstanding; a vegetarian option is prepared with tofu. The hama pepper fin—hamachi toro sashimi, tamari yuzu, chili oil, green onion and jalapeño—is rich with just enough bite.

Haleakala roll, octopus nigiri and ikura quail egg
shooter, walu sashimi, photo by Jen Schmidt
Kalani's signature appetizer, the Pulehu baby back ribs, are grilled over an open flame and basted with a savory sesame garlic soy sauce. The pork belly lettuce wraps employ pan-seared braised pork belly slices, plum char-siu sauce, daikon radish, carrots, cucumber, jalapeño peppers, cilantro and mint.
Soups here definitely take the chill off winter. Fresh ginger is used in the carrot ginger soup, finished with crème fraiche; the Kona lobster bisque features a hint of sherry, masago scallion aioli and chives; the pork belly tom yum is prepared with pork belly in a hot and sour coconut broth, kaffir lime leaves and lemongrass, shiitake and oyster mushrooms, carrots, onions, diced tomatoes and cilantro.
For a leafy green selection, the Heavenly salad hits the spot with slow-roasted beets, mango, chevre, radicchio, mandarin oranges, toasted macadamia nuts, sweet and sour chili vinaigrette, and wasabi aioli.
Kalani's signature entrée, the miso-yaki sea bass, was featured in the April 2013 issue of Bon Appetit. Pan-caramelized Chilean sea bass that has been marinated in a miso-mirin mix for 12 hours lightly cures the fish. It is accompanied by Thai basil mashed potatoes, wilted kula greens with balsamic and ponzu beurre blanc.
A sashimi-grade hamachi filet is seasoned with furikaki, a mix of dried and ground fish, sesame seeds, chopped seaweed, sugar and salt, before being seared and served with sautéed Brussels sprouts and garlic wasabi mashed potatoes, with a yuzu beurre blanc.

Pork belly lettuce wraps, photo by Jen Schmidt
For the crab-crusted mahi-mahi, the pan-seared fish is crusted with crab, Dijon mustard and panko breadcrumbs and served with sweet potato mash, steamed broccolini, green papaya salad and a spicy sambal chili butter sauce.
Waimea day boat scallops are seared and served atop parsnip puree, coconut spinach cream, truffle oil and crispy taro root chips, and topped with salmon roe for color and pop.
For meat eaters, a couple of dishes with some Pacific Rim prep: A ginger- and soy-braised Colorado lamb shank is basted and roasted in a sweet and tangy Chinese barbecue sauce and the HuliHuli duck starts with roasted Maple Leaf Farms duck breast marinated in a pineapple juice and soy sauce mix, then plated with duck confit lumpia, green papaya salad, plum char-siu sauce and beurre blanc.
For something sweet look for desserts like poached pear á la mode—a spiced Barlett pear, caramel brandy sauce and vanilla bean ice cream—or try the macadamia nut bread pudding.
What's the trickiest part of managing a Pacific Island–style menu at 6,224 feet above sea level? "Obtaining exotic Hawaiian fish has been an ongoing challenge," says Gonzalez. "But we always make it work."
The substantial wine list blends familiar with some fun, especially on the whites that stand up well to the menu's spice. General manager Troy Denkler, a Charlie Palmer alum and veteran of Harrah's, Harveys and 1862 at David Walley's Resort, is a certified sommelier who can assist in leveraging his relationships with wine distributors and producers, pouring lesser-known bottles ranging from a Zind-Humbrecht Riesling from Alsace, France, to Disznoko 5 Puttonyos Tokaji from Hungary.
After a winter's eve at Kalani's, don't be surprised if you find yourself on a plane headed for a warm Hawaiian Island. The snow may be coming down, but the surf's up. Aloha.
---
Incline Village–based writer and editor Susan D. Rock takes her teen boys on all burger, fries and shake research runs. 

Kalani's at Lake Tahoe is located at the base of Heavenly Mountain Resort,
photo by Jen Schmidt
Kalani's at Lake Tahoe
1001 Heavenly Village Way, Suite 26, South Lake Tahoe, CA
530-544-6100  |  www.kalanis.com
Winter hours: Sunday to Thursday 5 p.m. to 10 p.m., Friday and Saturday 5 p.m. to 11 p.m. (lounge opens at 4 p.m.). Happy hour 4 p.m. to 6 p.m. in the Puka Lounge and Sushi Bar.