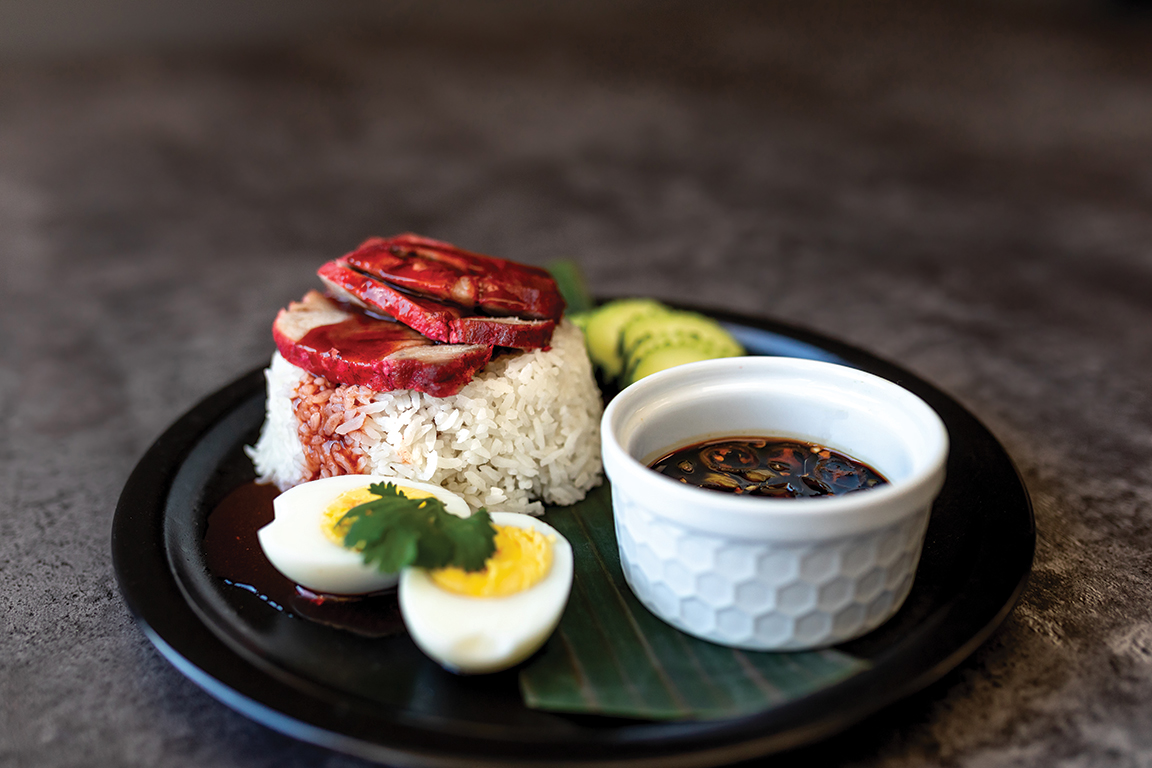 Khao moo dang at Reno's Rice Box Kitchen, courtesy photo
25 Jun

New Spots

Editor's note: Hours and offerings are subject to change due to COVID-19 conditions and restrictions. Check information directly with restaurant before heading out.
North Shore
PARSLEY FRESH EATS
22 Highway 28  |  Crystal Bay, NV  |  (775) 831-3663  |  www.parsleyfresh.com
Longtime North Shore caterer Bella Affair has branched out to prepared meals that can feed one or two or a whole crew. Choose between online ordering or grab-and-go items all packed in eco-friendly, gluten-free, wheat fiber bowls that are compostable, microwavable, oven safe and freezable. A Moroccan salmon spa protein bowl, a spiced turkey and butternut squash skillet, chicken marsala, veggie Wellington, bulgogi chicken, vegetable and chicken posole, tempeh street tacos and maple pecan oatmeal trail cookies are but a few items on the ambitious and healthy rotating menu. $10–$25
CHUBS SUBS
8421 North Lake Blvd.  |  Kings Beach, CA  |  (530) 553-1820  |  www.chubssubs.com
From much-loved local restaurateur Clint Peetz, founder of Fat Cat Bar & Grill in Tahoe City and Reno who passed away unexpectedly in March, this spot across from the beach specializes in a staggering 82 combinations of hot and cold sub sandwiches such as meatballs (including a vegan option) and marinara, roast beef, turkey and salami, as well as egg-based breakfast selections. All subs are served on a soft sourdough roll with diced pickles, tomatoes and onions. Gluten-free bread is available upon request and any sub can be served as a bowl over fresh greens. Bottled beer, wine and cocktails are available along with online ordering. L, D; $10.75–$14
TAHOE FULLERS
950 North Lake Blvd.  |  Tahoe City, CA  |  (530) 428-5386  |  www.tahoefullers.com
Twins Meghan Rudnick and Michael Polite, who started Tahoe Fullers food truck in 2019 (named for late local Nick Fuller of Truckee River Raft Co. and Bridgetender fame), are now set up in the former Taco Bell space. Breakfasts include burritos stuffed with egg, cheddar, grilled onions, jalapeños and roasted potatoes and a power bowl with quinoa, bacon or sausage, kale, arugula, toasted almonds, tomatoes, roasted red pepper aioli and egg. Find soups, sandwiches and salads such as the Tahoe Cubano with seared tasso ham, melted Swiss and cheddar, caramelized onions, slaw, pickles and mustard on an Italian roll, and the Kale Crunch tossed with pepitas, tortilla strips, shaved egg, pickled red onion and blue cheese crumbles. Save room for freshly made donuts and Nutella cinnamon rolls. B, L; $5–$15
FUDDHISM
10412 Donner Pass Rd.  |  Truckee, CA  |  (530) 536-4025  |  www.fuddhism.com
Jennifer Stakich, Culinary Institute of America grad and longtime owner of a San Francisco catering company, opened this European-style dine-in/takeout spot devoted to fresh eclectic cuisine. The changing menu offers options such as brussels sprouts salad with pecorino and walnuts, spinach and leek soup, miso ribs, broccolini with fresno chiles and lemon zest, grilled flank steak with chimichurri, seared salmon with roasted pepper aioli, chili basil chicken and polenta cakes with mushroom ragu, with online searching by gluten-free, vegan and kid-friendly filters. The menu includes an extensive wine list and beers on tap, and delivery is available within one hour of Truckee with a $200 order. In the future, look for events like pasta-making classes, cheese and wine tastings and community-inspired lectures. L, D; $6–$24
DRINK COFFEE DO STUFF
10015 Donner Pass Rd.  |  Truckee, CA  |  www.drinkcoffeedostuff.com
Former pro snowboarder Nick Visconti and his wife Laura Lawson Visconti opened their second location (the first is in Incline Village), selling their specialty coffee in the former Marty's Cafe space. Remodeled with reclaimed wood, whitewashed walls and funky Edison lights, their globally sourced beans are roasted at the nearby facility near the Truckee Airport; the Hell Yeah! blend from Honduras and Peru is their best seller. In addition to java drinks like the Purple Haze Lavender latte, they offer eats including artisanal toasts made on Truckee Sourdough Bread, vanilla latte overnight oats, yogurt parfaits and house-made smoothies. They also produce a series of videos on how to brew a better cuppa jo. B, L; $4–$8
South Shore
SIERRA SUBS
212 Elks Point Rd.  |  Zephyr Cove, NV  |  (775) 580-7368  |  www.sierrasubs.com
Andrew Dauscher, an airline pilot furloughed during the pandemic, launched this counter-service spot in the Round Hill shopping center serving grab-and-go and made-to-order sandwiches named for national parks and natural landmarks. Choices range from the Denali with roasted turkey, cream cheese, jalapeño jam, spinach and red onion to the Rocky Mountain piled with pastrami, Swiss, coleslaw, Dijon mustard and tomato, all made on Truckee Sourdough bread. Hearty bison chili and homemade chicken noodle soup are also on the menu. Online ordering available. L, D; $8.45–$14.95
FLATSTICK PUB
4101 Lake Tahoe Blvd.  |  South Lake Tahoe, CA  |  (530) 443-4376  |  www.tipsyputt.com
Located at the Zalanta Resort across from Heavenly Village, this 8,000-square-foot space combines an indoor nine-hole mini golf course and links-inspired games with 32 beers, wines and cocktails from regional breweries and wineries on tap. The kitchen tees up pizza, artisan grilled cheese sandwiches, soups, salads and signature Flatstick Pub nachos. Owner Brandon Robinson, who operates a similar venue in Sacramento, also rolled out the Sunday FundRaise, which partners with a local charity each month to donate a dollar from every beer and game of golf. Adult focused with special family-friendly hours; memberships available. L,D; $8–$25
THIRD MAN TAPHOUSE & DELI
3668 Lake Tahoe Blvd.  |  South Lake Tahoe, CA  |  (530) 600-2414  |  www.thirdmantaphouse.com
In Ski Run Center next to the Red Hut Cafe, this 70-plus-seat casual dining spot starts the day with chicken and waffles, Monte Cristo sandos and eggs Benny, and, later, serves apps like house-made pretzels with white cheddar and gouda fondue and smothered tater tots topped with pastrami, bacon and green onions. Find sandwiches like the South Shore stacked with smoked tri-tip, horseradish cheddar, caramelized onions, arugula and garlic aioli on ciabatta. For something sweet, try the beignets tossed in cinnamon, dusted with powdered sugar and served with caramel and chocolate dipping sauces. There are 16 rotating beers on tap, along with wine and soju cocktails, plus online ordering and outdoor seating. B, L, D; $10–$17
LADLES BY THE LAKE
3447 Lake Tahoe Blvd.  |  South Lake Tahoe, CA  |  (530) 600-0198  |  www.ladlesbythelake.com
Anthony and Mara Cavallaro, who own Glazed and Confused donut shop and delivery service at the Bijou Center, now sell soup as well. Their menu of 14 different offerings includes New England clam chowder, broccoli and cheddar, tomato and basil bisque, split pea, chicken and dumpling, chicken tortilla, corn chowder, Italian wedding with meatballs, and meat or vegetable chili, all of which can be served in a Truckee Sourdough bread bowl. The menu also includes gourmet grilled cheese, cheese-stuffed pretzels, bagels and specialty fries such as poutine. Online ordering and delivery available. B, L; $4.25–$12
TAHOE BAGEL COMPANY
1018 Al Tahoe Blvd.  |  South Lake Tahoe, CA  |  (530) 578-0002  |  www.tahoebagelco.com
New Jersey natives Justin and Jeffrey Kaplan trace their love for bagels back to their great grandparents who owned East Coast bagel shops. Now the brothers are carrying forth the family tradition in Tahoe with breakfast sandwiches, from traditional cold-smoked Nova lox and cream cheese to their hangover helper Back to Life made with meats, cheese, eggs, hashbrowns and hot sauce. For lunch, in addition to bagel sandos like the Munster Melt and BLT, they serve the Reubinowitz, a New York deli-style Reuben piled with corned beef, pastrami, turkey, melted Swiss and coleslaw on Jewish rye, and the Goombah with roasted peppers, fresh mozzarella, tomato, house pesto olive oil and balsamic on toasted sourdough. B, L; $5–$12
Reno
THE OFFICE OF PORTER & HUGHES BAR & LOUNGE
248 West First St.  |  Reno, NV  |  (775) 745-3924  |  www.theofficereno.com
Staying late at the office is now a whole lot more fun. Matt Polley remade his Riverwalk Jungle Vino bar adjacent to the Sierra Taphouse in the Truckee Lane Building (formerly called Porter & Hughes Building) into a more sophisticated lounge. Look for warm lighting, oversized vintage chairs and antique shelves stocked with books, along with classic cocktails like Manhattans, Negronis and Sazeracs, and small bites such as bruschetta, baked brie and apples, beer cheese nachos, and charcuterie and cheese plates. Stay tuned for comedy on Wednesday and wine tasting on Thursday nights. D; $6–$9 (food)
BIGGEST LITTLE SUSHI BAR
400 West Fifth St.  |  Reno, NV  |  (775) 323-8899  |  www.thebiggestlittlesushibar.com
Taking over the former Sushi Lover space, this addition to the all-you-can-eat scene boasts a massive menu with some unique offerings, many dubbed for local landmarks. The Capital City nachos top deep-fried seaweed chips with crystal shrimp, yellowtail, sriracha and special sauce. The V&T Pineapple Express rolls with crystal shrimp and cream cheese, avocado, chopped pineapple, macadamia nuts, sweet sauce and roasted sesame seeds and the Sierra Nevada Roll packs crystal shrimp, salmon, tuna, yellowtail, crab mix, avocado, ghost and sweet sauces, and black tobiko. Entrées include sashimi platters plus teriyaki and yakisoba dishes, and there are a few wacky dessert rolls. L, D; $4.95–$32.95
CAFE WHITNEY
255 North Virginia St.  |  Reno, NV | (775) 398-5456  |  www.cafewhitney.com
Replacing Marybeth and Colin Smith's Roundabout Grill on the ground floor of the Whitney Peak Hotel, this modern, airy space now features a new menu from executive chef Christian Flores, who remained on board. The day here starts with breakfast burritos, apricot and granola pancakes and chilaquiles with chicken tinga or carne asada. Later, find a multicultural lineup of street tacos, karaage chicken, grilled octopus, red curry and carrot soup, albondigas, steak salad with chimichurri, soy-glazed chicken thighs, spaghetti with meatballs with a vegan option, a Cubano sandwich and pizza. The full bar features a daily happy hour. B, L, D; $14–$35
EMPIENADA
3683 Kings Row  |  Reno, NV | (775) 468-7437  |  www.empienada.com
This food truck features empanadas with less traditional fillings like beef and mushroom, pork and sweet potato, cheeseburger and spinach-artichoke, along with a sweet banana-Nutella combo. They also make pot pies with miso chicken, beef and Guinness, gumbo and Italian meatballs, with pies sold by the slice and whole, frozen to take home. Salads such as steakhouse wedge, Caesar and a mixed greens with onion, mandarin, almonds, goat cheese and balsamic vinaigrette, along with spicy risotto, three-cheese mac and loaded baked potato deep fried bites, round out the savories. Find the truck parked at the Viewcrest Center next to Cielito Lindo Taqueria, as well as venues like Black Rabbit Mead Co. and the Emerson. Online ordering available. L, D; $3.50–$9.75
THE COCONUT DOWNTOWN
170 South Virginia St.  |  Reno, NV | (775) 420-5520 | www.thecoconuttogo.com
This bright, modern and airy Thai eatery, which has a loyal following at three sister restaurants in Sacramento, has set up shop downtown next to the Pioneer Center and La Famiglia in the former Wild Garlic space. The open kitchen turns out Thai classics including noodles, curries and stir fries, as well as more unique dishes like avocado yellow curry and praram chicken—a Thai herb-marinated and grilled chicken and steamed veggies topped with peanut sauce. Random Western options include crab Rangoon wontons, chicken wings, and garlic and sweet potato fries. Wine and beer are available, along with outdoor seating, online ordering and delivery, L, D; $11.95–$13.95
RICE BOX KITCHEN
555 South Virginia St.  |  Reno, NV | (775) 384-3401 | www.riceboxkitchen.com
Thai native Perapol Damnernpholkul, founder of Gossip Kitchen in San Francisco, has brought some Southeast Asian flair to this Midtown fast casual urban eatery. The small but beautifully presented menu includes khao mun gai—poached chicken thigh over coconut ginger and garlic rice served with soybean chili sauce. Also on the menu are khao moo dang—five-spice pork over rice and boiled egg served with sweet char siu sauce—and khao soi gai, a northern Thai coconut curry noodle soup made from chicken cooked in an aromatic paste and simmered with veggies in a creamy coconut milk broth. All entrées can be made with tofu. Steamed tapioca dumplings with seasoned ground pork, mochi bars and Vietnamese iced coffee round out the offerings. L, D; $11.50–$13.50
RED BLOOM ASIAN KITCHEN
3800 South Virginia St.  |  Reno, NV | (775) 824-4431  |  www.atlantiscasino.com
Tucked inside the Atlantis Casino Resort, this stylish Asian-inspired eatery replaces Cafe Alfresco (whose menu items are now available at Manhattan Deli). Find here a modern twist on authentic dishes, with small plates such as pork and shrimp siu mai, bao buns with pork belly, duck and crab, lotus leaf-wrapped sticky rice with chicken and mushrooms and yakitori, along with entrées such as Korean spiced short ribs, ramen, dan dan noodles, whole Peking duck, soy-glazed sea bass and rice bowls. The full bar sports a fun selection of Asian beers, spirits and sake with cocktails such as Pattaya Martini mixed with Kai lemongrass and ginger vodka, coconut nigori sake, muddled basil, fresh lemon and Thai bitters. L, D; $14–$28
ATRIUM LOUNGE
3800 South Virginia St.  |  Reno, NV | (775) 825-4700  |  www.atlantiscasino.com
Also inside Atlantis, this newly remodeled atrium bar serves signature cocktails with an emphasis on local spirits, pouring cocktails such as the Old Nevadan featuring Frey Ranch Bourbon, the High Desert Buck mixed with Bently Heritage Source One Vodka, and the Basque Punch in honor of the northern Nevada classic Picon Punch showcasing Depot Amer and Churchill Vineyards brandy. There's also an eclectic selection of beers on tap.
TACOS JALISCO MARISCOS & CANTINA
551 East Moana Ln.  |  Reno, NV | (775) 737-9697  |  www.tacosjaliscogrill.com
Joining sister stores in Truckee and Lemmon Valley, this Mexican restaurant in the former Mendoza's Bar & Grill spot specializes in the seafood dishes from the state of Jalisco on Mexico's Pacific coast. The menu features an extensive and authentic lineup of from-the-ocean-focused soups, ceviche, oysters, octopus, aquachile, sashimi-style tuna and all manner of shrimp-in cocktails, fried, sautéed and grilled, and in tacos, enchiladas, tortas and burritos. Also find here all the traditional land-based dishes, including menudo, mole and birria de chivo (goat stew). Patio seating and online ordering available. L, D; $8.99–$32.99
DREAM TACOS & CANTINA
180 West Peckham Ln.  |  Reno, NV | (775) 448-6970 | www.dream-tacos-cantina.business.site
Setting up shop in the former Candelaria's space, this cheery casual cantina shares a patio with Prost Reno Biergarten (and eventually R Town Pizza). Authentic Mexican eats here include handmade tortillas filled with choice of carne asada, al pastor, chorizo, pork carnitas, lengua and chicken. The signature Dream Tacos are prepared with chicharrÓn in salsa roja, nopales with chorizo or asado, or chile verde or Colorado. Other specialties include quesabirria tacos, pork loin sandwich and torta ahogado—a hearty sandwich filled with carnitas, beans and onions cured in lime juice and red salsa then smothered in a flavorful red sauce. L, D; $8–$12
CARIS SUB SHOP
294 East Moana Ln.  |  Reno, NV | (775) 409-4227  |  www.carissubshop.com
Jason Caris relocated his Pennsylvania-based sub shop to Reno to be closer to family, taking over the former Rounds Bakery space. The Western-themed menu (Jason's nickname is "Cowboy" and his late son was named Wyatt) includes the toasted Billy the Kid Cheese Steak with hot peppers, jalapeños, bacon and pepper jack cheese, and the Cowboy with ham, turkey, roast beef, Canadian bacon, hot peppers and provolone. Most subs come with mayo, lettuce, tomato, onion, hot peppers, hot oil, parmesan and oregano and are served on Amorosa rolls brought in from Philadelphia (where subs are known as hoagies). Also on the menu are burgers, hand-cut fries, deep-fried pickles and, for dessert, a cheesecake eggroll—ingredients are wrapped up and flash-fried, served with blueberry, strawberry or cherry sauce with a scoop of ice cream. Online ordering and delivery available. L, D; $6.99–$13.99
MR. CRAB BOILING SEAFOOD
1507 South Virginia St.  |  Reno, NV | (775) 499-5209  |  www.mrcrabreno.com
Situated in the former Sushi Pier space in Midtown, this boil-in-a-bag, get-your-hands-dirty concept works as follows: Pick your seafood (king, snow or dungeness crab, shrimp, crawfish, mussels, clams, scallops, octopus or lobster), add an optional side (red potatoes, corn and/or Cajun sausage), then choose a sauce (Cajun jalapeño, cilantro lime, parsley lemon pepper, sriracha cheese, garlic butter or the extra hot Mr. Diablo). The cooked order is delivered in the bag to a butcher paper-topped table outfitted with tools and bibs. Additional items include an array of breaded and fried seafood, plus lobster mac and cheese, garlic parmesan and sweet potato fries. A short list of cocktails, wine and beer, including a signature seafood-laden michelada, is available, along with online ordering. L, D; $9.99–$43.99
PASTA FRESCA
6135 Lakeside Dr.  |  Reno, NV | (775) 409-3308  |  www.pastafrescanv.com
Taking over the space most recently occupied by Ciria's Cocina at the Shops at Bartley Ranch, this checkered-tablecloth storefront owned by Paolo Nicoletta produces organic, freshly made pasta (including a gluten-free option), a ravioli of the day and sauces such as arrabiata, spicy pink vodka tomato basil and Bolognese made daily with regionally sourced ingredients—the same way his grandmother taught him growing up on the Amalfi Coast in southwest Italy. Additional items include burrata and caprese topped with olive oil and pesto, lasagna made with beef and bison and, for dessert, cannoli and tiramisu. Options include dine-in, ready-to-eat meals to go and meal kits. L, D; $10.95–$19.95
MAYA'S SOUTH INDIAN CUISINE
8175 South Virginia St.  |  Reno, NV | (775) 391-6262 | www.mayascuisinereno.com
Anitha Chiranjivi, who named her Indian eatery originally located at the West Street Market downtown after her daughter, moved to this larger space in South Reno. Family recipes focused on vegetarian dishes include traditional favorites such as vadas, which are dhal fritters dipped in sambar, a lentil-based vegetable stew cooked in a tamarind broth, eggplant and tomato curry, as well as masala dosa, the thin lentil and rice crepe filled with potatoes and onions. The house-made panagam is a traditional cooling drink made from lime juice, spices and jaggery. In addition to supporting local farmers, Chiranjivi purchases some of her ingredients from 24 Mantra, an organic food company in India that established a farmers' co-op to promote healthy, sustainable farming. L, D; $9.99
FOURK KITCHEN RENO
4991 South Virginia St.  |  Reno, NV | (775) 870-1000 | www.fourkkitchen.com/fourk-reno
Riding on the success of his Lincoln, California location where he also owned a wine-tapas bar, Paul Jansen's prix fixe four-course menu dining concept is now open in Redfield Promenade shopping center. A sample dinner in the upscale but welcoming space: burrata caprese salad with heirloom cherry tomatoes and micro basil; cream of asparagus soup with basil oil and smoked bacon; beef Wellington with duxelle cream, cabernet pan sauce, white truffle and a crème fraiche; and cornmeal strawberry shortcake with meyer lemon cream and balsamic macerated strawberries. Most dietary restrictions can be accommodated; reservations required and usually sell out a month in advance. D; $49 (excluding beverages, tax and tip)
NEVADA STEAK
13101 South Virginia St.  |  Reno, NV | (775) 384-3630 | www.tamarackcasino.com/nevada-steak
Revamped in swanky steakhouse style, this spot inside the Tamarack Casino is headed by chef Jakon Tolkhurst, veteran of Big Water Grille in Tahoe and Roxy and Zeppelin in Reno.
In addition to standard steakhouse meat and seafood fare, the Italian-tinged menu reflects the Carano family ownership—filet mignon carpaccio, Sicilian-style meatballs, prosciutto-wrapped grilled prawns, fritto misto, chicken parm, lobster and shrimp linguine, chicken picatta and fettuccine. D; $25–$45
SCHUSSBOOM BREWING CO.
12245 South Virginia St.  | Reno, NV | (775) 386-2818 | www.facebook.com/SchussboomBrewing
Reno native Briana Wagner and her award-winning brewer husband Jason have completely renovated the space that was Shop-n-Go for almost 60 years to open this 9,100-square-foot independent brewery-taproom-restaurant across from South Town Crossing shopping center; the German name, which translates roughly to a straight high-speed ski run, reflects their love of alpine sports and the outdoors. The custom-built 10-barrel production facility will eventually turn out craft beers of all styles and pour a total of 24 brews on tap. Five seating areas include a 21-and-over tap room, family-friendly dining room and outdoor spaces including an upper deck with mountain views. The beer-friendly menu includes artisan pizzas, salads and wings. For the truly hungry, the Schuss Poutine is loaded with beer braised short ribs, Wisconsin cheese curds, shiitake mushrooms, demi-glace and fried onion strings. L, D; $8–$16
Sparks
LOCO ONO
663 North McCarran Blvd.  |  Sparks, NV | (775) 453-2174  |  www.eatlocoono.com
The second location for this popular Hawaiian island eatery (the other is in Midtown), this spot off Prater dishes up poke bowls plus plate lunches like chicken katsu, mochiko fried chicken, teriyaki beef and chicken, roast pork and gravy and its namesake loco moco—white rice topped with hamburger, fried egg and gravy. Also on the menu are udon noodles plus saimin—a noodle soup in a dashi broth topped with green onions. Look for specials such as kalbi and fried salmon belly. Those who get an early start can grab a Hawaiian breakfast with Spam and Portuguese sausage. Online ordering and delivery available. B, L, D; $7.74–$19
KISSHO SUSHI & HIBACHI
1425 George Ferris Dr.  |  Sparks, NV | (775) 440-1119  |  www.kisshosparks.com
Located at the Outlets at Legends, this spacious modern spot offers a wide range of Japanese-inspired cuisine. Look for the usual all-you-can-eat sushi standards, plus the signature Kisso roll with lobster salad and avocado, topped with seared salmon, jalapeño and special sauce. The menu also includes starters such as salmon skin salad and a tuna ravioli with spicy mayo and eel sauce atop guacamole, and entrées including teriyaki and hibachi with scallop, shrimp and lobster tail options. Also find a variety of fried rice, yaki soba and udon dishes. Online ordering available. L, D; $12.95–$23.95
THE CAKE SLICE
101 Los Altos Pkwy.  |  Sparks, NV | (775) 453 1044 | www.thecakeslicereno.com
Piece of cake—sometimes that's really all you want. Michelle Kitchen, whose business started out with home-baked custom cakes, now owns three stores selling luscious butter cream frosted cake by the slice, this third location at Sparks Crossing between Gourmelt and Yogurt Beach (the other two are in South and Northwest Reno). During the pandemic slowdown, The Cake Slice started selling individual slices as well, with some 15 standards and seasonal flavors rotating weekly, including white chocolate peanut butter cup, s'mores, chocolate raspberry, mocha chocolate chip and chocolate lemon marble. Online ordering and delivery available. $8.60 per slice
Carson City
BANK SALOON
418 South Carson St.  |  Carson City, NV | (775) 301-6710  |  www.banksaloonnv.com
This long-shuttered, fire-damaged building on the National Register of Historic Places that dates back to 1899 has been gutted and restored in a collaboration between the Nevada Builders Alliance and restaurateur Richard Bragiel (of Mangia Tutto). Refinished in a "modern take on classic styling," it boasts high ceilings, wainscoting, a 21-foot-long black walnut bar and a back terrace that incorporates pine salvaged from the interior. This drinks-only spot is focused on classic cocktails, its ambitious bar program boasting more than 100 spirits, including those produced by local Frey Ranch Estate Distillery and Bently Heritage Estate Distillery, plus house-made syrups and hard seltzers and spherical ice cubes, all served in crystal glassware and classic coupes.
JUAN'S MEXICAN GRILL
318 North Carson St.  |  Carson City, NV | (775) 434-7188 | www.facebook.com/juansmexigrill
Juan and Maria Salazar relocated their restaurant from the Comstock Casino to the former Battle Born Social spot downtown. Look for Mexican and American classics like albondigas, sopa de fideo, shrimp sautéed in a signature fuego sauce, and Juan's specialties such as Don Juan Steak Picado—beef simmered with onions, peppers and tomato—and El Jerezano carnitas with tender marinated chunks of pork. The Macho Burger piles on a half-pound of beef or chicken plus applewood bacon, cheese, grilled onions, jalapeños and guacamole. Breakfast on weekends includes chilaquiles, huevos rancheros and chorizo and eggs. B, L, D; $10.49–$24.99
ANTOJITOS LA JEFA
1701 North Carson St.  |  Carson City, NV | (775) 443-1344
This clean and simple storefront on the north side of town specializes in authentic antojitos—literally "little cravings," or Mexican street food-style snack dishes. Tortillas are made fresh by hand and dishes go beyond the familiar quesadillas, tacos and burritos. Round sopes, thick gorditas, and oblong guaraches and tlacoyos are layered and stuffed with meats of all manner, plus veggies like squash blossom, mushrooms, rajas (roasted and sliced poblano peppers) and huitlacoche (aka mexican truffle). The menu also includes pambazos—bread soaked in a guajillo sauce and stuffed with potatoes and chorizo, served with lettuce, cheese and cream. Breakfast offerings include chilaquiles, omelets, pancakes and desserts range from flan to Jell-O with Mexican eggnog. B, L, D; $2.50–$7.99