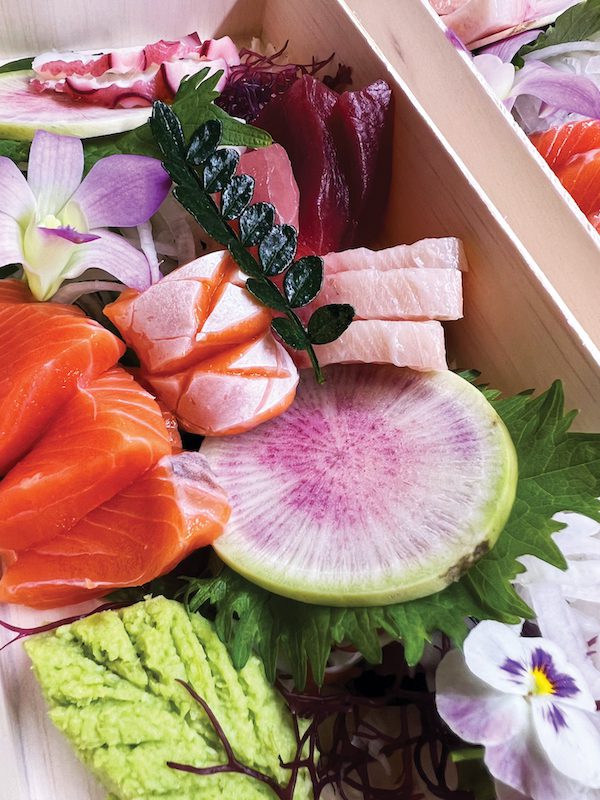 Some of Sushi Cloud's Wednesdays-only offerings, courtesy photo
30 Nov

New Spots
North Shore
MEHFIL INDIAN BISTRO
868 Tahoe Blvd.  |  Incline Village, NV
(775) 831-8317
This Indian eatery in Christmas Tree Village that last year took the place of long-running Indu's has been freshly remodeled with light-toned walls and woods. Its second location (the first is in Truckee), the menu here includes similar subcontinent standards here such as samosas, pakora and pani puri—puffy deep-fried bread with tamarind chaat masala potato and garbanzo beans. Vegetarian favorites include baingan bharta, aloo gobi and paneer dishes, and for the more omnivorous, biriyani, lamb, goat, chicken and fish curries and masalas, plus tandoori chicken and prawns. Online ordering available. L, D: $18–$28
CLOUD SUSHI KITCHEN
10130 West River St.  |  Truckee, CA
www.cloudsushitruckee.com
Private chef Josh Brown prepares and sells takeout sushi on Wednesdays only from the former Station restaurant behind the Truckee train depot. Order online in advance with a designated pickup time; handrolls are available on a walk-up basis between 12:30 and 2:30 p.m. Popular items from a changing menu include the Last Chair rolled with panko shrimp, spicy tuna, salmon, tuna, torched chili mayo, crispy ancient grains, tobiko, green onion and sweet ginger teriyaki and the Tahoe Ten Roll made with tempura green bean and spicy salmon with a sesame-ginger sauce. His miso soup is made with leeks and brown butter maitake mushrooms.
L, D; $11–$44
SOUTH SHORE
MAGGIE'S RESTAURANT
933 Poplar St.  |  South Lake Tahoe, CA
(530) 494-0301
www.desolationhotel.com
Part of the new boutique Desolation hotel steps from Heavenly Village, this upscale spot on the third floor named for nearby Maggie's Peak offers a sophisticated menu from chef Skyler Chauss. A daily brunch includes raspberry lemonade French Toast—thickly sliced brioche, lemon curd, fresh berries, raspberry coulis and rolled oats—as well as Benedicts, crispy chicken-fried pork belly with biscuits and sausage gravy, a grilled brie and ham sandwich, and sherpherd's pie. Dinner brings grilled octopus, roasted beet salad, elk loin roulade, seared scallop carbonara and pepita crusted chilean sea bass and bison tomahawk steak. The deck is outfitted with heaters and firepits for outdoor seating, weather permitting. Reservations available. BR, D; $16–$148
JUICE ENVY
212 Elks Point Rd.  |  Zephyr Cove, NV
(775) 305-8423
www.juiceenvytahoe.com
Located in the Round Hill Shopping center, this healthy spot offers a selection of made-to-order raw, pressed cold juices, smoothies and superfruit smoothie bowls made from organic ingredients. Dairy, soy and nut free, they use Myracle Mylk made from oats, coconut and fava protein for a real milk feel and taste. In colder months look for fully raw blender soups such as Winter Warmer made with peas, zucchini, asparagus, garlic, medjool dates, basil, mint, cilantro and veggie broth and the partially raw butternut squash with leek, roasted garlic carrot, celery, ginger and broth, as well as the cooked mushroom barley with miso. B, L; $10–$14
RENO
THE DUMPLING QUEEN
424 East Fourth St.  |  Reno, NV
(775) 440-1211
www.dumplingqueenreno.com
Piper Stremmel and hubby Chris Reilly, who own The Jesse and Estella, recently purchased and revived Abby's Highway 40, a long-running neon-signed bar named for the old Lincoln Highway and the father of the previous owner. They kept the craps and pool table, added some fun specialty cocktails and expanded the back patio to include firepits, heaters, an 8-foot high-def LED wall and a 1948 Airstream trailer converted into a kitchen serving dumplings—classic pork, pork and shrimp, chicken and vegetarian options in a savory broth, with dipping sauces such as black vinegar and ginger, chili crisp and hot mustard aioli. To drink, choose from several sakes as well as Kyoto Matcha IPA or white yuzu ale, and for a sweet finish, opt for a scoop of black sesame, matcha green tea or ginger ice cream. D; $13.88 for 12 dumplings
ELIXIR SUPERFOOD & JUICE
24 California Ave.  |  Reno, NV
(775) 622-8368
www.enjoyelixir.com
Located at the corner of Virginia Street and California Avenue in Midtown, in the space once upon a time occupied by Newman's Deli, this light and bright fast casual eatery serves salads, hearty warm bowls, smoothies and raw cold-pressed juices made with organic ingredients without GMOs, preservatives, refined sugar or gluten. Build your own bowl or choose one from the signature or seasonal menu: The Patagonia layers warm quinoa, sweet potato, black beans, avocado, carrots, tomatoes and chimichurri sauce; the Thai Buddha has warm brown rice, spinach, edamame, red bell pepper, carrots, cabbage, slivered almonds, cilantro, jalapeño and red curry peanut sauce. Omnivores can add proteins such as ahi tuna poke, local grass-fed steak and hormone-free chicken. B, L, D; $10.95–$12.95
GARDEN OF RENO
700 South Wells Ave.  |  Reno, NV
(775) 440-1019
www.facebook.com/TheGardenofReno
A flower shop that sells coffee makes for an unusually lovely combination. This family-owned florist recently started serving coffee drinks—including a floral-tinged rose latte—amidst gardeny Victorian sofas and sitting areas, with additional seating outdoors when weather permits. Snacks here, including scones, muffins, danish, bagels, coffee cake and biscotti, come from Rounds Bakery. B, L
STAR VILLAGE COFFEE
560 Mill St.  |  Reno, NV
(775) 287-9883
www.starvillagecoffee.com
Members of the Paiute tribe who grew up in the Reno-Sparks Indian Colony in Hungry Valley, Joel Zuniga and his twin Josh got hooked on all things coffee after a trip to Costa Rica. The brothers and additional family members have been roasting and selling their Star Village Coffee beans to area businesses from their Verdi-based facility for several years, focusing on sourcing fair trade beans and companies that are run by and/or employ women. Star Village coffee drinks are now available at this light and modern cafe tinged with Native American motifs where beverages are infused with traditional ingredients such as sage mint, yaupon (a species of holly), orange blossom, chokecherry and pine nuts. Also on the menu: chai, rose and matcha lattes.
BIGHORN TAVERN
6135 Lakeside Dr.  |  Reno, NV
(775) 737-9067
www.bighorntavernreno.com
Taking over the former Simon's Cafe & Lounge space next to Blackrock Wine Company at the Shops at Bartley Ranch in South Reno, this is the second Bighorn location (the first is on West 7th off Keystone Ave.). The remodeled sports bar sports plenty of TV screens for game day and a menu to match—snacks such as Scotch and devilled eggs, wings and tacos el pastor. Fun on a bun includes barbecue or teriyaki pulled pork sliders, burgers, banh mi, meatloaf melt, Cuban, tri-tip and po' boy sandos, while brunch brings Bennies, breakfast tacos, burritos, chicken fried steak, biscuits and gravy, and pork hash. Batter up. B, L, D; $12–$16
FORTIS CAFE
3979 South McCarran Blvd. 
Reno, NV.
(775) 622-0470
www.fortiscafereno.godaddysites.com
The Wet Hen may have closed, but this cafe that has taken its place is carrying on the comfort food torch. Brunchy options include omelets like chile relleno or al pastor with marinated pork, avocado, queso fresco and salsa along with Benedicts, a burrito rolled with chorizo, home fries, mozzarella queso fresco, scrambled eggs and homemade salsa, plus corned beef hash and eggs and stuffed French toast. The lunch menu is stacked with hot sandwiches such as pastrami, turkey and grilled chicken melts, Reubens, roast beef with mushrooms and Swiss, as well as cold classics—club sando, BLT and wraps. BR, L, D; $7.99–$14.99
SOUTH 40
1445 South Meadows Pkwy. 
Reno, NV
(775) 800-9070
www.south-40-reno.com
Located in the former Zeppelin space, this cavernous destination serves up fun and games and food for the whole family. An arcade and bowling lanes offer entertainment; the bar and grill boasts a wide-ranging menu with appetizers such as seared sesame-crusted tuna, pulled pork nachos, wagyu sliders, and lobster mac and cheese. Soups, salads and sandwiches include a Tennessee hot chicken, French dip, tomato-basil Caprese, chicken avocado club and New York steak; for entrées look for salmon, pork chops, ribs and meatloaf. The full bar includes cocktails like the Smoky Meadows mixed with Redemption rye, vermouth, bitters and luxardo cherry in a smoked glass. L, D; $15–$39