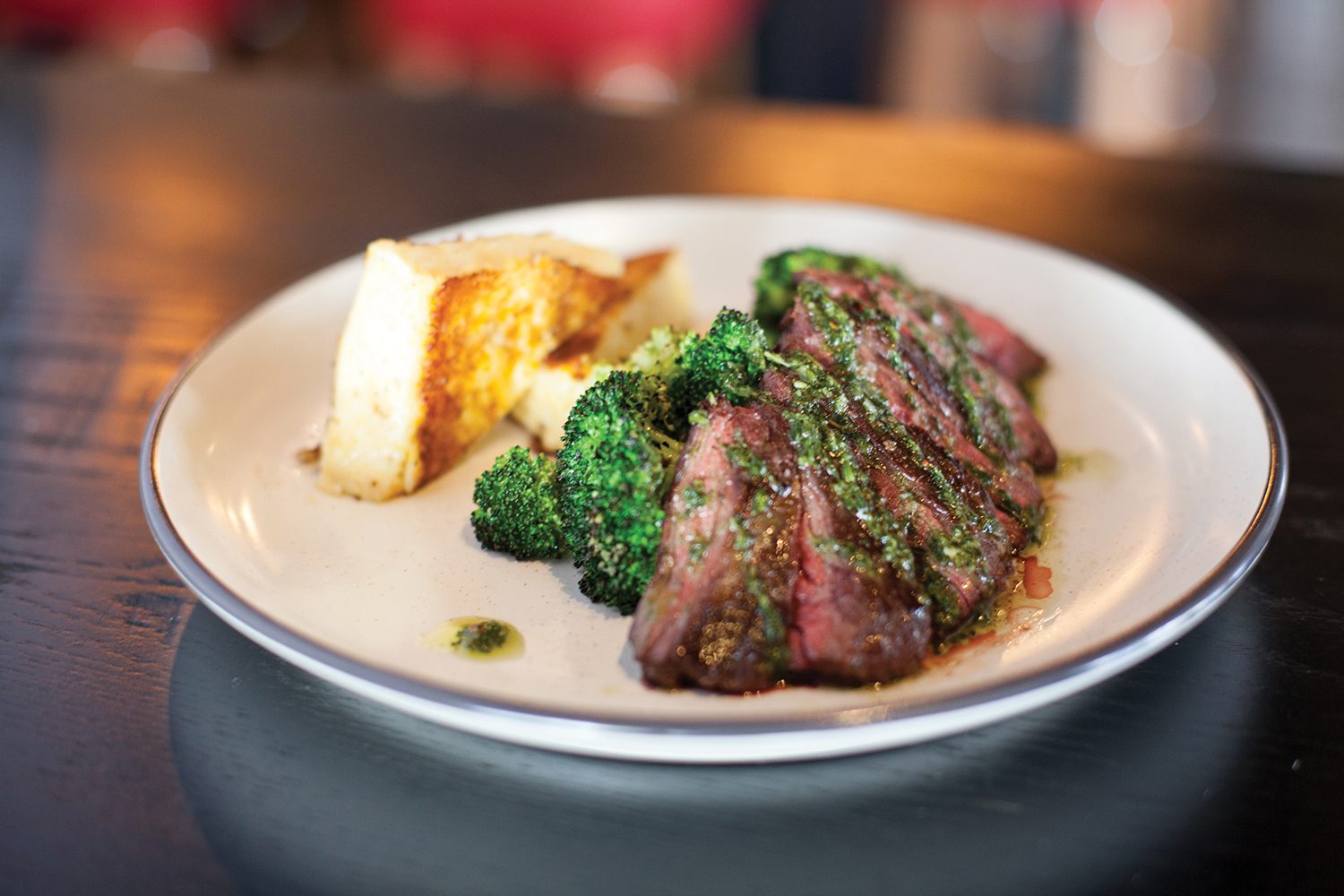 Rosewood Tahoe's short menu features skirt steak topped with Italian salsa verde, photo courtesy Rosewood Tahoe
27 Jun

New Spots
North Shore
ROSEWOOD TAHOE
930 Tahoe Blvd.  |  Incline Village, NV | (775) 298-2678  |  rosewoodtahoe.com
Former owners of popular San Francisco sports bar Giordanos Bros., Alexa and Adam DeMezza completely renovated this Raley's shopping center storefront previously occupied by Bertie's Hot Chicken, Alebrijes Mexican and Wild Alaska Fish Company. The small menu focuses on salads and sandwiches at lunch and dinner selections such as grilled skirt steak with Italian salsa verde, slow-roasted lamb shoulder, roasted chicken and a stuffed portobello. The buzzy bar's signature cocktail mixes gin, lemon and house-made rose and sage tonic, and offers lesser-seen Italian varietals like falanghina. For dessert, try the beignets with coffee gelato and Ghirardelli chocolate and Nutella sauce. L, D; $20–$28
PINTS & PIES PIZZA CO.
760 North Lake Blvd.  |  Tahoe City, CA | (530) 584-2935  |  pintspies.com
Tahoma residents John and Nanette Bautista opened this Italian-inspired lakeside spot in the Boatworks Mall long occupied by Hacienda del Lago and, for a short stint, Mirada's Tacos & Tequila. Look for starters such as an herbed flatbread topped with oven-roasted garlic, brie, house-made tomato chutney and olive oil, specialty pizzas like the Cajun shrimp and clams, and pasta including ricotta tortellini with porcini mushrooms, cream, parmesan, romano and truffle oil. For dessert: tiramisu and a chocolate chili tart. Some 16 beers are on tap and plenty of Italian-style wines await at the copper-topped horseshoe bar. Outdoor seating and online ordering available. L, D; $13–$28
CULT BURGER
7000 West Lake Blvd.  |  Tahoma, CA | eatcultburger.com
James Beard award semifinalist chef Quinten Frye and his wife and creative director Kristin opened this little burger joint across the parking lot from their West Shore Dog & Bear Tavern. Find here half-pound smash burgers on brioche buns—the Tejas brings bleu cheese, smoked bacon and an onion haystack, the Tahoma has havarti, bibb lettuce and tomato jam and the Lobo layers aged white cheddar and charred onions; sub an Impossible Burger for any order. Round out the meal with hand-cut wedge fries, craft sodas, milkshakes and frozen custard. L, D; $15–$17
INCLINED BURGERS & BREWS
5001 Northstar Dr.  |  Truckee, CA | (530) 562-6072  |  inclinedburgersandbrew.com
Friends and business partners Mitch Penning and Scott Beck opened their third "Inclined" (other locations are in Incline Village and Reno) next to the gondola at the Village at Northstar. Find here the same straightforward menu—burgers made from a Sierra Meat Company custom mix of sirloin, chuck and short rib beef smashed on the flat top, grilled with onions and topped with cheddar cheese, lettuce, tomato and secret sauce, served on a freshly baked bun (or atop mixed greens). Make it plant-based or go for a grilled or fried-chicken sandwich, garlic fries, a rotating selection of beers on tap, by the bottle and can, as well as wines by the glass. Outdoor seating and online ordering available. L, D; $12.95–$16.95
WILD PINE KITCHEN & BAR
5001 Northstar Dr.  |  Truckee, CA | (530) 562-1010  |  northstarcalifornia.com
This spacious restaurant in the center of the Village at Northstar serves a seasonal hearty mountain menu of shareables like chicken poutine, clam and mussels steamed in white wine, butter and garlic, warm-ups such as beef stew and butternut squash soup with Thai basil, and bowls with teriyaki brown rice, tricolor quinoa, beets, squash and kale. Also available are handhelds like cheese steak and falafel, as well as larger plates of rotisserie chicken and herb-crusted tri-tip. From the bar, look for classic cocktails, familiar wines by the bottle and glass, and a rotating selection of beers on tap, including local pours from FiftyFifty Brewing and Alibi Ale Works. L, D; $17–$35
CORNERSTONE KITCHEN
10089 West River St.  |  Truckee, CA | (530) 563-5050  |  truckeecornerstonebakery.square.site
Jenny Smart, owner of Cornerstone Bakery, expanded into the former Morgan's Lobster Shack & Fish Market next door and now offers an all-day breakfast—biscuits and gravy, pancakes, challah French toast, house-made granola, salmon or short rib hash, quinoa bowl, croque madame and double bacon egg sando. Lunch brings sandwiches on house-made bread with kettle chips (also made in-house), salads such as curried cauliflower with farro and feta, and a chicken protein bowl. Adult beverages include beer, wine and mimosas made with freshly infused fruit puree; herbs and edible flowers are grown on the deck where outdoor seating is available in warmer weather. B, L; $15–$22
South Shore
BURGER ME TAHOE
3838 Lake Tahoe Blvd. | South Lake Tahoe, CA | (530) 545-6433  |  burgermeusa.com
Located inside the new Hampton Inn, this casual counter-service burger spot founded by Reno-Tahoe-Carson Valley chef and restaurateur Mark Estee (with other locations in Truckee, and North and South Reno) sources much of its long list of all-natural meats locally and makes its veggie burger in house. Customize your order or choose from favorites such as the NV elk burger with havarti, sauteed red onions, bacon, mixed greens, tomato and garlic aioli or the gyro lamb layered with feta, tzatziki, greens, tomato and onion. All sandwiches come piled high and wrapped snug in white-and-red-checked paper, go well with fries or onion rings and are best washed down with a milkshake or malt. Online ordering available. L, D; $7.95–$14.95
LIBATION LODGE
4000 Lake Tahoe Blvd. | South Lake Tahoe, CA | (530) 578-0087 | southlakebeer.com/libation-lodge
Brought to you by Chris and Nicole Smith's South Lake Brewing Co., this spacious industrial-vibe taproom-restaurant in the Tahoe Village Center across from Heavenly Village now lets you pair its long list of fun and funky brews such as Marlette Sunrise blood orange blond with a changing menu of easygoing eats served on metal trays. Recent options include bulgogi loaded fries, a Korean-style fried-chicken sandwich, bleu cheese sliders, roasted carrots and Brussels sprouts, and wedge salad with blackened bacon. And, for dessert: a chocolate chip skillet cookie baked to order. L, D; $12–$18
HA NOI PHO
3330 Lake Tahoe Blvd. | South Lake Tahoe, CA | (530) 420-1386 | vietnamesecuisinesouthlaketahoe.com
Replacing Lotus Pho 2, this modern full-service Asian eatery done up with wood floors and greenery next to Freshies specializes in the classic Vietnamese steaming bowls of noodles and broth made from beef bone marrow, seafood and chicken, with vegetarian variations available. An assortment of other pan-Asian favorites are also on the menu: ramen, fried rice, vermicelli noodle bowls, chow mein, pad Thai, orange chicken, salt-and-pepper shrimp and Korean barbecued short ribs. Online ordering available. L, D; $10.25–$16.75
Carson Valley
PINK ELEPHANT KITCHEN
1280 South Carson St.  |  Carson City, NV | (775) 515-4562 | pinkelephant.blizzfull.com
Originally focused on takeout and sales of their prepared Thai curry sauces made with organic garlic, shallots and Siamese ginger from Prema Farm in Loyalton, this family-run restaurant owned by Birdie Harhono now serves lunch in their small dining room. In addition to traditional Thai curry dishes, popular items include khao soi curry soup noodles topped with boiled egg, bean sprouts, onions, cilantro and lime, and organic turmeric chicken wrapped in rice paper with mixed greens, cucumber, carrot and almond dressing (the menu is peanut free). Online ordering as well as drive-up window available; prepared products are also sold at Great Basin Community Food Co-op and Riverside Farmers Market in Reno, Grass Roots Natural Foods and Meyers Mountain Market in South Lake Tahoe, and Tahoe Food Hub in Truckee. L; $12–$18
Reno
CLAIO ROTISSERIE
3886 Mayberry Dr.  |  Reno, NV | (775) 657-8554  |  claiorotisserie.com
Located in Mayberry Landing shopping center, this Greek-ish restaurant is from Perenn Bakery owners and CIA grads Aubrey and Tyler O'Laskey. The small and simple menu revolves around organic rotisserie chicken—at lunch look for a quarter-bird platter with pickled vegetables, hummus, garlic-based toum, hot sauce and house-made griddled pita, as well as salad with chicken, lamb or sweet potato souvlaki. Dinner adds options such as crispy octopus and kataifi (a shredded pastry dough) shrimp. For a sweet finish try Greek donuts called loukoumades or rosewater cheesecake. A full bar mixes fresh cocktails like the Old Athens with rye whiskey, ouzo, cinnamon, honey and orange. L, D; $17–$34
MARCOLINO'S ITALIA
254 West 1st St.  |  Reno, NV | (775) 800-1693  |  marcolinositalia.com
Marco and Lynnette Brown, who started serving their Italian classics out of a food truck setup, have opened this snazzy and snug seven-table Riverwalk eatery next to Sierra Tap House at the corner of Arlington. Appetizers include bacon-wrapped sausage, fried mozzarella and calamari, and entrees cover the range of pastas—rigatoni with meatballs, mushroom ravioli, penne a la vodka, lasagna, tortellini, fettuccine alfredo and Nana's spicy Sicilian linguine—along with classics like chicken marsala, piccata and parmigiana. Save room for Papa's cannoli garnished with crushed pistachios, chocolate chips and powdered sugar. L, D; $15–$24
THE FIX
148 West St.  |  Reno, NV | (775) 409-4813 | facebook.com/thefixreno
After seven years on the road, this popular food trailer has found a home in the former Nom Eats location in West Street Market. The casual counter-service spot sells solely vegan fare—burritos and wraps, shawarma, falafel, tacos (including falafel tacos dubbed "falacos"), sandwiches, wings and salads all employ plant-based meat alternatives as do the hand-cut fries topped with garlic, seaweed, chopped "bacon" and "carne asada". All go well with an assorted selection of cold beers. L, D; $9–$12
SATISFACTION PIZZA
190 California Ave.  |  Reno, NV | (775) 229-8398 | satisfactionpizza.com
Mark Estee's former Pizzeria Lupo next door to The Loving Cup is now owned by Jerod Domenichelli, who studied pizza-making in Italy and with Sonoma Valley's Dino Bugica. Some customer favorites remain on the menu, such as the Bee Sting topped with parm, basil, red onions, salami, serrano peppers and local honey. Or try their new signature pie with a fig jam base, caramelized onions, gorgonzola, mozzarella, prosciutto, and walnuts and arugula; all pizzas are made with your choice of Neapolitan-, Sicilian- or Detroit-style deep-dish crust (gluten-free available). Also on the menu: wings, a few salads and pasta Bolognese. Online ordering available; open until 2 a.m. L, D; $11–$30
TEQUILA CATADOR
713 South Virginia St.  |  Reno, NV | (775) 384-6756 | tequilacatadorreno.com
Located in the Former Brauhaus 701 exposed brick space next to Shay's Tavern at St. Lawrence Avenue in the heart of midtown, this colorful spot stocks more than 500 types of tequila and mezcal and mixes a long list of margaritas and other cocktails. To eat find ceviche, blackened ahi tuna tostada, molcajete, nachos topped with steak, shrimp, salmon or chicken, burritos, tacos, fajitas, seafood plates like cod Veracruz style and spicy camarones a la diabla. L, D; $14–$34
DADDY's TACOS
4840 Mill St.  |  Reno, NV | (775) 622-8988  |  daddystacosnv.com
Valentine Lovelace and Martin Gomez opened this eatery awash in vibrant modern Mexican murals after running a successful food truck for several years (it still operates six days a week). In addition to a wide array of tacos, burritos, quesadillas, tortas and tostadas, customer favorites include the breakfast chilaquiles as well as the machaca burrito stuffed with birria (spicy shredded beef stew), sauteed onions, jalapeños, scrambled egg and queso fresco. The hearty dishes continue into the day with pambazos—telera rolls dipped in guajillo salsa and grilled until crispy then stuffed with potatoes, chorizo, lettuce, sour cream and cheese. Wash it all down with a house-made horchata flavored with vanilla and cinnamon. B, L; $6–$25
RENO PUBLIC MARKET FOOD HALL
299 East Plumb Ln.  |  Reno, NV | (775) 993-3220  |  renopublicmarket.com
This collection of food vendors under one brand-new glass, concrete and steel space opened in the former Shoppers Square center. The diverse group of purveyors includes Morning Glory raw food and cold-pressed juices, Batch Cupcakery, Miches Vatos micheladas and ceviche, Main Vein Coffee Co, Pie-Ya pizza, Fuego Street Tacos, Wok & Roll Asian fusion, V's Churro Bar, A La Parrilla Latin Food, Bite Me loaded fries, Burger NV, Crepes & Craft, Los Cipotes Salvadoran food, Bone Appetit Bar-B-Que Grill, Brazilian Gourmet, and Honey Bar. Truckee's FiftyFifty Brewing Co. plans to open a full-service restaurant this fall. The Food Hall also hosts a slate of entertainment and special events. (See TQ's 2023 Best of Tahoe issue for article about the Reno Public Market Food Hall opening.) B, L, D
SIAM THAI CUISINE
4786 Caughlin Pkwy.  |  Reno, NV | (775) 284-1080  |  siamthaireno.com
Natchaya Saengsri, owner of Siam Thai Cuisine in Truckee for a decade, has taken over the former Lanna Thai Cafe next to Raley's in Caughlin Ranch shopping center. The interior remains the same, as do menu mainstays like fresh spring rolls, tom yum gai, pad Thai and a variety of stir fries and curries. Look for new items to try, including "Crazy Duck"—crispy duck with spinach and peanut sauce as well as spicy catfish curry. Lunch specials and online ordering available. L, D;  $14.20–$25.95
ARMANDO & SONS BUTCHER SHOP
7600 Rancharrah Pkwy.  |  Reno, NV | (775) 800-1911  |  armandoandsons.com
Armando Flocchini Sr. founded Sierra Meat & Seafood in 1934; his great-grandson Chris and his wife Joanne achieved their dream of reinventing the neighborhood butcher shop in the upmarket Village at Rancharrah, partnering with Eric and Danielle Halstead, who owned Village Meats in Incline Village for many years. In addition to premium meats (complete with lockers to dry age beef) and seafood, sauces, pastas, oils, rubs and cheeses line the shelves. A small grill counter cheffed by Aaron Zendner, a familiar face at Tahoe's Alibi Ale Works Public House and Mr. Z's chocolates, serves up beef, bison and elk burgers such as the Con Brio with hot Italian seasoning, provolone, parmesan, bacon bourbon jam, lettuce, tomato and Calabrian chili spread. Or grab a Bavarian-style sausage with house-made caraway dill sauerkraut, pickled red cabbage and mustard or horseradish on a pretzel roll. Online ordering available. L; $14–$20
THE HANGOUT BAR + KITCHEN
1465 South Meadows Pkwy.  |  Reno, NV | (775) 328-1301  |  thehangoutreno.com
Josh and Whitney Deri, CIA Hyde Park grads and owners of Blend Catering, opened this grown-up snack bar inside the Swift Sportsdome in South Reno. Yes, you can get chicken wings and tenders in this indoor athletic center, but the couple has dialed up the culinary options with the likes of truffle mushroom pizza, lobster roll, grilled cheese with kimchi and scallions on sourdough, hamachi tartare, grilled salmon tacos, bao buns with Korean fried chicken or soy-caramel pork belly, fries topped with barbacoa, crispy cheese and salsa roja, and, on the weekends, oysters on the half shell. To drink, choose from over 15 cold beers and a handful of wines. BR, D; $8–$27
PIÑON BOTTLE
15415 Wedge Pkwy.  |  Reno, NV | (775) 657-9182  |  pinonbottlenv.com
Located in the new Meadow Creek shopping center, this third Piñon craft beer bar and bottle shop (the other two are in Midtown and Sparks) is directly across the street from Reno Ice, where the Piñon peeps have patronized the local Ice Raiders hockey team since its founding. Find here some 40 taps, including pours from local Alibi Ale Works and Pigeon Head, along with wine and kombucha, well-stocked coolers and picnic tables inside and outdoors, and a vibrant desert scene mural by Brooke Brazil, one of Piñon's first bartenders. Food trucks such as NOLA Sliders, Daddy's Tacos and Silver Rush Grill pop up on Friday and Saturday nights.
Sparks
IMBIB EATS & DRINKS
1180 Scheels Dr.  |  Sparks, NV | (775) 409-4753  |  imbibreno.com
Imbib Custom Brew co-founders Jason Green and Matt Johnson expanded their Outlets at Legends taproom to a full-service restaurant where patrons can get both a bite and a brew. Favorites like Cutthroat cream ale and Last Chance pilsner pair well with Butcher Boy sausages, including a Basque-style lamb chorizo (made from Borda Ranch lamb), pierogies, poutine, pickled eggs and veggies, brined beet salad, Portuguese kale and sausage soup, and even a vegan Berliner currywurst. Entrees include miso glazed salmon, seafood sausage and shrimp alfredo and cauliflower steak. Kid's menu available. L, D; $22–$24
CAIE ORIENTAL ASIAN BISTRO
1565 East Lincoln Wy.  |  Sparks, NV | (775) 376-1287
CaiE George, whose 27,000-square-foot CaiE Foods production facility in Sparks turns out thousands of pieces of dim sum each day, opened this spot at Outlets at Legends (George, who worked for the U.S. State Department in China in the 1980s and served as a translator for then Vice President George H.W. Bush during his visit, previously owned an eatery by the same name on South Meadows in Reno). Naturally, dim sum is on the menu, along with a wide range of classic Chinese dishes—wonton and Peking duck noodle soups, lobster in ginger and scallion sauce, and salt and pepper shrimp. L, D; $17.99–$55.50
TOSS YOUR GREENS
1495 East Prater Wy.  |  Sparks, NV | (775) 339-9909  |  tossyourgreens.com
Daneal Akalu, born in Ethiopia and Ancil Christopher, a native of Trinidad and Tobago, who met working at Tesla, aim to make this fast casual spot "the healthiest place on earth" with its quickly made grab-and-go selection of soups, salads, sandwiches and wraps. A changing menu of lean protein and plant-based meals might include items such as a Buddha Bowl with sweet potatoes and chili-coated chickpeas over riced cauliflower with creamy tahini sauce, or the Fish Tahoe with roasted steelhead, avocado, shredded cabbage, cilantro, tortilla chips, warm quinoa, arugula and sriracha. Online ordering available; open late. L, D; $8–$14.99
THE SPOT DIM SUM AND BOBA
1267 Baring Blvd.  |  Sparks, NV | (775) 899-8706 | thespotdimsumboba.com
This small separate space inside the Shanghai Restaurant & Sushi House specializes in all manner of steamed and fried dim sum delivered to your table: pot stickers, shumai, shrimp rolls, bao buns stuffed with barbecue pork, egg custard, red bean paste, sesame balls, Shanghai egg rolls, pork spare ribs, chicken rice porridge and chicken feet. Choose also from a variety of bubble and milk teas. Full bar available. L, D; $6.99–$8.99
TALLINN CREPERIA
222 Los Altos Pkwy.  |  Sparks, NV | (775) 357-9748  |  tallinncreperia.com
The folks from Reno's Kaffe Crepe opened this cafe named for the capital of Estonia. Sweet and savory options include The New Yorker with cheddar, chimichurri, pastrami, scrambled eggs, crispy potatoes, green onions and spicy brown mustard; the Baltic brings cheddar, smoked fish, scrambled eggs, tomatoes, pickled jalapeños and green onions. The Pikk Jalg folds in French vanilla custard, dark chocolate chips, Swiss raspberry jam, fresh raspberries and Biscoff cookie crumbs. Belgian waffles are also on the menu, as well as "to die for Dracula Fries" smothered in garlic sauce, parmesan, chili flakes, parsley and sriracha. B, L; $6.95–$13.95