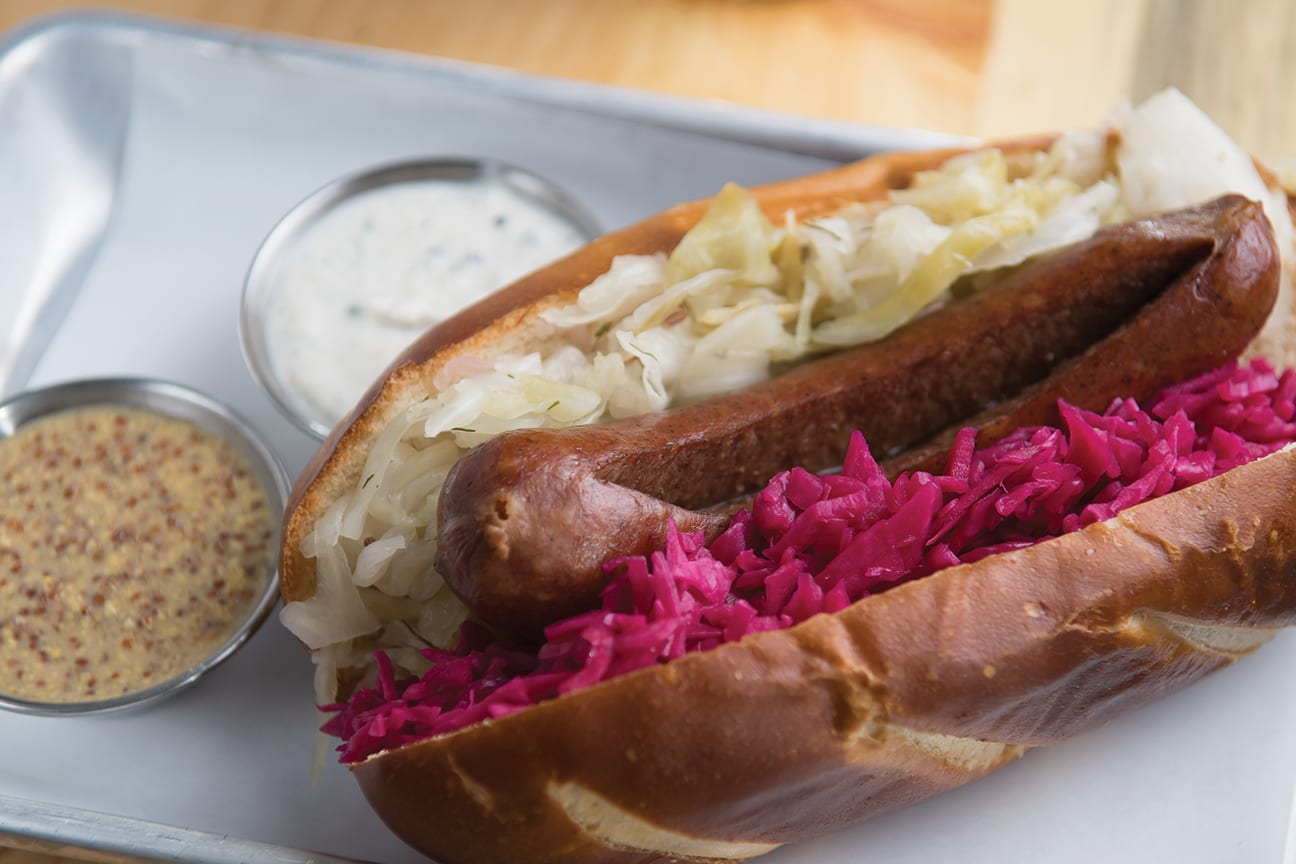 Beer-braised bratwurst from Alibi Ale Works Public House, courtesy photo
27 Sep

New Spots
North Shore
BOURBON PUB
8001 North Village Way #8114  |  Truckee | (530) 562-3200
Celebrated restaurateur Michael Mina's MINA group, which operates over 40 properties across the country, is opening this casual version of his Bourbon Steak concept in the village at Northstar California's former Tavern 6330. With locations at Levi's Stadium and San Francisco International Airport, this spot will also focus on upscale pub food with starters such as truffled tater tots, cheddar brats wrapped in puff pastry with jalapeño mustard, and entrées including al pastor pork ribs, mesquite grilled steaks and fennel-stuffed salmon. L, D
THE SAWYER
9055 Heartwood Dr.  |  Truckee | (530) 214-7385
Schaffer's Mill kept with the lumberjack theme when naming its newly built casual mountain modern eatery with indoor and outdoor dining. Executive chef Michael Capucetti, a Le Cordon Bleu grad who previously worked on private yachts and sport fishing boats, crafted a seasonal menu featuring selections such as kale and quinoa salad, wood-fired pizzas, pot roast, lobster mac-and-cheese, sweet-chili-glazed wild salmon and short rib tacos. All come with a side of mountain and forest views; reservations required for non-members. L, D; $11–$37
ROCO
10164 Donner Pass Rd.  |  Truckee | (530) 587-6274   
Brought to you by the Truckee Tavern & Grill folks, this spot formerly occupied by Marg's Taco Bistro sports a bit of a split personality with two spaces and cuisines that take cues from Mexico and Japan in food and decor. Executive chef Nathan Lapating, who moved down the street from the Truckee Tavern & Grill, oversees the menu that ranges from street tacos and ancho coffee pork loin to seared ahi tuna and ramen bowls. L, D; $11–$21
THE PUB AT DONNER LAKE
19563 South Shore Dr.  |  Truckee | (530) 448-8550
www.facebook.com/ThePubAtDonnerLake
Truckee natives Chris and Denelle White renovated and launched this log cabin at the west end of Donner Lake that was first a Mel's Diner then White's Donner Lake Realty. Chef Brody Dwyer's seasonal menu is focused on pub grub including burgers, brats, beef bourguignon–inspired chili, fish and chips, ribs, and the 16-ounce Donner Summit ribeye finished with cognac rosemary demi-glace. Ambitious cocktails include the rye-based Old 40 Fashioned, which is smoked on a cedar plank and poured tableside. L, D; $17–$45
TRUCKEE FOOD SHOP
12030 Donner Pass Rd.  |  Truckee | (530) 214-8935
Eduardo Diaz de Leon, who has studied law in his native Mexico and culinary arts in Vancouver, opened this modern takeout spot adjacent to Smokey's Kitchen. The menu meanders across cultures with items such as the Mexican torta with carnitas salsa verde and beans, the American buttermilk fried chicken and coleslaw on brioche, and the Lebanese lamb, harissa and mint yogurt on a ciabatta roll. The menu also includes barbecued ribs, quinoa bowls, soups, salads and seasonal additions, which they pack in compostable boxes or in patrons' own containers. B, L, D; prices vary
ALIBI ALE WORKS PUBLIC HOUSE
931 Tahoe Blvd.  |  Incline Village | (775) 831-8300    
Kevin Drake and Rich Romo, locals who launched their first microbrewery in Incline and a second pub in Truckee, have completely remodeled and re-invented the 3,500-square-foot former Hacienda de la Sierra, which closed after a 32-year run. A three-sided wood-and-stone bar and outdoor beer garden are rigged to serve 22 Alibi brews on draft as well as cider, wine, nitro coffee and kombucha. Chef Aaron Zendner's evolving menu includes items like a veggie Mediterranean mezze board, seared albacore poke, cured salmon toast and beer-braised bratwurst. There's a stage for live music and space for a dance floor; minors are permitted until 9 p.m. most nights; furry friends must stay home. L, D; $11–$17
South Shore
THE SOCIAL HOUSE
1001 Heavenly Village Way #3 | South Lake Tahoe | (530) 539-4746
This family-friendly eatery with a bright beachy vibe at the Village at Heavenly sells tasty sandwiches made from freshly baked bread and premium ingredients sliced daily. The menu includes breakfast bagel sandwiches in the morning followed by sandos like roast beef with bacon, caramelized onion, roasted bell pepper, arugula, garlic aioli, brie and balsamic reduction on a sourdough roll. There's a full bar and outdoor seating. B, L, D; $10.99–$13.99
EMPANASH
900 Ski Run Blvd. #106 | South Lake Tahoe | (530) 600-4455
Martin and Nash Mariani launched this Ski Run Marina spot after selling out of the handmade traditional Argentine pastries at farmers markets for the past nine years. The small menu features savory selections such as ground beef with sautéed onions, bell peppers, boiled eggs and the vegetarian diced eggplant, mushrooms, onions, bell peppers and sun-dried tomatoes. For something sweet try the apple, brown sugar and cinnamon. L, D; $4.75
REFUGE COFFEE
1259 Emerald Bay Rd. | South Lake Tahoe | (530) 539-4807
South Lake Tahoe native Jared Marquez, who launched his roasting operation in 2015, added a retail outlet inside Blue Granite Climbing Gym with his sister and business partner Destiny Marquez. Coffee drinks feature their Adventurous and Familiar series of beans, and there are also smoothies like the climbing-inspired "I Love Crack" made with nutella, cold brew coffee, ice cream and milk, as well as breakfast and chicken burritos from Verde Mexican Rotisserie. L, D; $3–$7
SIDELINES SPORTS PUB
3411 Lake Tahoe Blvd. | South Lake Tahoe  | (530) 541-6722
Inside the hotel lobby of the Beach Retreat & Lodge, this log cabin–styled sports bar is decked out with plenty of TV screens to catch the game and a compact menu with bar food eats such as steak chili, grilled or blackened chicken or mahi mahi tacos, Buffalo fried chicken Caesar wrap, grilled chicken quesadilla, plus sandos like the South Shore Club made with sliced smoked ham and turkey, applewood smoked bacon, lettuce, tomato, onion and pesto aioli on sourdough bread. B, L, D; $11–$13
Carson Valley
GATHER
402 North Carson St.  |  Carson City | (775) 433-0200    
Owner Angela Bullentini Wolf opened this downtown space in the old Horseshoe Club. The menu includes appetizers and small plates like house-smoked salmon and a salad tossed with mixed greens, assorted stone fruits, dried cherries, sunflower seeds, diced apples, apricot balsamic and an infused dill olive oil. There are also grain bowls and locally produced meat dishes such as slow-roasted Bently Ranch short ribs and lamb from Borda Ranch, sautéed with mushrooms and marsala demi-glace. L, D; $13.95–$29.95
Reno
LAND OCEAN
13967 South Virginia St. #914  |  Reno | (775) 993-2499
www.landoceanrestaurants.com/reno
Landing in the old Buffalo Wild Wings space, this modern steak and seafood house with sister restaurants in Roseville and Folsom features starters such as spicy garlic mussels and ahi poke tacos with mango, avocado and peanut sauce, and lunchtime items including Kobe beef burgers, Thai noodle steak salad, spicy filet mignon stir-fry and macadamia nut–crusted Chilean sea bass. Brunch brings their signature Benedict that comes with tenderloin and crab cake. BR, L, D; $19–$42
URBAN DELI
7111 South Virginia St.  |  Reno | (775) 339-3095
Located in South Reno's Sierra Meadows Plaza, which is also home to Bistro 7, this counter-service deli allows you to build your own sando or order one of the locally named selections made with Boar's Head meats. The Virginia is made with Virginia ham, salami, cheddar and garlic pesto on a soft roll, and the Kietzke comes with London broil roast beef, cheddar and horseradish cream sauce on Dutch crunch. A couple of salads and local beers are also available, as well as online ordering. L, D; $7.95–9.95
CHICAGO'S PIZZA WITH A TWIST
1885 South Virginia St.  |  Reno | (775) 689-9898
2900 Clear Acre Ln  |  Reno | (775) 824-5300
A pair of these franchised pizzerias opened recently, tossing both traditional pies as well as those with Indian-inspired toppings on a thin-crust base (not to be confused with Chicago deep dish). Selections include tikka, tandoori, curry and butter chicken, paneer, lamb kebab and curried veggies as well as a naan-style option. In addition to calzones, there are samosas, pakora, pasta, salads, barbecue and tandoori wings, as well as desserts hewing both East and West. Online ordering available. L, D; $9.99–$28.99
SAKANA XPRESS
1610 Robb Drive  |  Reno | (775) 453-1115
This modern counter-service spot in northwest Reno specializes in bowls like the Korean-style Amazing Grace with grilled bulgogi, salad mix, corn, edamame, cucumber, beet, red onion, japchae, crispy onion, gyoza and wasabi mayo sauce atop brown, white or fried rice. The poke version, Tahoe Bowl, is piled with salmon, tuna, fruit, rice and salad mix topped with hijiki (black seaweed), krab, edamame, crispy noodles, furikake, unagi and wasabi mayo. There are also sushi burritos, spicy saucy fried Korean chicken and grab-and-go bowls. L, D; $10.99–$14.99
THE MUG SHOT COFFEE & EATERY
205 South Sierra St.  |  Reno | (775) 622-0328  
www.themugshotcoffeeeatery.com
This coffee shop plays up its location at the corner of Court Street, across from Reno's Justice and District courts: Faux mugshots line the walls and the small menu brandishes names like Jane Doe waffle (which can be gussied up with a trip to the waffle topping bar), the Sticky Situation chicken quesadilla with avocado and the Hot Felon, which is sautéed chicken and simmered peppers. There are also house-baked pastries, local produce and a long list of coffee drinks. B, L; $4.20–$10.99
SENOR TEQUILA'S MEXICAN KITCHEN & CANTINA
1490 East Fourth St.  |  Reno  | (775) 384-2933  
www.facebook.com/senortequilasreno
Occupying the original Los Compadres space (their Foothill Road location remains open), this refreshed Mexican eatery serves all the usual favorites plus a few less frequently seen dishes. Antojitos (little snacks) like aguachile de camaron, shrimp marinated in lime and chili, as well as sopes, thick, crispy masa tortilla topped with choice of meat. The house specialty molcajetes like El Alegre fills a volcanic rock bowl with chicken, carne asada, nopal (cactus), pork chop, rice and beans. L, D; $13–$20.
THE JESSE
306 East Fourth St.  |  Reno | (775) 737-9461  
The former 1907 building that was the Lincoln Lodge located across from the Depot Craft Distillery is now a boutique inn, The Jesse, which takes its name from Jesse Lee Reno, the Union general for whom the city is named. Its sleek lounge serves coffee and pastries in the morning courtesy of Old World Coffee and Coffeebar Reno, and later in the day noted local mixologist Ilona Smith works her magic behind the bar.
ESTELLA
350 Evans Ave.  |  Reno | (775) 737-9461  
Also part of The Jesse, this 10-seat, hip, modern cantina in the brick building that was a Hub Coffee roastery is run by Chef Harrison Cooper, a veteran of San Francisco's award-winning State Bird Provisions. His take on street tacos include carne asada with queso fresco, local micro greens and salsa de arbol and al pastor with adobo, pineapple and guajillo pepper. The smoked mushroom employs pine nuts, micro radish and salsa morita made with smoke-dried jalapeños. Sip on a smoky mezcal straight or in a cocktail. D; $5.50–$7
THE EMERSON
955 South Virginia St.  |  Reno | (775) 433-1995  
This mid-century-styled lounge in Midtown's Martin Crossing comes courtesy of Tyler Colton, celebrity hair stylist and beauty expert turned bar owner. Craft cocktails and light bites include the Rub-A-Dub-Dub mixed with Theory 001 gin, rum punch, pineapple and coconut milk served in a tiny bathtub (nod to bathtub gin); the Emerson combines a cool creme de menthe, creme de cacao and vanilla ice cream. To nosh, there are pork belly sliders, street tacos and flatbreads like the Leon with chorizo, queso fresco, slaw, cilantro, tomatillo salsa and crema. D; $8–$12
AMARI
32 Cheney St.  |  Reno | (775) 357-8549  
Sadie Bonette and Ivan Fontana, owners of Death & Taxes, Midtown Tacos and Midtown Eats, have converted this former space that was home to many a java joint into an exposed brick Italian-themed cocktail bar, complete with red Campari umbrella dotted patio. Colorful creative concoctions that go far beyond the spritz are garnished with rose petals, fresh herbs and citrus peel. Open nightly at 5 p.m.
VON BISMARK
805 South Wells Ave.  |  Reno | (775) 322-3687 
T. Duncan Mitchell, who owns Chapel Tavern, opened this German-themed destination in an airy renovated transmission garage with roll-up windows that open onto the beer garden, a portrait of the Prussian statesman painted by local artist Jaxson Northon presiding over all. The small seasonal family-style menu includes housemade pretzels with mustard, rye pancakes and grilled trout with fresh quark and sour apple, pork chop with fresh grated horseradish, bone-in elk schnitzel, mussels with crispy bratwurst and spicy garlic oil. To drink, there are a dozen German beers are on tap, and smallish German production wines. D; $16–$36
BIBO COFFEE CO.
148 West St.  |  Reno | (775) 329-2114 
This is the fifth location for this local java operation (the first one opened on Mount Rose Street in 2003), which moved into the West Street Market downtown in the former Icecycle Creamery space. All the familiar coffee drinks made with freshly roasted beans are here, plus a cold brew bar with nitro cold brew on tap, and an assortment of baked goods including baklava, bagels, coffee cake, quiche, scones, waffles and house-made gelato. B, L
SHIM'S SURPLUS SUPPLIES
125 West Third St.  |  Reno
Find the grey metal back door marked "For Deliveries Only" in the alley behind this faux storefront that was for decades an army surplus store, and step into a 1920s-style speakeasy launched by Zachary Cage, part owner in Brewer's Cabinet, Ole Bridge Pub and Sierra Tap House. The century-old building's interior was sandblasted to reveal original brick walls and its pressed tin ceiling preserved; a marble-topped cherry bar, fresh wood flooring, booths with privacy curtains and stage for live music complete the retro look. To drink: a dozen beers on tap, many more in bottles, wines by the glass and cocktails like the Mahogany Manhattan spiked with chocolate, cherry and raspberry. Open 3–10 p.m. nightly
Sparks
OHANA SUSHI
1560 South Stanford Way  |  Sparks | (775) 453-9722 
www.facebook.com/ohanasushirenosparks
Another addition to the all-you-can-eat sushi world, this cheery Hawaiian-inspired spot at South McCarran Boulevard serves a long list of long and hand rolls, nigiri and sashimi, plus build-your-own poke bowls and sushi burritos. Appetizers range from pot stickers and mussels to spicy chicken or pork skewers, and entrees include teriyaki salmon, steak or chicken, seared ahi tuna, vegetable and shrimp tempura and Japanese noodles. L, D; $6.50–$13.95
BAWARCHI INDIAN CUISINE
5245 Vista Blvd.  |  Sparks | (775) 622-0904 
www.bawarchiindiancuisinereno.com
Set In the Aspen Glen Shopping center at the corner of Los Altos Parkway, this is the second Reno location for the family-run Indian eatery (the other is on Double R Boulevard in South Reno, while the original is in Santa Clara). The lengthy menu covers a wide swath of Indian culinary styles including curries, dosas, biriyani, tandoori and a handful of Chinese wok dishes brought to Calcutta by Manchurian immigrants. Online ordering is available. L, D; $8.99–$14