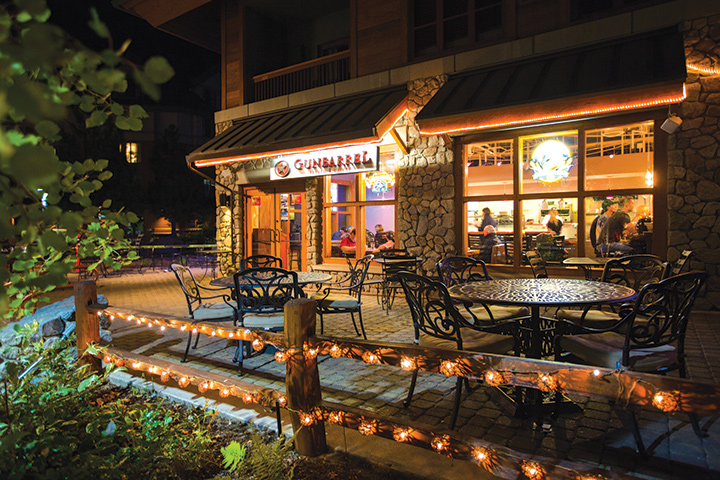 18 Dec

Packing Heat

Gunbarrel Tavern & Eatery has nothing to do with firearms, and everything to do with slaying the profound hunger that strikes after a day shredding the slopes. Named after Heavenly Mountain Resort's legendary bump run, this new dining destination launched by local restaurateur Alex Cox and chef Billy McCullough is still early out of the gate, but has set its sights on landing its own iconic status.

Located at South Lake Tahoe's Heavenly Village, a snowball's throw from the gondola, Gunbarrel Tavern is the second effort from the pair, who teamed up at the similarly themed 22 Bistro at the Village at Squaw. Cox, an Indiana native who came to Tahoe as a ski bum in 2003 (and who appeared in the Gaffney brothers' 2010 goofball ski film G.N.A.R.), has worked his way up through the restaurant ranks from busboy and bartender to general manager and owner. McCullough is chef-owner of Truckee's Dragonfly, the long-running Asian fusion eatery.

The restaurant's Bloody Mary is packed with accoutrements
"It seemed like a good fit for us; we wanted to expand our brand, and there was an unfilled niche," says Cox on opening in the space long occupied by Wolfgang Puck Express and a very short time by Peppers.
Gunbarrel brings a casual industrial-meets-mountain décor of wood, concrete and steel, the kind of place where boots—of all kinds—are footwear de rigueur. The bar-lounge area bordering the open kitchen, together with the adjacent dining room, seats about 80 customers; the spacious patio, which sports a pair of fire pits and several heat lamps as well as a satellite bar and grill for grab-and-go options, can accommodate another 100 patrons.
The bill of fare, which McCullough calls "New American comfort food," was designed with hungry, fresh-off-the-slopes folks in mind. "Our menu from 22 Bistro was a basic blueprint, but my goal was to have a fun, comfort food–style menu with some twists," says McCullough. "My philosophy has always been to start with great ingredients and have a seasonal menu to highlight California and Nevada's bounty."

Lamb "lollipops" highlight an extensive menu at Gunbarrel
Start with sharable appetizers such as the Tower 16 tuna, borrowed from 22 Bistro: ahi poke mixed with mango, avocado, scallions and wasabi whipped cream, layered in a stack of freshly fried wonton wrappers. Lamb "lollipops" come with cucumber-mint salad and harissa yogurt. The fire-roasted cauliflower is tossed with achiote–chili oil and toasted lemon zest.
Those in search of the lighter side can seek out salads such as quinoa, arugula and roasted chicken breast tossed with a poppy seed dressing, or roasted golden beets and kale with feta, pine nuts, balsamic glaze and an aged sherry vinaigrette.
Signature dishes include a one-third-pound Durham Ranch bison burger topped with white cheddar and sautéed onions. Sliders come in the Kobe beef or braised duck leg varietals and the brie grilled cheese is accompanied with house-made potato chips. A meal unto itself, the Gunbarrel nachos smother tortilla chips with house-made jalapeño beer cheese, white beans, tomatillo-avocado salsa, cotija and crema, crowned with a healthy dose of guacamole.
On to entrees, there's a smoky jumbo shrimp and cheese grits dish finished with fire-roasted corn salsa and tomato bacon ragu. The PBR beer can chicken, another favorite from the 22 Bistro menu, employs a can of Pabst Blue Ribbon to keep the bird moist on the inside, crisp on the outside, and is served with mac n' cheese and brown butter gravy.
This winter, look for menu additions that might include options like bison meatloaf, kale sliders and truffle-roasted root vegetables.
While waiting for the eats to arrive, order up a hand-crafted cocktail from the beverage menu that plays on the gun barrel theme. Stare down the "Double Barrel Bloody," garnished with pepperoncini, jalapeño and gorgonzola-stuffed olives. Or perhaps you're ready to face the "Firing Squad," a tasty blend of tequila and melon liquor, with tastes of pineapple, fresh mint, jalapeño, cilantro, soda and a squeeze of lemon.
Good thing the dessert menu is brief, making it easier at this point to choose between, say, bread pudding and a mini-Bundt cake à la mode.
As you savor the last of your cocktail and the final bites of your dessert, close your eyes and picture yourself at the top of a mogul-filled run, ready to go…

From bread pudding (left) to Bundt cake (right), dessert at Gunbarrel will have your
mouth watering for more
---
Given the option between sampling the Gunbarrel run and the Gunbarrel Tavern, TQ food and wine editor Susan D. Rock takes the one with the après-ski menu.