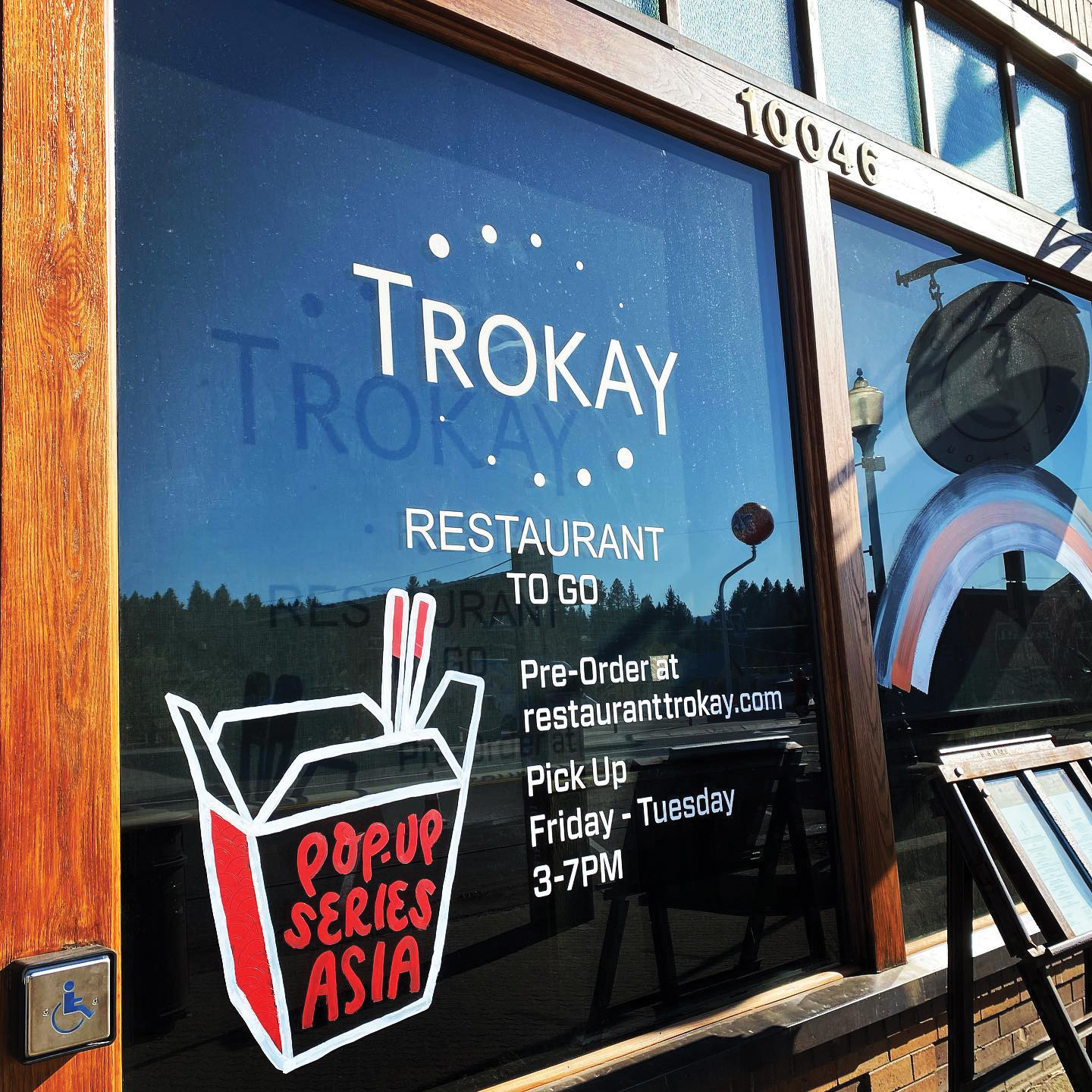 During the early days of COVID-19, Trokay Restaurant shifted from its high-end experiential dining to an Asian pop-up takeout menu, courtesy photo
25 Jun

Pivoting in a Pandemic
Tahoe restaurants cook up some creative ways to cope with COVID-19
It all happened so fast.
As the highly contagious COVID-19 rapidly escalated from new virus to global pandemic, the fallout was swift and unprecedented, with orders to stay at home and close dining rooms across the country ravaging the restaurant business like no other segment of the economy. Deep and widespread losses of jobs and sales quickly mounted: Some two out of three employees in the food and beverage industry lost their jobs, with a projected $240 billion loss of sales nationwide by the end of the year, per the National Restaurant Association.
Here in Tahoe, a Miracle March had laid out a snowy welcome mat for spring break skiers headed for the slopes; restaurants and bars were fully stocked and ready for the food- and drink-fueled aprés and everything after, when, faster than you can say "social distancing," quarantine mandates shut it all down. After the initial shock of closing doors to customers for an unforeseeable future subsided, Tahoe restaurant owners, managers and employees, like those elsewhere around the country, found ways to adjust and adapt, with the ultimate goal of somehow staying afloat in rough, uncharted waters.
A pattern of universal responses followed. Some spots, especially the higher-end establishments and those with a more seasonal clientele, completely closed to customers, using the time to deep clean, remodel, take an earlier-than-usual hiatus and sit tight. Most shifted to a takeout model, installing online ordering software and contactless payment and providing curbside and home delivery. Several restaurants switched up their business models even further.
In Incline Village, the eclectic beer-driven Brewforia quickly converted its dine-in space to accommodate the rapidly changing conditions.
"On St. Patrick's Day, we threw our annual party and served up an entire menu of traditional Irish dishes," says owner Rick Boyd, who also owns Bertie's Hot Chicken in town. "The next day we removed all our furniture and moved our shelving from dry storage into the dining room. We started serving pizza and burritos, which we chose because they were the easiest to prepare with a small staff and could be produced quickly and in larger volumes." (The burritos have been such a huge hit that Boyd plans to open an eatery this summer dedicated to the dish dubbed Burro Burro).
In addition, with access to regular wholesale suppliers and delivery, Brewforia began stocking and selling essential items that were in short supply in the supermarkets, peddling cleaning and paper products along with produce, eggs and dairy. And they filled beer coolers with freshly prepared take-and-bake meals, from chicken tikka masala to Greek lasagna, a boon for folks who had a hard time procuring those items or wanted to limit their public exposure.
But Boyd took Brewforia a step beyond the corner bodega concept, feeding folks in need for free.
"Very early on we knew there were going to be people struggling to feed themselves and their family," he says. "It was why we started our program to anyone in need of a meal, no questions asked. We never asked for donations, but many in our community have contributed, enabling us to provide for the slow but steadily increasing demand each week. We've also been sending meals to the homeless in Reno. It is very important to us that no one have to choose between having a place to live or food for their family. If we can help, we will."
Brewforia and Berties, along with nearby Azzara's and Gus' Open Pit BBQ, are also participating in the more formally run Incline Serves, a hunger relief effort partnered with local restaurants to keep restaurants operating, employees working and feed those in need (many of whom happen to be furloughed restaurant workers and their families). Funded by a $100,000 grant from the Dave & Cheryl Duffield Foundation, as of this writing, the 10-week program had distributed over 9,000 meals to Incline residents via the North Lake Tahoe Boys & Girls Club since April 25.
In Tahoe City, Douglas Dale's long-running Wolfdale's Cuisine Unique created a program called Howling Meals, whereby customers ordering takeout could easily buy dinner for someone else for $15. Grateful recipients include nurses at Tahoe Forest Hospital's COVID unit as well as 150 folks who receive delivery from Sierra Senior Services' Meals on Wheels.
In addition to such privately funded efforts, California implemented a statewide program called Great Plates Delivered that pays local eateries to provide three nutritionally sound meals a day to elderly and other high-risk adults, a move that benefits both senior citizens and restaurants in search of revenue.
Another Tahoe City spot, Pioneer Cocktail Club & Kitchen, which started selling groceries and essentials via online ordering, twice served pizza dinners to some 400 families in need of assistance at the Kings Beach Boys & Girls Club, an effort partially supported by Tahoe Luxury Property's Emergency Relief Fund.
Tapping into the hunger for a family activity, nearby Mountain Slice Cafe and Creamery sold make-at-home pizza kits, complete with dough, sauce, cheese and toppings, plus a link to a video for step-by-step instructions.
In Truckee, husband and wife team Danny McCabe, chef-owner of the recently launched Station, and Rachel Graf, who had just opened Tremigo in the Village at Squaw Valley and become partner at the Auld Dubliner, also found an altruistic way to engage their idle eateries when COVID shut them both down.
"We knew we had the ability and drive to start the Sierra Relief Kitchen," says Graf of the community-funded effort, which at this writing had served over 9,000 fresh hot meals based on some of their best-selling comfort food dishes to residents in need. They partnered with First Baptist Church in Tahoe City to identify folks who would most benefit, using church vans for delivery. Elsa Corrigan of the former Mamasake (who is also involved with the Jose Andres' World Central Kitchen food relief) and Carolyn Nunn and Randy Rogers, owners and managers of The Auld Dubliner and Tremigo, also donated their time, food supplies and kitchens. PlumpJack Cafe stepped up as well.
"I have always been passionate about community and giving back," says Graf, an entrepreneur at heart. "We are not used to not working, so it was a great chance to combine our talents and assist with the immediate hunger need of our awesome mountain community." They plan to continue the twice weekly service as long as the need exists or when the donations run out.
In Old Town Truckee, Trokay Restaurant went from multicourse fine dining to a takeout joint serving comfort food, with an Asian menu featuring foods from Korea, Vietnam, Taiwan and China.
"Trokay has always been about evolution," says chef-owner John Weatherson. "Twice each year we scrap the entire menu and start anew, while changing frequently during each season. We've done that for more than seven years now, so change isn't anything new for us. We embrace it.
"But when it became clear that, in this time of isolation, there was no space for a multicourse experiential destination fine dining restaurant, the questions became: What's needed? What do we want for our community? The answer was comfort."
Weatherson immediately ordered two cases of Mary's organic chicken and a case of St. Louis ribs and Trokay embarked on a curbside to-go offering the next day. "In a single day, the restaurant we owned turned into something we'd never known before," he says.
Weatherson and his wife and business partner Nyna decided that if social distancing might continue for the foreseeable months, they needed more culinary diversity in their lives.
"There aren't any rules about what we have to be right now—we can literally do whatever we want," says Weatherson. "If the cuisine at Trokay can't exist in a curbside/to-go climate, then let's make it fun and offer the community something different until we can go back to the cuisine we've developed and worked so hard to achieve."
Now that Trokay has reopened and returned to its original dining roots, albeit with 6-foot spacing, Weatherson reflects on the culinary detour. "It was fun for us, it felt like Halloween-masquerading as a different restaurant. If there is another shut down in the fall, we will revive the social distance pop-up series and pick up where we left off, but for now, it is time to go back to being ourselves."
Just down the street, Truckee Tavern & Grill started selling the premium quality meats on its rustic American menu, in addition to groceries and dry goods via online ordering. Known for its innovative mixology program, the restaurant also provided ready-made vacuum-packed cocktails (picture an adult Capri Sun) complete with garnish and instructions ready for shaking and stirring at home; the Manhattan with house bitters and cherry is most popular.
Across the lake on the South Shore, when closures struck, ski resort and casino hotel restaurants started clearing contents of their coolers that were fully provisioned for peak traffic. Heavenly Mountain Resort donated vegetables, fruits, dairy, juices and prepared salads to local food banks, schools and community organizations (sister resort Northstar California donated 15,000 pounds of food to Tahoe Truckee Unified School District and Sierra Community House).
Harrah's and Harveys, home to many dining outlets including Gordon Ramsay's brand new, heavily booked Hell's Kitchen, gave their perishables to the Boys and Girls Club Lake Tahoe, which in turn hosted an open-air food distribution, giving away 150 bags of food. Ten Crows BBQ also contributed to the effort.
Overland Meat & Seafood Company, a South Lake Tahoe mainstay for over three decades, handed out some 3,500 pounds of its all-natural ground beef in three separate giveaways. Owners and longtime locals Brian and Kim Cohen, stuck Honduras during the early days of the outbreak, had decided they wanted to do something to repay community support over the years, even though business was booming due to the increase in home cooking. For each of the events, lines stretched down the street for 2 pounds of meat, plus additional items including Grass Roots gift cards, Heart Rock spice, contributions of produce from Safeway, taco seasoning from Raley's and Mission tortillas for "Taco Dinners for Tahoe."
The Tahoe Restaurant Group, which owns South Lake Tahoe's Base Camp Pizza and Azul Latin Kitchen, as well as Fireside Pizza at Squaw and Northstar's Rubicon Pizza, shut down operations completely as its base of ski customers evaporated with resort closures and shelter-in-place orders. While shuttered, the Tahoe Restaurant Group meticulously planned for reopening so all four stores could hit the ground running. And, the company also made sure its some 400 employees were both covered financially via the federal Paycheck Protection Program and that none went hungry.
"We distributed grocery bags of essentials to each team member that requested one," says Ray Villaman, CEO and president of the Tahoe Restaurant Group. "And I was proud to see the many smiling faces accepting the care packages assembled unselfishly and enthusiastically by management. I'm grateful for the many ways our team has come together and continues to care for each other."
With area dining rooms reopened for service, COVID-19 will keep straining business models as restaurants struggle to keep employees and customers safe with capacity limits, social distancing requirements and mask mandates, as well as frequent and stringent sanitizing and disinfecting procedures. Toss in a downturn in tourism and potential supply chain challenges, and owners are likely looking at an ongoing hefty case of heartburn.
While much remains at stake for restaurants here and elsewhere, one thing we do know is that the way we commune and consume may be altered for the foreseeable future. But here's hoping that the kindness, collaboration, community and some clever new concepts that have kept Tahoe restaurants cooking through COVID so far continue to be a recipe for success.
---
Susan D. Rock is Tahoe Quarterly's longtime Food & Wine editor.
---
From Spirits to Sanitizer
When COVID-19 struck, Purell shortages quickly followed. Truckee's Old Trestle Distillery joined other area operations Seven Troughs, 10 Torr, Ferino, The Depot, Verdi Local and Bently Estate in the shift from manufacturing spirits to making hand sanitizer for local hospitals, law enforcement, and health and human services.
"We recognized an acute local need and the lack of hand sanitizer available," says Andy Barr, whose Truckee Craft Ventures owns Old Trestle along with FiftyFifty Brewing and Drunken Monkey restaurants. "We looked at this as, if we have the ability to retool and re-target, we should. This is not a business for us. We don't ever expect this to be a business for us. It's really a community service."
Old Trestle, which continues to produce its signature Sierra Vodka and Theory Gin alongside the disinfectant, has manufactured and donated thousands of bottles and provided thousands of gallons to recipients in the Truckee area and as far away as San Francisco.
"It's kind of shocking how wide ranging the need has been and how unable the hand sanitizer supply chain has been to support everyone," says Barr, who in the midst of all this is also endeavoring to open an Old Trestle tasting room and restaurant on West River Street. "It's surprising what becomes an issue in a situation like this. As long as we're capable and as long as there's a need, we will commit to providing at least the free bottles indefinitely."