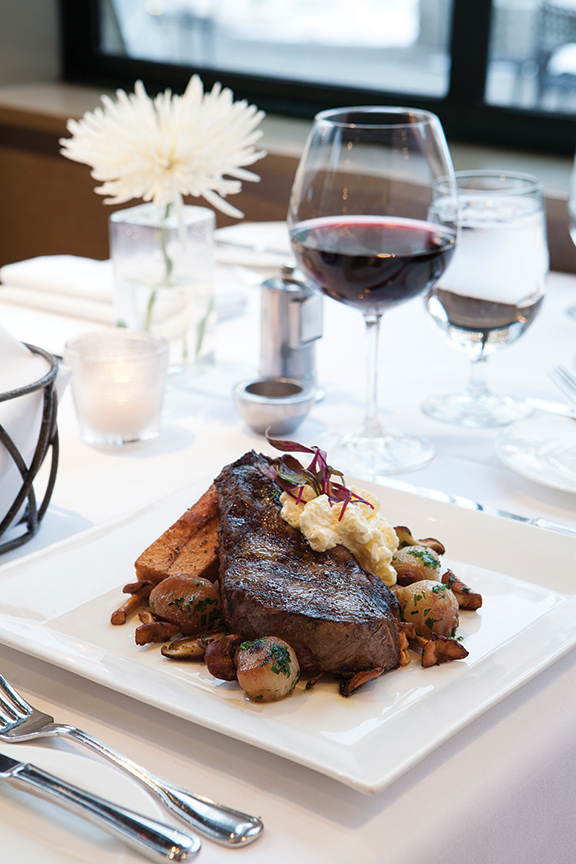 Prime Time Performance
Borrowing its name from Shakespeare's roguish and rotund character of large appetites, the PlumpJack Café at Squaw Valley USA indeed feels like part of a professional and polished production. That is, perhaps, because it is.
The San Francisco–based PlumpJack Group, founded by entrepreneur-turned-politician Gavin Newsom, started with a wine store on Fillmore Street and now boasts a portfolio stacked with an array of upmarket Northern California restaurants, hotels and wineries. It is also, not coincidentally, the name of an opera composed by the group's lead investor, billionaire Gordon Getty.
Opened in 1995 on the heels of its San Francisco sister restaurant (now closed), the PlumpJack Café is part of the Squaw Valley Inn (also a PlumpJack property), an upscale spot where earth tones, iron accents and high-end service welcome a well-heeled clientele, many of whom regularly ply the path between the Bay Area and KT-22.
PlumpJack Café's executive chef Ben "Wyatt" Dufresne, who graduated from Bates College in Maine with a double degree in biology and environmental studies, grew his interest in cooking while interning on an organic vegetable farm. He honed his culinary (and skiing) skills in restaurants in Colorado and Vermont, and moved to Tahoe in 2002 to take a job at PlumpJack under then-executive chefs Jeffery Powell, who dubbed him "Wyatt" for his Earp-like mustache, and Larry Dunning of Tahoe City's Truffula and Reno spots Sezmu, Bowl and Rawr. In 2010, Dufresne returned to PlumpJack as the restaurant's top chef after stints at the West Shore Café and Reno's LuLou's.
Dufresne's background allows him to approach sustainable menus from both art and science perspectives. "We focus on local, seasonal, fresh ingredients, organic when possible," says Dufresne. "We revamp the menu each season with small changes in between. A new nonprofit organization called the Tahoe Food Hub is my new favorite purveyor. They source produce, eggs and meat from within 100 miles. They're just starting out, but it's exciting to be part of something that has potential to change the 'food landscape' dramatically."
Flavors in Dufresne's lineup are bright, simple, straightforward and clean, with courses in the 64-seat white linen table-clothed dining room dramatically designated as Acts I, II and III. In these interludes, diners might find starters such as Brentwood Farms corn consommé poured at the table atop Maine lobster ceviche, poblano chili and micro cilantro and an arugula salad tossed with torn figs, creamy burrata, pine nuts and a Zinfandel vinaigrette. The seafood poke cones are longtime customer favorites—ahi mango, jalapeño and wakame seaweed are mixed with a sesame-ginger vinaigrette and scooped into a crispy wonton wrapper cone and topped with black sesame seeds, presented on a wrought iron stand. Main courses might mean a Fulton Valley chicken breast artfully arranged atop red quinoa tabouleh, heirloom cucumber salad and mint tzatziki or a Berkshire pork chop upon a bed of corn succotash and pork belly polenta, served with fried squash blooms and Yuba City's Paine Orchards peach chutney. Beef lovers can count on a Durham Ranch New York strip steak finished with Point Reyes bleu cheese butter.
Between the dining room and lobby, a lofty circular fire pit serves as the centerpiece of the 48-seat lounge/bar, popular with the après crowd hankering for a hand-crafted cocktail and eats ranging from hickory-smoked chicken with English pea mac and cheese to wild Alaskan halibut fish and chips to tacos al pastor.
Picking a wine to go with a meal here can be hard, though certainly not because the pickings are slim. PlumpJack's roots in the retail wine industry result in a well-priced California-focused list rich in boutique winemakers that "hovers between 500 and 600 selections," says director of food and beverage Peter Fain, veteran of Bar of America/Pacific Crest, the Resort at Squaw Creek and PlumpJack Hospitality Group's Squaw Valley Balboa Cafe (now closed). The by-the-glass program averages about 20 selections and changes often, rotating picks, say from a Dobbs Family Estate Willamette Valley Pinot to a Napa Valley Paraduxx Z blend.
Want to dive deeper into the wine list? During the summer months, look for the restaurant's series of winemaker dinners. Summer also means outdoor dining for up to another 60 patrons on the shaded poolside patio.
For the finale, order a pour of a less-oft encountered Royal Tokaji or ice wine along with a salted caramel crème brulee, Amaretto cheesecake or signature chocolate mousse 's'more' and await your palate's applause.
From first sip to last bite, dining at the PlumpJack Café is a well-crafted and choreographed event created for an appreciative audience. "Customers are increasingly aware of where their food comes from and have more knowledge of ingredients in general," says Dufresne. "They're also looking for more value in their experience with us. It keeps us challenged and constantly improving what we do, every day."
PlumpJack Café
1920 Squaw Valley Road
Squaw Valley, CA
(530) 583-1576
www.plumpjacksquawvalleyinn.com
Winter hours from December to April (closed November 5 to December 4): The bar/lounge is open from 11:30 a.m.–10 p.m.; the dining room from 5:30 p.m.–9:30 p.m.
---
If dining is a choreographed play, TQ food & wine editor Susan D. Rock is a receptive audience.