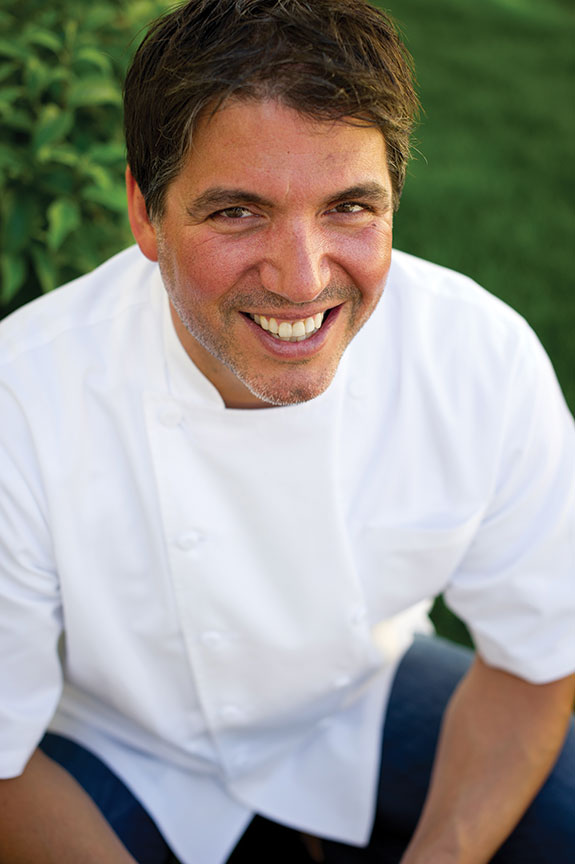 22 Jun

Mark Estee: Rolling in Dough

Mark Estee loves food—nose to tail, root to stalk. The ever-enthusiastic chef-owner of Campo, Burger Me!, Reno Provisions, Nevada Museum of Art's chez louis, and managing partner of Heritage at the Whitney Peak Hotel is equally passionate about downtown Reno's redevelopment. He gets especially animated if he has the chance to talk up both at the same time.

It wasn't long ago that Reno's greatest culinary claim to fame was the casino buffet. But the Biggest Little City has cultivated a taste for more authentic eats over the past decade along with a greater interest in locally-sourced, sustainably-produced food. The entrepreneurial Estee, who first made his name in Truckee with Moody's Bistro & Lounge, then Burger Me!, was already partnering with regional ranchers and growers when he sniffed rising demand in the air—and opportunity.
Eating Local

Mark Estee, photo by anniexphotography.com
"When I was in Truckee, I knew that Reno was ripe for something like this," says Estee, who likes to ask, "Do you know where your food comes from?"
"I knew that Whole Foods was one of the busiest in the region. I knew the [Great Basin Community Food] Co-Op was going from 500 square feet to 10,000 square feet. I was doing cooking demos there and people asked, 'Why not do a Moody's down here?'"
As Estee wrapped up his relationship with that restaurant, he weighed an opportunity to go to San Francisco and thought about Napa, but in Reno he considered the benefits of moving just down the road: thirteen years of Tahoe-Truckee relationships, a larger year-round diner base than at The Lake and more opportunities to work with a wider range of ranchers and farmers.
Those familiar with his contagious energy know Estee wastes no time. In short order, he launched five Reno restaurants, four downtown, plus another eatery at the private Glenbrook Club and one in Mammoth, all in three years. "I came to be a business person by necessity," he says. "When you want to own a restaurant the fun part is cooking. The hard part is running a business."
For his first effort, the 44-year-old Boston native went with what he knows best. Raised in a tight-knit Greek-Italian family where he made spaghetti sauce with his father every Sunday, Estee launched Campo Reno (and later, Campo Mammoth) as a downtown neighborhood gathering place serving rustic Italian cuisine from house-made pastas and salumi to wood-fired pizza from an oven straight from Naples. Opened in 2012, Esquire magazine quickly named it to its annual Best New Restaurants list.
Next, in Northwest Reno, another Burger Me! The BBQ bison burger earned another spot in Esquire, this time on its Best Food and Drink list. Its mortadella and salami stacked Italian Stallion was featured on Guy Fieri's Diners, Drive-Ins and Dives on the Food Network, and was later named one of the top ten burgers in the country.
After that, came the French-inspired chez louie in the Nevada Museum of Art, where CEO David Walker says Estee's creativity, quality and innovation made him a perfect match for the organization's restaurant and catering needs. The collaboration continues as the museum expands into the glass-enclosed Sky Room on the popular rooftop to accommodate large special events year-round. Estee, who had a hand in its design, will provide exclusive food and beverage services.
When management at the new Whitney Peak Hotel was searching for someone to design and oversee its 4,000 square foot ground-floor restaurant, Heritage, they looked no further than Estee. "We took a leap of faith with our non-gaming, non-smoking hotel, set in a tougher part of town," says Niki Gross, managing director of the property. "He did a similar thing with Campo that showed us he is not afraid to take risks—and neither are we. We knew he could bring a concept that aligned with our brand and our hotel and got the deal done in a short conversation."
Heritage pays homage to Northern Nevada's history with dishes from Indian fry bread and Basque braised beef tongue to spit-roasted grass-fed meats.
Supplying Demand

Campo, photo by Chris Holloman
The bow on this delicious box of assorted eateries is Estee's most recent offering: Reno Provisions, a 15,000 square foot culinary complex across the street from Campo in the old J.C. Penney building, which was built to promote and supply the other properties in the portfolio.
At street level, there's a bar, coffee bar, demonstration kitchen and retail area stocked with local and regional pantry items, kitchen tools and cookbooks. Cases feature products from all of Estee's eateries from Burger Me! buns to Campo sauces and pastas, along with grab-and-go meals, bread and baked goods, deli sandwiches and fresh produce from the Co-Op's D.R.O.P.P. (Distributors of Regional and Organic Produce and Products) program that connects local farmers and growers with restaurants. A counter service café sells affordably priced breakfast, lunch and dinner dishes.
"It's also a meeting space, a gathering place to hang out and have fun," says Estee. "There are no rules here. It's not a restaurant, it's a cafeteria." And it's got the trays to prove it.
Down the wide staircase lies the heart and soul of Estee's culinary empire, the supply house feeding not only his five Reno restaurants but also a growing list of other downtown establishments. Here is where flour and water become bread, pastries and pasta.
The butcher locker is the epicenter of Estee's whole animal approach. "I think it's going to be a game changer," says Estee, who sells the cuts of meat in his cases upstairs. "We're not only taking in animals for ourselves and our restaurants, but let's say you had a restaurant or you were a chef and you wanted to buy a whole animal but thought you don't have the space, you don't have the knowledge, you don't have the tools, which is true for a lot of people. You come in and do it here. For $50 you help us butcher it up and we'll send it out to your restaurant. Is there a win in there for us? One, we just made a friend. Two, we helped a restaurant and a rancher get a product into a restaurant that normally wouldn't be there because no one does that anymore. We think that's a great community service."
In doing and supporting what he believes in, Estee has garnered accolades, awards and attention both locally and far beyond Northern Nevada's reach. That recognition has inspired so many others in the area, from small-scale farmers to budding chefs, to attempt to earn a living around honest food.
"It just so happens that as we've done all these projects we've been recognized as movers and shakers, as part of the groundswell of the redevelopment of downtown Reno," says Estee, who is always quick to praise his colleagues in the community. "That's probably my number one passion right now, helping the city grow. And there's a lot of people like me. I'm not alone."
Natalie Sellers was a pioneer of the fresh, seasonal and local philosophy when she opened 4th Street Bistro on the edge of downtown Reno some 15 years ago. "There are a lot of young players out there," she says. "Mark is a visionary, with so many great ideas and so much energy. A lot of people want to invest in him. With him, seemingly the sky's the limit."
Estee is clearly in demand, appearing as a guest chef at the James Beard House (he was a James Beard Foundation semifinalist for Best Chef of the Year), several high-
profile California food festivals and the Food Network's Guy's Grocery Games in which he netted $10,000 for nonprofits Northern Nevada Food Bank, the Green House Project and Urban Roots. His recognition quotient is high enough to score celebrity chef status, a title he quickly waves off.
"I know celebrity chefs," says Estee. "I'd rather be a chef that might be popular than a celebrity chef. Celebrity chefs don't own restaurants, they don't cook. I'm more of a hands-on person. I know Thomas Keller and I know a lot of people who work for him. My first time at the French Laundry he was cleaning the walk-in. I always clean the walk-in, even now. It allows me to see if everything is being done right. Is everything labelled and dated properly? Are the containers clean? Is everything where it's supposed to be? Is there a good selection? Too much of anything?"
Part of Estee's high visibility factor owes to his constant interaction with his varied constituencies—co-workers and colleagues, patrons, ranchers, farmers, vendors, suppliers and the community at large, whether it is during working hours or at a fundraiser after.
"We're in the business of serving people; at heart, what we do is serve,"
says Estee.
"I always feel that if you're going to be part of a community, then you should give back. We give a lot with our time, with our resources, with our effort and energy, and will gladly share that with anyone who comes to us."
---
Incline Village writer and editor Susan D. Rock is always happy to sample Mark Estee's latest restaurant openings.