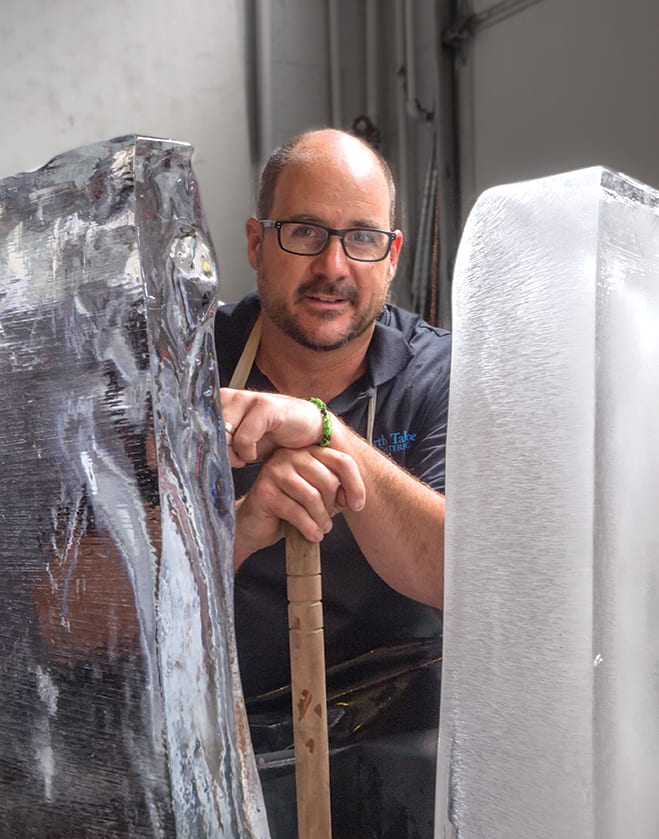 Chef and ice-carver Chris Banovich is fondly remembered in the Tahoe–Truckee community after losing his fight with cancer in November, photo by Martin Gollery
25 Jun

Side Dish
NORTH SHORE
CHRIS BANOVICH REMEMBERED
Chef, ice-carver extraordinaire and Tahoe–Truckee local for nearly three decades, Chris "Bano" Banovich lost his fight with cancer in November. A native of Castro Valley and graduate of San Francisco Culinary Academy, Banovich owned North Tahoe Catering Company and Bano's Iceworks, dazzling guests at Tahoe Forest Cancer Center's annual Best of Tahoe Chefs fundraiser, where he was remembered this year. A memorial fund was set up at www.youcaring.com/
banovichfamilymemorialfund-1037535
PLUMPJACK CAFE REMAINS OPEN
Strong demand for the proposed PlumpJack Squaw Valley Inn & Residences has led to a project delay while plans are reviewed, meaning the PlumpJack Cafe, along with its bar and lounge (as well as the rest of the hotel), will remain open for business as usual through March 2019.
TAHOE CITY RESTAURANT RELOCATIONS
Moe's Original Bar B Que has moved from the end of Grove Street to the former Dockside 700 Lakefront Grill space in the Tahoe City Marina. The new location gives the Moe's crew five times more kitchen space and the opportunity to better focus on their food and bar experience.
Chef Jonny Roscher will move Za's from its current location next to Pete 'n Peter's into the old Moe's spot, giving him more room to work his Italian–New American menu and host events. Roscher's adjacent Pepper's taqueria is expanding into the space vacated by Za's and will add rotisserie items come autumn.
D'lish Catering owner Lee Kresy has moved operations, including his popular lunchtime-only Burrito Window from the Henrickson Building, due for demolition to make way for the Tahoe City Lodge, to the newly renovated storefront that housed China Express in Kings Beach.
NORTH TAHOE CHEF SHUFFLE
The Resort at Squaw Creek has promoted Patrick Cleary to executive chef to oversee the property's six restaurants, including the newly remodeled and reopened Montagna. The New Jersey native, who had been sous chef at the resort, also did stints with Waldorf Astoria Key West and Hyatt Regency on the Hudson River.
David Smith, 22-year veteran at Truckee's Cottonwood Restaurant & Bar, has taken the helm at Tahoe Donner's lunchtime Alder Creek Cafe, bringing along his butternut squash enchiladas.
Donovan Webb, who was Cottonwood's sous chef, is now running the kitchen there. Webb, who has worked at the Ritz-Carlton, Lake Tahoe and helped open the Truckee Tavern & Grill, has added to the menu dishes like butternut squash grits, pork porterhouse, grass-fed beef burgers and braised baby back pork ribs.
Robb Wyss, executive chef at Sunnyside Restaurant & Lodge for the past five years, has taken that position at the West Shore Cafe, overseeing all restaurant culinary activities, including lunch and dinner service, in-room dining and the property's extensive banquet and catering offerings. A grad of Napa Culinary Academy in St. Helena, Wyss previously served as executive chef at Illini Country Club in Springfield, Illinois, and chef de cuisine at Bin 36 at Chicago's House of Blues Hotel.
Sunnyside's new executive chef is Joseph Albright, former sous chef for the restaurant. The Chicago native, who spent time cooking in Colorado before recently relocating to Tahoe, is planning an on-site green house to provide freshly picked produce.
RALEY'S COMING TO TRUCKEE?
In January the Truckee Town Council approved construction of a 35,700-square-foot Raley's store at Soaring Ranch, a mixed-use development adjacent to Truckee Tahoe Airport. Now the store is in question due to a lawsuit filed by Stefanie Olivieri, owner of Cabona's, and Protect CEQA, the organization behind California's Environmental Quality Act. The petition cites lack of workforce housing included in the project and potential negative economic impact on existing grocery stores.
RUBICON PIZZA RAISES $15K FOR BIKE PARK
Rubicon Pizza Company, located at the Village at Northstar, donated $15,000 to the Truckee Bike Park Project this winter. Fundraising efforts throughout the year included a party at the restaurant with help from Deschutes Brewery, as well as staff who donated their hours and tips to the cause. The money will be used to build additional features at the bike park, which sees some 45,000 visitors a year.
ROUNDABOUT OWNERS BUY TANNENBAUM
Colin and MaryBeth Smith, chef-owners of Roundabout Grill at the Whitney Peak Hotel in Reno and Roundabout Catering & Party Rentals in Sparks, bought the Tannenbaum Event Center located midway on Mt. Rose Highway. The site, previously home to the 1940s-era Christmas Tree restaurant, will be renamed Tannenbaum by Roundabout, with upgrades planned to the landscaping, kitchen, patio and wedding suites. Blend Catering, which has held the contract at Tannenbaum for several years, will remain available through at least the end of next year.
THUNDERBIRD FOOD AND WINE EVENTS
The historic Thunderbird Lodge is again hosting a series of fundraising wine dinners this summer. On June 17 Thunderbird's resident chef Darren Weston kicks it off with a Father's Day celebration. July 8 features Wolfdale's Douglas Dale and Forman Wines. On September 9 Mark Jeffers from the Ritz Carlton, Lake Tahoe will pair up with Cliff Lede Vineyards. And on October 7, Weston will create an Autumn Harvest meal. Thunderfaire, the annual food and wine gathering on the estate's grounds, is slated for August 12. For more information visit www.thunderbirdtahoe.org
SOUTH SHORE
TEN CROWS CHANGES HANDS
Ten Crows BBQ, which opened and closed last year, was bought by local restaurateur Ted Kennedy, whose Tahoe Restaurant Group owns several area eateries including Base Camp Pizza and Latin Azul. Housed at the newish Hotel Becket, near Heavenly Village, the interior got a refresher and stage for live music. Chefs Christian Novak and Tom Ward have taken over the kitchen, keeping many menu favorites like pulled pork and sweet tea fried chicken and adding items like fried okra with sweet chili sauce and smoking ingredients such as beets and feta cheese.
STYROFOAM BANNED
The City of South Lake Tahoe has banned the use of polystyrene, aka Styrofoam, which includes coolers and single-use takeout containers in retail outlets and restaurants. Passed in April, the ordinance also limits the use of straws and plastic utensils at restaurants to an "on request" basis. The new law goes into effect on October 3 and will be enforced by the South Lake Tahoe Police Department. Warnings will be given through April 3, 2019, and citations, ranging from $100 to $500, will be issued thereafter. Many restaurants are making the move to the more expensive but recyclable, compostable or biodegradable products.
EDGEWOOD HAS NEW EXECUTIVE CHEF
Charles Wilson has taken over as executive chef for Edgewood Tahoe, overseeing the property's three restaurants, including the new Edgewood Bistro, following the retirement of Frank Stagnaro, who served in that position for over 25 years. A grad of Le Cordon Bleu and veteran of many Las Vegas resorts, Wilson also played key roles at properties like the Four Seasons Hotel-Chicago, the Fairmont Scottsdale Princess Resort-Arizona, the Balboa Bay Club Resort & Spa-Newport Beach and the Four Seasons Resort Hualalai in Hawaii. Wilson, who has cooked at the prestigious James Beard Foundation in New York, also has five American Culinary Federation medals.
PETER BRINKERHOFF MAKES HEAVENLY MOVE
Peter Brinkerhoff, who for many years served as the corporate executive chef at Tom Turner's Tahoe Restaurant Collection—which includes Gar Woods, Caliente, and Bar of America on the North Shore and Riva Grill to the South—took a job with Vail Resorts this past year, heading up the food services at Heavenly's mid-mountain Tamarack Lodge.
ROUND HILL PINES GETS NEW RESTAURANT
This summer Round Hill Pines is getting a new 3,000-square-foot facility overlooking the beach that includes a new restaurant as part of a property upgrade. The old structure was demolished to make way for a full commercial kitchen, retail space and restrooms. The privately owned summer-only resort's bar and grill seating is now in an open-air pavilion with retractable awnings.
ORIGINAL VERDE MEXICAN ROTISSERIE CLOSES
Owners Katy and Domi Chavarria, who last summer opened their second Verde Mexican Rotisserie restaurant in The Crossing at Tahoe Valley with their unique twist on Mexican food, have closed the original Meyers location, citing the difficulty of running two stores.
NEW LOCATION FOR TAQUERIA JALISCO
Taqueria Jalisco moved out of the Pioneer Center storefront where it had been in business for 23 years, after a roof collapse due to last winter's heavy snowfall. It has reopened in a new, larger location at 972 Tallac Avenue. The Zepeda family, who also own the Jalisco Grill near Whiskey Dick's, have kept the same cash-only menu.
LIRA'S NOW HOLIDAY MARKET
After more than 17 years of business in Meyers, Lira's Supermarket was sold to North State Grocery Inc., which operates 20 stores in Northern California. The store, which now operates as a Holiday Market, plans to invest $1 million into food storage and refrigeration equipment. Lira's, which briefly operated in Minden, closed there in 2010.
ADELE'S TURNS 40 AND UP FOR SALE
The long-running Cafe at Adele's in Carson City recently hit the four-decade mark but is up for sale by its owners, chef Charlie Abowd and his wife Karen. The Abowds bought the restaurant from his parents, Paul and Adele, for whom the restaurant is named; the elder Abowds went on to open Adele's at the Plaza in Reno. Charlie and Karen plan to retire—and retire the Adele's name—just selling  the 1864 Victorian-style Comstock-era residence and its fixtures.
CARSON CULINARY CENTER RELOCATES
Sierra Chef, the Carson Valley culinary center and market, moved to historic Genoa. The new, larger location provides more space for classes, events like themed dinners and the addition of the Gourmet Kitchen Pantry, where Italian pastries, gourmet coffees, teas, fresh pasta, locally raised Bently Ranch beef and fresh eggs from CD's Rockin' Chicken Ranch are for sale.