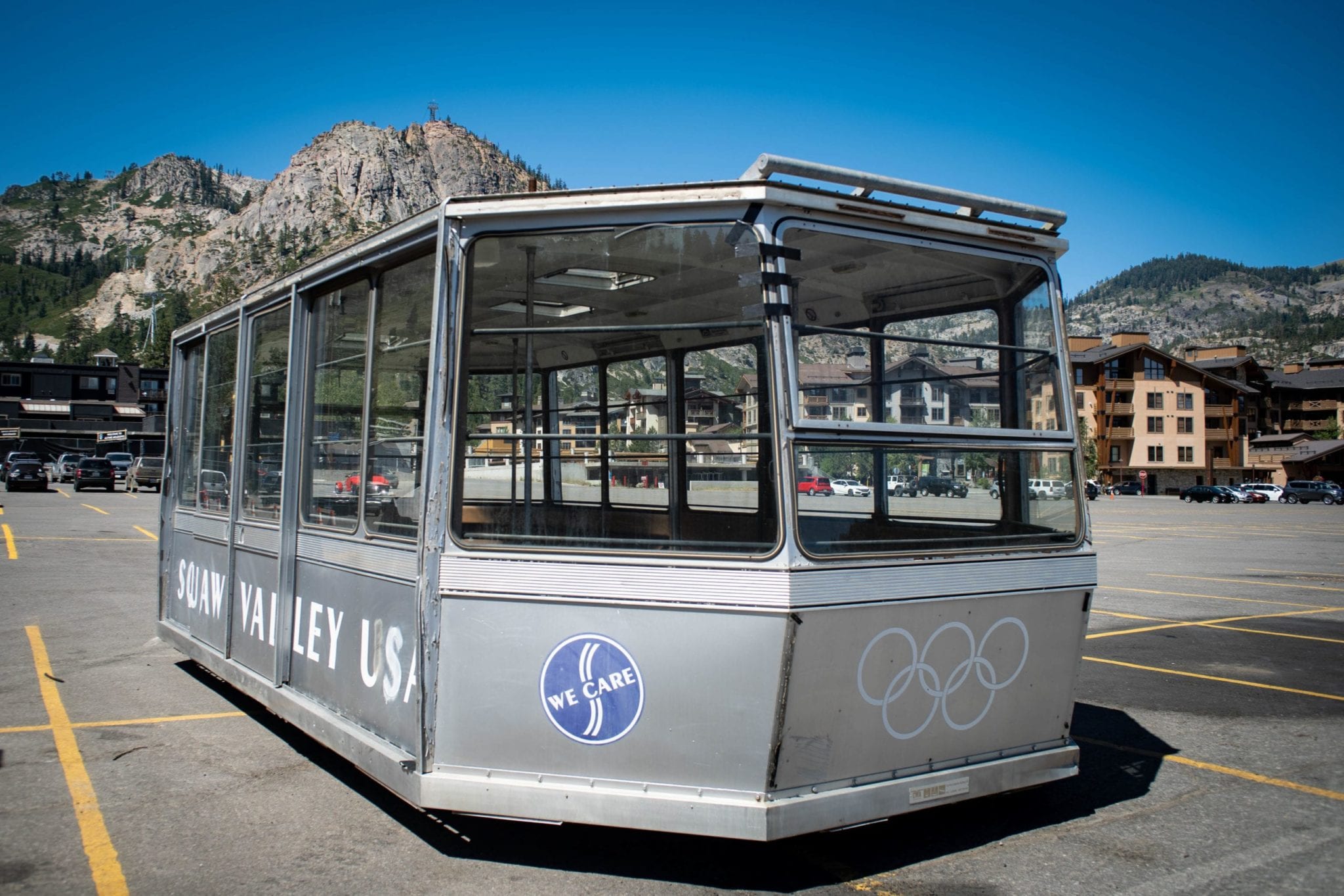 The Tram Car Bar awaits its new home, which will be on the Olympic House deck at Squaw Valley, photo courtesy Squaw Valley Alpine Meadows
27 Sep

Side Dish
North Shore
TUNNEL CREEK CAFE REOPENS
Located in  Incline Village at the base of the Flume Trail and start of the new East Shore multi-use path, the Tunnel Creek Cafe has reopened following a $1.7 million expansion and upgrade that increased the size of the kitchen, installed a new smoothie station and eight-tap glycol-cooled beer setup, and added indoor and outdoor seating including a rooftop terrace and deck with picnic tables.
www.tunnelcreekcafe.com
WINE ON THE WATER WOWS
The sold-out 10th annual Wine on the Water held at the Hyatt Regency Lake Tahoe this summer, netted over $110,000 for the Boys and Girls Club for Incline, Kings Beach and Truckee.
RALEY'S BREAKS GROUND IN TRUCKEE
After many years of planning and debate, Raley's finally broke ground on its 40,000-square-foot store at JMA Ventures' Soaring Ranch development near the Truckee Tahoe Airport. Trees removed from the site will be made into a table for a café, and other wood removed from the property will be locally milled and repurposed for an A-frame gable and decorative wall cladding. Project designs also include a metal sculpture by Mountain Forge and a mezzanine with a wine and beer bar named "McKinney Loft," for local hall of fame ski legend Steve McKinney. The store will also offer plenty of outdoor seating, including three fireplaces. Construction is expected to be completed next summer.
OLD TRESTLE DISTILLERY PLANNING RESTAURANT
Truckee's Old Trestle Distillery, which makes the locally popular Theory Gin 001, is building a high-end restaurant that will feature tastings and cocktail pairings in a 4,000-square-foot industrial structure on Truckee's West River Street. The Truckee Planning Commission has given the green light on the project to Truckee Craft Ventures, which also owns Fiftyfifty Brewing and Drunken Monkey Sushi and took over Old Trestle management last year.
South Tahoe
BASECAMP PIZZA RAISES OVER $17K
A year-long fundraising effort by the staff and management at Basecamp Pizza, part of the Tahoe Restaurant Group, totalled $17,250 for the Lake Tahoe Education Foundation (LTEF). Over the next year they will raise money for the nonprofit Live Violence Free of South Lake Tahoe.
MEYERS DOWNTOWN CAFE SOLD
After a 28-year run, Barbara and Billy Ramsey have retired and sold their much-loved Meyers Downtown Cafe breakfast and lunch spot. The restaurant continues to operate under new ownership.
LEWMARNEL'S FOOD & SPIRITS GETTING NEW CONCEPT
South Lake Tahoe's Lewmarnel's Food & Spirits, along with the Best Western Station House Inn where the popular restaurant is located, was acquired by Oliver Hospitality, a Nashville-based management company, which intends to rebrand and reconcept both the hotel and restaurant with a vintage theme later this year.
HELL'S KITCHEN IS TAHOE-BOUND
British celebuchef and Michelin-starred restaurateur Gordon Ramsay is bringing his Hell's Kitchen restaurant to Tahoe. Slated to open in the historic Sage Room at Harveys Lake Tahoe in Stateline by the end of the year, this will be the third location (the other two are in Vegas and Dubai) for the restaurant based on his hit reality show by the same name. The Harvey's Sage Room will move to Harvey's current 19 Kitchen & Bar space on the hotel's 19th floor.
SKI RESORT Eats
The owners of the Auld Dubliner are bringing a new Mexican restaurant and tequila bar, Casamigos, to the Village at Squaw Valley in the former Suko Yama Sushi and adjacent Squaw Outfitters spaces. The Tram Car Bar, a restored historic Squaw Valley tram cabin, will make its home on the Olympic House deck, serving drinks as the aerial tram passes overhead.
In addition to the opening of Michael Mina's Bourbon Pub at the Village at Northstar, on-mountain dining improvements at the resort this season include renovations at the Lodge at Big Springs, where new carpet, tables, chairs, bar top and decor that pays tribute to Truckee history with memorabilia like local art made from railroad spikes and repurposed pallet wood are being installed.
Heavenly Mountain Resort's California Lodge has been transformed with a modern industrial look and now features a grab-and-go coffee bar. On its rooftop, LAT38 returns for a second season on Fridays and Sundays, serving a street food–style menu with selections such as its Ultimate BLT Sliders and a spicy poke tostada.
At Kirkwood, the Wall Bar & Grill's  interior has been remodeled and the menu updated, serving modern pub fare with apres and a wide selection of shareables.