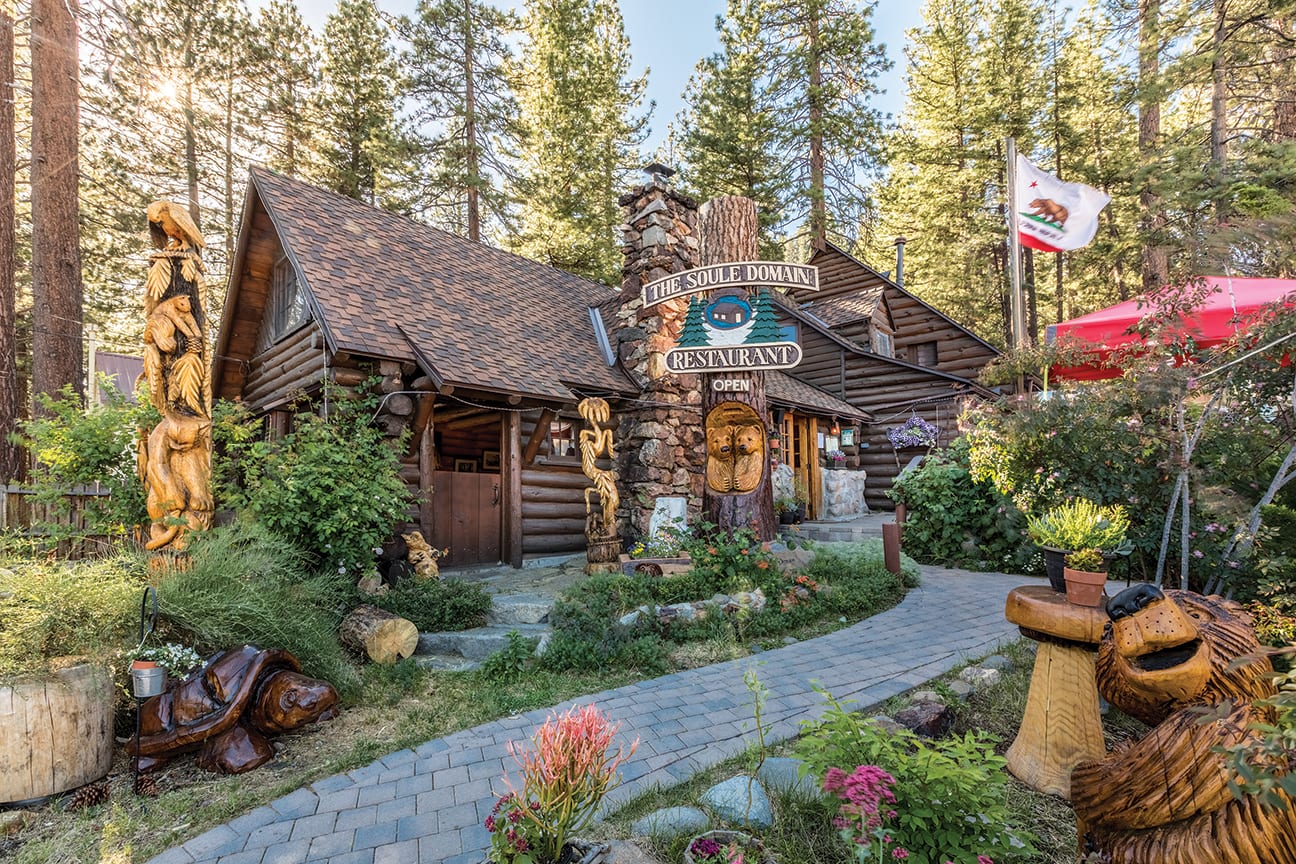 Going on 35 years in business, Soule Domain is located in a 1930s-era cabin in Kings Beach, adjacent to the state line
27 Sep

Soule Food
Three and a half decades in, Charlie Soule's sauté pans are still going strong
During his senior year at North Tahoe High School in 1975, Charlie Soule took a job washing dishes at the old Tom Foolery restaurant in Tahoe City to pay for a friend's car he'd returned in less than stellar shape. Back on a college summer break, he moved onto the line, and soon realized he preferred cooking and skiing to school.
A series of chef jobs followed, first at the former Hugo's (now the Lone Eagle Grille) at the Hyatt Regency Lake Tahoe in Incline Village, and Christy Hill when it was located in the Poulsen's former family home in Olympic Valley, a space now occupied by Graham's at Squaw Valley.
In 1985 Soule's uncle, impressed with a birthday party Charlie coordinated for his mother, fronted the money for the 1930s-era log cabin on the state line in Kings Beach. The landmark cabin constructed from logs felled nearby and stones from an Agate Bay quarry was built as a family home by Harry Riley, who was working on the original Cal Neva Lodge. Abandoned by the Rileys in the early 1940s, the cabin was subsequently used by Crystal Bay casino cooks and late-night employees, as well as the not-so-lucky gamblers and drinkers who could find a warm fire and open bottle awaiting them in the old log cabin. The rear portion of the building was added in 1978, and in the early 1980s the site served as a day care center and culinary school prior to Soule Domain's launch.
Just inside the restaurant's low-clearance Dutch door stands a large cross-cut slice of timber etched with the cabin's history, and beyond, a pair of open raftered seating areas that can accommodate 40 to 45 diners. The blond log walls are adorned with local artists' works, Soule family artifacts and heirlooms, and vintage Tahoe photographs. It's a white-linen, special-occasion kind of place with ceiling fans that spin lazily in summer and a glowing hearth crackling during the colder months.
Soule started out his eponymous eatery with a country French concept, serving three meals a day and sleeping upstairs. He eventually shifted to a dinner-only service with a Mediterranean, Asian and Pacific Rim menu.
"I was searching for my own identity, following some great San Francisco chefs and restaurants like Jeremiah Tower at Stars and Barbara Tropp from China Moon Café as well as Roy's in Hawaii," says Soule, whose dabbling with ingredients like ginger, jalapeños, soy sauce, cilantro and hoisin led to what he calls "Creative American Dining."
Ten years in, Soule's younger brother Stephen, a 1982 North Tahoe High grad, jumped in as manager and head waiter. His knowledgeable, if not theatrical, presentation of the menu adds to the overall dining experience.
"It's quite rewarding to work with my brother and accomplish our business goals together," says Soule. "It's amazing that we can pull it off; we are both very proud of one another. There is a lot of satisfaction in working with family, and when things aren't perfect you just have to communicate and work through it."
The small kitchen, where the house-made bread is baked nightly, turns out an umami-rich, sauce-infused menu that has remained much the same over the years, with several nightly additions based on seasonal availability, and using natural, free-range and organic ingredients whenever possible.
"A lot of my inspiration comes from regional farmers and purveyors that sell their products and market them, as well," says Soule. "Both Bob (Habeger) at Produce Plus and Susie (Sutphin) from Tahoe Food Hub do a great job."
Seafood owns a prominent spot on the menu, sourced from local and regional purveyors such as Sierra Meat & Seafood, Sierra Gold Seafood and Pacific Seafood. Starters like lobster wontons are steamed in an Asian shiitake broth with a Chinese mustard and red chile dip. Thai curry scallops seated on a bed of crispy pan-fried angel hair blend flavors of lemongrass, coconut milk, jalapeño, shiitakes, cilantro and almonds. In a twist on traditional escargots, the snails are sautéed with fresh rosemary, shiitake mushrooms, garlic and Burgundy butter and served in a pastry shell. Starter specials might include sautéed Singapore shrimp with pork belly, jalapeño, mint, Gochujang (red chili paste) ponzu and cucumber salad.
Lamb finds its way into dishes such as ravioli with olives, goat cheese, oregano, balsamic vinegar and sun-dried tomatoes, and as grilled chops atop mixed greens tossed with balsamic vinegar and olive oil, grilled avocado, tomatoes and olives.
Additional salad selections include the smoked venison sausage with mixed greens, Shaft's bleu cheese, candied walnuts and sliced pears and an Asian mixed greens tossed in ginger-soy vinaigrette, cherries, apricots, fennel, gold beets, watermelon radish, cabbage, onion and smoked almonds.
On to the entrées, look for chicken thighs pan-roasted with mushrooms, country-grain mustard, roasted garlic, capers and shallot butter, as well as a New Zealand rack of lamb grilled with roasted garlic, almond and basil pesto butter with parmesan. Filet mignon gets two different preparations: one with shiitake mushrooms and a six-pepper sauce and the other incorporating shiitakes, bleu cheese, brandy and Burgundy butter. The pan-roasted duck breast is sliced and finished with orange, raspberry and Grand Marnier.
A longtime customer favorite is the rich shrimp fettuccine made with fresh basil, garlic, tomatoes, lemon-garlic butter, cheese and onion; the menu also includes sea scallops poached in a champagne, kiwi and mango cream sauce. Most of the seafood entrées appear as nightly specials such as a Fijian mahi mahi grilled with ginger, jalapeño and blood orange miso ponzu or an Alaskan halibut roasted with fava beans, basil, spring onions and meyer lemon garlic butter.
Vegetarian options include a noodle bowl with shiitake-miso broth, a curried vegan sauté, and a richer veggies with tomato cream sauce baked in a puff pastry shell.
The menu also features what Soule calls the Nightly Homestyle Classic, a four-course prix-fixe meal with soup, salad, an entrée such as roasted chicken cacciatore and, for dessert, homemade ice cream.
Soule also manages the frequently updated wine list with some 90 bottles primarily from California, Oregon, France, Italy and New Zealand, and a handful of quality wines by the glass that might include pours like Quivira Dry Creek sauvignon blanc and August West Santa Lucia pinot noir.
"One of my great joys at work has been building the wine list, traveling to our beautiful wine country, learning how much work goes into every bottle," says Soule. "And searching out producers who share my beliefs and mirror our small business plan, with respect to the environment and to their people. Plus, who doesn't love a great bottle of pinot?"
Room for dessert? Check out a New York–style cheesecake, perhaps ginger and meyer lemon or the bread pudding of the month, such as mango pecan. The signature Queen of Sheba is two layers of flourless chocolate cake with freshly whipped cream and homemade ice cream.
Three and a half decades in business in a seasonal town has not been without its challenges. But the Soule brothers seem to have found the secret sauce.
"We have persevered over 34 years, with a lot of ups and downs, personnel changes, economy fluctuation, weather problems and 9/11," says Soule. "But we have been able to stay with it, work harder, find a sweet spot and stay in our lane. Just continue to do what we know how to do and make it even better."
---
Incline Village-based Susan D. Rock is Tahoe Quarterly's longtime food & wine editor.
---
The Soule Domain
9983 Cove Street, Kings Beach
(530) 546-7529
Open nightly at 6 p.m. Reservations requested.