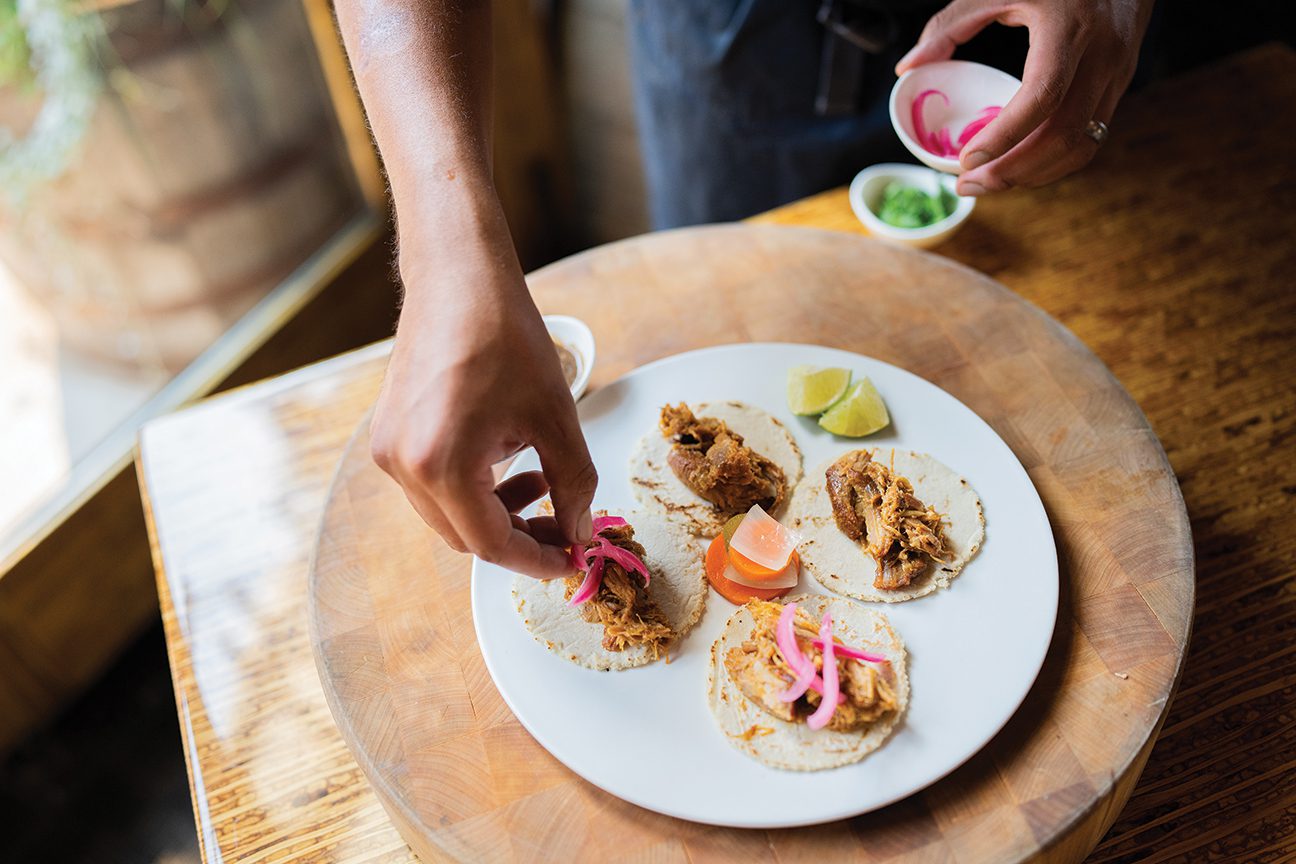 Chili adobo braised chicken tinga tacos at Stella, photo by Susan Theis, courtesy Stella
27 Sep

Stella: Truckee's Shining Star
Stella at the Cedar House Sport Hotel focuses on taste and place
Stella, translated from Latin, means star. And the Truckee restaurant by the same name at the Cedar House Sport Hotel certainly shines bright.
Originally opened in 2008 by chef Jacob Burton, who garnered Best New Chef nominations from Food & Wine Magazine and the James Beard Foundation during his tenure (and has since moved on to Reno's Renaissance Hotel), Stella has undergone a couple of iterations since its debut; the Colorado-based hospitality company Gravity Haus has owned and operated the hotel and restaurant since December 2021.
Built in a warm and welcoming mountain-modern style, the wood, stone and steel space on Old Brockway Road boasts an open kitchen and walls decorated with renowned nature photographer Karen Hutton's large-scale works. It seats 38 diners inside, and another 28 on the patio in warmer weather.
Stella's executive chef, Lupe Solis, who grew up in the Truckee area, has worked at the restaurant for over a decade, first as breakfast chef, then pastry chef, eventually assuming responsibility for the restaurant's culinary offerings when it re-launched with its current concept in 2019. Solis' menu draws both from his Mexican heritage as well as his affinity for Mediterranean and Middle Eastern cuisine, leaning heavily on a smoker and brick-lined wood-fired oven to impart extra depth to dishes. He partners with local purveyors such as the Tahoe Food Hub to source the freshest seasonal ingredients as close to home as possible.
Starters here cover Mideast-Mediterranean standards such as hummus spiked with spicy green zhug sauce, falafel with lemon garlic tahini, and zaalouk, a Moroccan eggplant spread laced with olive oil and herbs and served with house-made seeded crusty bread or pita. The guacamole gets chili oil, queso fresco, aleppo pepper, lime, micro cilantro and yellow corn tortilla chips for scooping. Smoked chicken wings are sauced with ancho barbecue or sweet chili lime and come with a garlic lime dip.
Street-style tacos are made veggie style with mixed wild mushrooms or with chicken thighs, both cooked in chili adobo and served on handmade corn tortillas topped with pickled red onion and tomatillo habanero salsa. The menu also includes a seasonal salad as well as a "local farm feature" assembled from just-picked produce, such as yellow peaches, crumbled feta, toasted cashews, mint and pipian verde—a mole-like sauce made from ground pumpkin seeds, herbs and spices.
Main courses might include selections such as a crispy skin branzino prepared atop a polenta cake with squash, marinated cherry tomatoes, olives, capers, a Lebanese garlic sauce named toum, and a spicy North African–style tomato and smoked paprika fish stew base called chreime.
A turmeric chicken dish is made with a Mary's free-range pan-roasted airline breast, lentils, smashed Persian cucumber salad, carrot, honey aleppo sauce, sesame and cilantro.
The complex wood-fired cauliflower dish gets a barbacoa rub, creamy serrano cashew and avocado tomatillo sauces, blistered shishitos and red rice—and is entirely vegan.
Many meat eaters opt for the filet mignon, cooked sous vide and finished on the grill, plated with asparagus, morel mushrooms, fingerling potatoes, spring onions and mole negro.
The short but well selected wine list offers about 20 labels split between red and white, most available by the glass and bottle. A half dozen beers include three rotating taps featuring area suds such as 530 Lager from Truckee Brewing Company.
If you've saved room for dessert, ask for two spoons and the rich and flourless chocolate cake dome topped with honeycomb candy and dark chocolate curls and served with a sweet and sour strained yogurt cream. Or go all in on the baklava sundae with its layers of vanilla bean ice cream, baklava and honey syrup. Vegans will appreciate the rice pudding made with coconut milk, lime, pineapple sauce and toasted coconut.
Hungry for more? Stella also serves a morning menu daily stocked with a hearty and filling lineup of chilaquiles, breakfast scramble burritos, avocado and lox toasts, oatmeal power bowl, Greek yogurt parfait with Mt. Rose honey and French toast made with cinnamon custard–soaked brioche, plus smoothies and coffee drinks.
Worry not if all this goodness may inspire the urge to run outside and scream, "Stel-la!" into the Sierra skies. You wouldn't be the first—or the last.
---
Stella at the Cedar House, 10918 Brockway Road, Truckee, CA, 530 562-4670, www.stellatruckee.com. Breakfast is served daily from 7 a.m. to 11 a.m.; dinner is served Wednesday to Sunday from 5 p.m. to 9 p.m. Reservations strongly encouraged; the maximum party size is six. Stella adds one percent to each check for Zero Footprint, a nonprofit agricultural organization committed to supporting local farmers and producers and promoting sustainable farming and fishing practices, as well as environmental stewardship.
---
Based in Incline Village, Susan D. Rock is Tahoe Quarterly's longtime Food & Wine editor.