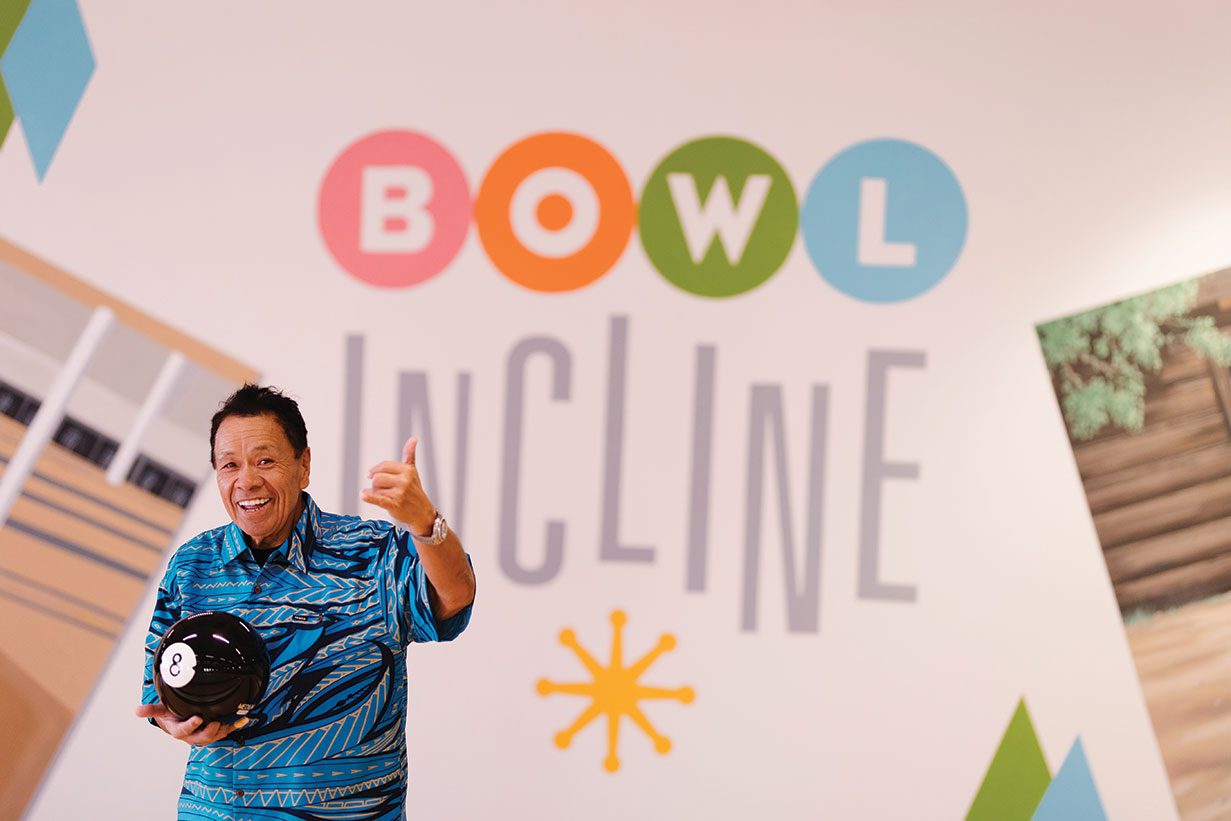 Award-winning chef Sam Choy is behind Bowl Incline's counter-service Ohana Diner, photo by Holly Shankland Photography, courtesy Bowl Incline
26 Apr

Tahoe's Best Entertaining Eats
Because sometimes you want a little fun with your food
Good food and good fun don't often play well together, but we found several spots around the lake with both solid eats and some social activity or entertainment. As always, before heading out, be sure to check with the venue for schedules and availability.
North Shore
SAM CHOY'S OHANA DINER
At Bowl Incline | 920 Southwood Blvd.  |  Incline Village, NV | (775) 831-1900  |  bowlincline.com
Tracy and Steve Tomkovicz, who restored Bowl Incline to its 1960s fun, bright and shiny glory, tapped longtime friend and award-winning chef, Food Network star and restaurateur Sam Choy—also known as the godfather of poke—to open this counter-service eatery as part of the project. An Oahu native whose family ran a bowling alley when he was a child, Choy's menu reflects his Hawaiian heritage: poke and teriyaki chicken bowls, loco moco, Spam musubi, fish tacos, kalua pork fries as well as chow mein and ramen dishes. There are also pizza and burgers for those not so island inclined. 
Patrons can eat their meal wherever they like—at the 16 sleek LED-lit bowling lanes, the horseshoe bar with 10 beers on tap, some 14 wines by the bottle and glass, and bowling-themed cocktails—or, when open, the upstairs lounge and the outdoor patio space with fire pits and heat lamps. Additional entertainment includes an updated arcade, video gaming, pool tables, axe and knife throwing, bocce courts, cornhole, karaoke, dancing and live music, Wacky Wednesday family fun, plus 28 television screens.
SPINDLESHANKS RESTAURANT
At Old Brockway Golf Course | 400 Brassie Ave.  |  Kings Beach, CA | (530) 546-2191  |  spindleshankstahoe.com
Located in a log cabin-like setting at Old Brockway Golf Course at the corner of Highway 267 and North Lake Boulevard, owner-chef Steve Marks' American bistro serves hearty breakfast, lunch and dinner fare. The day here starts big with chicken fried steak, chilaquiles, ham steak and eggs, and huevos rancheros, while the lunch brings chili garlic fried calamari and rock shrimp, hoisin ribs with chipotle slaw, sandwiches including seared ahi and pastrami options, as well as burgers and fish tacos. Longtime dinner favorites include steamed mussels, ahi napoleon, ginger lemongrass brick chicken, griddled rainbow trout, beef short ribs and pork schnitzel.
In the warmer months, wrap-around decks provide a peek of the lake along with golf course views. Ride or walk the historic 1930s-era nine-hole course played by the likes of Frank Sinatra, Dean Martin, Bob Hope, Dwight D. Eisenhower and Joseph P. Kennedy, or opt for the driving range, free putting green or pair of outdoor bocce courts. Happy hours and occasional live music are popular with the regulars.
TAHOE GAL
952 North Lake Blvd.  |  Tahoe City, CA | (530) 583-0141  |  tahoegal.com
Shipped from Wisconsin in three pieces, the 64-foot Tahoe Gal departs up to four times a day from mid-May through mid-October from the pier at Lighthouse Center in Tahoe City. Equipped with a full galley and bar, the double-decker paddle-wheeler, which can accommodate 120 guests, rolls out full meal service and food prepared to order on several of its outings.
Most popular is the 3 ½-hour Lunchtime Cruise to Emerald Bay, passing Hellman-Ehrman Mansion at Sugar Pine Point en route. Chicken skewers, pot stickers, fresh fish salad, burgers, chicken Caesar wrap and sandwiches of the barbecued pulled pork, prime rib, teriyaki chicken and portabella mushroom sort are all available for purchase. The Shoreline Brunch Cruise, which follows Tahoe's West Shore with its fabled estates, adds a breakfast burrito, Texas toast and scrambled eggs to the offerings.
The Sunset Dinner Cruise, also along the West Shore, offers a menu with selections such as steamed clams in a lemon, butter, garlic sauce, grilled fresh fish of the day and slow-roasted prime rib. Over 30 premium California wines are served in proper stemware at tables set with linens, silverware and fresh flowers. Beverages include Alibi Ale on tap and frozen cocktails like the Keep Tahoe Blue made with Tahoe Blue vodka. There's live music on Sundays; look for monthly full-moon tours, as well as a special laser show, July 3 and 4.
RED TRUCK
At Truckee Tahoe Airport | 10356 Truckee Airport Rd.  |  Truckee, CA | (530) 587-1394  |  redtrucktahoe.com
Whether you're an aviation geek or just want a little glimpse into the lifestyles of the rich (and perhaps famous) flying private in and out of Truckee Tahoe Airport, the Red Truck Cafe can set you up with some modern global comfort food and a front-row seat to the action out the big tarmac-facing windows or at the picnic tables on the patio. Successful with his Red Truck on wheels, chef Larry Abney took over the former Runway Cafe space in the terminal, where his chicken tikka masala, adana pork (marinated with onions, garlic, rosemary, marjoram and black pepper), coconut curry lamb, falafel and seasonal vegetables tossed in curry find their way into naan sandwiches, gyros, tacos, burritos and quinoa bowls. 
Other fan favorites include the brisket naan dog with spicy relish and caramelized curried onions and the Caesar salad tossed with tahini-curry dressing, chickpeas, marinated paneer, roasted tomatoes, avocado and naan croutons. Soups, samosas and quiche change daily, and specials ranging from a Thai fried chicken sandwich to a shrimp po' boy often reflect what's fresh from local purveyors like Tahoe Food Hub and Twin Peaks Orchards. A small breakfast menu includes burritos bowls and sandos, and those in the know pick up a freshly baked cookie to go.
TRUCKEE THURSDAYS
Historic Downtown Truckee | truckeethursdays.com
Old Town Truckee's iconic feel-good summer street festival where you can eat, drink, dance, shop and stroll returns on Thursdays from June 22 to August 10. A beer garden and food truck court serve an eclectic selection of eats—some past participants have included Mogrog Rotisserie, Tacos Herrera, Dave's Dawgs, Mountain Lotus Provisions, Kaliko's Hawaiian Kitchen and Little Truckee Creamery; local restaurants also offer specials during those hours.
This family- and dog-friendly event also features a certified organic farmers market, children's activities, a wide variety of artisan vendors, sidewalk sales and other activities hosted by downtown merchants. To manage the inevitable parking problem, use the complimentary bike valet located on the corner of Jibboom and Bridge streets or the free shuttle service traveling to and from downtown Truckee throughout the evening.
RIVER RANCH LODGE & RESTAURANT
2285 River Rd.  |  Tahoe City, CA | (530) 583-4264  |  riverranchlodge.com
Dating back to the late 1800s, Tahoe City's rustic River Ranch Lodge & Restaurant is perched along a scenic and celebrated bend on the Truckee River, its spacious outdoor patio and terrace positioned along the docks of a natural pool where hundreds of summertime visitors arrive daily via rafts, canoes, SUPs, inner-tubes and inflatables.
Whether you've just run the river or prefer to watch the aquatic antics from shore, a casual counter-service menu typically offers summery selections such as shrimp ceviche, spicy crispy hot chicken or smoked pulled pork sandwich, a half-pound burger with plant-based and grilled chicken options, and Nathan's Famous hot dogs. There's also a solid wine list, cocktails and beers from local producers such as Fiftyfifty Brewing Co. and Alibi Ale Works. The fun starts Memorial Day weekend and typically runs through mid-September.
South Shore
TASTE AT THE LOFT
1001 Heavenly Village Wy.  | South Lake Tahoe, CA | (530) 523-8024  |  thelofttahoe.com
Dinner and a show is easy at the third-floor Loft at Heavenly Village. At Taste at the Loft, which can seat about 100 guests, co-owner and chef Frank Trotta, a CIA-Hyde Park alum and certified sommelier, oversees a seasonally changing lengthy menu featuring small and large plates. Look for selections such as charcuterie boards, roasted tomato bisque with crabmeat, bison carpaccio with truffle oil, garlic-crusted mini lamb chops, crispy tamarind chipotle duck tacos, blackened shrimp mac and cheese, sun-dried tomato pesto crusted Chilean sea bass, steak frites and cioppino.
The Lounge, which stays open late, features a full bar and award-winning wine list, with music, trivia nights and locals discounts. The separate 107-seat stadium-style showroom is home to Magic Fusion, a high-energy, fast-paced magic and comedy theater production. The early show is family-friendly and on Sundays kids get in free with a paying adult (based on availability). Reservations are available for both dinner and the show.
FLATSTICK PUB
4101 Lake Tahoe Blvd.  | South Lake Tahoe, CA | (530) 443-4376  |  flatstickpubtahoe.com
Flatstick Pub, which is owned by the same Tahoe peeps who run Tipsy Putt in Sacramento, gives a new meaning to "nine and wine." An indoor mini golf course, whose first five holes spell out "Tahoe," employs area brewery kegs outfitted with bar tops as obstacles on the course. A tabletop golf game called "duffleboard" uses real golf balls and a special handheld putter in a shuffleboard-meets-mini-golf mashup. An expansive mural, painted by Sacramento artist Lily Therens, features scenes from around Tahoe, movie references and golf puns. Large-screen TVs make sure you won't miss your favorite sporting event and a 4,000-square-foot patio with lawn games and heaters extends the fun outdoors.
The counter-service menu features Mexican street food like quesabirria, chicken tortilla soup, black bean chili, bean and mango salad, tacos and burritos. Some 30 rotating beers on tap feature local and regional breweries such as Storm Chaser lager from FiftyFifty in Truckee and Pie Shop sour from South Lake Brewing Company and cocktails are mixed with locally sourced spirits. There are trivia and neighbors nights, bottomless mimosas on Sunday, and, though family-friendly during the day, the pub shifts to 21 and older after 8 p.m.
M.S. DIXIE II
760 US Highway 50  |  Zephyr Cove, NV | (775) 589-4906  |  zephyrcove.com
Offering sightseeing cruises to Emerald Bay year-round, this 500-passenger triple-decker paddle-wheeler also offers day and evening dining options. On the 2-hour, 15-minute narrated daytime departures, made-to-order food and drink items for purchase include a chicken Caesar salad, chili, roasted tomato soup with grilled cheese, grilled chicken sandwich, beef or black bean burger, and fish and chips. A full bar sells cocktails such as the Tahoe Blue margarita made with blue curacao, tequila, triple sec, Chambord, sweet and sour, lime and orange juice; a handful of wines are available by the bottle or glass along with draft and canned beers.
The dining shines during the sunset dinner cruise, which adds live music, table service in a climate-controlled salon and a set menu that starts with freshly baked rolls and butter and roasted heirloom cherry tomatoes on a baby spring mix greens tossed with balsamic glaze. Main courses include a cowboy ribeye steak with green peppercorn sauce and garlic and leek mashed potatoes, a pan-seared Copper River salmon with citronette atop creamy polenta, and chicken breast with chimichurri sauce and mashed potatoes. Vegetarians will like the wild mushroom ragout and polenta with aged asiago. Entrees come with steamed broccolini and roasted red pepper, and for a sweet finish, a New York cheesecake is served with fresh berry sauce. Note that diners are seated at communal tables for six and during winter months the sun sets during boarding. Reservations suggested.
---
Incline-based Susan D. Rock is Tahoe Quarterly's longtime Food & Wine editor.