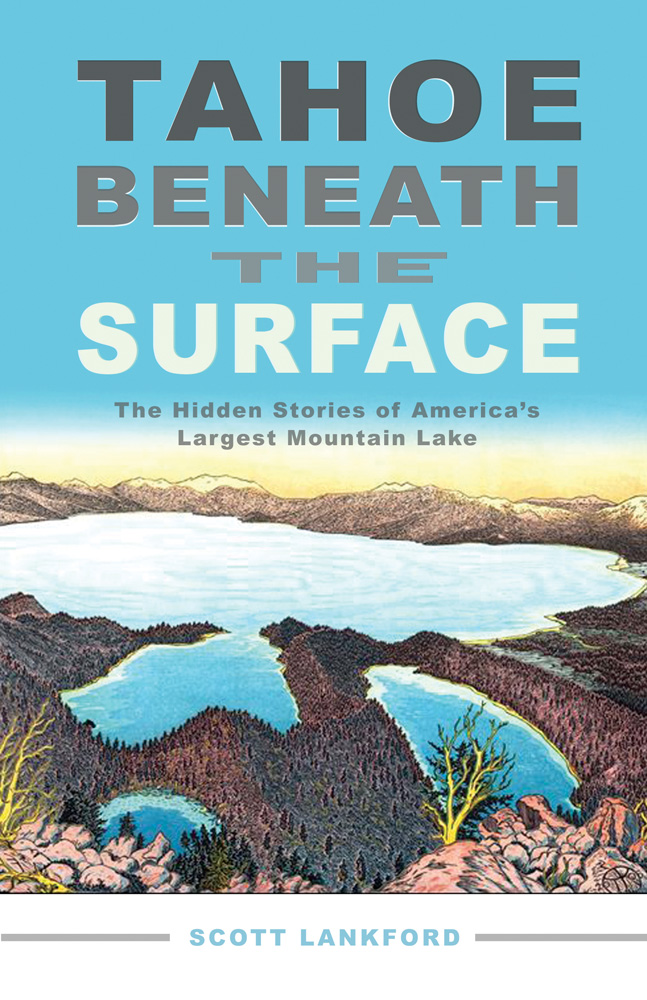 07 Feb

Historic Tall Tales of Lake Tahoe

Bankrupt and blacklisted, a failed 70-year-old British philosopher named Bertrand Russell once sat stark- naked in his tiny cabin near the shores of Lake Tahoe, typing out a manuscript titled An Inquiry into Meaning and Truth. That book would eventually help to reestablish the writer and philosopher's career: Ten years later, in 1950, Russell was awarded a Nobel Prize in Literature.

Russell's story is just one of many transformations that occurred at Lake Tahoe, making one wonder if Tahoe's famous nickname, "The Lake of the Sky," shouldn't be changed to "The Lake of Surprise."
TRANSFORMATIVE TAHOE
The surprising truth is that Lake Tahoe transformed America, not just once but many times over—from our earliest Ice Age civilizations all the way forward to the strangely tangled fates of the Kennedys, Frank Sinatra, Jack Ruby and Marilyn Monroe (all alleged denizens of those subterranean tunnels hidden just beneath the North Shore's notorious Cal-Neva Casino). Somewhere in between the Ice Age and the Rat Pack, Tahoe helped to conquer California, launch the Republican Party and save our national forests from destruction.
For newcomers, even the self-enclosed nature of Tahoe's watershed must seem surprising. I can't count the number of times I've heard tourists stammer, "You mean all this water doesn't ever flow to the Pacific?" They're not alone. Right up to the 1850s, generations of mapmakers remained stubbornly convinced that there must be some kind of river connecting Tahoe to the Pacific.
Eventually, John Fremont, the first white explorer to "dis- cover" The Lake in 1844, etched these errors into the maps he used to carve out the official boundaries of the new state of California, accidentally dividing The Lake: two-thirds in California, one-third in Nevada. Later still, when Fremont became the Republican Party's first-ever candidate for president, long before Lincoln, images of the Tahoe Sierra were still splashed across the GOP's campaign posters nationwide. How much water did Fremont's mapping error involve? A mind-numbing 39 trillion gallons of Sierra snowmelt hidden in a slim frosted granite goblet more than 1,600 feet deep, then hoisted more than a mile high into skies—a feast fit for the gods; a surprise for the eyes. That's enough to fill 312 trillion little plastic pint bottles of Evian or Perrier—every drop of it just as pure as the stuff you pay for. Priceless. Yet given a pop quiz, how many Americans would guess that our nation's largest single body of water by volume west of the Mississippi is Lake Tahoe, not the Great Salt Lake? Now there's a surprise.
These days, even The Lake's survival seems surprising—or ought to. Logged from shoreline to ridgeline in the late 1800s, Tahoe stumbled into the twentieth century as perhaps the single most systematically ravaged landscape in all the Wild West. Yet today, Tahoe once again ranks as one of the world's premier natural treasures, cherished by tens of millions of tourists—and celebrated by countless world-class authors.
LITERARY LEGENDS
Surprisingly, no one thinks of Tahoe as a literary capital—but we ought to. The list of celebrated authors whose careers were transformed by Lake Tahoe includes two Nobel Prize winners (John Steinbeck and Bertrand Russell), America's best-known humorist (Mark Twain) and the founder of the American conservation movement (John Muir). In the twenty-first century, two of our most revered literary superstars—poet Gary Snyder and novelist Michael Ondaatje—still paint The Lake in print today.
Here, too, authors' failures bore fruit: After accidentally burning down his own priceless stand of Tahoe timber in 1861, Sam Clemens took a desperate two-bit job as a reporter just to pay his bills—writing under the unlikely pen name of Mark Twain to help hide his shame. Today, he remains America's best-selling author.
Forty years later, enraged by the destruction of Lake Tahoe, John Muir successfully founded the Sierra Club—but tragically failed to create a Lake Tahoe National Park. Instead, he left a whole string of national parks and forests scattered up and down the Sierra Nevada in his wake (a nearly adequate concession prize).
In 1924, another failed Stanford drop-out moved to Lake Tahoe to write—of all things!—a pirate novel. Critics hated the book (still do). But here, John Steinbeck honed his craft as a writer and met his future wife in a Tahoe fish hatchery— making Tahoe just as much a part of Steinbeck Country as the Salinas Valley or Monterey Bay.
SPEAKING FRANKLY
Frank Sinatra's epic battle on The Lake with Hollywood diva Ava Gardner failed to sink his career. Quite the opposite: Legend has it that the cat-fighting couple hurled insults (and objects) at each other until their boat literally ran aground, temporarily throwing cold water on their curses. Later that night, when Gardner walked out on him, Sinatra allegedly attempted suicide until she came rushing back. The result? His second marriage—and "I'm a Fool to Love You," the song that literally redefined the aging crooner's career.
TALL TALES OLD AND NEW
The area is host to an almost bottomless stock of frontier tall tales—ranging from Tahoe Tessie (kissing-cousin to the Loch Ness Monster) to the local Washoe Indian tribe's mythic dragon-eagle, Ong. And don't forget our more modern lake legends—like the one alleging that Jacques Cousteau found fully-clothed Victorian corpses floating deep beneath the surface back in the 1960s. Sacré bleu—what a monstrous surprise.
Yet who needs tall tales when you have 10,000 years of continuous human history at Lake Tahoe to comb through? As Mark Twain—the best-known of Tahoe's literary lions—once pointed out, "Truth is stranger than fiction, but it is because Fiction is obliged to stick to possibilities; Truth isn't."
SCIENCE STILL SURPRISES
Scientifically speaking, Tahoe's future, like its past, remains predictably unpredictable. It's a long story. In the late 1990s, scientists worldwide were shocked to discover mummified human remains within the wider range of Tahoe's present-day watershed that dated back almost 10,000 years—all the way to the end of the last Ice Age. Soon thereafter, SCUBA-diving scientists discovered 6,000-year-old fossilized forests hidden deep beneath the present-day surface of The Lake—evidence of a catastrophic climate change on a scale previously undreamed of. Well, at least undreamed of until lately.
Surprise, surprise.
So in addition to those familiar bumper stickers emblazoned with the timeless battle cry to "Keep Tahoe Blue," how about some new ones that read "Keep Tahoe True"? Or better yet, "Keep Tahoe Deep"? Or best of all: "Keep Tahoe Surprising."