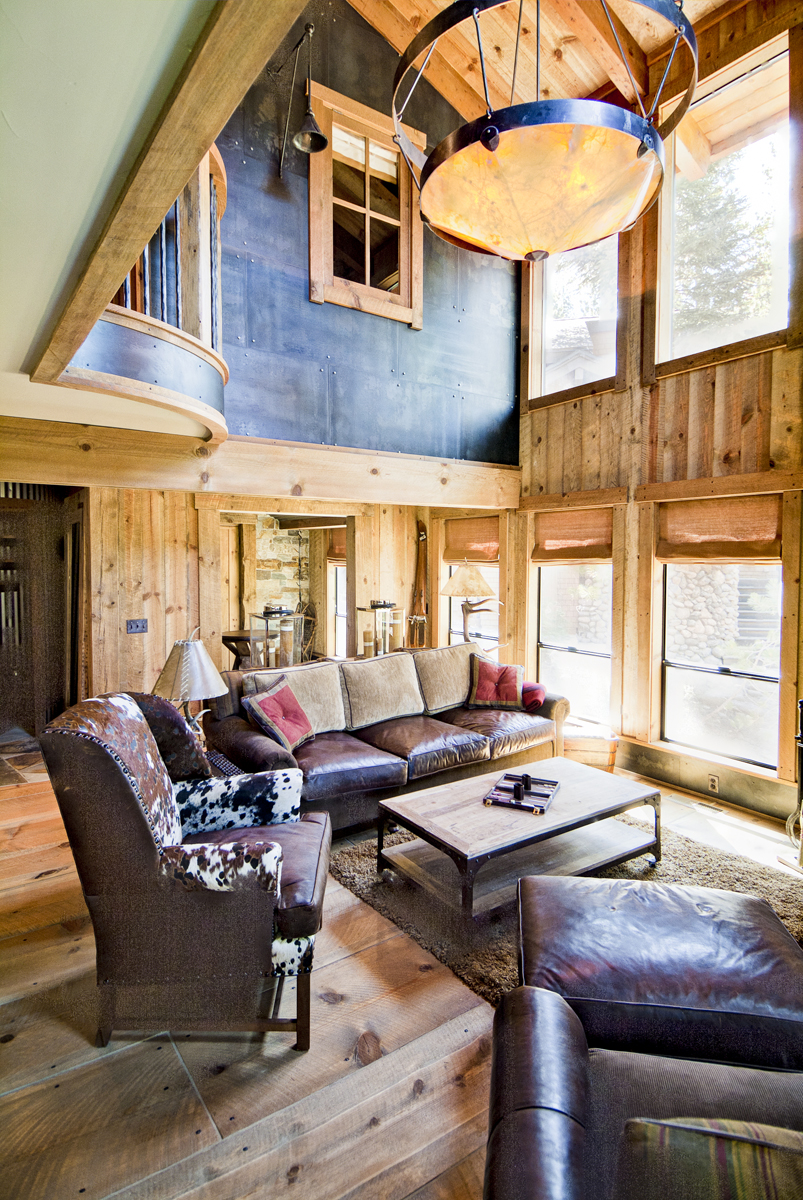 Y Chromos – Home
It started with
a cabinet-induced flesh wound. The home- owner, Band-Aid on head, called for help, from High Camp Home and High Sierra Customs. "He said he hits his head every time he's in the house," says High Sierra Customs' Bill Lorrain of the owner, who prefers anonymity. "That was his inspiration. He asked if I would fix the kitchen so he wouldn't hit his head."
An initial kitchen remodel morphed into a "while you're at-it," says Lorrain, eventually becoming three phases that transformed the home into a men's retreat for the Napa Valley–based owner and his three sons.
A before picture of the home included: rooflines that shed snow right onto the front entry; stairs up to the front door and then down to the living room; a dark seventies-style interior; and multiple foam-covered kitchen cabinet comers and a drawer full of Band-Aids. Post-remodel, it's a rustic retreat tuned to the male psyche, a clubhouse for guys who entertain and take advantage of all the nearby recreation at Northstar­ golfing, skiing, etc.
Vincent conceptualized and drafted the architectural design and started by reconfiguring the home's main interior spaces. The entry came down to ground level, and a bedroom moved upstairs. The kitchen traded in its overabundant dark-wood cabinetry and added a space-saving butler 's pantry hall as well as a new orientation to maximize the length of the room for entertaining. Archaic ball-and-chain lighting in the powder room was replaced by custom iron fixtures, which continue throughout the home alongside onyx fixtures.
"This remodel was interesting because usually we're taking out walls," says Vincent. "But here, along with removing walls, there were some walls that needed to be built"—for instance, a wall she added to create the updated dining room and the new ski mudroom.
"There is just a huge improvement in the way the volume of the spaces are organized," says architect Peter Gerdin, who worked on the entry, garage, decks and games room addition. The home's upper level is now accessed by a spiral stair- case, encased in corrugated metal to resemble a silo, one of Lorrain's pet projects. In the upstairs landing hall, Vincent moved back the loft to create a social space with furniture and a gas stove, and sourced a New York City fire escape ladder to best punctuate the loft's ascent.
But the true star of the upstairs is the games room, a new addition above the reoriented garage. "It's just screaming man cave," says Lorrain, with a tinge of pride as he cites the ame- nities: true-pocket billiards table, full bar, TV and two-sided fireplace facing separate nooks with leather seating.
"Designing this space was challenging but fun; it's perfect for entertaining," Vincent says.
Despite having started as just a kitchen remodel, it's quite impressive how cohesive the end result feels. The TQ judging panel noted the use of space, how every inch was utilized to fit four bedrooms and four baths without overcrowding any one. Another remodel highlight that Lorrain gets particularly excited about is the flooring. "That floor is sawn pine plank 21 inches wide, circular saw marks with log chinking joints between each board," he says. "There's nothing like it. We've always kicked around just how wide we could do planks in a wood floor, and this one wins."
These floors, and much of the home's other timber, were milled from dead-standing pine. Reclaimed wood accents and durable plaster walls (with ground pecan shells in the finish) add masculinity. "It's a real textural home," says Vincent, who warmed up the colors, but kept the tones neutral.
She also employed what she calls farmhouse creamery stone, a lighter departure from the typical ledge, throughout. "South of France," "Old World" and "barn foundation" were descriptors Vincent, Lorrain and Gerdin threw out to describe the masonry's look.
It's unanimous that the design-build team—along with the help of Poulin Steel, Johansen Masonry, finish artist George Zaffle and Steve Reed of MSM Sheet Metal & Steel Fabrication—pulled off an incredible space transformation, one that the men of the home are enjoying to the fullest.
Architect: Peter Gerdin,  Builder: High Sierra Customs,  interior: High Camp Home,  Square Feet: 2,500 increased to 3,400 ft