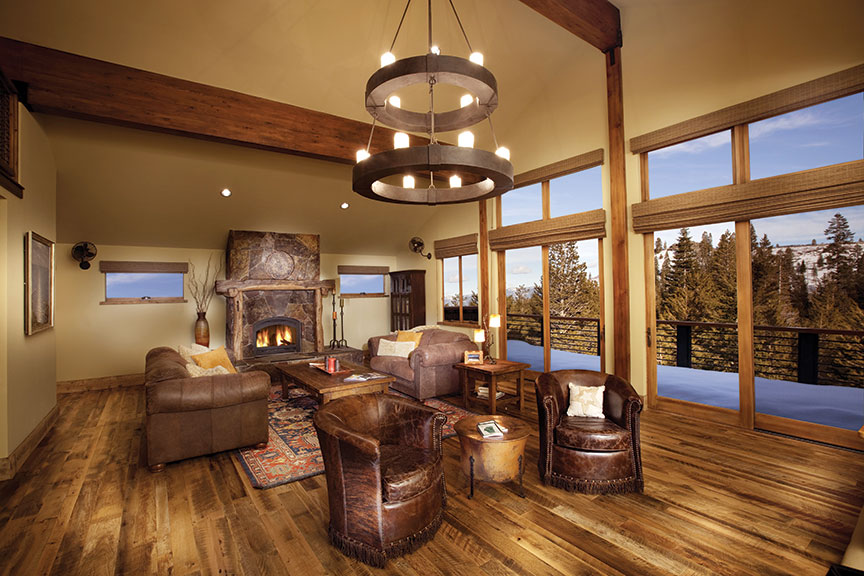 24 Feb

Added Value

Kim Watrous had a problem and a few potential solutions. The Bay Area resident's three growing children and their stuff were outpacing the capacity of her and husband Marc's Tahoe Donner ski home. The mid-2000s home, purchased on spec, needed a real mudroom and more space for her family to stretch out, Watrous says.

She thought about building a new home on lots the family owns across the street and next door to their Tahoe Donner home or looking to build elsewhere in Truckee until a third option presented itself.

"Around that time, a landscaper said to me 'why don't you just expand to the left of your garage?'" Watrous says.

Watrous reached out to Tahoe City's SANDBOX Studio to design an addition to the home—an expanded mudroom, laundry room and family room on the home's ground level. Additional updates were made to the home's exterior, kitchen, great room and master bedroom, located on the upper floor.

"It was a lovely house but for the most part it was a spec house with spec finishes," Watrous says.

"It's a good house," says general contractor Mark Tanner, who had completed smaller projects for the couple in the past. "It has good bones."

Tanner installed a larger mudroom and laundry room off the ground-floor garage entry. Barnwood and weathered, wire-mesh doors give the family's ski lockers a rustic look. Small cubbies above the lockers provide extra storage while an adjacent sliding barn-door conceals the laundry.

"I wanted that room to be a focal point—to be very clean and simple and blend mountain and modern styles," Watrous says.

Concrete flooring—easy to clean—lies on top of a plywood subfloor and low-voltage electric heating mats, which warm the floor for the skier returning home.

"It's as close as you'll get to radiant (heating) at a fraction of the cost," says Tanner, noting the family can keep the mats on a thermostat to cool off after they leave in the morning and heat back up before their return.

Adjacent to the mudroom is the family's new "man cave," with a showpiece-quality fireplace, seating for all, a wet bar and keggerator.

"Marc wanted a man cave, and Kim wanted a space for kids to hang out that wasn't the same as the family room upstairs," Tanner says.

The stone fireplace gives way to a hot-rolled steel wrapping above the mantle leading up to the peaked roof. Plush carpeting gives the room a cozy, lounge-like feeling.

"It was important to me that the room felt as great as the great room upstairs," Watrous adds.

The old family room, also on the ground floor, was converted into a guest bedroom and a bathroom, that leads to an outdoor spa—keeping drips contained.

Upstairs is the great room, where new finishes include totally redone windows and a custom metal chandelier over tobacco oak hardwood flooring. A membrane below the floor muffles noise from downstairs for a peaceful visit. The original wood cladding ceiling was removed and window heights raised to open the space and expand the view.

The adjacent kitchen was "brought from the 1990s into the twenty-first century," Tanner says, noting new cabinet doors, hand-blown glass fixtures and a graphite falling water backsplash. Blue steel inserts were added to the kitchen bar for a modern touch.

Outside, the home was clad in blue steel and barnwood, a material for which Watrous has a particular affinity. "I think it's absolutely functional and beautiful," she says.

An interesting, highly economical accent was added on the handrails leading to the top-floor entrance and around the deck: steel rebar.

"I'd seen it before and thought it would be something that was really cost-effective and classic," Watrous says.

In a land of major snow—the TQ panel needed to cancel its first visit in October due to an early blizzard—Watrous says it was important the family really feel comfortable with the remodel.

"My kids love it, they never want to leave," she says. "And that's good up here, because after a storm you can spend a lot of time in your house."

The perfect place to hunker down while another winter works its magic.
Remodel award
Designer: Scott Gillespie, SANDBOX Studio
Builder: Mark Tanner Construction
Interior Design: Mark Tanner Construction and owners
Year Completed: 2012
Square Feet: 3,800
Percentage of home remodeled: 90