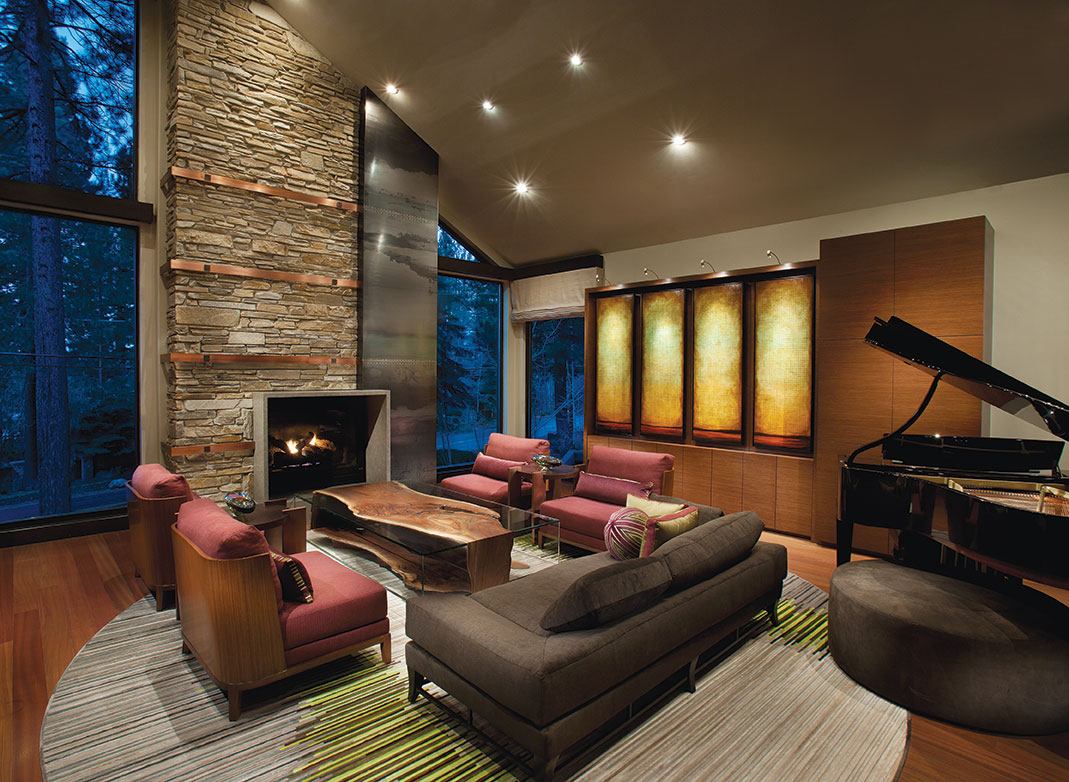 24 Feb

Custom Cool
Unique elements take a home beyond now to wow
Interior designer Anita Lang had a directive from a couple who recently made a real estate purchase: Take an inviting, not-so-old house and give it an updated contemporary look. Mission accomplished with a sleek and clean mountain modern aesthetic that melds form and function in a very winning way.

Panels slide apart to unveil the home's office—and slide shut to provide a backdrop for
the dining room
Located in Incline Village, the 6,558 square foot Lakeshore Boulevard property was originally built in 2000 and purchased as a full-time residence by the current owners, who wish to remain anonymous, in 2011.
This whole-house remodel was very much about "taking space and molding it and using the architectural details to mold the environment," says Lang, founder and principal designer of IMI Design, headquartered in Scottsdale, Arizona, with plans to open a Truckee studio this spring.
Numerous heavy timber roof trusses repeat in the main living area and kitchen. Lang chose to leave them exposed but paint the large triangular forms with a grey-hued glaze, allowing the wood grain to show through but blending the beams into the similarly toned ceiling above. This theme of horizontal lines also helps keep one's eyes from wandering up into the rafters.
"Horizontal lines create harmony and continuity," says Lang. "I like the rhythm. That's why it's repeated so often throughout."

Metalwork by Reno's Tutto Ferro screens the entrance to a powder room
Lang also likes the notion of controlling contrasts through the juxtaposition of color, texture and lines. The palette of materials that debuts at the limestone-framed ribbon fireplace in the main living area echoes throughout the house: Rectangles of hot-rolled steel fabricated by Reno's Tutto Ferro trimmed with a copper grid; wenge, a richly grained species of African hardwood; Brazilian cherry flooring that adds warmth and richness underfoot and contrast to the grey walls.
A substantial glass pivot door to the outdoor balcony adds verticality with its cross-hatched steel work, countering the low hanging trusses and connecting with the ceiling above. A large leather sectional couch (part of the designer's Anita Lang Signature Collection) is surrounded with a wrap-around wood ledge topped with fossilized granite. Here and elsewhere in the home, Lang's unique furniture creations are essential to the success of the surroundings (her versatile talent as a furniture designer was cited by our panel of experts as a reason this project was picked a top award-winner).
A living room connected to the larger great room offers a more intimate space for Lang's graphic touch. Black-and-white wall canvases echo the room's linear theme and speak to Lang's sense that "life happens between the lines." An existing limestone fireplace surround and hearth has been transformed with steel panels and copper bands.

A game and television room features fun chairs and a view out to The Lake through the great room
"The limestone is clean and has a restfulness I like," Lang says.
Storage cabinets double as a display area for a series of matching custom canvases. The striking coffee table, by John Houshmand, is designed from a glass rectangle wrapped in a black walnut microslab; it is surrounded by Holly Hunt chairs, a Donghia chaise lounge and Kyle Bunting rug. Round-topped end tables add a softening effect. Nearby, a steel screen deflects attention from the powder room behind it.
Lang's intrigue with massing, or how groupings come together, is perhaps best displayed in the ultra-sleek gourmet kitchen. A single architectural mass off the great room, the cabinetry, crafted from wenge and zebrano woods, along with integrated hardware, hides appliances and counter clutter.
A pair of islands topped with Caesarstone employs waterfall edges to keep the look clean and neat; a pop-up television that doubles as a computer screen can be summoned from the depths. A glass-enclosed climate-controlled wine wall uses limestone bricks and tiles to evoke additional strong lines.
Across from the kitchen, a large dining table is a Lang creation. Featuring a gap between its halves, the table is constructed from two 90-degree shapes of wenge and macassar, the latter a brown and black richly ribboned species of ebony. The piece anchors the remaining great room space, demonstrating what Lang describes as "the play for negative space created by intersecting planes." The lighting utilizes an existing negative of the space—a large, low-hanging truss located above the table—by hanging stainless steel bar lights along its length, mirroring the table's intriguing, split design.

A copper and wood panel slides up to reveal a television in the great room
Along the adjacent wall, a pair of barn doors adorned with brightly colored canvases conceals an office space, complete with drop ceiling, custom color lighting and Maya Romanoff wall covering.
In another example of form following function, a laser-cut steel screen connects and unifies the stairwell leading to the bedrooms beyond, mudroom below and guest suite and entertainment center loft above. The slice of architectural mass unifies the space rather than adding visual "busyness." It is also yet another example of Lang's deft touch at utilizing multiple materials in unexpected ways while still creating unified, pleasing results.
To maximize the home's interior, Lang created a new master suite from two existing sleeping areas. Dianda Construction, the residential arm of Reno's Q&D, was key in rearranging the property's spaces. The remodeled house now has five bedrooms and seven baths.

The custom dining table and picture window
To give the master suite its own signature touches, Lang replaced door panels with zebrano wood, hid a large-screen television with a hinged gallery-wrapped canvas and used leather flooring in the master dressing area, a choice she says wears well and is warmer underfoot. Acrylic panels, into which a floral pattern is pressed, both conceal and divide spaces.
The home also includes a self-contained two-story guest suite, which provides visitors their own living and sleeping areas. The well-appointed ground-floor mudroom is outfitted with wonderful cubbies, seating and storage.
Throughout the home, small, clever touches create a unified vision. For example, in a child's shower, the wall covered in a gaudy tile that the owner wanted to keep, Lang commissioned a tile mason to add bands of small colored triangles that tie it to the room's new design. Large or small, the elements Lang brought to this home speak of her alchemy at summoning the power of rock, wood, metal, skin and cloth into a pleasing, exciting whole.
Interior Design Award
Designer: Anita Lang, IMI Design
Builder: Dianda Construction
Year Completed: 2012
Square Feet: 6,558