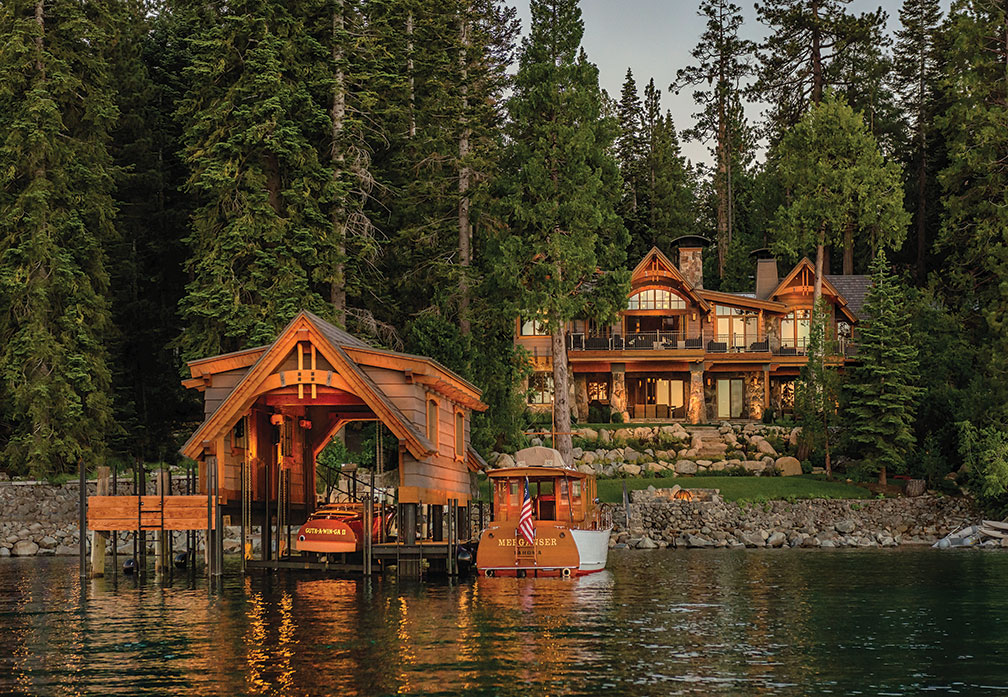 25 Feb

Boat Home Improvement

Time and a 2011 winter storm collaborated to make Bill Parker's boathouse "the ugliest on The Lake," he says.

The Tahoma homeowner's ramshackle boathouse stood in contrast to his grand lakefront estate, finished in 2012, with its weathered granite and redwood exterior. A remnant from a previous owner and matched to a previous estate, Parker wanted to update the building—a difficult task in a regulatory environment where new Lake Tahoe boathouses aren't permitted by the Tahoe Regional Planning Agency (TRPA) and any work on The Lake needs to take place before spring.

So Parker paired his home's build team—Scott Gillespie of Tahoe City's SANDBOX Studio and project manager Seth Kielas from Loverde Construction—with shorezone consultant Jan Brisco to pull it off.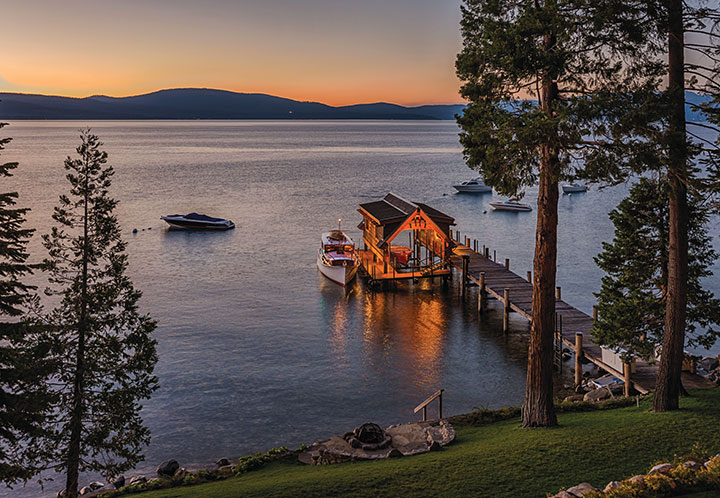 "We wanted to do something in keeping with the architecture of the house," Gillespie says. "This was our first boathouse, and in some ways that was a good thing because we approached it with a fresh perspective."
The redwood-sided boathouse mirrors the home from roofing to picture-frame window trim. A hydraulic-operated ironwood catwalk and sliding staircase adjust for the differing heights of the Parkers' boats and a varying lake level.
"With a lot of the piers and boathouses on Tahoe, when The Lake level dropped, it was almost impossible to get in and out of your boats," Parker says, noting also that an easy-on easy-off system is better for elderly friends.
Brisco helped push the project through TRPA, California Fish & Game, the U.S. Forest Service, Lahontan Water Quality Control Board and U.S. Army Corps of Engineers—a tall order given the compressed timeline the team was hoping to hit.
"That's the dance," Brisco says. "We had to meet requirements from the federal, state and local agencies in order to start work in February 2013."
It was imperative the project begin in February because Lahontan redside minnows spawn along the West Shore in spring, so April 30 is the cutoff to finish up work on the water, Brisco says.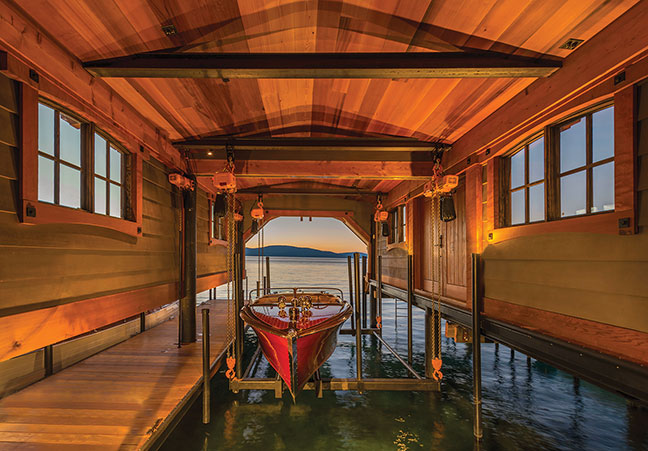 Permits in hand, the Kielas-led Loverde build team took over.
"Our main goal was to do as much work off the pier site as possible," Kielas says. "We pre-fabbed everything that could possibly be pre-fabbed off-site and then barged the pieces out that were cut to size."
With one shot to move all the materials to the project site, stress was high, but after the old wood pilings were removed and the new steel pilings were pounded in without incident, relief set in, Kielas says.
The finished product is easy to operate, stylish and above all, fits with the scenery and estate. All aboard.
Merit Award: Boathouse
Building Design: Scott Gillespie, SANDBOX Studio
Builder: Loverde Builders
Year Completed: 2013