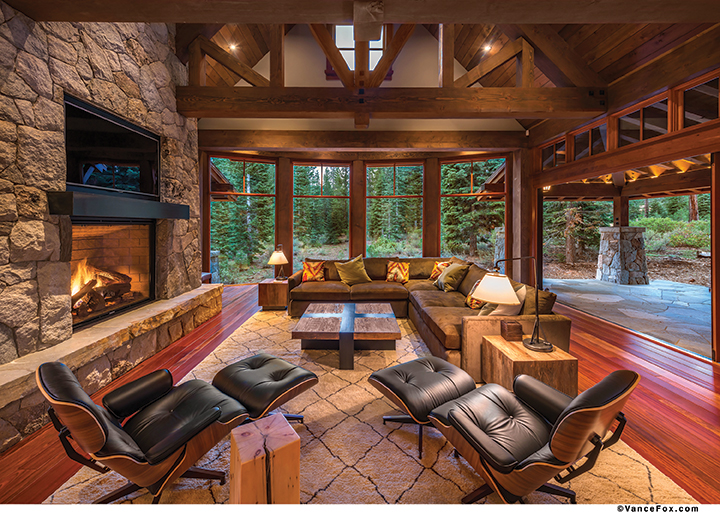 06 May

Big Family, Big Fun
This Martis home accommodates a family of ten with well-
thought out spaces and plenty of room to breathe
Architects consider all sorts of things when siting a home.
Lot size, lot shape, the orientation of the home to the sun and the placement of landscape features like slopes and trees all figure into the equation.
In the case of this Martis Camp home, Truckee architect Nick Sonder had one more consideration: eight kids. The ten-person family (who prefer anonymity) deliberately purchased a lot immediately adjacent to the development's soccer field so their flock would have quick access to energy-burning endeavors.
"Orientation to the soccer field was crucial as that is where the children spend so much of their time," Sonder says of the play field, which lies just to the west of the property.
Another goal for the Old Tahoe–style home—exterior finishes include granite, redwood siding, dormers and copper flashing, peaked roofs and plenty of overhangs—was to maximize the capacity of its footprint.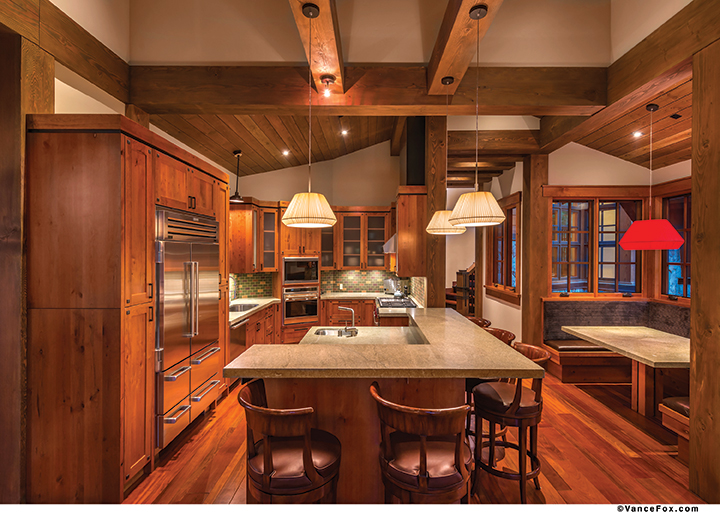 Sonder calls the house a "4,000 square foot home with a 6,000 square foot roof." Overhangs permit passive solar to pass into the house while creating plenty of covered patio and deck areas, which are connected to the kitchen and great room via five folding window walls.
"Their main concern in the great room was having a feel that tied directly to the outdoors," Sonder says. A grand multi-segmented bay window faces directly south to invite light inside. Large, structural, hand-hewn trusses provide a classic heavy-timber look overhead.
To soften the masculine look, interior designer Anna Lambiotte, of Truckee's Studio Lambiotte, opted for lighter, and whimsical touches in some of the interior finishes and light fixtures—including a particular, bright red fixture above the breakfast nook.
"One of the great things about working with the clients was that they totally trusted Nick and me," Lambiotte says. "It would have made some people really uncomfortable to have a red light fixture like that, but it brings that little bit of a contemporary vibe and helps balance out that fairly traditional Tahoe sensibility in the house. I love finding a place in any home where I can add a splash of red; I just find that it's such a great way to make a statement in a home."
In the great room, a pair of black leather Eames lounge chairs—a Lambiotte favorite—provides comfort and style while an oversized sectional surrounds a metal-inlay coffee table on two sides; a long bench feature is incorporated into the fireplace to add seating. Family members and teenage friends frequently bed down on the couch for the night, Lambiotte says.
In the kitchen, her design called for a trio of cream-colored, drum-style light fixtures over the island/bar seating area, which is highlighted by a Costa Esmeralda countertop. The overall lightness of the area contrasts against the Brazilian cherry flooring and heavy timber ceiling.
Proceeding toward the rear of the home, a small staircase leads down toward a tidy mudroom (complete with lockers and sink) and upstairs toward a pair of bunkrooms. Traversing past a laundry room on the main floor are two guest bedrooms on opposing sides of the hallway. Secluded in the back of the first floor is the master suite, which doesn't share a wall with any of the other bedrooms and opens via two sliding window walls to a small patio and the forest beyond.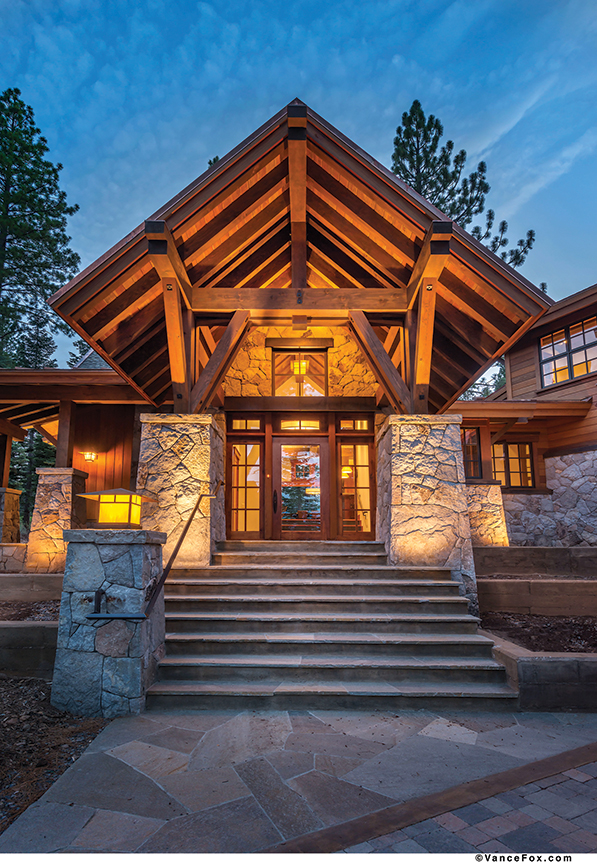 "The master very much feels like it is its own space," Sonder says. "It's nice to afford that kind of privacy in a home that was built to sleep plenty of people comfortably."
The room features a stone fireplace with a hot-rolled steel accent, a large bed and lounge chairs with direct access to the spacious master bath.
The passage upstairs is well-lit with high windows to brighten the stairwell and showcase the wood-and-metal railing with intricate inlays.
The upper floor consists of a small media room that opens to a covered deck, as well as two bunkrooms and a large bathroom for the family's many children.
One place where the homeowners pushed the "budgetary boundary," Lambiotte says, was the kids' bathroom—the shower wall is a massive slab of blue onyx.
"I was biting my nails over the material a little bit," Lambiotte says, noting the plans originally called for tile. "But I just thought it was a little more like a powder room, a room to do something kind of fun that I wouldn't necessarily do with a master."
Hansgrohe Axor Montreux fixtures provide a classic gesture and a Kohler bateau vessel sink complete a very fun design in the bathroom.
By incorporating out-of-the-box touches with classic elements, this traditional Tahoe home provides ample space and plenty of warmth for a large family to gather and play.
Merit Award: Mountain Classic
Building Design: Nicholas Sonder
Builder: Greenwood Homes
Interior Design: Anna Lambiotte, Studio Lambiotte
Square Feet: 4,000
Year Completed: 2014