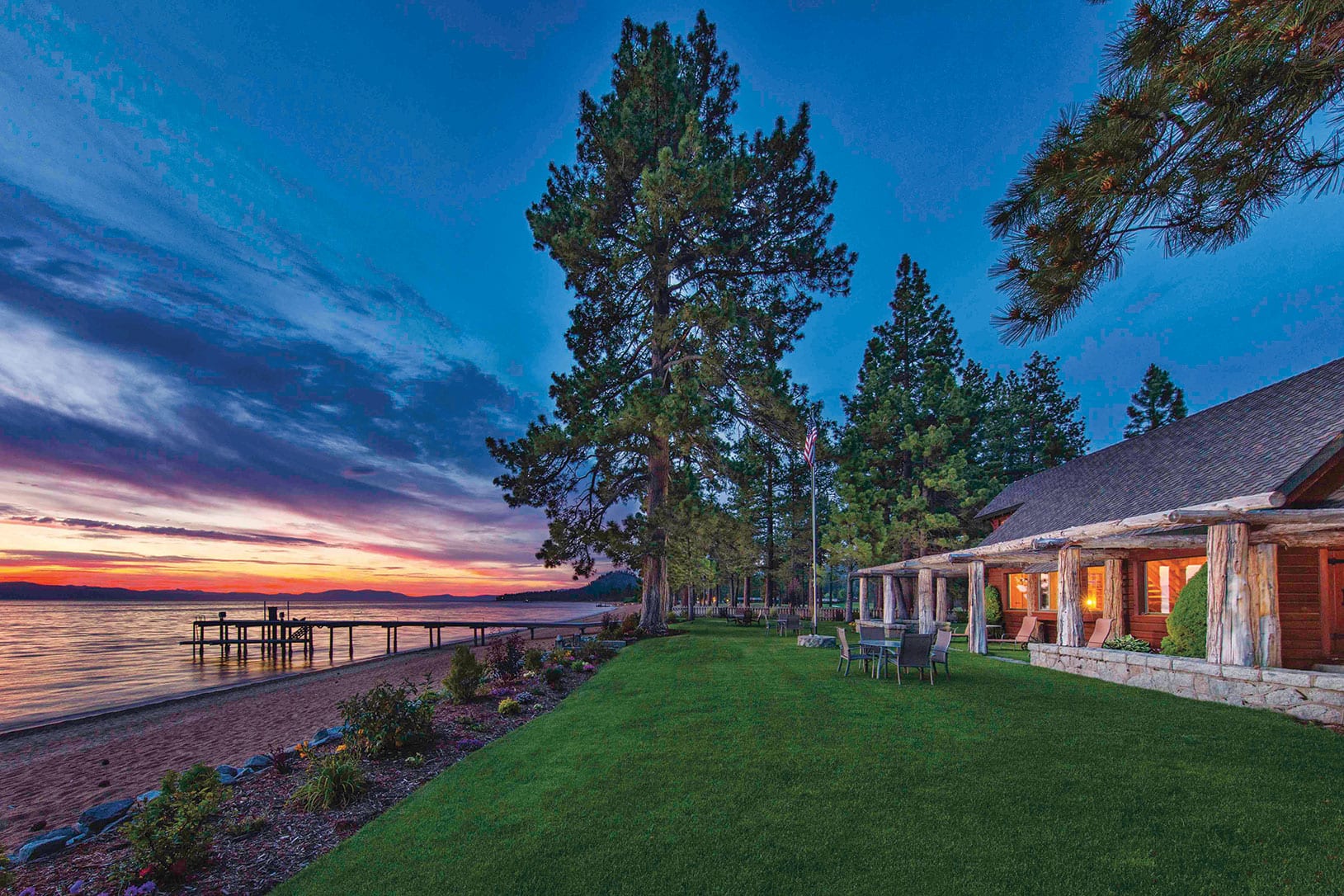 04 Apr

Historic Excellence

By any measure, architect Julia Morgan was unprecedented in her field.

Among many noteworthy accomplishments, she was the first woman to graduate the prestigious École des Beaux-Arts in Paris and go on to have decades of success, stacking up over 700 projects throughout an unparalleled career. Even if W.R. Hearst and San Simeon had never come into her life, her catalog of work is vast, varied and of a consistent, high-caliber quality. Per author Mark Wilson, Morgan was known for "warm, intimate and thoroughly livable qualities of her tastefully designed residences in spite of her reputation as Hearst's designer."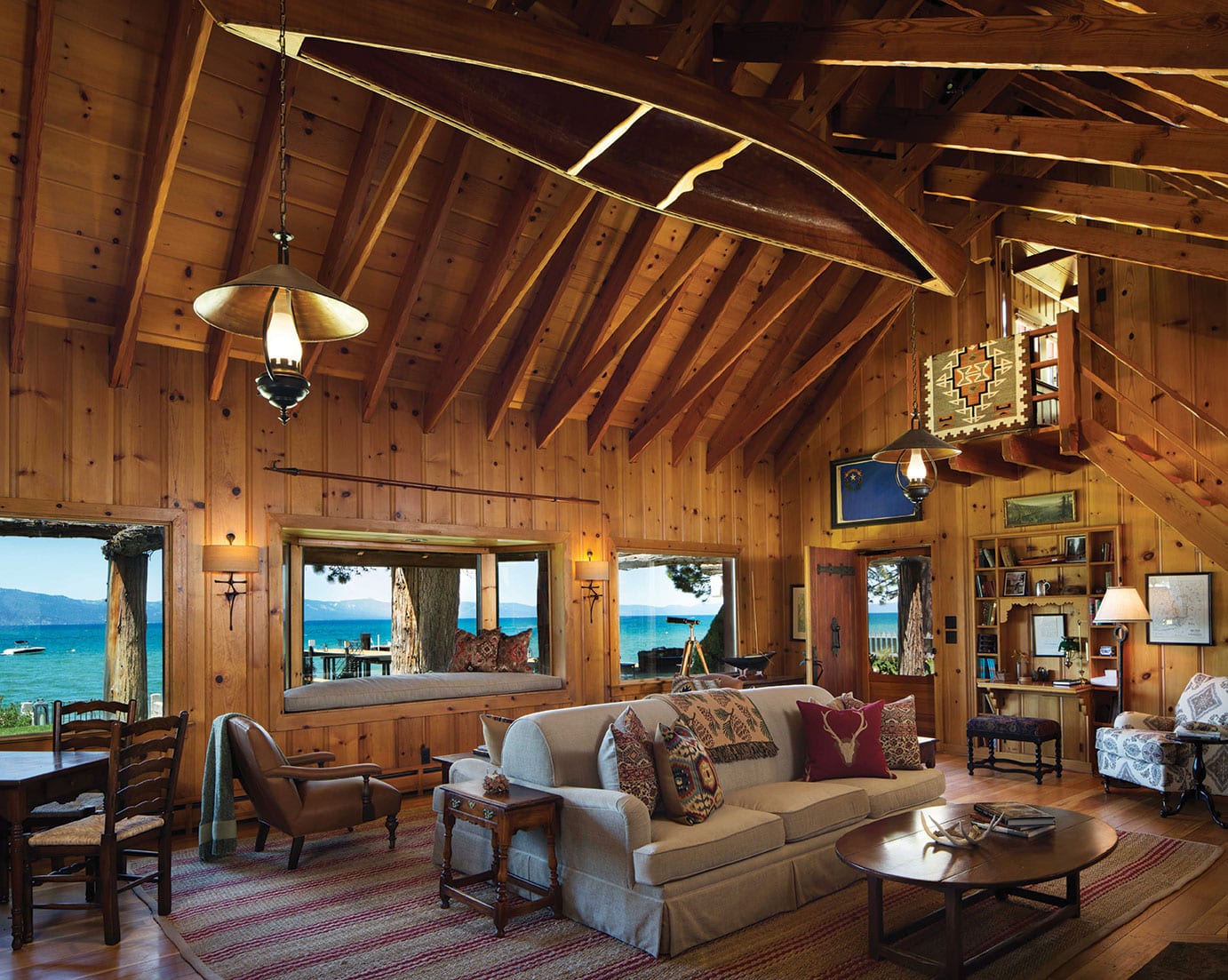 A perfect example of just such a residence is the historic Twin Pines estate in South Lake Tahoe.
Recently revived as a member retreat for the Clear Creek Tahoe residential development, the Twin Pines Lake House and Beach Club is a classic Tahoe lakefront: expansive lawn gently sloping down to 180 feet of beachfront, centuries-old pine trees standing as sentinels on the roughly two-acre parcel and the essence of early twentieth century Tahoe heyday evidenced in every refurbished detail. The use of undistinguished natural materials from the local environment is found in planes of warm, knotty pine paneling, chiseled granite blocks and log accents. Exposed scissors trusses in the main living area maintain simple detailing and create a more intimate scale throughout the classic gabled forms.
Designed in 1936, the main house has the feel of a family cabin witness to the memory-making of generations, built upon year after year of Tahoe summers, family celebrations and lifetime milestones.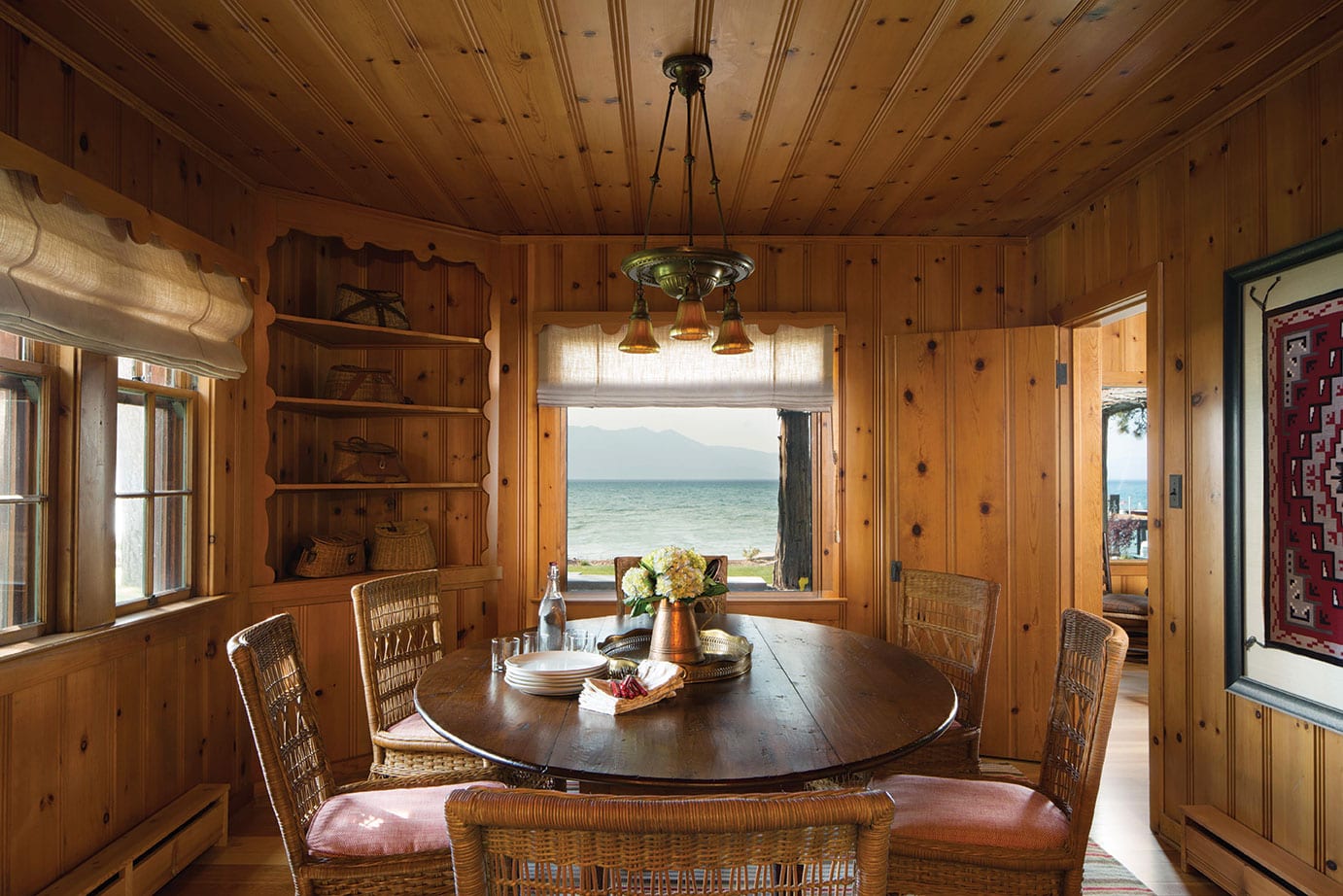 Jim Smith, founder of Serving the Nation, a company based out of Paradise Valley, Arizona, working with development teams to create visionary concepts, served as the project's designer. Collaborating with Eric Voulgaris, owner of Rooms & Gardens in Santa Barbara, Smith gave the project a strong sense of familiarity for anyone walking through the door.
"We wanted to give the feeling that you're in someone's cottage surrounded by things that have been collected over the years," says Smith. "Each generation adds a layer so the sense of memory and a great feeling of belonging are established." An expanse of so many thoughtfully gathered items—collections of vintage baseball mitts, antique fishing poles and decades-old postcards—instill the sense of time, history and comfort.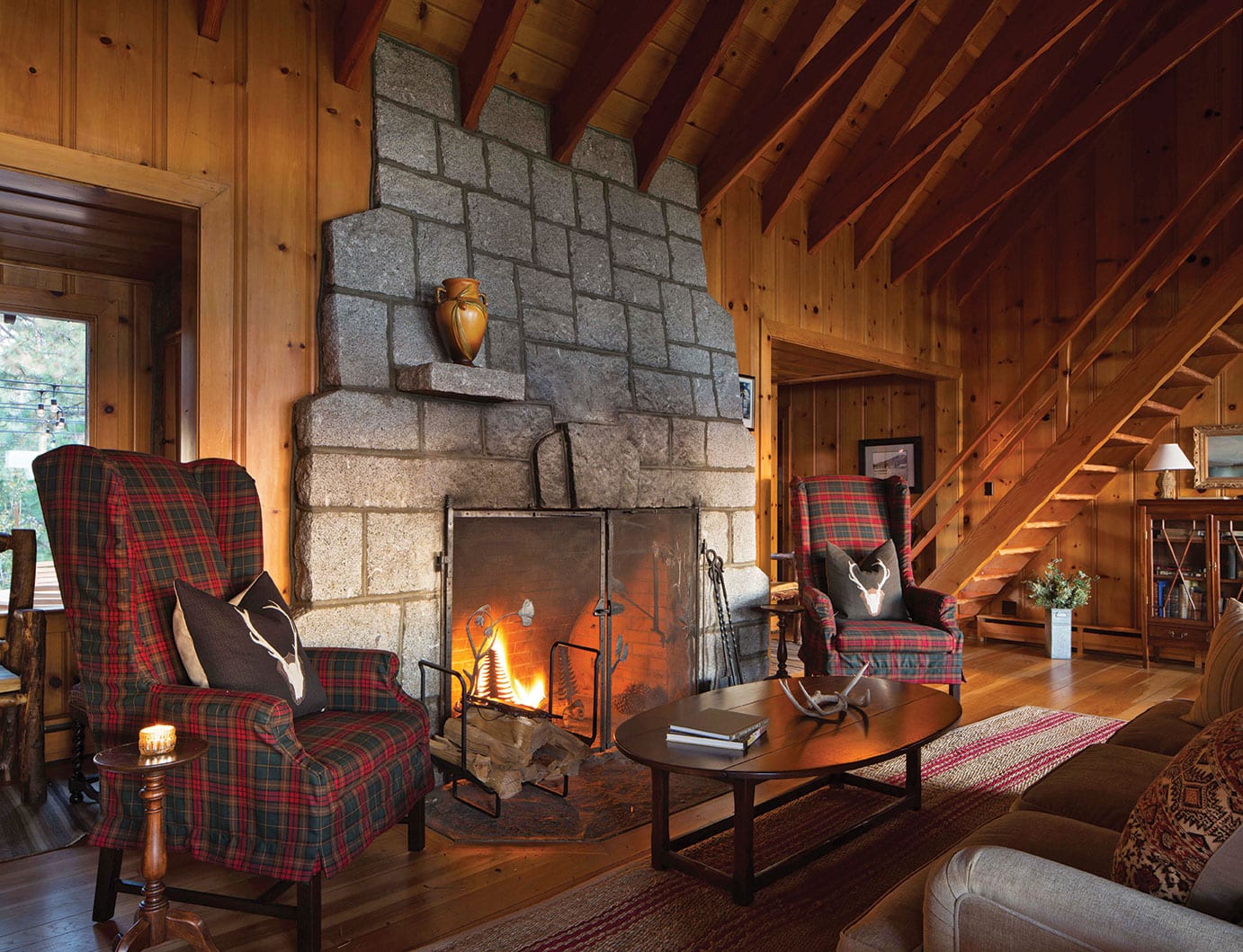 In considering how the spaces would function with varying numbers of people, Smith clustered furnishings to create numerous gathering areas. "I wanted there to be a lot of different seating areas to easily accommodate different groups," says Smith.
A front-row window seat for lazy day lounging also faces one side of a unique two-sided couch, while the other side of the couch joins a seating cluster at the fireplace. The assortment of gathering options (inside and out) and lodge-esque wood-burning fireplaces encourage a slower pace to reconnect with the historic alpine essence of the iconic lakeside surroundings.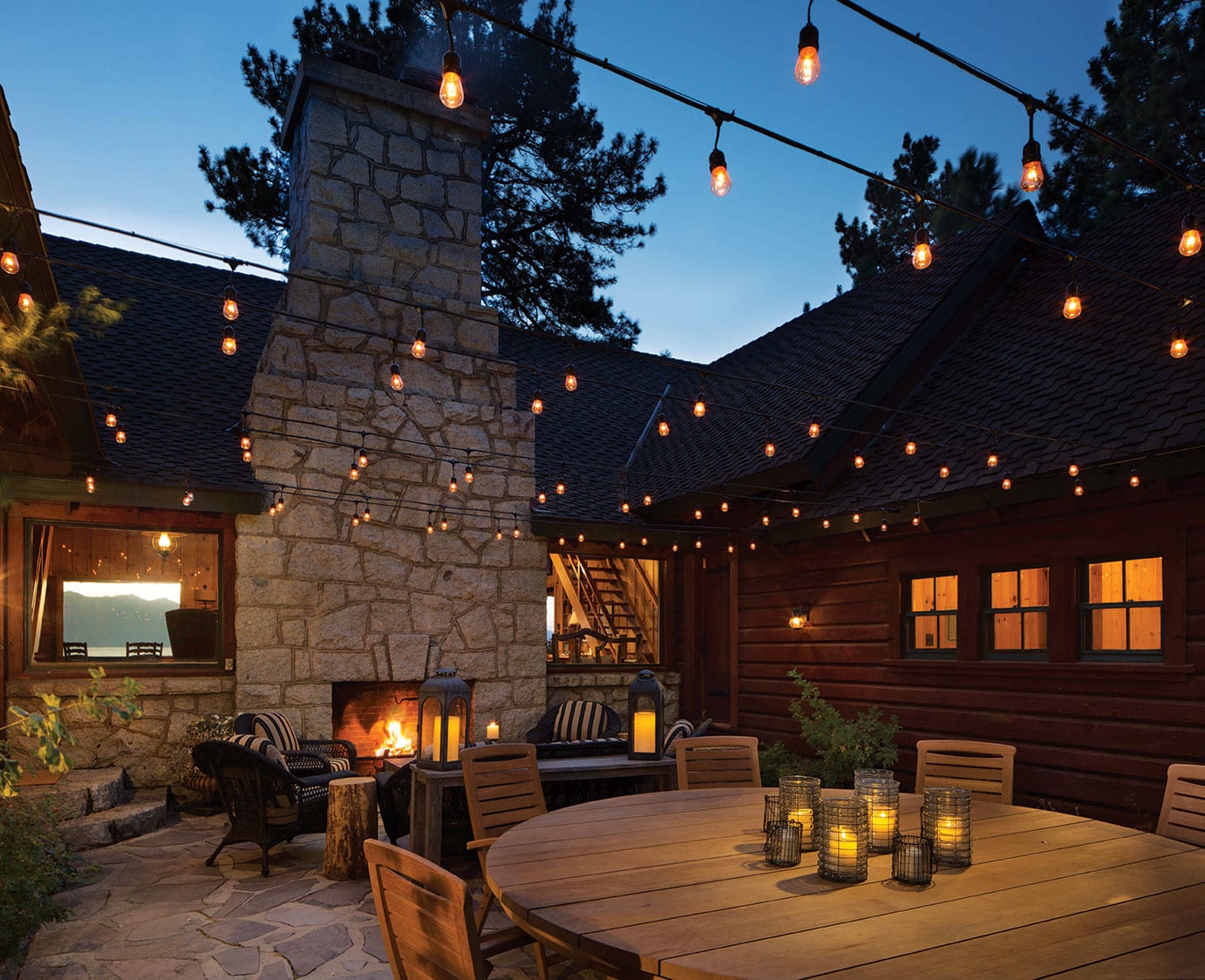 The successful restoration of the estate, versus an invasive overhauling or more drastic modifications, may be a hopeful harbinger in the world of Tahoe development; the Clear Creek Tahoe team is to be heralded for the delicate undertaking.
Saving exemplary architecture is not only a success for environmental sustainability, it's also in lockstep with other conservation efforts working to preserve the spirit of Tahoe as encountered historically.
Merit Award:

Historic
Building Design: Julia Morgan (original architect)
Builder: N/A
Remodel Design: Jim Smith, Serving the Nation; Eric Voulgaris, Rooms & Gardens
Square Feet: 2,750 main house; 864 guesthouse
Year Remodeled: 2016