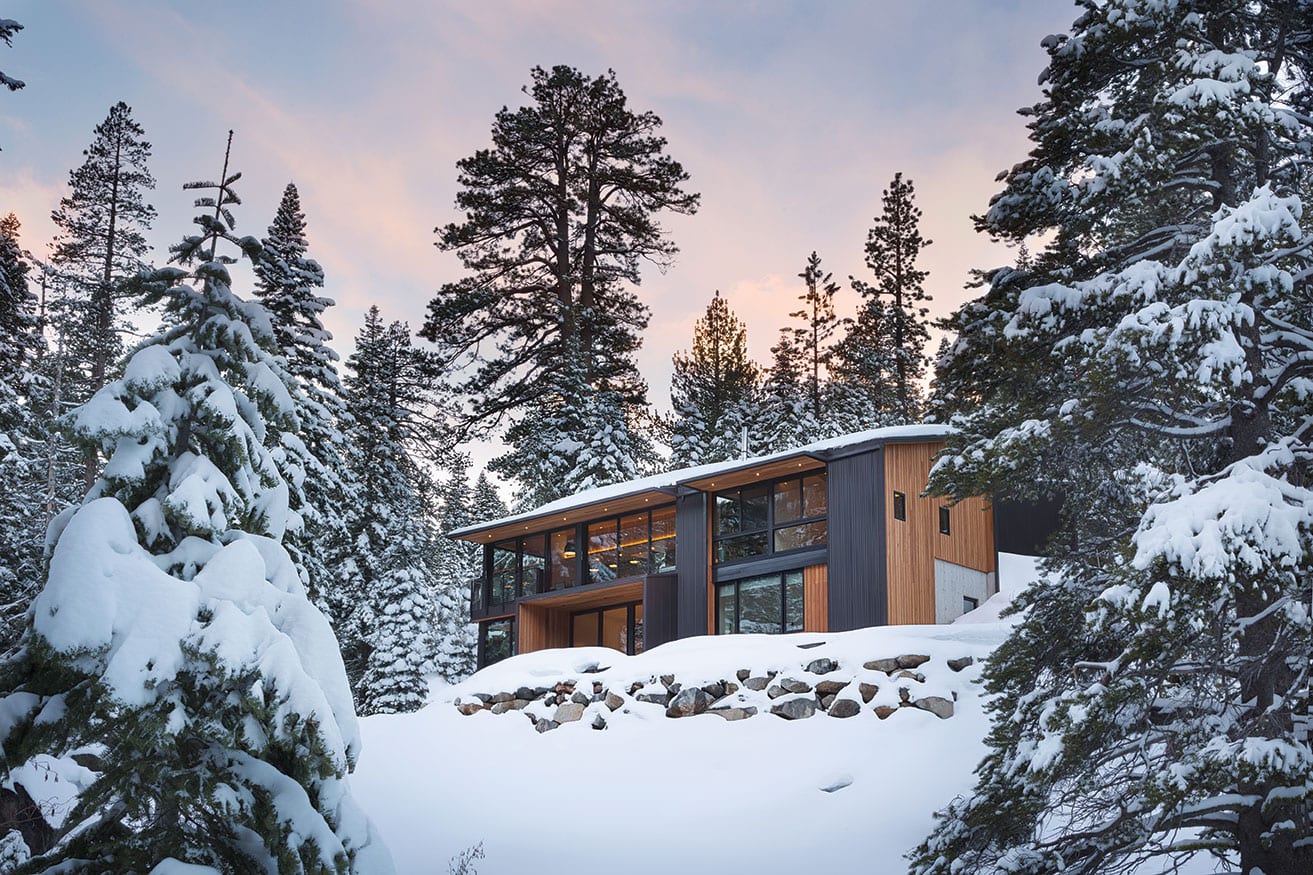 02 May

A Snow Lover's Eden

Environmental sculptor Andy Goldsworthy said snow provokes responses that reach right back to childhood. The burn of a freezing snowball in a bare hand or the mesmerizing dazzle of wind-driven flakes can open a memory window back to the 9-year-old self.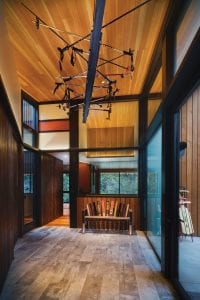 For Oakland resident George Sauter, snow-bound memories of youth were an undeniable force in the creation of a creek-side retreat in Alpine Meadows.
Growing up in upstate New York, Sauter made his first trip to the Sierra at age 13 with his parents. "We skied at Squaw and Alpine and I fell in love with the skiing here. My dad and I just leaned back on each chairlift ride, soaking up the sun."
Sauter and his wife Sue Biddle, a native of New Haven, Connecticut, and their two now-adult children, rented plenty of ski leases and expanded the catalog of ski trip memories after moving west to California in 1988. The notion of building their own alpine retreat didn't gain any serious traction until Sauter toured a coastal residence in Northern California designed by Bay Area architect Alex Bergtraun.
A San Francisco native, Bergtraun had done a handful of small projects for Sauter and Biddle's Oakland residence over the past 20-plus years—kitchen and bath remodels, a backyard guest cottage—but the turning point toward something bigger occurred as Sauter walked through one of Bergtraun's Sea Ranch projects.
"George said, 'That's it. You're doing a house for us.' And that's where it started," says Bergtraun.
"His project fit into the prescribed language required at Sea Ranch, but it was still very unique and I could really see Alex's own aesthetic," recalls Sauter. "I saw that we could do something special."
With a staff of six, Bergtraun runs his Emeryville-based firm, Studio Bergtraun, with his wife Michelle, who handles office management aspects of the business. Bergtraun spent a year studying abroad in Denmark during college and then worked in Italy for four years. His work of the last 30 years continues to be strongly informed by that time in his life.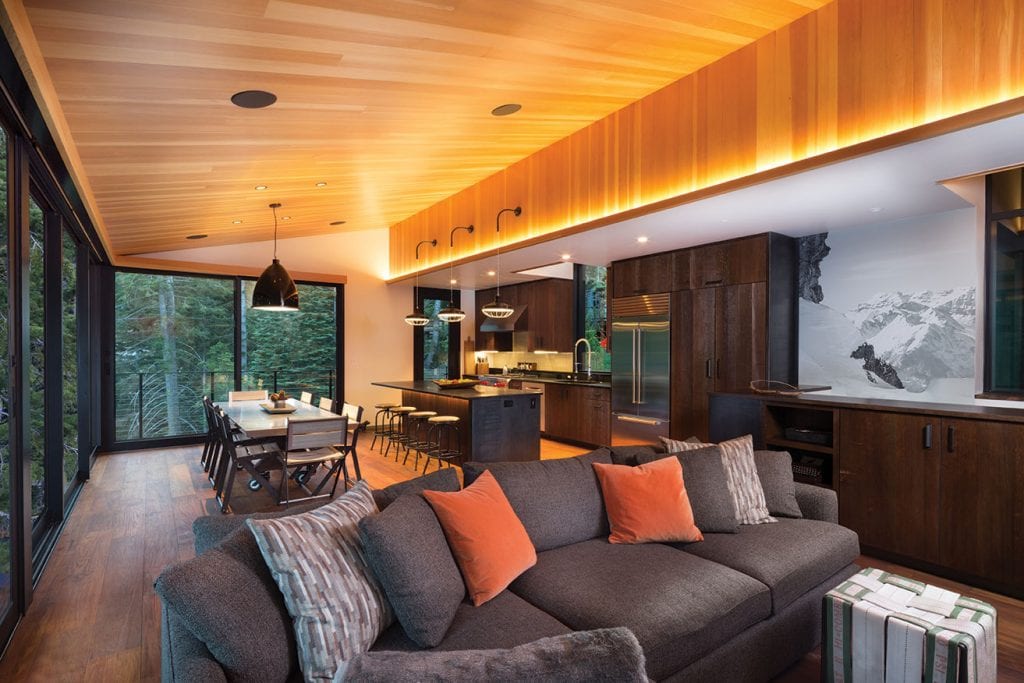 "My experience in Denmark, particularly, showed me that architecture isn't just architecture," Bergtraun says. "It's the complete package and seeing the interior and exterior as a fabric that goes all the way through; it's all interwoven."
Following the pivotal oceanside moment, Sauter and Biddle kept an eye out for potential properties, conferring with Bergtraun as they shopped. When a southerly exposed parcel in Alpine Meadows listed on the real estate market, Sauter phoned Bergtraun to describe the characteristics of the lot.
Located on a small cul-de-sac with few adjacent homes, the southeast-facing site slopes down an average 23 percent to Bear Creek with school bus–size rock outcrops plunked into the hillside. Munchkins, a sculptured, rocky prominence, stands directly across the valley from the site as a landmark and focal point. 
"I said, 'George… buy this property. Right now. Buy it now.' And thankfully he did," recalls Bergtraun.
Initial design concepts for an architecturally appropriate site response were saved away in Bergtraun's own childhood memories. East of Donner Summit, snaking slowly up the ridgeline, the Central Pacific Railroad constructed miles of wooden train tunnels in the 1860s.
"I grew up going to Norden with the Boy Scouts and I've always been very affected by those train tunnels and the feeling of old Truckee," says Bergtraun. "Because the Alpine site is a similarly harsh environment, we started by looked at the building as a tube and wanted to create a structure that protected itself from the environment but still opened up to views and nature."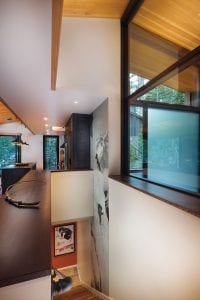 The home's form is that of a singular simple gable, draped over split and angled masses. Dark, corrugated metal roofing drops beyond the roof edge to continue down the length of the walls, providing a protective skin against the elements. Recessed subtractions in select locations of the mass are finished in contrasting warm cedar siding and easily identify openings in the metal armor.
"I looked at the roof as a blanket that is thrown over the dwelling so the roofing then folds down into walls," says Bergtraun.
"Wrapping a house in metal has been done before," adds Kevin Strange, general contractor and owner of KS Construction, "but Alex did it with more design and detailing savvy than I've seen done in the past."
A longtime resident of Squaw Valley and general contractor in the region since 1988, Strange estimates he's done at least 30 major construction projects in Alpine Meadows alone.
Strange proved to be the perfect fit in the owner/architect/contractor trifecta, with all parties mutually appreciative of what the others brought to the project. The owners describe Strange as extremely detail-oriented and as being "all in" from start to finish.
"Kevin has a deeply engrained sense of craft," says Bergtraun.
Strange, who delights in the variety of demands throughout the workday—working through the complexities of roof framing in the morning and nailing up plywood in the afternoon—says the most challenging thing on the project was the uncompromising precision demanded by the steel structure.
"Construction tolerances were very tight on this project. Someone on the crew would say, 'We need an eighth of an inch here,' and I'm thinking, 'Really? An eighth of an inch?' But it was that tight," says Strange. "Luckily, there was a lot of give and take working with Alex, and the owners contributed considerably to the design process. These were really good working relationships."
The main portions of the house rest within a simple rectangular plan connected to the garage by an entry nexus that accommodates intake from the public front door and utilitarian garage, synthesizing the contrasting demands of function in a unique crossroads of sorts.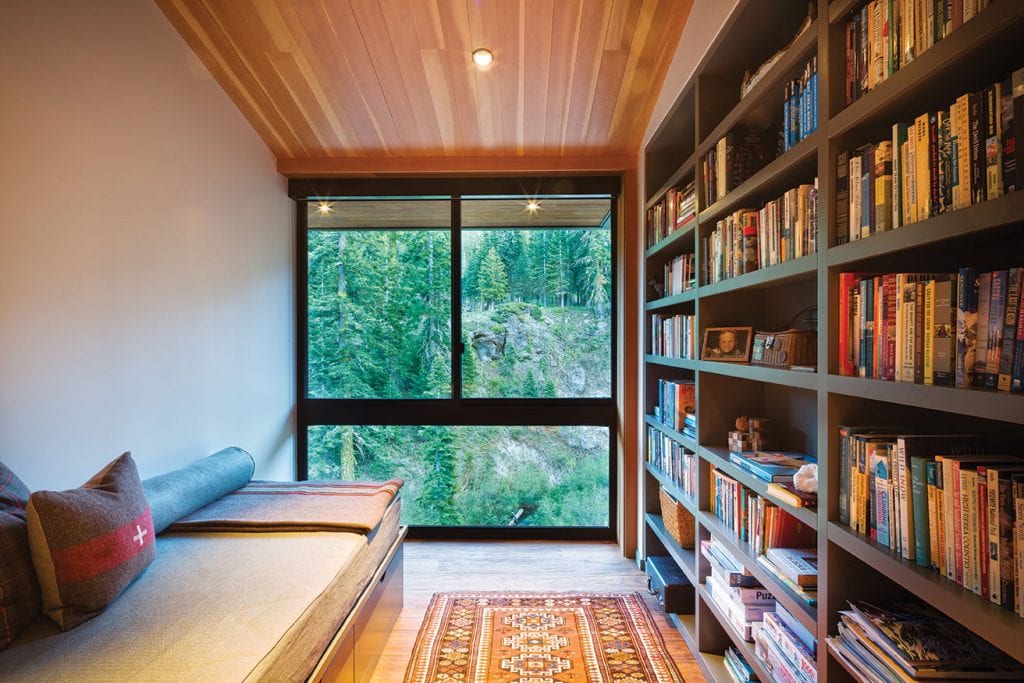 The tall, recessed public wall of the entry area is a mixture of clear and frosted glass panels, creating a sense of privacy but still allowing for ample daylight. A vertical slice of glazing sits opposite the front door, giving glimpses of the angular relationship between the house and garage and marking the location of the collision between forms.
The living/dining/kitchen space walks the fine line between "cozy, snuggly ski cabin" and "modern, open pavilion," capably satisfying the desire for both. An overwhelming sense of comfort envelopes this perfectly scaled area.
"This room is for people," says Strange. "The scale is right and there are amazing vantage points, but it holds onto you."
Reclaimed teak flooring underfoot and vertical-grain Douglas fir decking overhead sandwich an unbroken aperture of forest and creek via 8-foot-6-inch-high glass panels surrounding half of the space. A hot-rolled-steel-paneled fireplace anchors the living room area, built-in casework provides integrated nooks and storage opportunities throughout and a simple open-galley kitchen basks in daylight beneath a deliberately raised ceiling pocket and tall window.
Touchable, rich materials are everywhere: weighty, silky soapstone countertops and wire-brushed fir casework. The character of substance that only time can create emanates from the many reclaimed, found items sprinkled through the entire house.
The master suite is located on the main floor, as is a pocket library, ample enough to provide everything it should: a built-in lounge/snoozing area, floor-to-ceiling bookshelves and a wall of glass offering up an instant hit of nature between chapters.
Wood-topped stair treads descend to a lower-level family room with iron pipe hand railing on one side and a two-story black-and-white photograph of extreme skier Doug Coombs (skiing the un-skiable at Verbier) wallpapered on the other. Sauter skied with the famed master of steeps and as the flavor of the house developed during design and construction, taking this specific opportunity to further imbue the home's homage to skiing seemed fitting on many fronts.
A pod of bunks, accessible only by climbing holds, pockets into one wall of the family room, the remainder of the wall finished with chalkboard paint offering an oversized guest book for names, notes and inspired artwork.
Two additional bedrooms and bathrooms flank the family room. A sheltered concrete terrace awaits through a wall of glass, allowing lounge-goers to soak up sunshine and enjoy a moment of zen courtesy of gurgling Bear Creek below. Biddle, in particular, rejoices in finding a "toasty spot on the terrace just to relax."
Touches of personality, custom detailing and character is found everywhere in the house. The architect and owners—avid surfers as well as skiers—worked with surfboard designer Michel Junod of Santa Cruz to make custom tub panels for a guest bath and a bar countertop out of surfboard material. The wall behind the bar features a massive USGS map of the Alpine Meadows area all the way over to Tahoe's West Shore, the map spilling continuously from the vertical wall down across the horizontal countertop. Repurposed fire hoses from the Truckee Fire Department are used to wrap metal cubes, creating footstools/tables.
An assortment of Sauter's father's skis found new life as an entry bench and several of the couple's friends donated a ski pole for the one-of-a-kind entry chandelier sculpture. Even the troop of plastic dinosaurs inhabiting granite boulders in the front of the house provides a glimpse of the inviting nature of the people living here. "And the dinosaurs," says Biddle, laughing, "have proven to be 100 percent effective as bear repellant!"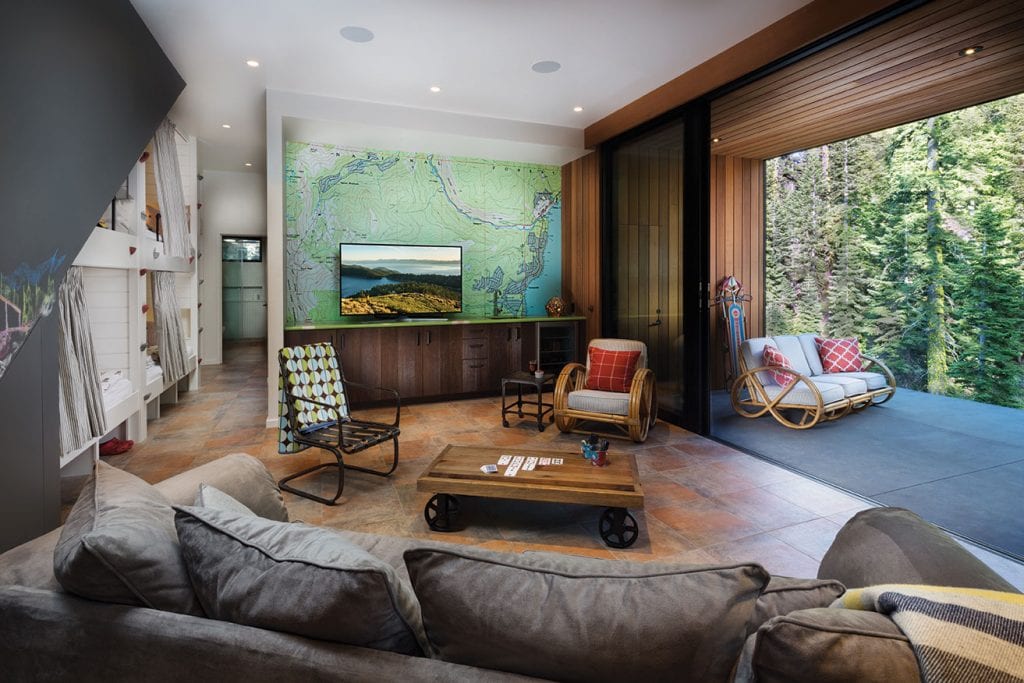 But Sauter insists that it's the "place" and the spirit of the location that is the truly special component. On a ski day too stormy to stay on the slopes, Sauter invited everyone in his party over for sledding, including three or four dads with five or six daughters among them, the girls ranging in age from 8 to 16. 
"We sledded, had epic snowball fights and the fun was so spontaneous and the moment so magical. The kids were all OK just being kids and all pretense fell away," says Sauter. "One of the fathers told me that now, when he asks his kids if they want to go skiing, they say, 'Only if we can go to George's house!' That was my vision, a place for people to come and play in the snow. I grew up in the snow and I wanted a place like that."
Bergtraun describes this project as a place for people to become one with the environment and as somewhere to transform and step away from everyday life. Perhaps the memory of gleefully sledding along the banks of Bear Creek on a snowy day will someday evolve into the heartfelt creation of another special and earnestly considered place, where the accumulation of snowflakes eventually builds a door back to childhood.
Award:

Ski Retreat
Building Design: Studio Bergtraun, AIA, Architects
Builder: KS Construction
Interior Design: Studio Bergtraun, AIA, Architects
Square Feet: 2,700
Year Complete: 2016