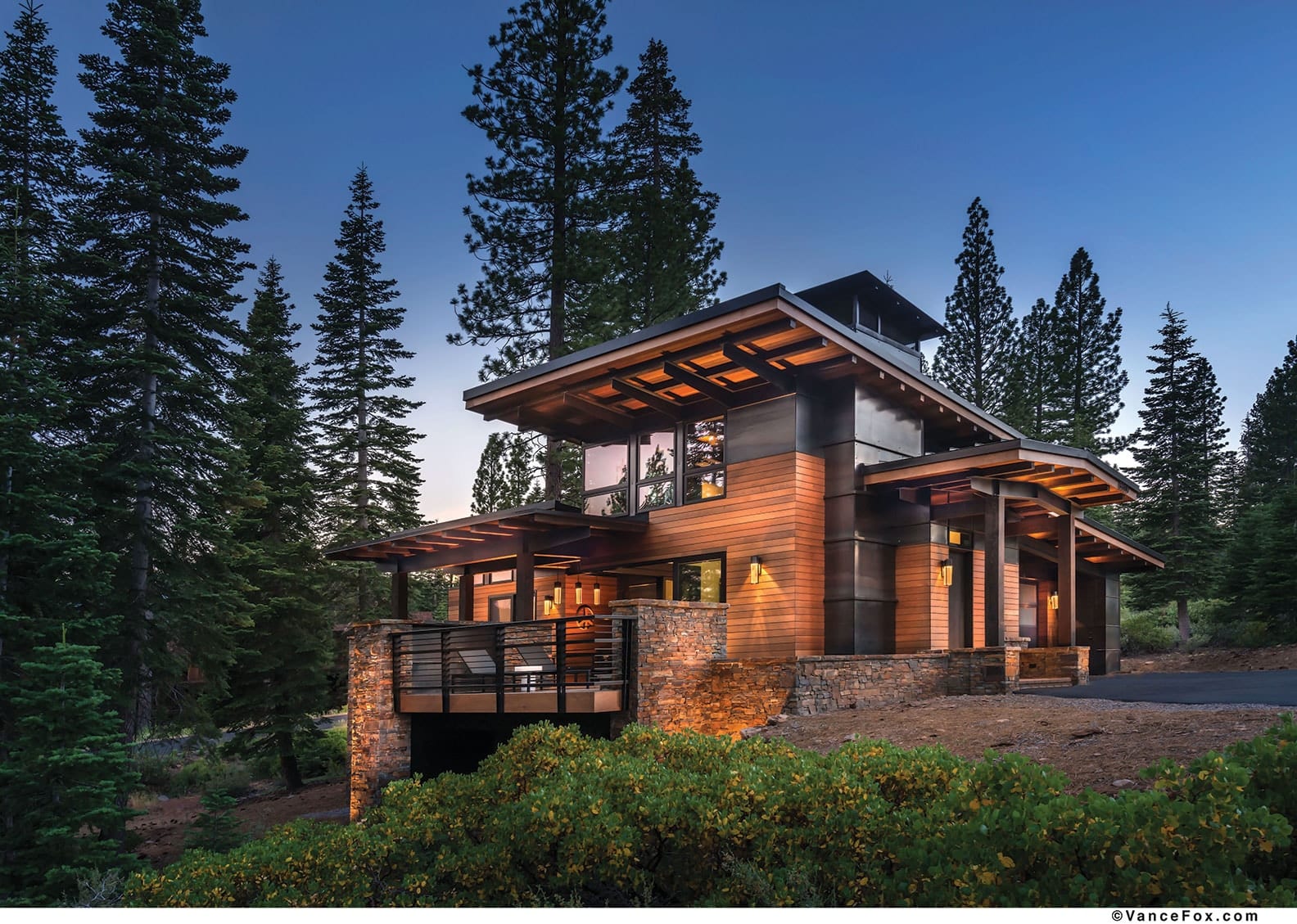 03 May

Taking the LEED

The evolution of the green building industry has slowly but surely moved far away from the iconic aesthetic that helped bring it mainstream awareness—thick-walled, straw-bale houses, racks of solar panels propped awkwardly on roof tops, the occasional rainwater barrel—and it has become impossible to recognize a highly energy-efficient house when you see one.

Without question, this is a good thing.

Supreme energy efficiency is not what comes to mind when laying eyes on an architecturally dynamic Martis Camp guesthouse, one of only two LEED (Leadership in Energy & Environmental Design) Platinum–certified homes in all of Truckee.

Just a touch over 1,100 square feet, the cozy house strikes a fierce mountain modern pose. Ledgestone piers ground cantilevered forms to the down-sloping, tree-surrounded site. Warm, horizontal cedar siding contrasts with hot-rolled steel panels, seamlessly detailed to integrate with the home's window language. Layers of exposed steel roof structure not only add great visual texture, but maintain a light, thin profile. How can this be LEED Platinum?
As touted on the U.S. Green Building Council website, LEED-certified buildings use less energy and water and reduce greenhouse emissions over the span of the building's life, as compared to conventional approaches to design and construction. A LEED Platinum rating is the most difficult to achieve.
"It took a lot of time and effort to integrate everything," says designer David Spear, owner of Truckee's Mountain Concepts and a LEED-accredited professional. "To achieve the right proportions and include the required insulation, the roof is covered with rigid insulation to prevent heat loss through thermal bridging, and we used a 2-by-8 [foot] rafter cavity filled with closed-cell foam over small glulam purlins over the exposed steel rafters. We exposed certain layers of the structure to add detail and keep the roof cavity as thin as possible."

According to Spear, the insulation in particular played a big role in getting the house a LEED Platinum rating. Passive solar gain is collected via south and southeast facing glazing and stored in gypcrete floors. The extensive insulation—a hybrid of closed-cell spray foam and fiberglass spider insulation in wall cavities and rigid insulation wrapping the entire structure—traps the warmth of the sun, drastically reducing the need for energy-using mechanical systems.
General contractor Joe Lamperti of Lamperti Construction asserts the mechanical system is the other important piece in achieving LEED Platinum.
"There is a forced air system that heats the house quickly until the in-floor radiant heat can catch up and then the forced air switches off. There is also a heat recovery ventilator, which doubles as the whole house fan," Lamperti explains.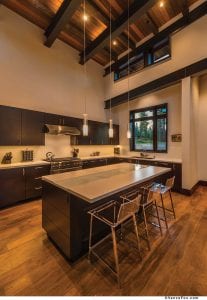 Myriad options along every small step between the project's inception to the final placement of furnishings ultimately came into play to get to a certifiable LEED project. To achieve their goal, Spear, Lamperti and the homeowners were guided by LEED-accredited professionals Jeff Bender of Bender Engineering and Andrea Walhof-Grisham, the project manager for quality assurance of West River Design.
Walhof-Grisham worked directly with Lamperti Construction to sort through the daily specifics of the construction process, carefully itemizing and quantifying the work and systems represented in the many categories available to rack up LEED points.
Beyond the heating/cooling systems (categorized as Indoor Air Quality items on the LEED checklist), the team targeted all available project divisions to maximize efficiencies, including minimal use of landscaping, efficient use of water and electricity, and using regionally sourced building materials (within a 500-mile radius). 
A construction waste diversion plan was put in place to collect, store and then recycle all building material waste. Paints, adhesives and sealants were all carefully chosen to be low VOC (volatile organic compounds) emitting to minimize or eliminate harmful off-gassing as a means to maintain excellent indoor air quality.

"All paints, glues, adhesives, even a can of spray paint, had to be VOC compliant," says Lamperti. "All the way down to the glue used around the pipes, Andrea made sure everything we used was compliant."
All in all, the project team described the experience as a positive and educational one.
"We had to do a little more investigation regarding where our materials were coming from," says Lamperti, "but we enjoyed the project and process. It was a good challenge and something totally different for us. It was a lot of fun, and we were excited to work with everyone and take it to the Platinum level."
Award:

Green
Building Design: Mountain Concepts, LLC, David Spear
Builder: Lamperti Construction, Inc., Joe Lamperti
Interior Design: Spirit Interiors, Debbie Costa
Square Feet: 1,107
Year Complete: 2015