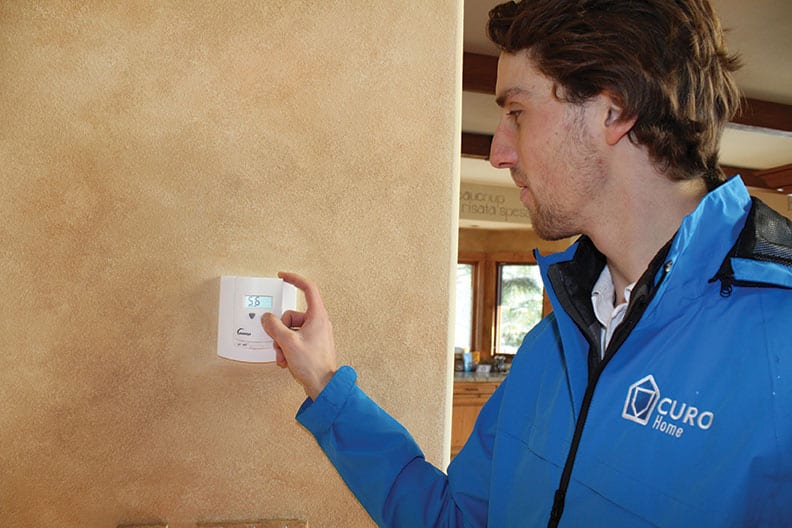 CURO Home founder Eric Unterberger checks on a Tahoe property, photo by Francesca Curtolo
15 Feb

Estate-Watch Service Alleviates Second-Home Stress

When Los Angeles resident Laura Joseph discovered her new second home in Incline Village had mold, it wasn't possible for her to leave the city and deal with the issue in person. It also wasn't necessary: Joseph simply called CURO Home, a second home maintenance service created by Incline Village resident Eric Unterberger.

"Living in L.A., I can't be there to meet people or look for problems," she says. "Eric was just dealing with a mold company for me recently because we found out that we have a mold issue in the kitchen." Having CURO coordinate, she says, was a big help.

Unterberger, a 2017 Sierra Nevada College (SNC) graduate, devised the opportunity for CURO after speaking with Incline resident Ron DeCaprio, who expressed the need for an estate-watch company. His plan got first place in SNC's 2017 Business Plan Competition, netting him $2,500 to take CURO beyond the academic walls.

"The biggest challenge was having to learn how to run a business for real in the 'real world.' Everything we learned at SNC was preparing us to think about a business, not the implementation and effects of running one," says Unterberger. "SNC taught us how to fail quickly and keep our heads up with confidence, knowing that we would succeed if we kept pushing forward."

Unterberger partnered with his friend and SNC alumnus Cory Johnson to create CURO Home; together they have developed an all-around management service for vacation second homeowners. "We believe that all homes need to have a representative, or as we like to say, a friend in the community," says Johnson.

CURO helps new vacation homeowners with the move-in process, and also acts as a local eye, nose and ear, allowing homeowners to regularly check on their property.

"We believe that no one should worry about a home that they bought for relaxation," says Unterberger. "The representative helps homeowners avoid unnecessary concerns, repairs and costs."

Lastly, CURO opens the house before the owner's arrival. "When someone visits a home, they want to feel safe, relaxed and at ease. We prepare the home's lights, temperature, walkway accessibility to avoid the concerns that may arise when walking up to a dark, empty home," explains Johnson.

Johnson and Unterberger use Google Photo to communicate with the owners, and provide pre- and post-service photos and videos.

For Joseph, who was recommended to CURO by her real estate agent after buying a second home in November 2017, the distance between Los Angeles and Tahoe meant it wasn't possible for her to be present for many of the necessities that come with new home ownership.

"Eric set up the Internet for me, or he'd go to the house and he'd meet utility companies there," says Joseph. "All of these services have been extremely helpful."

Since CURO's founding in March 2017 as a limited liability company, it has expanded to six employees, including Eric Werner, a Tahoe-based attorney.

"Everyone that works with CURO is kind, considerate, polite and committed to seeing the team succeed ahead of themselves," says Unterberger. "Our long-term health comes ahead of our short-term gains. The company will grow as quickly as we do."

The crew is currently focusing on developing an app that maximizes efficiency and enables growth for a high volume of clients. Everything will be done through the app, which will allow clients to access their Tahoe homes remotely. Still, Tahoe is just the first step for CURO.

"Our biggest challenge running a business in a small town is the number of people we can service to build a reputation from," says Unterberger. "Our dream is to provide memorable services and care to homeowners of multiple homes around the world. Our services will then be replicated in numerous mountain towns because every homeowner will know that we care for their homes as if they were ours."

However, both Unterberger and Johnson acknowledge how helpful it has been to build their company in Tahoe's confines, with its density of experienced business individuals in the area offering CURO an array of contacts and resources.

"By living and being a part of the Tahoe communities, we have been able to build lifelong friendships with businessmen and women that we may not have had a chance to if we lived anywhere else," says Johnson. "We love living in Tahoe and working with the families that reside and visit our beautiful home."

More information is available at www.curo-home.com.