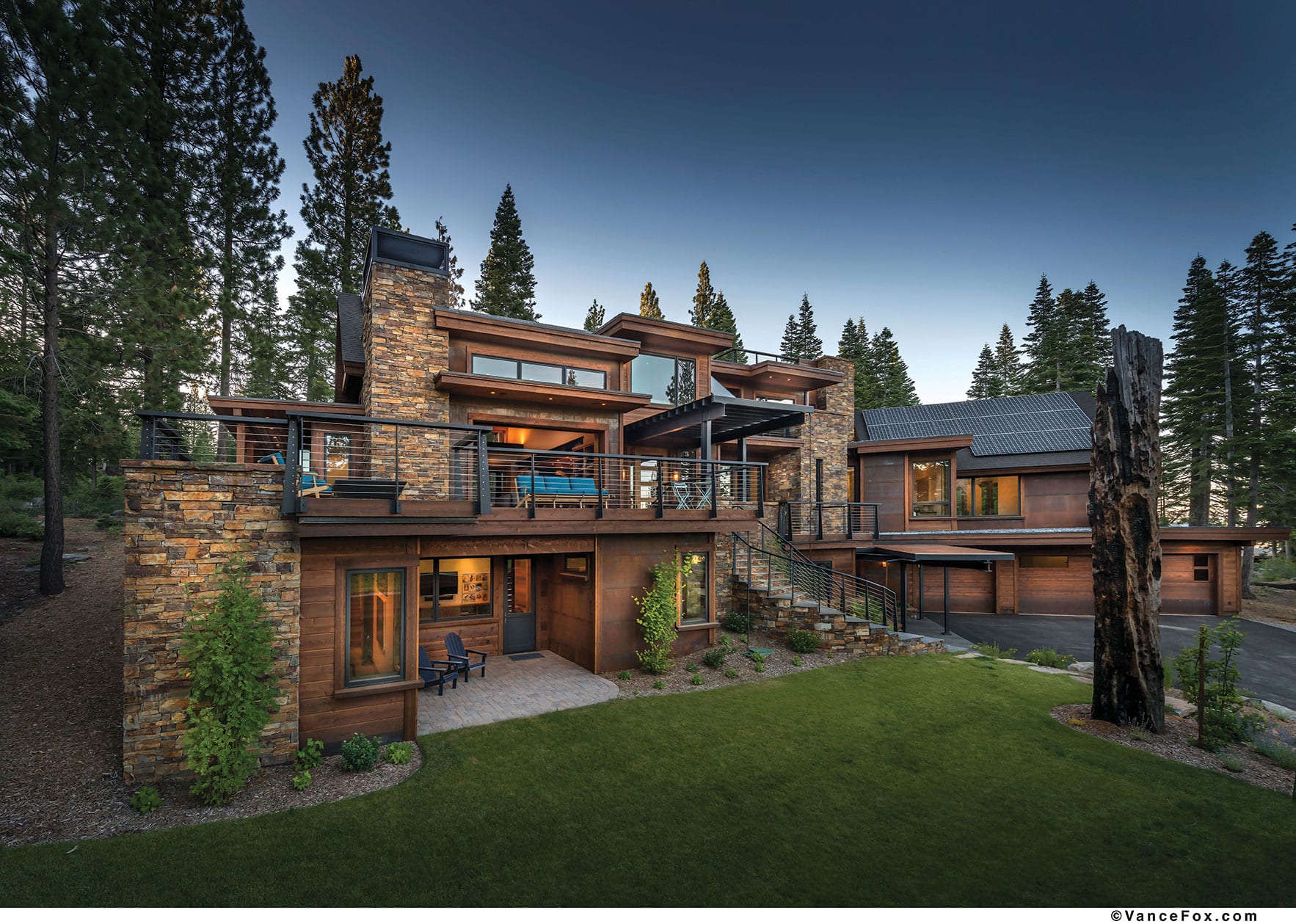 This grand Martis Camp home was designed to be as sustainable as possible while maintaining a unique yet timeless feel both inside and out, photo by Vance Fox
15 Feb

Geared for Gathering
Martis Camp home serves up fun features with a timeless feel

The voluminous great room houses a substantial fireplace surround and comfy living spaces, making it an ideal place for gathering, photo by
by Vance Fox
The owners of this Martis Camp home sought to build a unique yet ageless residence that offered a place for them to gather as a family, play games, laugh and make cherished memories. Mixing forms and finishes from lodge-style to modern gives the home its timeless vibe, which is punctuated with fun touches such as a pool table off the great room and an exterior spiral staircase that winds up to a lofty perch. 
The open and flowing interior social spaces, extensive views and access to the exterior from nearly every room make this home a fantastic place for gathering and enjoying the many amenities nature and the Martis Camp community have to offer.
The owners also wanted to make the home as sustainable as possible. It starts with the casita green roof and continues into the main house with solar panels, a ground-source heat pump, extra insulation, reclaimed wood flooring, low-maintenance materials, mostly LED lighting, heat recovery ventilators, and thoughtfully designed overhangs, windows and light shelves to control and maximize natural light and ventilation.


The home is punctuated with fun touches, including an exterior spiral staircase that winds up to a lofty perch, photo by
by Vance Fox
Merit Award: Timeless
Building Design: Kristi Thompson of MWA, Inc. Architecture-Engineering
Builder: Jeff Cotton of Cotton Construction
Interior Design: Owner
Square Feet: 6,300 main house, 900 casita
Year Complete: 2017