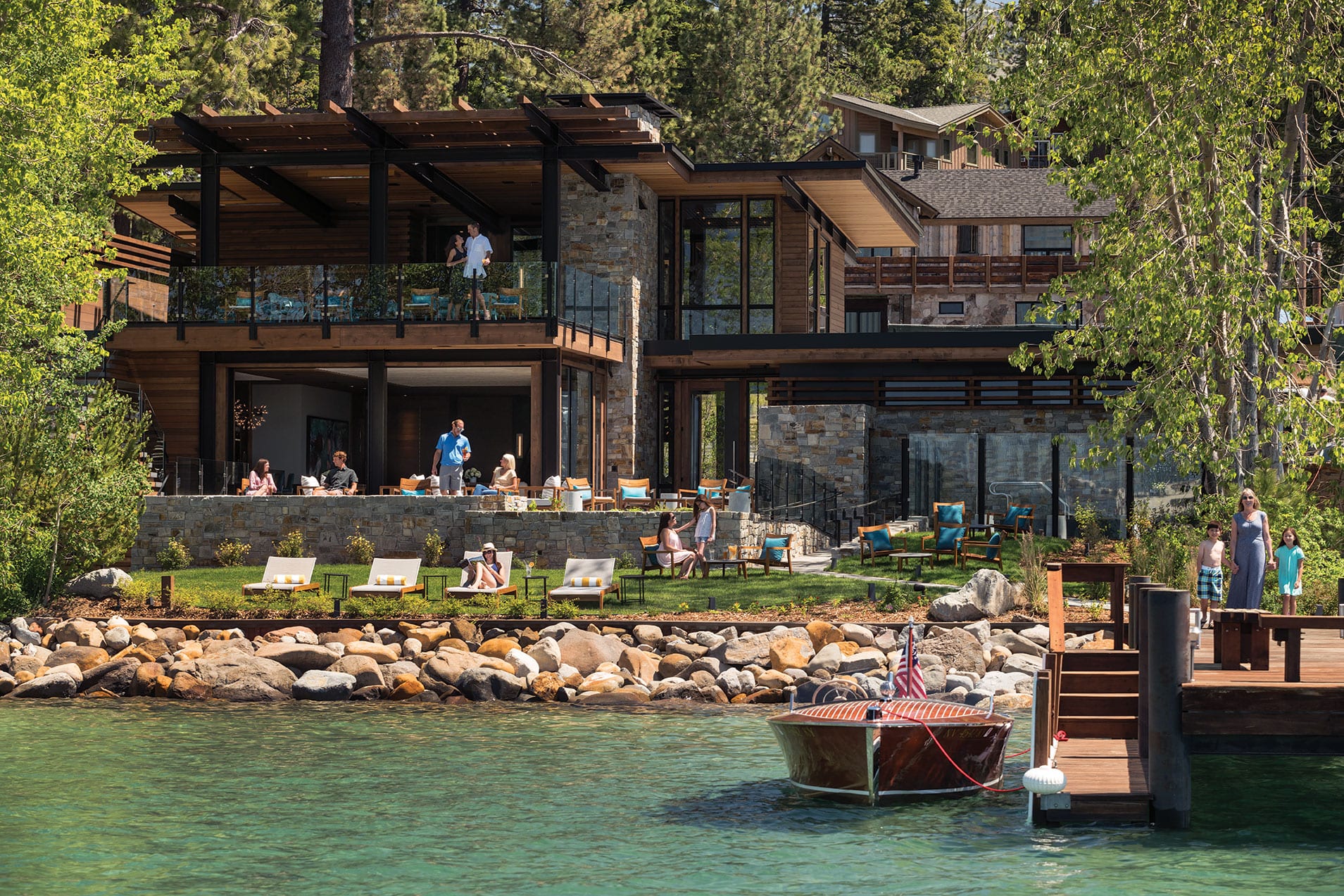 The Ritz-Carlton, Lake Tahoe's new Lake Club features a 2,000-square-foot lawn and pier, photo by Don Riddle, courtesy Ritz-Carlton
22 Feb

Ritzy and Refined
Ritz-Carlton's new Lake Club indulges guests in stylish and fun lakefront amenities
Guests checking into the Ritz-Carlton, Lake Tahoe just got another reason to smile: The Lake Club, an upscale beach house launched last summer to provide the five-star property's patrons with an exclusive waterfront spot to chill.
Located in Tahoe Vista, about a 15-minute shuttle or drive from the hotel, the two-story venue is designed primarily for guest use during the summer months; it aims to combine stylish elegance with fun, functionality and a high-end residential feel.
The site, which was home for many years to the mustard-colored Shore House Bed & Breakfast, was selected for its prime lakefront location closest to the logical travel path to and from the Ritz. Plus, the existing on-site structure established the same-use privilege that the hotel sought for its new amenity.


The Lake Club site was selected for its prime lakefront location in Tahoe Vista, photo by Don Riddle, courtesy Ritz-Carlton
Kennedy Wilson, a global real estate investment company that owns the Ritz-Carlton, Lake Tahoe, came up with an eclectic wish list. "They wanted the facility to feel warm and cozy but crisp and modern, timeless but fresh," says architect Clare Walton, who established Tahoe City's Walton Architecture + Engineering in 2005 with her husband, Steve, principal engineer.
"Balancing these somewhat contradicting directions was the exciting challenge, and by doing so led to the captivating qualities of the design," says Walton. "Given the established Ritz design standards, all style and finish decisions were presented to their corporate team for final approval—an interactive process requiring several submittals."
The result is a low-profile, contemporary structure. The exterior employs organic materials such as ledgestone veneer and western red cedar to provide a warm, welcoming and sophisticated counterbalance to the clean, contemporary lines of the building's steel and glass. Floor-to-ceiling windows on all sides allow a connection with the water before one even enters.
Past the grand pivot door, inside the foyer, guests are greeted with an overhead entry sculpture suspended from the ceiling. Commissioned for the Lake Club and created by New York artist Jacob Hashimoto, it consists of a cluster of suspended circular white "kites" of varying opacities that fill the second-story glass volume.


Inside the foyer, guests are greeted with an overhead sculpture by New York artist Jacob Hashimoto, 
photo by Don Riddle, courtesy Ritz-Carlton
"This sculpture is highly impactful as you approach the building, as well as during your journey from the entry to the upper-roof deck," says Jennifer Loving, senior designer with Walton AE. "I especially like how we accomplished illumination for this piece during evening hours so that it can be continuously appreciated, even from pedestrians passing by the property." The all-white "kites" also provide a visual connection to the snow-capped mountains in the distance.
Straight ahead, floor-to-ceiling windows and stone walls that run from inside to out frame a door leading to terraces and The Lake. To the left are locker rooms for changing and showering. To the right, the main lounge space is decorated with another alluring and significant piece of art: Placerville native Jennifer Hannaford's painting of swimming figures.
"Hannaford's use of color for the water element of her painting was directly derived from her own experiences at the shores of Lake Tahoe," says Loving of the New York City–based artist. "Together with her uniquely composed active subject matter, this piece strengthens the interior's connectivity to the adjacent iconic body of water, as well as provided a bold colorway that supported our overall interior color palette."

The main lounge space is decorated with an alluring piece of art by Placerville native Jennifer Hannaford, photo by Don Riddle, courtesy Ritz-Carlton
Other unique art pieces that evoke a sense of place were sourced from notable artists like Karen Margolis, also from New York, and locals Pat Blide and Troy Corlis (Truckee), Marybeth Hamilton (Kings Beach) and Marianne Rosenfeld (South Lake Tahoe).
Earthy, warm textures and tones provide the baseline with bold turquoise and crisp white accents throughout. "The Ritz-Carlton properties have certain requirements in order to uphold a caliber of sophistication and elegance," says Loving. "Like color materials and details were coordinated from interior to exterior to provide a strong connectivity, while thoughtfully appointed bold accents were incorporated throughout the interior. We knew fine art and visually stimulating details would play a big role within the interior, but we did not want to distract from the surrounding lake environment."
Indeed, The Lake plays the primary role here, on display through the floor-to-ceiling glass wall panels by Weiland that lift and slide away, fully pocketing into the wall and opening the lounge to the 600-square-foot dining terrace and beach beyond.
Inside, a custom L-shaped sofa seating area faces a contemporary linear fireplace with floor-to-ceiling ledgestone surround, colored concrete hearth and a plate steel mantel with big-screen TV above. The bar is topped with a quartzite slab resembling petrified wood, its four vibrant leather barstools providing pops of blue. A small prep kitchen provides light meals for guests.

The spacious lounge includes a custom L-shaped sofa designed by Walton AE and fabricated by Edward Ferrell + Lewis Mittman, photo by Don Riddle, courtesy Ritz-Carlton
The two floors are connected via a stunning floating staircase near the entryway, a signature Walton design element. "I always see vertical circulation as a sculptural opportunity and love to suspend stairs in front of windows," says Walton. An adjacent accent wall was designed with an intricate pattern of small linear wood planks of varying depth and segments of glass mirror, strengthening the interior color palette and creating an abstract likeness to The Lake's waters as well as providing an ideal backdrop to accentuate the walnut wood treads and steel stringers.
At the top of the staircase, the Hashimoto hanging sculpture comes into closer view. A door leads out to a 950-square-foot lakeview dining terrace and fireplace, an area partially covered by an exposed steel beam and wood structure. Glass railings installed here and on the terrace below are yet another expression of the Lake Club's barely-there transparency. An outdoor staircase composed of poured concrete treads and glass panels connects with the terrace below.

A dining terrace with ceiling heaters, fireplace and TV awaits guests on the upper floor, photo by Don Riddle, courtesy Ritz-Carlton
A 2,000-square-foot lawn leads to a pier where guests can launch their own equipment or rent paddleboards, kayaks, personal watercrafts and motorboats from Action Water Sports. A hot tub and outdoor shower are, as is the entire property, ADA accessible.
Throughout its construction, the Lake Club exceeded the stringent environmental and building standards for the region, Walton says. Environmental improvements include lessening the building's footprint from the previous structure by more than 30 percent, which was achieved through reducing the structure's volume and allowing open views of The Lake; improvement of scenic areas through lush landscape additions (by Design Workshop); water quality and frontage improvements; and usage of permeable pavers in the parking area to improve drainage during storms. Additionally, low-reflectivity glazing was specified and window openings were strategically planned to capture all available views for the main gathering spaces.

The Ritz-Carlton, Lake Tahoe's new Lake Club boasts views that are tough to beat, photo by Don Riddle, courtesy Ritz-Carlton
Construction, which ran from May 2016 to June 2017, required additional diligence due to the lakeside location. That included ensuring that the project's SWPPP (stormwater pollution prevention plan) was in order at all times to prevent runoff into The Lake, as well as working closely with the Tahoe Regional Planning Agency, which made multiple site visits.
The tight site also presented some challenges. Working on such a small footprint meant that there was little to no storage area for materials and deliveries, so Reno-based general contractor Clark/Sullivan Construction established a site-specific logistics plan to keep the job running smoothly and coordinated with the neighbors and surrounding community, according to the company's estimator and project manager, Doris Kelly.
"Working on the shores of Lake Tahoe comes with a lot of responsibility as a builder to protect The Lake that we all know and love," says Kelly, who grew up in Kings Beach. "This project was special to me personally for that reason."
Award:

Commercial North Shore
Building Design: Clare Walton of Walton Architecture + Engineering
Builder: Clark/Sullivan Construction
Interior Design: Jennifer Loving of Walton Architecture + Engineering
Square Feet: 650 gathering area and bar, 600 dining terrace, 950 dining deck
Year Complete: 2017