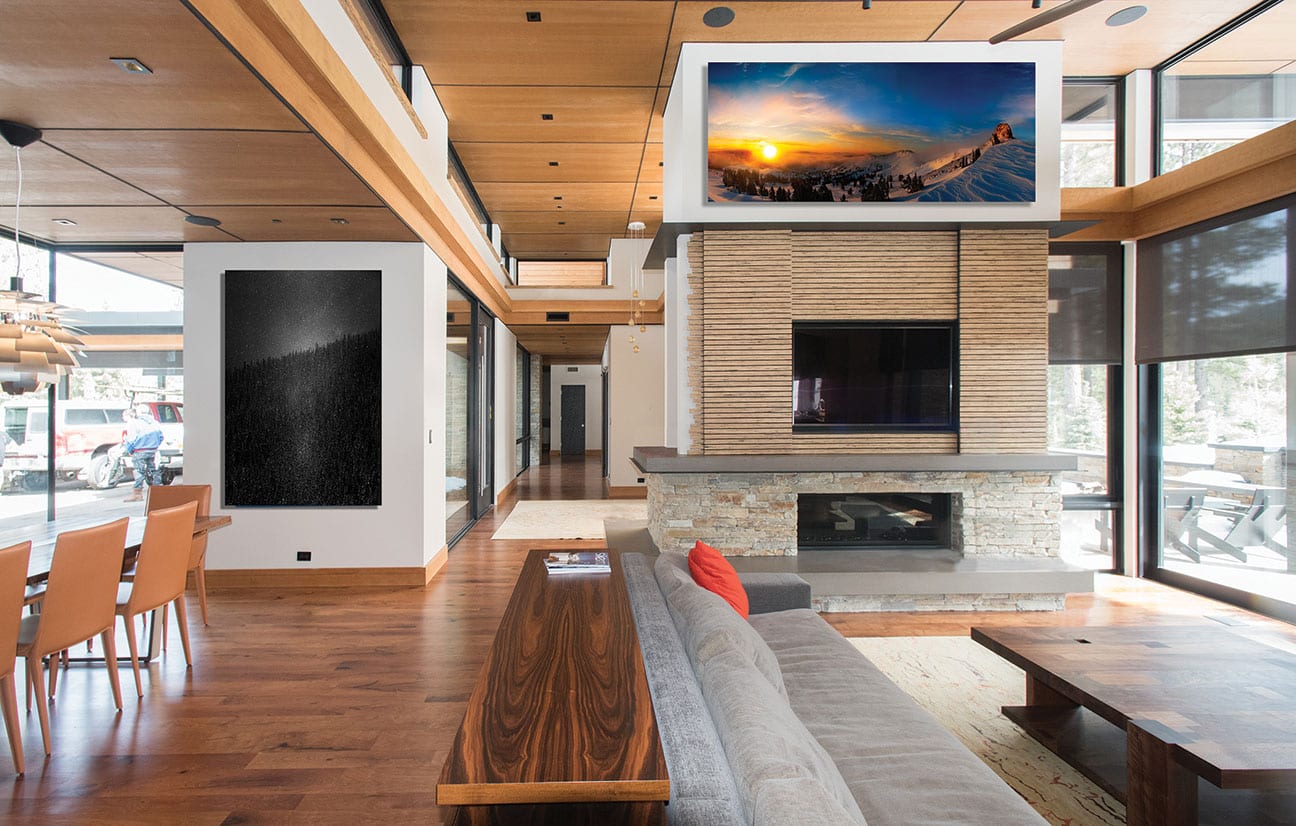 Keoki Flagg's Midnight Snowfall (left) and Emigrant Dawn hang in a Martis Camp home
15 Feb

TQ Market: Upgrade by Addition 

Homeowners know well that their homes are never complete. Common upkeep aside, the temptation to improve by addition is ever-present, whether it's an expertly crafted piece of furniture, fine-art photography by a talented artist or a stunning hanging light fixture. Lucky for homeowners in Tahoe, these items abound in our scenic mountain communities:
FINE-ART PHOTOGRAPHY BY KEOKI FLAGG
$99+ gifts, $1,495+ limited edition
At Gallery Keoki they like to say, "don't just decorate, define your space." Indeed, an iconic image by award-winning photographer Keoki Flagg can turn an ordinary wall into a showstopper. Case in point: This great room (above) adorned with Flagg's Midnight Snowfall (left) and Emigrant Dawn. Flagg's gallery in the Village at Squaw Valley features limited-edition images that are built to order in a broad range of sizes, including standard and panoramic format, as well as single-panel, multi-panel or multi-plane options. They are also available in gift sizes as prints on metal. To order, schedule an appointment with Lynn Gibson at (530) 414-8500 or lynn@gallerykeoki.com.
Find at Gallery Keoki, 1850 Village South Road, Olympic Valley
---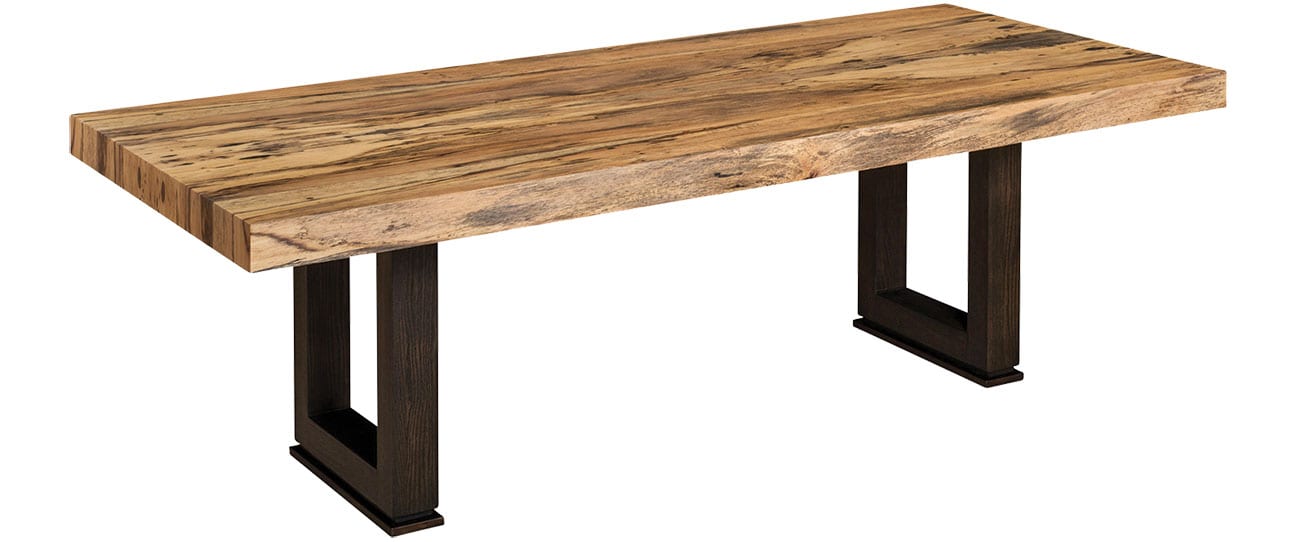 SIGNATURE TABLE BY ALPINE HOME
$6,990
Alpine Home's signature table not only features a remarkable surface that'll have guests raving, it also has an interesting backstory. The table is built of palografico wood, which is recovered from tumbled logs in swamps or buried under mud. The prolonged exposure to humidity begins a spalting process that gives the surface such exotic contrast grain detail. A high-sheen resin finish is then applied for durability. The table is available in custom sizes, including the 96-by-40-by-30-inch model pictured.
Find at Alpine Home Furnishings, 700 N. Lake Blvd., Tahoe City
---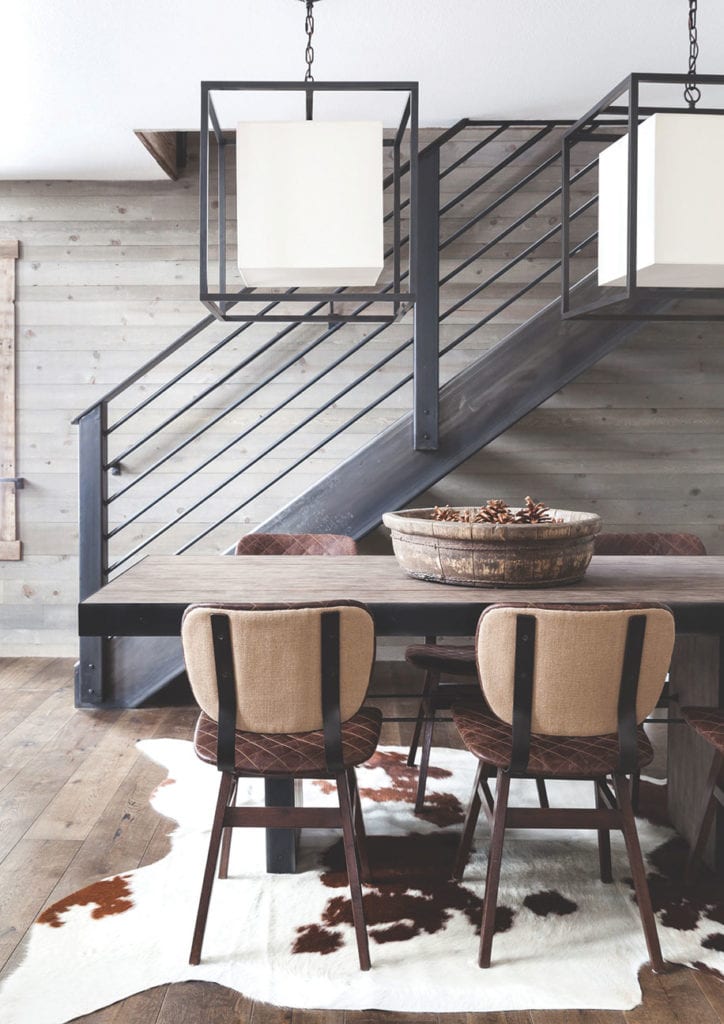 QUILTED LEATHER DINING CHAIR
$460
For those looking to dine in comfort and style, look no further than the Jackson Quilted Leather Dining Chair at Truckee's High Camp Home. The chair is quilted with top-grain Havana leather, which matches its dark oak and iron frame while contrasting beautifully with the heavy-duty, tan-colored burlap on the back. Combining charisma and casual comfort, the chair effortlessly complements a dining area or makes a statement just standing alone.
Find at High Camp Home, 10191 Donner Pass Road, Truckee
---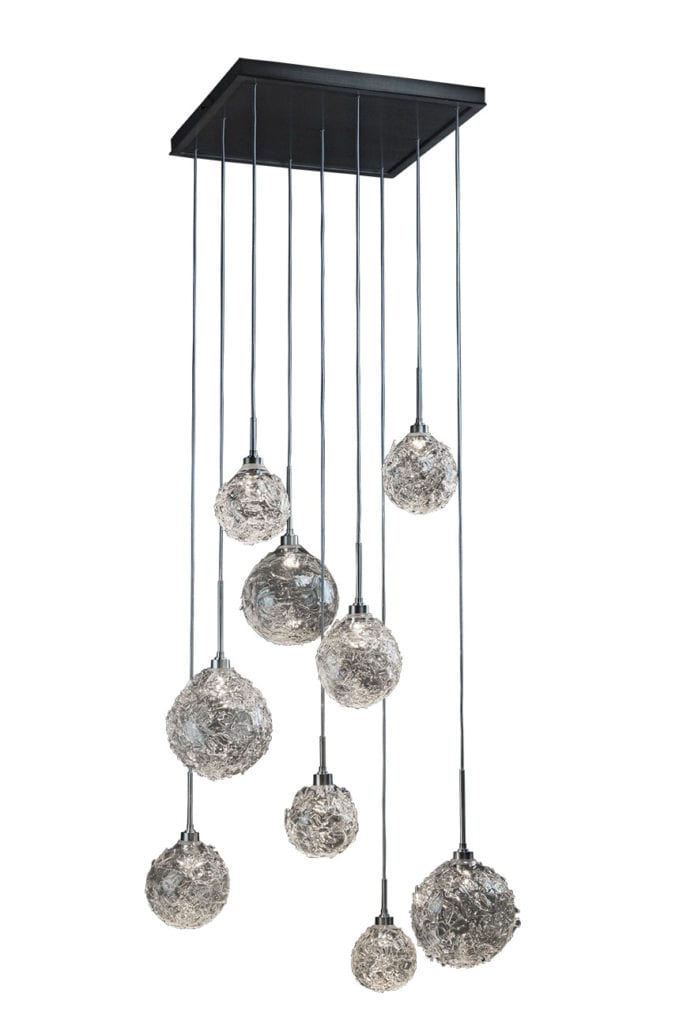 HAMMERTON PEZZETTI LIGHT
$9,990+
With such an array of high-quality light fixtures dangling throughout its showroom, the interior of the family-owned-and-operated Lighting Showroom in Kings Beach is almost enough to overwhelm the senses—in a good way. One piece is particularly dazzling. Meticulously handcrafted by Utah-based Hammerton Studio, the Pezzetti fixture features hanging LED-lit glass orbs of various sizes, each rolled in large pieces of shattered glass. This piece of functional art is available in multiple glass colors, including amber, smoke, clear and bronze.
Find at The Lighting Showroom, 8726 N Lake Blvd, Kings Beach
---

WOODRIDGE CONSOLE BY MEZ WORKS
Founded by former action sports photographer Terren Gomez in 2010, Mez Works Furniture in South Lake Tahoe quickly earned a reputation for crafting high-end luxury furniture. The Woodridge Console serves as a fine example. From one highly figured black walnut slab, this entry table with mitered waterfall edges was made with no waste to spare. The live-edge drawer front conceals two soft-close drawers, and has a matching re-sawn lower shelf. Seamlessly flowing from one component to the next, the curls in the wood grain tell their own story. Sleek, steel legs with hidden hardware add a modern touch. All finishes are low-VOC, and custom sizes are available.
Find at Mez Works Furniture
---

MUTUAL AID POSTER BY JERRY DODRILL
$75
When fires devastated California's Napa/Sonoma region this past fall, photographer Jerry Dodrill was stunned by the overwhelming response from fire departments across the West. He felt compelled to commemorate their efforts. He also wanted to help. Over the course of several mornings, Dodrill photographed the door panels of as many firetrucks as he could in Santa Rosa. He ultimately amassed a collection of images that represents nearly half of the 500-plus fire agencies that provided aid. He then turned the photos into a composite piece called Mutual Aid, from which he donates a portion of the proceeds to local nonprofit organizations working to support families affected by the fires. Dodrill is a friend and colleague of Elizabeth and Olof Carmel of Carmel Gallery, who have partnered to sell the hand-signed posters from their galleries in Truckee and Calistoga, as well as online.
Find at The Carmel Gallery, 9940 Donner Pass Road, Truckee
---


ARIS ALUMINUM LOUNGE SET
$3,945
Outdoor living is all the rage these days, especially in beautiful Tahoe. Available at Truckee's Mountain Home Center, this swivel rocker lounge chair and love seat from OW Lee's Aris Collection are built of durable fabrics and lightweight aluminum designed to withstand the elements. Equally important, the furniture features ergonomically correct pillow backs and a new seat concept using flexible metal strapping, which allows for just enough give to provide the perfect sit.
Find at Mountain Home Center, 11403 Brockway Road, Truckee
---

FIREWOOD LOG SLING BY RIVERSIDE STUDIOS
$135
While it's attractive enough to pass for home decor, Riverside Studio's Firewood Log Sling is built strictly for functionality. The sling, constructed of durable leather, is designed to haul armloads of wood from its stacked ranks to the hearth without dirtying up your sleeves. The sling is made by Kahlil Johnson, who is one of five artist-owners of Truckee's Riverside Studios.
Find at Riverside Studios, 10076 Donner Pass Road, Truckee
---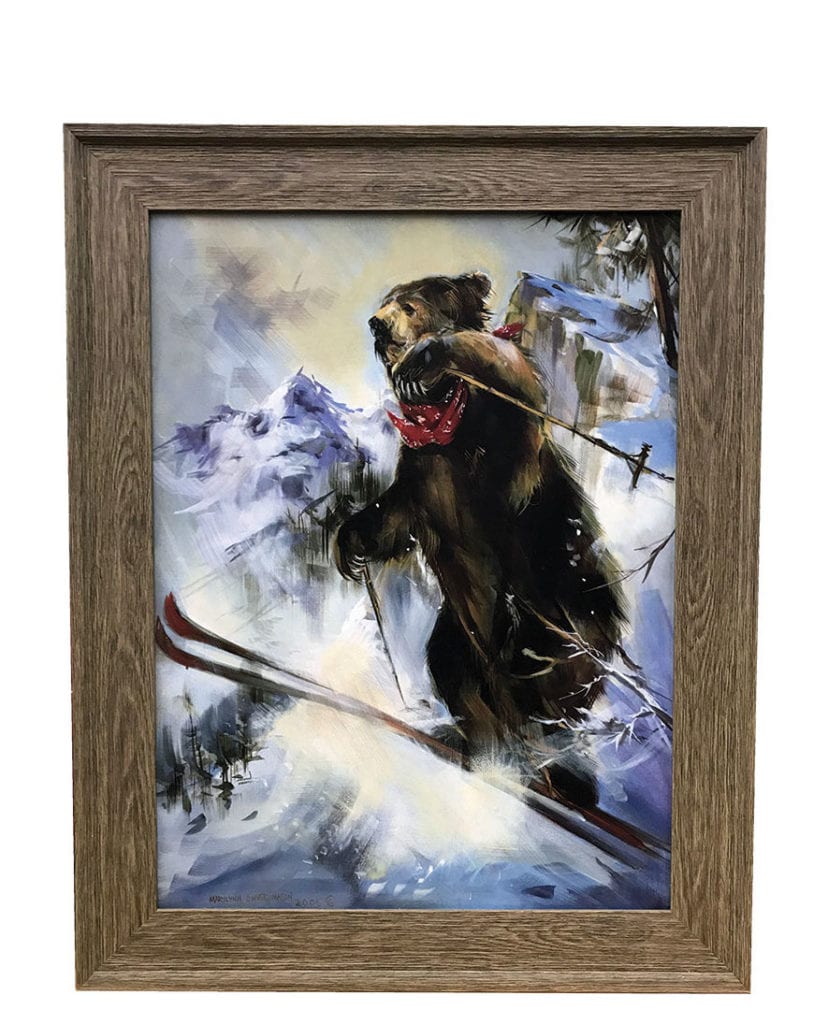 THE BIG JUMP
$189
That one big jump is what every avid skier looks for. Even if the skier happens to be a bear. Measuring 18 by 24 inches, this limited-edition piece from Mountain Hardware and Sports is framed in handcrafted wood and printed on canvas using the finest archival inks.
Find at Mountain Hardware and Sports, 11320 Donner Pass Road, Truckee
---


FURNITURE BY BUFFALO COLLECTION
Those looking to spruce up their mountain homes with one-of-a-kind décor definitely will want to give Buffalo Collection a gander. Based in Scottsdale, Arizona, the family-owned business offers the world's finest genuine American buffalo leather furniture. Not just chairs and couches, either. The company's Western-style luxury offerings run the gamut of home décor, from bed frames and headboards to tables, ottomans, pillows, lighting, antiques, fine art and more. When it comes to Buffalo Collection's bread and butter, however—furniture—it's the material that truly sets the products apart. Buffalo leather, with a protective layer up to three times thicker than cowhide, provides unsurpassed strength and flexibility combined with extraordinary softness that must be felt to be believed. The leathers are available in a wide range of colors and finishes, from smooth, lightly pebbled tans to distressed earth tones, as well as exotic, heavily grained hides. Designs vary from casual ranch to urban contemporary, with each piece built to last several lifetimes over. Combining strong hardwood frames, eight-way hand-tied springs and down-topped cushions, Buffalo Collection's products are handcrafted with the goal of achieving heirloom quality to be cherished through the generations. Peruse the website or, if you're in Arizona, visit the Scottsdale showroom.
Find at Buffalo Collection