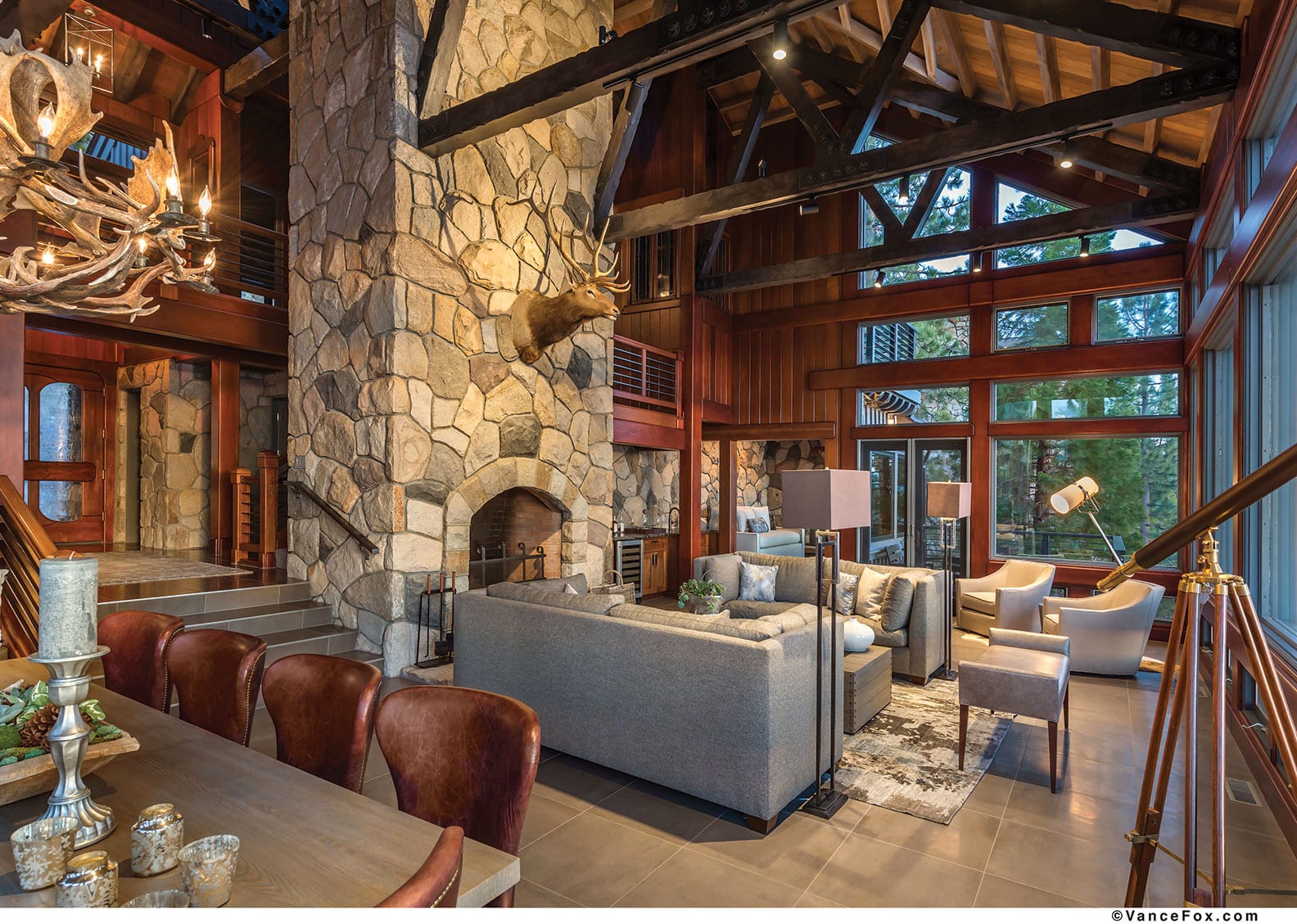 A large stone fireplace anchors the spacious great room, which received a makeover while retaining the home's original old-growth redwood, photo by Vance Fox
A Redwood Palace Revamped
The late Don Carano of Reno's Eldorado and Silver Legacy had high-end taste, which is displayed in the lavish custom home he had built in the 1980s on Tahoe's rocky East Shore.
Located in the historic Glenbrook community, the 6,212-square-foot house features extensive old-growth redwood throughout the airy interior, providing an unmistakable sense of warmth. A large stone fireplace and extensive rockwork give the interior a rustic feel, and west-facing windows afford stunning views across the lake.
Over the years, however, elements of the original design became dated. Although the new owners appreciated Carano's vision, they hired Lindsay Bourgeois of Bourgeois Interior Design and Greg George of Tahoe Sierra Builders to modernize the home while retaining the predominantly redwood interior.
Bourgeois achieved this by blending old and new, using current natural materials to reinvent the heavily wooded spaces. She replaced the original redwood pickets along the handrails with contemporary metal. Skilled faux painters gel-stained the white-washed rafters and beams to a charcoal color reminiscent of steel. Any redwood that was removed was re-milled and re-used.
Previously walled-off, the kitchen now opens to the expansive great room and includes a massive island with solid walnut cabinetry and natural stone quartzite counters.
The downstairs is highlighted by a game room complete with a shuffleboard deck, a rock fireplace, plush seating and a large bar area, which features a reclaimed bar back from a saloon in Virginia City. Steel gray paint was added to modernize the color palette, while the Kozmus granite countertop was flamed and scalded to create a textured but smooth surface.
Among the more challenging improvements, Bourgeois points to a glass leaf mosaic in one of the home's four bathrooms, which had to be hand-cut with each piece installed individually. "That was a very difficult install, but the tile setters did a great job," Bourgeois says. "It's a fun juxtaposition against the other more rustic textural materials in the house."
merit Award:

Remodel
Building Design: Lindsay Bourgeois
Builder: Greg George of Tahoe Sierra Builders
Interior Design: Lindsay Bourgeois of Bourgeois Interior Design
Landscape Design: Moana Nursery
Square Feet: 6,212
Year Complete: 2017