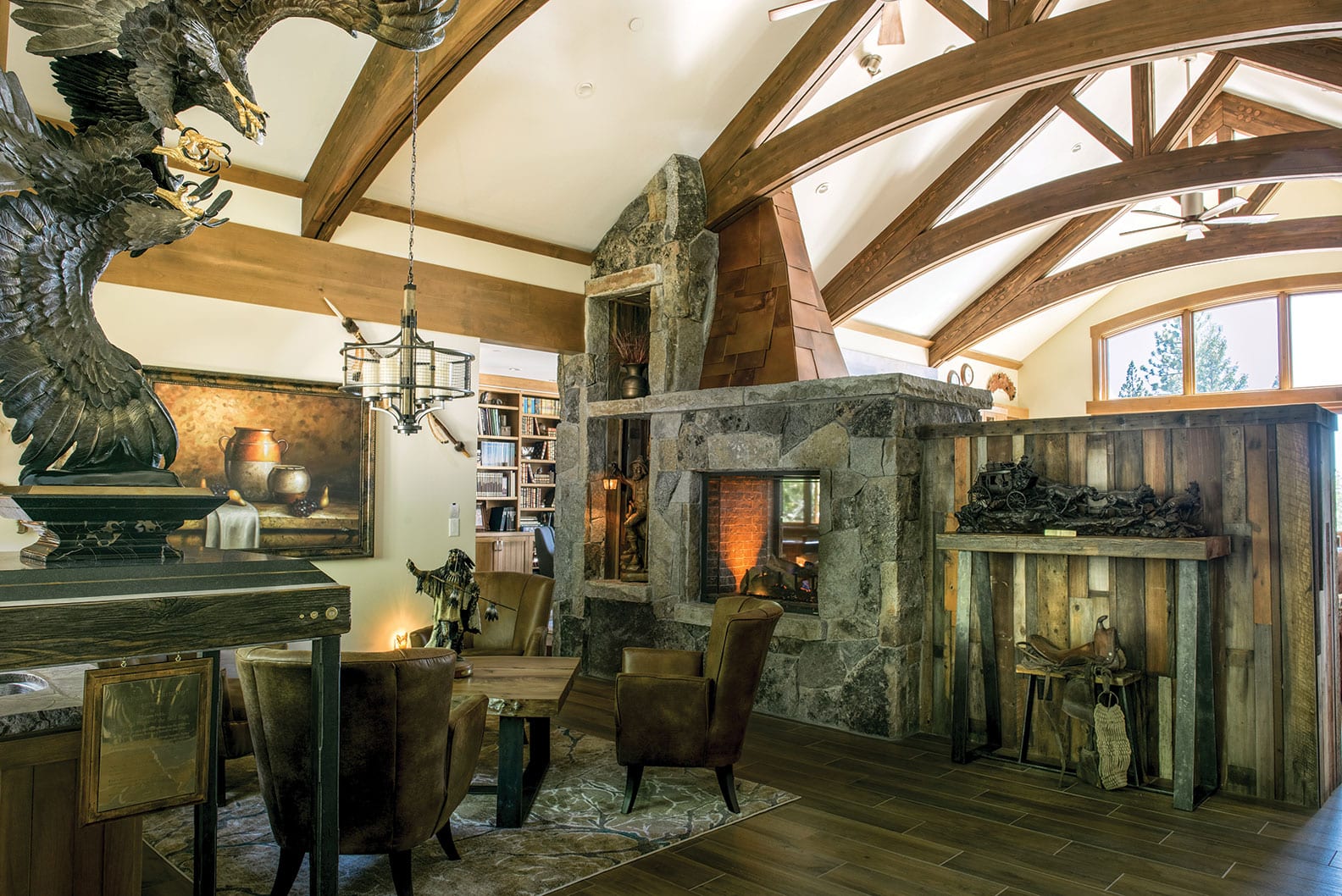 A series of elegant architectural trusses span the main living area, while a see-through granite fireplace with a copper flue splits the room without blocking views, photo by Annie X Photographie
24 Feb

Cozy Quarters with Character

Warm and welcoming vibes rule in this Incline Village home, with an eclectic array of personal decor from the owners adding character to a handsome design.

It began with a vision by Phil GilanFarr of the eponymous architecture firm and construction company. After removing the original structure, which sat awkwardly for years on the steeply sloped lot, GilanFarr designed a 5,282-square-foot, two-story home and repositioned it along the street frontage, providing direct access to a single living level with lofty views through the treetops to Lake Tahoe.

Inside the covered front entry, the spacious interior of the upper floor is highlighted by a series of elegant architectural trusses that span the main living area—each built on site by the GilanFarr Construction team. A substantial see-through granite fireplace with a copper flue splits the room without blocking views or cramping the open space.

To the looker's right of the entrance is a handcrafted wood and metal staircase that winds around a glass tube elevator. To the left past the fireplace, a library and wet bar add to the comfortable living quarters, while an open kitchen across the room is anchored by a large island topped by a rainforest granite slab.

A wall of glass opposite the front entry allows clear views toward the lake, as well as access to expansive decks and a terraced backyard below. The outdoor space is complemented by vegetation and design by Estate Landscape, with a seasonal creek enhancing the tranquil setting and providing soothing sounds within direct earshot of the master bedroom above. 

The downstairs of the home features a decked-out music area, a wine room, expansive craft room and laundry area. Like the primary living spaces upstairs, personal touches by the well-traveled owners abound around every corner, providing an engaging experience for visitors and homey comfort for the retired couple.
merit Award:

Comfortable Living
Building Design: GilanFarr + Associates Architecture
Builder: GilanFarr Construction
Interior Design: GilanFarr + Associates Architecture
Landscape Design: Estate Landscape
Square Feet: 5,282
Year Complete: 2017