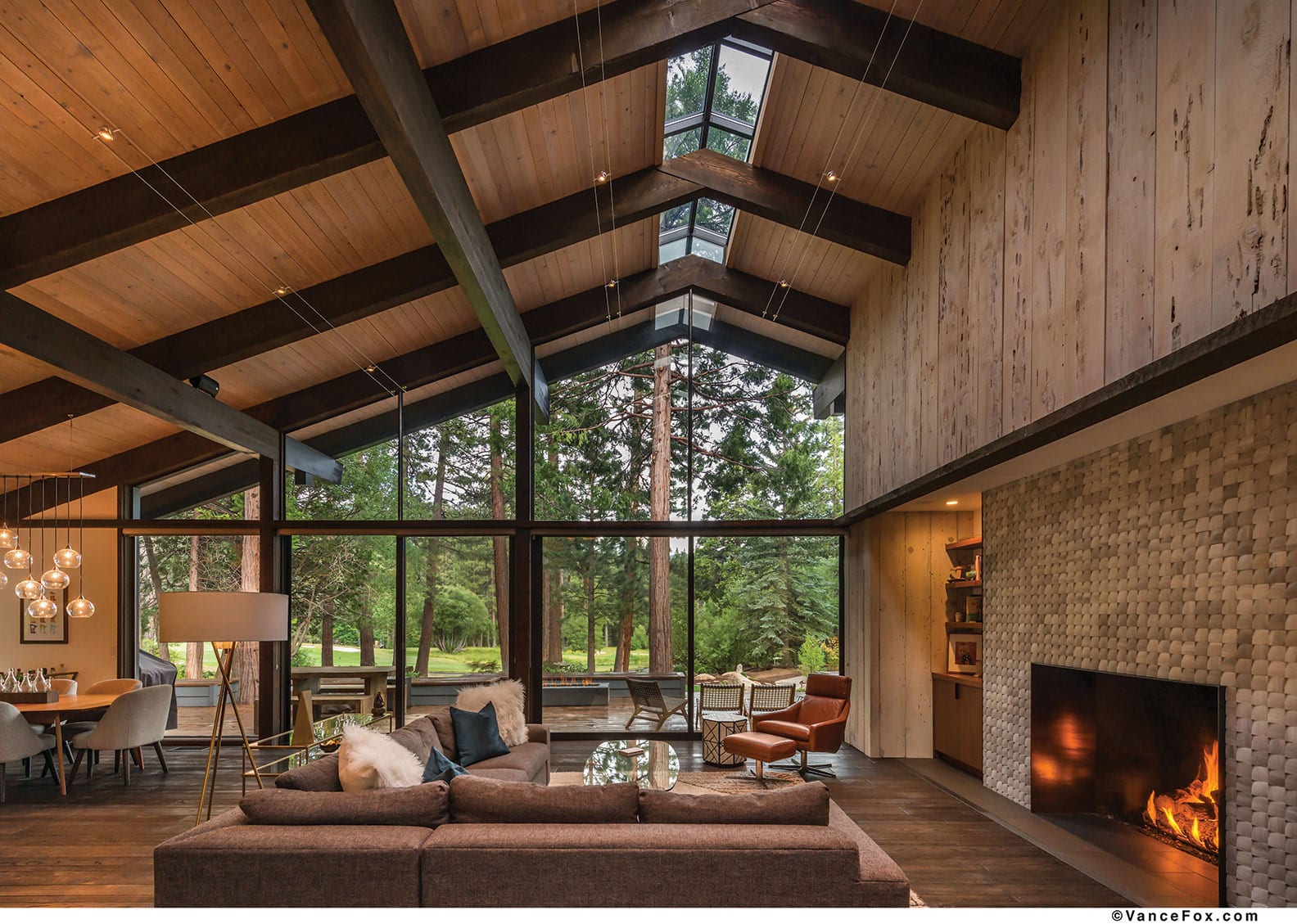 Post-and-beam construction supports a 27-foot-high ceiling with a skylight ridge running the length of the roof's peak, photo by Vance Fox
24 Feb

Dream Home Revival
Everything that's old is new again in this classic mid-century remodel
Cliff May. While not exactly a household name, architecture aficionados widely credit him with creating the ranch house style. Horizontally oriented featuring open layouts, plentiful glass and a blurring of indoors and out, his fusion of Spanish revival style and modernism were tailor-made for Southern California's sunny climes and casual lifestyle.
According to the Los Angeles Conservancy, May never attended architecture school and could not draw well but began designing and building houses in his native San Diego and then Los Angeles during the Great Depression. A tireless promoter, his low-slung, pitched-roof suburban "dream homes" took the country by storm after World War II. He sold designs for over 1,000 custom residences, and some 18,000 tract homes were built based on his concepts, his work filling the pages of magazines like House Beautiful, Sunset and Architectural Digest during the 1950s and '60s.
Though most of May's plans found purchase in Southern California, one of his residential designs was built in Tahoe in 1970, adjacent to the Incline Village Championship Golf Course. When its original owners decided to sell, a Bay Area couple who had been searching for a full-time residence in the community knew they had found not just a house, but a home.
"We were looking for a unique home and one that we could make our own," says the homeowner, an attorney and mother of three children under 10. "Coming from San Francisco, we were focused on finding a home that emphasized Incline's beautiful natural surroundings, but in a nontraditional Tahoe way. When I first walked into the house, I knew it was our home. It needed a lot of work, but we immediately fell in love with the mid-century design, the open spaces and the home's connection with the outdoors. We hadn't seen anything like it in all of our Tahoe home tours."
Committed to modernizing the home while staying true to the Cliff May vision, the owner says, "I immediately envisioned lots of mid-century style—walnut cabinetry, sleek lines, lots of glass. We loved the idea of breathing new life into the home, bringing it into the twenty-first century, while retaining May's beautiful design."
She spent "a significant amount of time" researching and identifying finishes and furnishings consistent with the original, although the update was also driven in large part by their family. It was important that they create a beautiful but kid-friendly home, which included expanding and slightly reconfiguring the house to accommodate another bedroom.
The couple worked with Jason Wooley of Truckee's Lot C Architecture to draft the remodel plans.
"I quickly found myself really impressed with Cliff May's work when I first toured the home, considering that it was built in 1970," says Wooley. "It definitely reminded me of some of the most successful work that I see in new construction today."
He adds, "I've worked on many remodels over the years, but I've never worked on something where the original was so well designed. Even measuring and drafting up the original was a pleasure. It was inspiring. I give a lot of credit to the owners of this home for the success of the final product. From the beginning, they had a clear vision of what this home could be. They were also very talented at bringing in new finishes that successfully blended into the existing."
The owners partnered with Truckee-based Mark Tanner Construction, which has built custom homes in Tahoe for 15 years; Stephen Reitter served as project manager and Jaime Carter the design coordinator.
The assembled design and building team also conducted their own extensive research to preserve May's plan and structure and ensure that upgrades didn't conflict with the original objective of the space. To that end they used as much salvaged and repurposed material as possible.
Sitting down low on the half-acre lot, the home's simple exterior was retooled with a section of clear-stained cedar siding carried through to the garage doors, set perpendicular to the original board and batten, which was painted in modern cool grays. A 200-square-foot addition was smoothly integrated with the existing exterior and roofline.
A classic ranch element, the deep overhanging eave shelters a small porch whose pavers are set in a three-piece Versaille pattern. The wood- and glass-panel front door from High Sierra Custom Door literally and figuratively lightened the home's main entryway. Stepping into the house, all of May's intentions are on full display in the open and airy glass-walled living room with views of the forested outdoors beyond.
To the left of the entryway is a modern mudroom whose dropped ceilings were removed to make way for tall wood, mesh-trimmed lockers with ventilation for gear and clothing storage. There's additional storage below the built-in bench, and basalt tiles stand up well to moisture and dirt. The adjacent laundry room is efficiently laid out with undercounter washer and dryer and plenty of wall cabinets—all custom walnut throughout the house. A once very red powder room now gleams white and bright with a cool square porcelain sink perched atop a walnut vanity, and geometric tiles from Bedrosians Tile & Stone in Reno that pop in relief from the wall.
This hardworking part of the house connects to the garage, which, in a true nod to modernity, got an electric charging station for the owners' Tesla.
A short set of steps leads from the entryway down into the airy living room, the visual heart of the home. Here, post-and-beam construction supports a 27-foot vaulted ceiling, a narrow skylight ridge running along the length of the roof's peak. The dark-stained beams, which contrast with the ceiling's lighter wood planks, extend outside, appearing to reach right through the wall of windows. Upgraded sliding glass doors provide easy access to the wrap-around deck, which extends seamlessly from the interior.
The original vertical-planked pecky cedar walls (its distinctive patterning caused by fungal decay) were refinished and pieced back together; the original circle-sawn pegged white oak hardwood with its exposed nail heads was carefully restored by Hoffman Flooring, based in Carnelian Bay. Cable lighting here and throughout the house provides improved low-impact illumination.
Another focal point of the living area is the vastly improved fireplace, its original heavy white masonry walls replaced with a handsome scalloped Athens silver travertine and stone hearth removed for a sleeker line. The pair of niches on either side were panelled and fitted with display shelves and built-in cabinets. With the drop-down television hidden out of sight, attention is directed instead to a nearby wall lined with a clever vertical layout of family photos.
Once small, dark and stuffy, the kitchen has been completely renovated, rearranged and expanded, the wall separating it from the dining area removed for enormously improved light and circulation. Now equipped with commercial grade appliances, it also has increased storage thanks to a pantry punched out onto the deck. Mark Tanner Construction's Bryan Wiere custom crafted all the walnut cabinetry; Caesarstone countertops, come courtesy of Artisan Stoneworks, while the bold horizontal-oriented rectangular wall tile and backsplash was installed by Amazing Tile & Stone in Carson City.
For fun, a call button once used to summon wait staff from the kitchen was left in place beneath the Room & Board dining room table; above hangs a CB2 firefly pendant, a staggered cluster of clear glass globes. Sliding glass doors here provide additional natural light and outdoor access.
Back upstairs adjacent to the entryway, a former game room turned loft overlooking the living room serves as library, office and den. It features a full bath.
Access to the master suite has been relocated from the living room, down a short hallway and set of steps from here, the new layout providing more privacy and separation of spaces from the common areas. Removing the dropped ceilings in the master both bumped up the room's height and exposed the concealed handsome beamwork. The new and improved fireplace features a surround fabricated from hot-rolled steel with a television recessed into the wall above. Corner window walls with sliding glass doors provide views and access to the wrap-around deck, hot tub and forest. An intersecting wooden pot-shelf ledge provides a horizontal visual element. The bathroom boasts new cabinetry and countertops, tile, up and down lighting, stall shower, long vanity with a pair of sinks and medicine cabinets tucked behind sliding barn door–style mirrors.
The first of the three kids' bedrooms sits on the same level as the loft, accessing its full bath via Jack-and-Jill doors. Down a short set of steps, which mirror those that lead to the master suite, are two additional children's bedrooms and a completely renovated shared bathroom. Originally a single suite accessible solely via an external door, this area of the house was expanded to include the additional sleeping space, and the whole wing was fully integrated into the house.
The wooded backyard complete with year-round creek fully sold the couple on the property. "A little slice of heaven," says the owner. As part of the redesign, Keri McCarron, landscape architect with Hill & Dale in Tahoe Vista, repurposed a decommissioned Japanese-inspired pond as a peaceful outdoor patio punctuated with arched bridges and original Asian decorative statues.
Inside and out, this well-considered remodel succeeds in both preserving and improving upon an acclaimed architectural legacy.
"Setting foot inside the home offers an updated snapshot of a moment in time, honoring its 1970s architectural history while breathing new life into its impeccable bones," says Carter. "If Cliff May were to walk through this house today, we would have made him proud."
Award:

Remodel
Building Design: Jason Wooley of Lot C Architecture
Builder: Mark Tanner Construction
Interior Design: Stephen Reitter and Jaime Carter of Mark Tanner Construction
Square Feet: 3,200
Year Complete: 2018