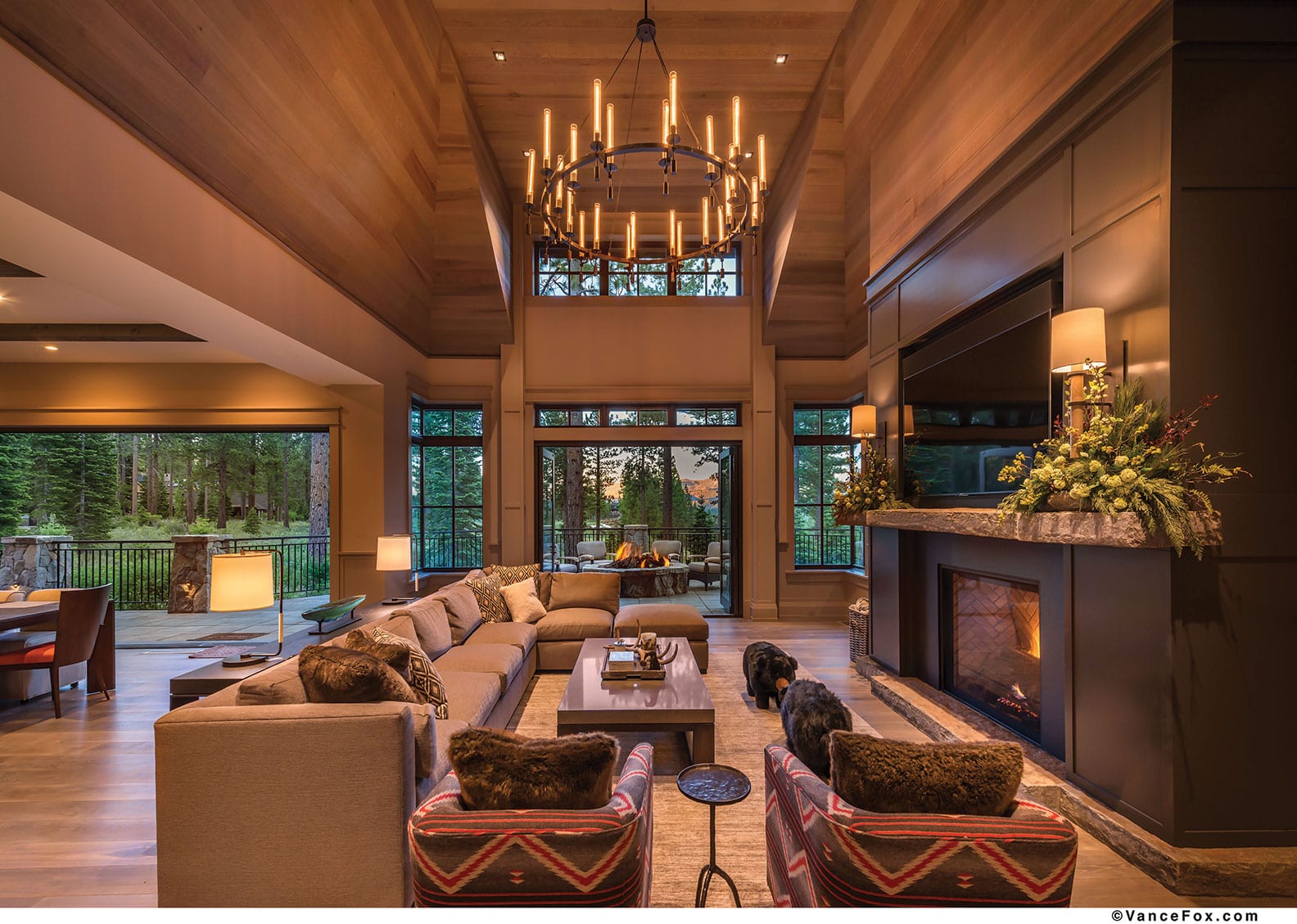 The lofty great room of the Little Bear Lodge opens to a outdoor lounge area with a 200,000-BTU fire pit, as well as a view down the 17th fairway to the home's inspiration source, the Camp Lodge, photo by Vance Fox
24 Feb

Lodge-Like Home Fit for Family Fun

Modeling a home after the Martis Camp Lodge—winner of Tahoe Quarterly's 2012 Commercial Construction Award—is setting the bar high. That was precisely the goal behind the Little Bear Lodge, which was designed to mirror the standout components of the swanky 50,000-square-foot lodge located just down the 17th fairway.

At the same time, the home, built by Truckee's Mark Tanner Construction and designed by Swaback Partners (the same firm that designed the Camp Lodge), captures the essence of its sports-loving owners while serving their family well as a luxurious but comfortable gathering space.

Clocking in at just under 7,000 square feet, the five-bedroom, seven-bathroom Little Bear Lodge displays similar decorative details to its inspiration source. These include copper eyebrows on the building's exterior and, on the interior, a grand winding staircase with Sierra Stair railings, which provides a central connection to all three levels. A cleverly concealed elevator accesses each level.

After walking past a wooden bear statue carved by Tahoe artist Ira Kessey, guests enter a spacious second level that features Kelly Brothers paint artistry and detailed woodwork such as hand-hewn ceiling beams from Hewn Elements. The open kitchen features Taj Mahal quartzite countertops, customized light fixtures by Bevolo and a stunning granite slab island with flush set outlets hand-painted by George Zaffle to blend with the stone.

The staircase—guarded by a life-size stuffed bear clad in New York Rangers hockey gear—leads to a lavish master suite with stellar views to the golf course and surrounding mountains. Sliding doors access a private and covered wrap-around porch.

The lower floor is highlighted by a multipurpose entertainment room with a pool table and giant flat screen TV. As collectors of music and athletic memorabilia, the owners designed the "flex room" to pay tribute to their beloved Rangers hockey team and Syracuse football glory days, with framed album covers further personalizing the space. The room's focal point is a large river rock fireplace built with reclaimed stones from another Tahoe property, as well as a concrete mantle from Mountain Home Center molded to look like a wooden beam.

The exterior of the Little Bear Lodge is also outfitted to entertain, with a 200,000-BTU fire pit conveniently located in the lounge area off of the great room, and a nearby stone porte cochére that boasts 270-degree views of Northstar and the surrounding land. An attractive water feature and dry creek designed by Patrick McEnany of High West Landscape Architects add beauty and sound to the outdoor spaces while also cleverly solving the site's drainage and ground water issues.

While designed to resemble the Camp Lodge, this home achieved that and more, standing out as its own grand gathering place for generations of family to enjoy.
merit Award:

Family Friendly
Building Design: Swaback Partners
Builder: Mark Tanner Construction, Inc.
Interior Design: Robert Gaul Architectural Design
Landscape Design: Patrick McEnany of High West Landscape Architects
Square Feet: 6,932
Year Complete: 2017