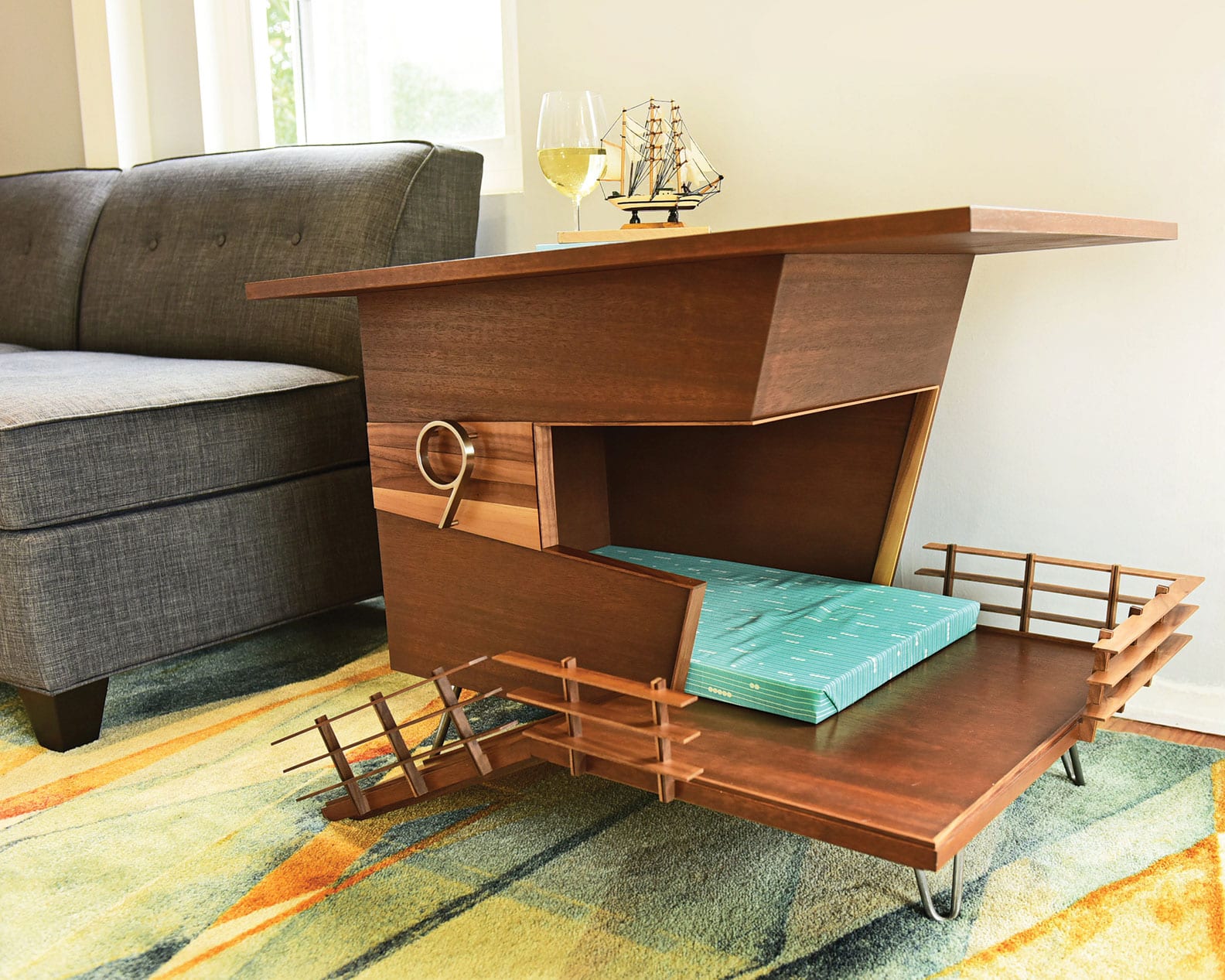 Dog Tower 9 by Pijuan Design Workshop
24 Feb

TQ Market: Mountain Home Enhancements

The temptation to add flair to a given space is ever-present as a homeowner. With such a broad range of home-improvement items available in the marketplace, however, it can be difficult to even know where to start. While it is a small start, we assembled a few items that run the gamut of home décor, from mid-century modern doghouses to custom fireplace screens to fine art photography.
---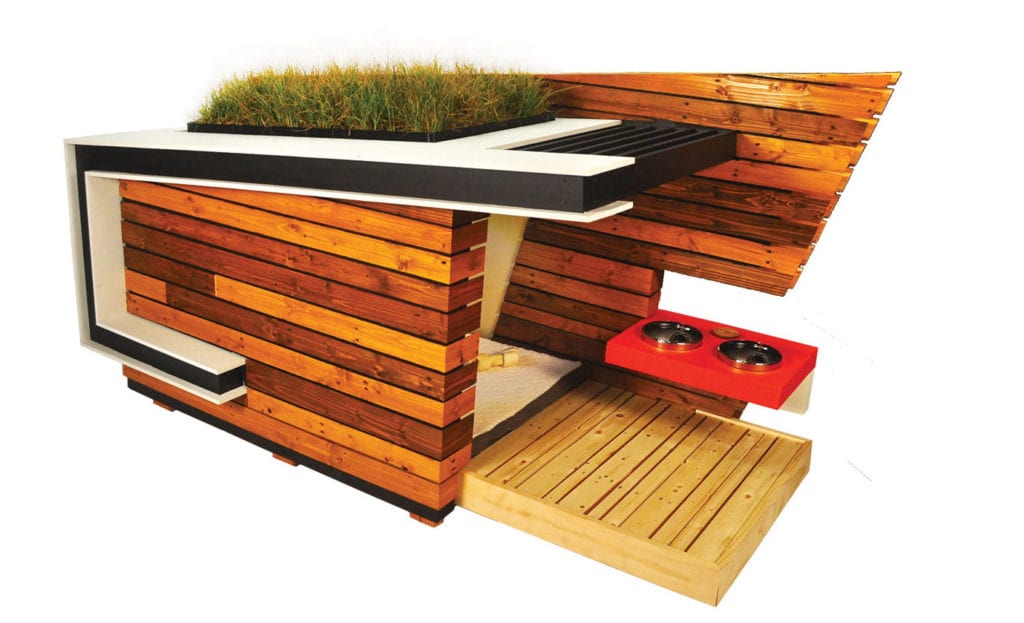 HANDCRAFTED DOGHOUSES
$2,150–$3,500
Let's be honest: While a luxurious doghouse inspired by mid-century modern architecture may appear as the ultimate canine retreat, it is the homeowner willing to buy it who reaps the biggest rewards. Granted, the dog that sleeps in a house by Pijuan Design Workshop is one lucky—and spoiled—pooch. But these chic structures, with their clean modern lines, are ultimately designed to enhance a home's aesthetic appeal. Founded by a dog-loving husband and wife with architecture degrees from USC, the Los Angeles–based company offers a line of seven doghouses, from the large and ritzy Beam House to the compact fidoMOD, which doubles as a modern end table. Somewhere in between are the Dog Tower 9 and Dog Re-Treat models (pictured). The latter, built of mostly recycled wood, was designed with larger dogs in mind. It features live carex grass in a 2-by-3-foot grid atop its shed roof, as well as a deck that extends inside to a custom dog bed. An elevated eat and drink station on the deck is painted bright orange. Designed for smaller dogs, Dog Tower 9 is a stylish palace that also serves as a sleek and functional end table. The top of the tower includes an area for books or magazines, while the cozy living quarters and deck below are accessed by a ramp complete with railings. All doghouse models are custom made and built per order.      
Find at: Pijuan Design Workshop
---

SHIPS WHEEL FIREPLACE DOOR
$14,500
Glenn Gilmore has earned a sterling reputation over the past four decades for his award-winning custom forged metalwork. Based in Corvallis, Montana, Gilmore boasts 42 years of design and forging experience, specializing in site-specific architectural metalwork displayed in private homes, galleries and stores as far away as Italy and Japan. Gilmore's ability to shape metal—from driveway gates to table lamps to furniture—is evidenced in his unique fireplace screens, which can turn an often overlooked mountain home amenity into a piece of art. Take, for example, this Ships Wheel Fireplace Door that he designed to fit the nautical theme of a private home. Features include forged square knot handles, a bronze latch and brass rivet accents, while the andirons complement the door with forged steel ship anchors. The accompanying hearth tools (sold separately) have a seaman's twist handle for a comfortable grip and are complete with the tripod stand.      
Find at: Gilmore Metalsmithing Studio
---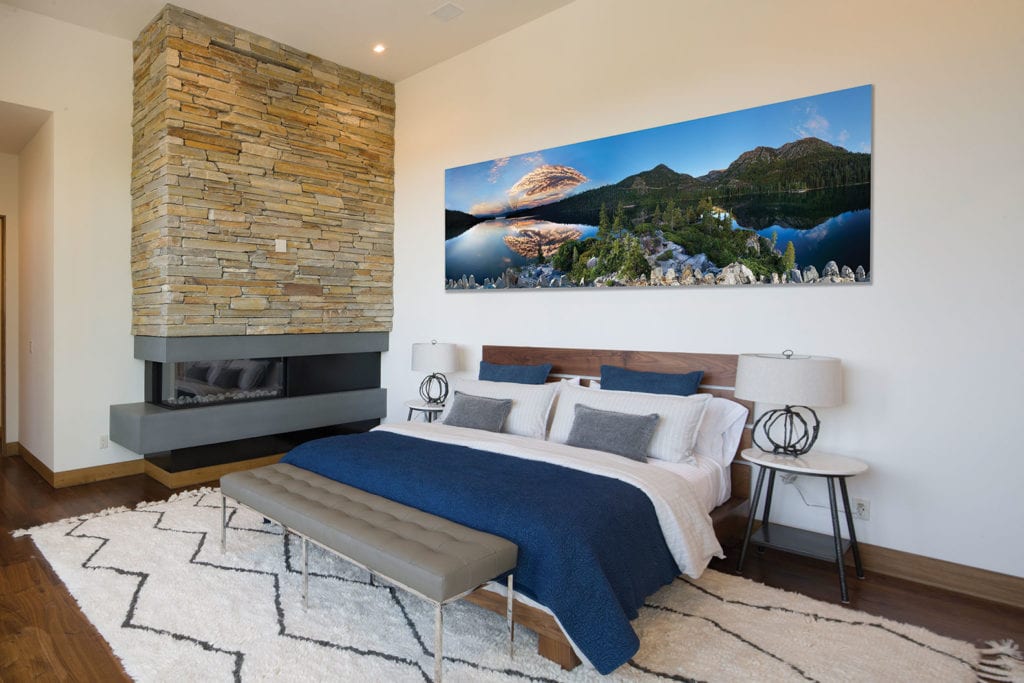 EMERALD ISLAND BY KEOKI FLAGG
$1,495-plus for Limited Editions
Lake Tahoe is home to many talented professional photographers whose images grace the walls of businesses and private residences throughout the region and beyond. Perhaps the most recognizable is the original adventurous fine art photography of Tahoe's own Keoki Flagg—Nine Dog Sunrise, the iconic lineup of patrol dogs on a chairlift overlooking Alpine Meadows… Emigrant Dawn, the heraldic sunrise from the top of Squaw Valley… and Flagg's newest classic, Emerald Island (pictured), a truly novel, stitched, 42-frame, 360-degree panorama of Emerald Bay as seen from above the middle of the teahouse on Fannette Island. As always, the image is stunning and timeless, and uniquely realized with custom installation options exclusively by Gallery Keoki. As Flagg says, "Nothing extra, nothing ordinary… Extraordinary."      
Find at: Gallery Keoki
1850 Village South Road, Olympic Valley
(530) 414-8500 for appointments
---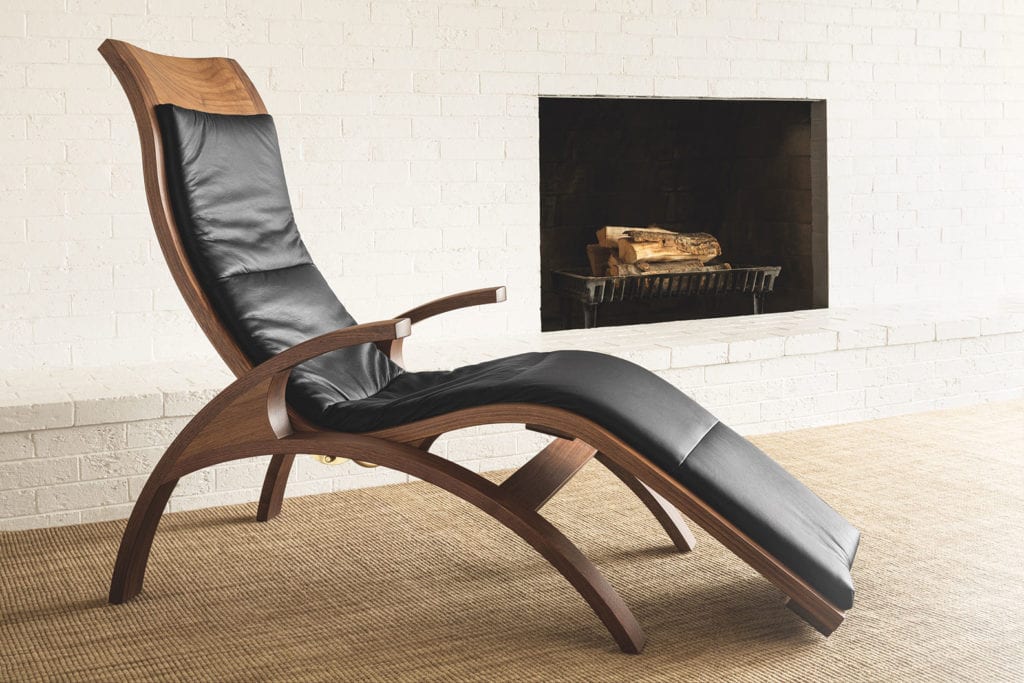 CHAISE BY THOS. MOSER
$3,910–$4,500
When it's time to kick back and relax, few furniture items provide a more ideal lounging surface than the classic chaise lounge. Thos. Moser, which has specialized in handmade American furniture since 1972, takes pride in its ultra comfortable and attractive chaise, with inspiration from contemporary furniture designs created by European architects in the 1920s and '30s. Following a cue from the likes of Finnish architect Alvar Aalto and Swiss-born architect and designer Le Corbusier, the company replaced tubular steel with the warmth of natural hardwood and precision-crafted mortise-and-tenon joinery. The sinuous wood frame supports a webbed back, upholstered in full-grain leather. A removable headrest provides additional comfort. The two-position chaise reclines fully without any handles or gadgets. Simply lean back and let gravity do the rest. The company also provides a lifetime guarantee, ensuring years of stylish comfort.      
Find at: Thos. Moser
3395 Sacramento Street, San Francisco
---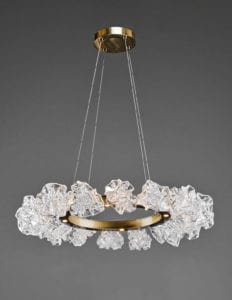 BLOSSOM 36D" RING CHANDELIER
$7,995
Looking to add a classy touch to a room? Look no further than the Lighting Showroom, which features an impressive display of high-end light fixtures throughout its Kings Beach showroom. In this new release from Hammerton Lighting, undulant "blossoms" of artisan-blown, LED-lit glass—each one-of-a-kind—collectively evoke a sophisticated sculptural effect. "Each individual piece is visually intriguing," says Levi Wilson, Hammerton founder and VP Design, "but grouping Blossom glass in multiples really unleashes its aesthetic impact."      
Find at: The Lighting Showroom
8726 N. Lake Blvd., Kings Beach
---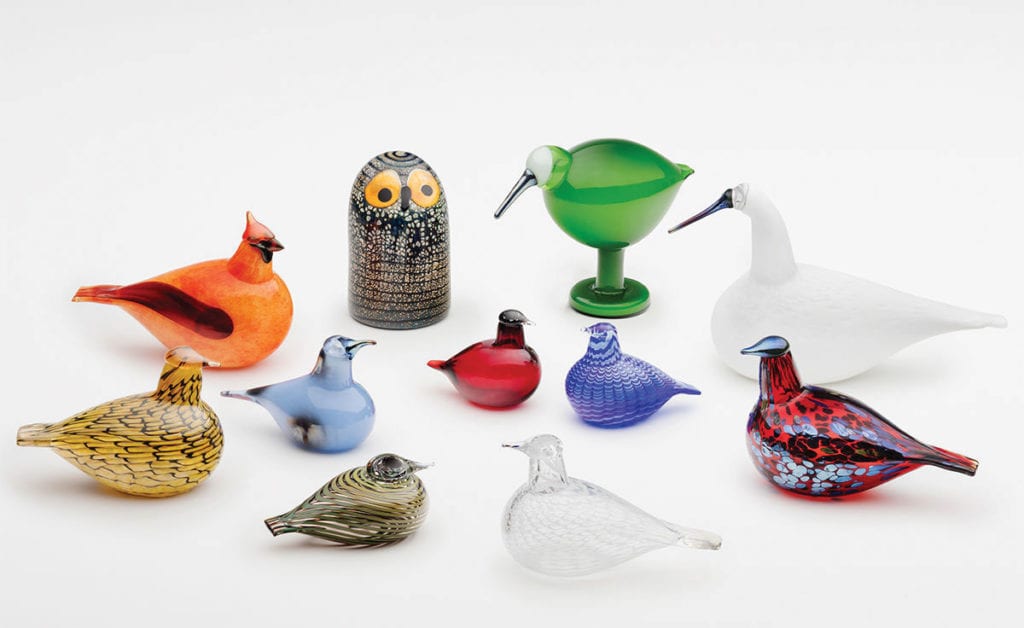 IITTALA BIRDS BY TOIKKA
$195–$675
There's something magical about blown glass artwork—its delightfully smooth surface, rounded lines, vibrant colors and irresistibly translucent qualities. Oiva Toikka of Finland is among the most talented and experienced glassmaking artists in the business, with his iconic collection of Iittala Birds by Toikka dating back to 1972. Toikka's birds, which are individually mouth-blown, have since become a popular collector's item around the globe. One of these birds may just be the unique piece your mountain home is missing.       
Find at: NØRDIK
50 S. Virginia St., Ste 18, Reno