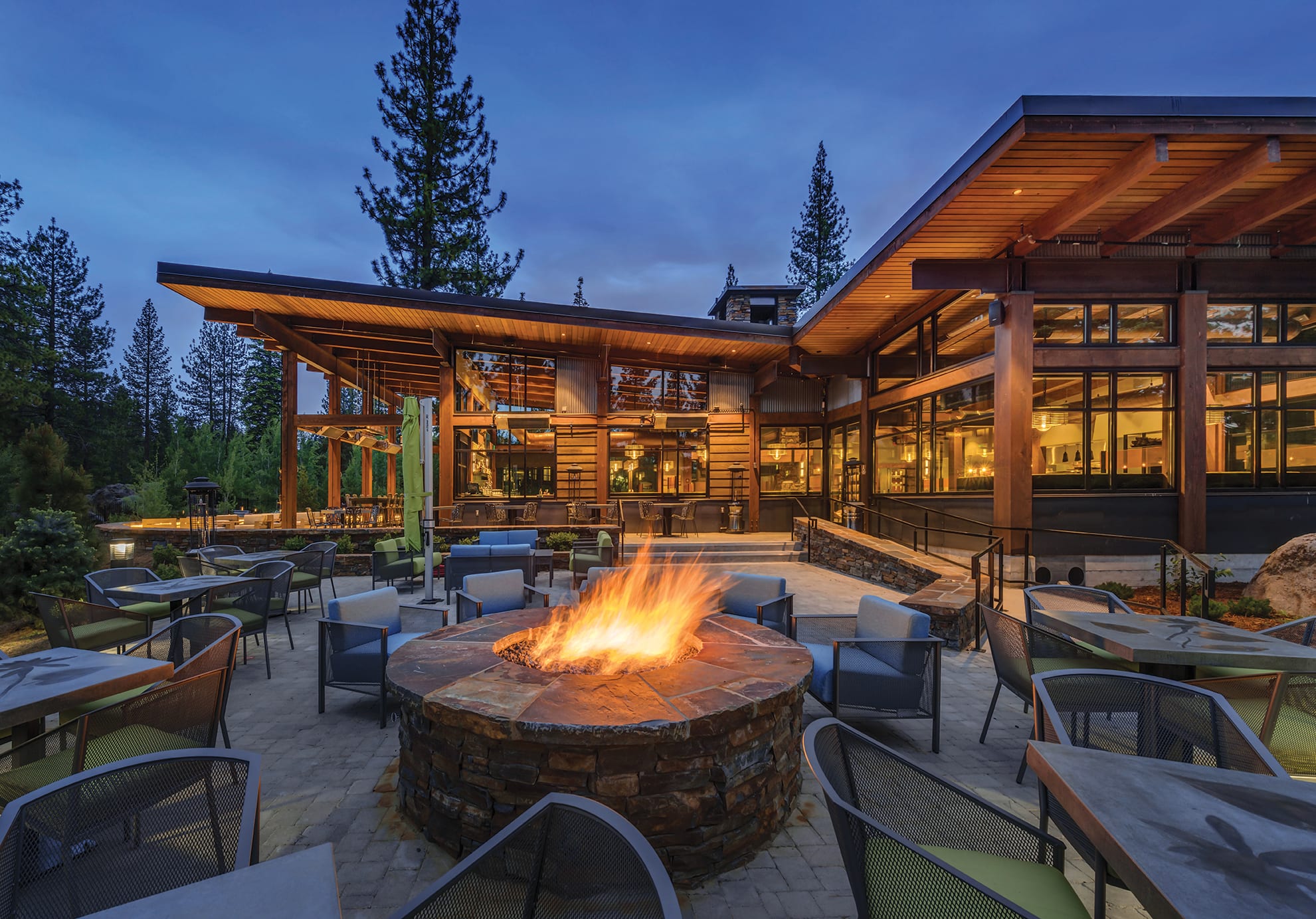 The Sawyer restaurant is a sleek and sturdy structure with striking lines and a mountain modern aesthetic
23 Feb

Tasteful Style
The Sawyer restaurant evokes a bygone era of lumber industry with a mountain modern twist
Schaffer's Mill, the 475-acre private residential community on the edge of Truckee, sports an award-winning Johnny Miller–John Harbottle–designed golf course, pro shop, clubhouse, swimming pool, tennis courts and spa. And now it's got a great restaurant, too.
Located adjacent to Schaffer's existing amenities and connected by a central gathering lawn, the eatery dubbed The Sawyer was designed to encourage socializing indoors and out, bringing members of the community together in a fun and casual environment.
A restaurant to serve Schaffer's Mill residents, golfers and guests was in the works from the get-go, but MA Partners, the Texas-based land development company that owns the upscale Martis Valley development, held off breaking ground on the last and long-awaited amenity until a majority of its some 400 homesites were sold. Construction started in 2016, with The Sawyer opening in May last year.
The lofty, well-lit restaurant built in a mountain modern style is named for the men who turned timber into wood in George Schaffer's mill that hummed here in the 1800s. Located on the 10th hole of the community's golf course and positioned to drink in views of the surrounding forest and Northstar's Lookout Mountain, it's a sleek and sturdy structure whose strong and striking lines and natural materials evoke that nineteenth century era of rural industriousness.
"The theme overall here at Schaffer's Mill was a lumber mill idea, so the heavy timber frame was part of that, merged with the mountain modern context," says Ted Brobst of Ward-Young Architects, who was the lead designer on the project.
The building's angular exterior boasts stout wooden posts supporting exposed steel beams capped with a pair of perpendicular, elongated shed roofs. Cisco Grove, a basalt ledgestone from Sierra Stone Supply and installed by Truckee's Johansen Masonry, anchors the entrance. The overhang's prominent soffits are lined with clear cedar boards installed in a tight shiplap pattern; both rusting cold and hot-rolled steel provide textural and thematic accents.
Hefty side-by-side barnwood doors usher patrons into a greeting area, the wood, stone and steel elements carrying through from exterior to interior, quite literally in the case of the half-dozen steel beams that seamlessly support the ceiling. The space features a glass-doored wine refrigeration display wall and a fun and functional hand-hewn timber bench.
Underfoot here and throughout the building, Luxury Vinyl Tile, commonly referred to as LVT, looks like wood but can stand up to the elements and patrons afoot in golf cleats and ski boots far better than the real thing.
Just beyond, a sizable see-through, four-sided fireplace serves as a focal and functional feature, defining and separating the entryway, dining and bar areas. Its sturdy column supports are wrapped with the same exterior ledgestone, while the mantle is manufactured from heavy interlocking beams tied with steel. The fireplace also creates additional mingling and seating opportunities.
"The four-sided fireplace is definitely a unique feature," says Larry Young, the principal architect who co-founded Ward-Young with Tim Ward in 1977.
The semi-custom, glass-enclosed hearth (open hearths are no longer permitted in the region due to air quality and energy loss) was also one of the more labor-intensive design elements, requiring two 10-inch ducts for ventilation and intricate steel cladding to conceal the interior working components.
"It draws a tremendous amount of air for combustion," says Peter Beaupre, whose Truckee-based Prosser Building & Development was responsible for managing the project, interior trim, and installing custom wood and metal accents, among other details.
The bar/lounge area—its floor-to-ceiling windows facing the golf course's 10th hole, the surrounding forest and Carson range beyond—features a variety of socializing and seating options, be it a stop en route to the dining room or a destination unto itself. A half-dozen u-shaped, key lime green booths line two of the walls with a cool pop of color, in contrast to the rest of the restaurant's earth-tone palette. A butcher block–style high-top communal table stands in the middle of the space; the horseshoe copper-topped bar designed and installed by Beaupre's team offers additional seats, and a closer view of the several flat-screen TVs broadcasting the sports event du jour. Tables are lit with customized circular and rectangular hanging globe light fixtures made from stacked plywood. Overhead, a ventilation duct with nowhere to hide has been painted in brown tones and embraced as an edgy industrial element.
On the opposite side of the hearth, the dining room is situated beneath the major roof pitch, the slanted ceiling projecting out toward nature, affording additional views of the 10th hole. Walls of windows bring in light and enhance the connection with the outdoors.
Elevated booths, butcher block–style tables, and another communal high-top provide seating for up to 50 diners in this area.
An alcove that can be cordoned off with sliding doors serves as an exclusive private dining room for special occasions and small meetings. One wall embeds a wine storage display. The opposite long wall is made up of four rows of square, lit, glass-doored lockers where members (designated by brass nameplates) may rent and stash their favorite bottles in one of the 64 conditioned cubbies of the Vinotemp refrigerated wine storage unit. In the center of the room, the live-edge, single-slab table can seat 16 and serves as a visual tie-in with the restaurant's sawmill theme.
Of course, the heart of any restaurant is the kitchen. The Sawyer's original blueprints were altered to accommodate the more contemporary open exhibition-style kitchen, where chef Corey Kelso oversees a menu long on comfort food favorites and up to 15 employees at peak operation. A beefy wood-burning pizza oven, which boasts a custom circular surround garnished with green ceramic tile, turns out tasty pies like the wild mushroom with truffle oil and fresh arugula, as well as other menu items. The busy kitchen also cranks out breakfasts on weekends.
In addition, the backside of the kitchen and building is outfitted with a window service area called the Whipsaw, where hungry and thirsty golfers can order from a separate menu of lunch items like hot dogs and sandwiches.
Plentiful outdoor seating areas accessible via the bar and main dining room more than double the restaurant's capacity in the warmer months. High-top concrete tables inlaid with steel silhouettes of leaves are sheltered beneath the oversized overhang rigged with lighting, heat lamps and a large-screen TV. The spacious terrace offers additional dining tables and chairs as well as lounge-style seats and sofas decked out with green and blue cushions, placed around low-slung tables and fire pits. The combined exterior spaces can seat about 185 people.
From every angle, inside and out, The Sawyer is a tasty and tasteful addition to Schaffer's Mill. But the best part about this handsome new communal space in the Sierra? It's open to the rest of us, too (reservations may be required).
Award:

Commercial
Building Design: Ward-Young Architects
Builder: Prosser Building & Development, Inc.
Interior Design: BlueStar Resort & Golf and Dana Marlin
Square Feet: 6,062
Year Complete: 2019