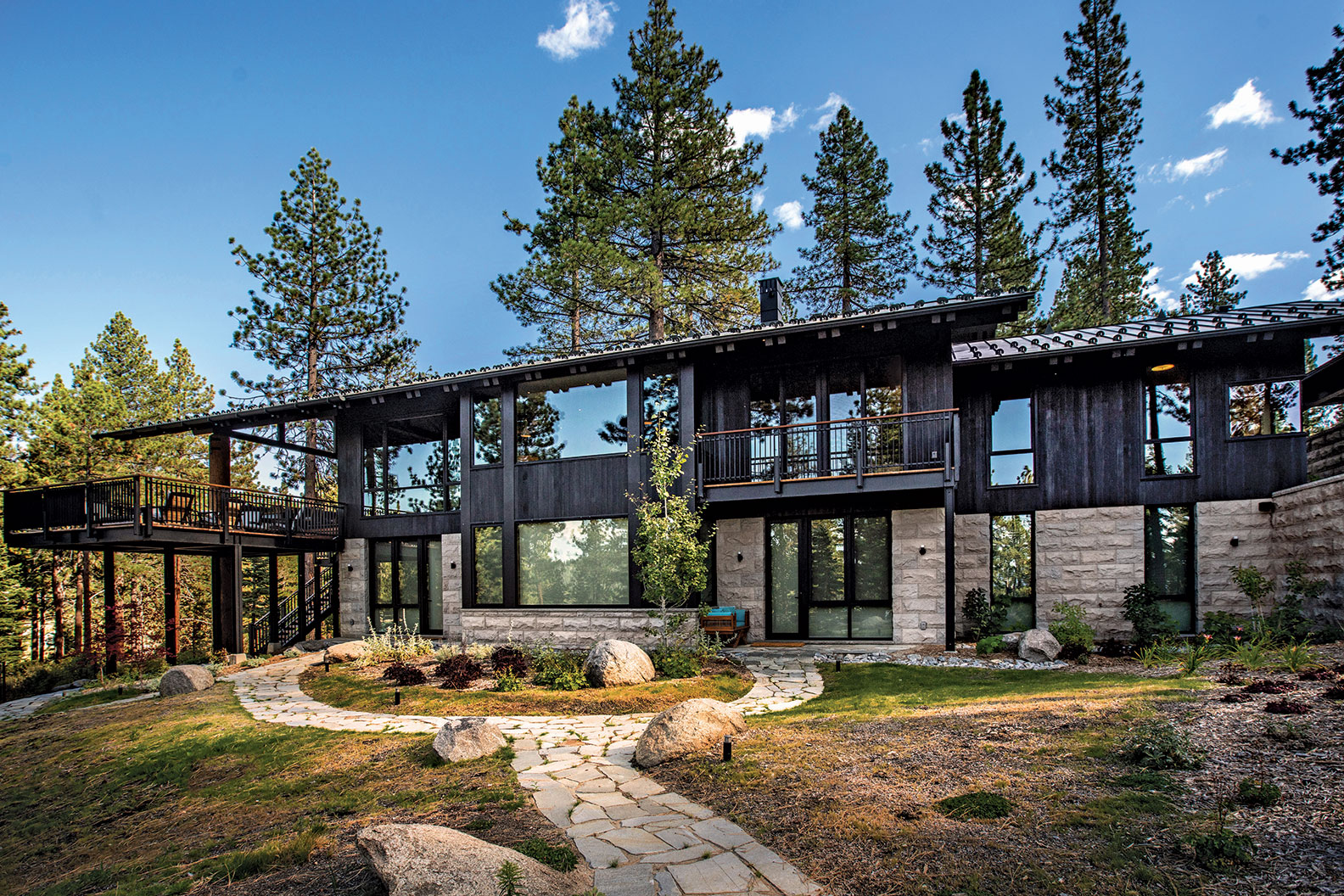 The yard was designed by Sacramento-based landscape architect Ed Haag, with installation by Perennial Landscape & Nursery
18 Feb

In Harmony with the Hills

Striving for a transitional design that was contemporary in expression and traditional in form and mass, a project team created a timeless family home that blends seamlessly into Lake Tahoe's historic Glenbrook community.

The result was achieved through the design talents of Mark de Reus of de Reus Architects and Dennis Zirbel, who joined forces with Kevin Hanna of Greenwood Homes and Jacques Dizier of Saint Dizier Design.

The home, thoughtfully sited on a sloping 1.4-acre lot, features filtered views of Tahoe's brilliant East Shore through mature pine and fir trees. To best capture the brilliant blue hues of the lake below, the house is two stories with the main gathering spaces on the second level.

An expansive deck with custom wood-and-metal railings wraps from the driveway around to the back of the home, where a covered outdoor cooking and dining station and open sitting area await. Four natural tree trunk columns measuring to about 25 feet—one with distinct burn scars lending to its character—accentuate the structure while complementing the sizable conifers that dot the property.

Cladding the exterior, dark gray zinc metal roofing, black stained wood rafters and siding, and black aluminum doors and windows pair with a rustic "clefted" limestone and natural wood tones.

"The palette of exterior finish materials and colorations were created to harmonize with the hillside forest setting and support a contemporary architectural concept," says de Reus.

Stone pavers and strategically placed boulders and vegetation combine for an attractive backyard that spills into the forested land below.

Inside, lake views abound from the second-story living spaces thanks to ample glass, particularly from the cozy great room, which is anchored by a large fireplace built of the same limestone that appears on the exterior and repeats throughout the well-appointed interior.

The project team delivered on its goal, providing the owners with an enduring Tahoe home nestled comfortably in its forested surroundings.
merit Award:

Craftsmanship
Building Design: de Reus Architects (design architect) and Dennis E. Zirbel Architecture (architect of record)
Builder: Greenwood Homes
Interior Design: Saint Dizier Design
Square Feet: 4,246
Year Complete: 2019