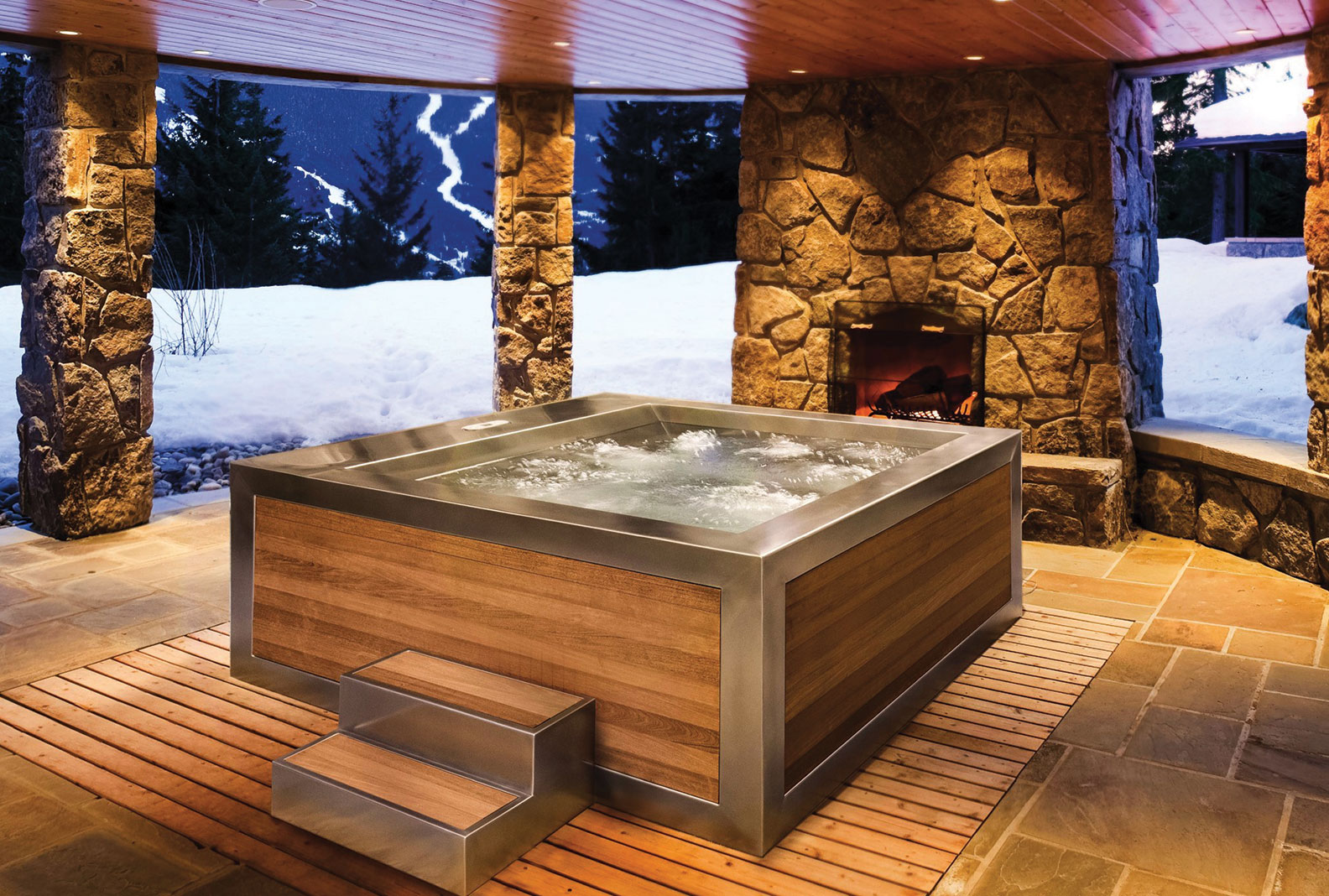 The Monarch by Diamond Spas
18 Feb

Marketplace for the Mountain Homeowner

A homeowner's "to-buy" list is never complete. Aside from the essential purchases, there's always an additional item (or three) on the wish list—be it a luxury spa, an outdoor TV or a select piece of furniture to adorn a space. Fortunately for the Tahoe homeowner, the marketplace is vast, with attractive home-improvement options available right here in our backyard.
---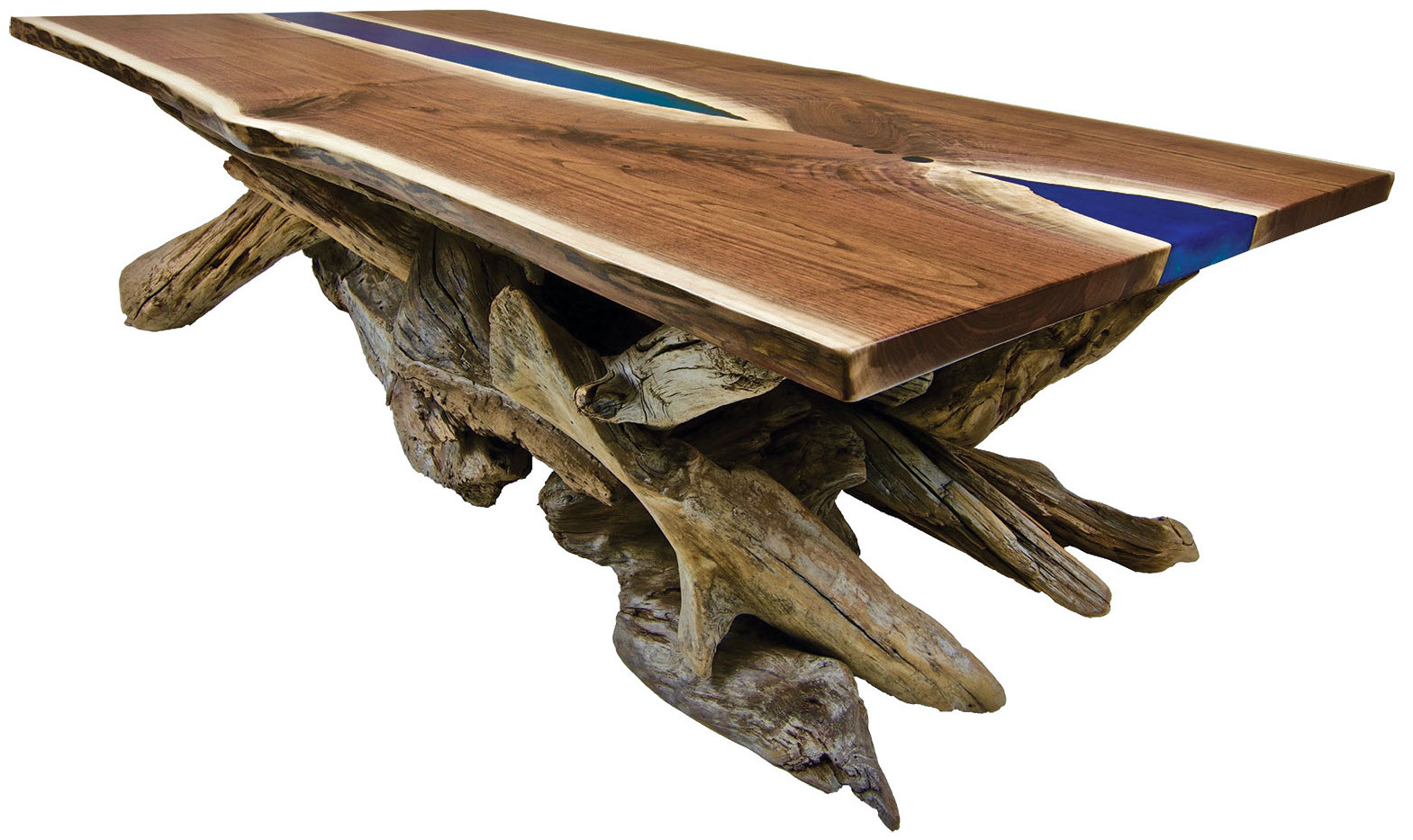 DRIFTWOOD LAGOON BY ANDY CLINE
$12,000
Andy Cline's furniture is far from ordinary. An artist through and through, the Tahoe resident and founder of Roundwood Furniture is a master at his craft, known for creating stunning, one-of-a-kind pieces that showcase both his talents and the natural beauty of his beloved medium—wood. Admittedly reeling from the impacts of COVID-19, which put all of his commercial projects on hold, Cline set out by kayak in the spring of 2020 in pursuit of driftwood riches on the shores of local lakes. "While paddling through one glassy still-water lagoon after another, I reflected on how lucky I have been to build fine art from the organic beauty of trees—an artist career choice that never appeared in any college manual when I officially began in the year 2000," says Cline. As he often did early in his career, he spent almost every weekend for the next month hunting for driftwood. The result of his efforts is the Driftwood Lagoon coffee table, for sale at The Eadington Gallery in Tahoe City. Part of Cline's new Aqua series, the piece features a matrix of twisted and weathered Sierra driftwood as its base, with a top of book-matched American walnut with a custom Tahoe blue epoxy face inlay. "And thusly," says Cline, "through this 2020 COVID Cinderella story, the Aqua series was born."
Find at: The Eadington Gallery
589 N. Lake Boulevard, Tahoe City
(530) 583-9000
---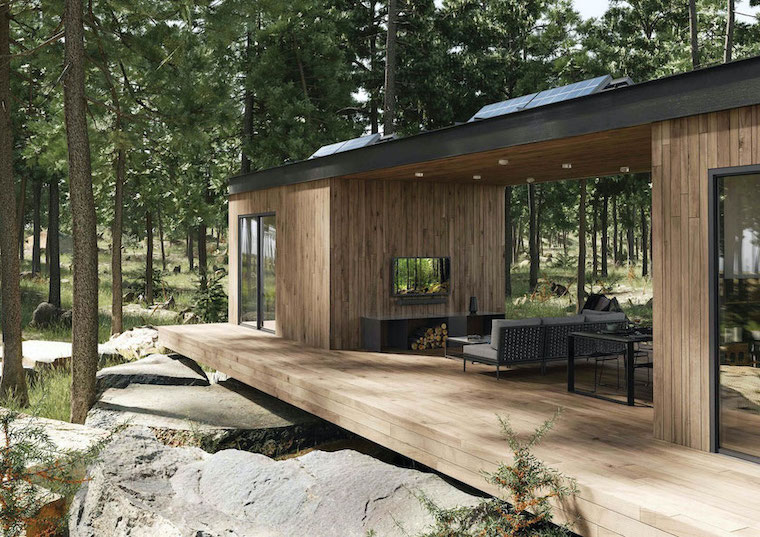 FURRION AURORA OUTDOOR TV
$2,895
Thanks to technology, even homeowners in harsh alpine climates like Tahoe can enjoy the convenience of watching television in the great outdoors. Available at Mountain Home Center in Truckee, the Furrion Aurora 55-inch 4K LED outdoor TV is engineered to withstand extreme temperature variations—from minus-27 degrees Fahrenheit to 122—as well as the effects of UV rays, dirt, insects and humidity. The TV comes equipped with a weatherproof housing, lending to its toughness, an anti-glare screen and ambient light sensor with an auto-brightness control.
Find at: Mountain Home Center
11403 Brockway Road, Truckee
(530) 587-6681
---
JEROME CHAIR
$3,925
This teak-and-jute chair sold at High Camp Home in Truckee has a timeless look that is sure to complement any mountain homeowner's decor. Inspired by a teak-and-leather chair spotted at a Parisian flea market, the design applies jute for a more natural feel. The contrast between the contemporary profile and hand-woven rope is sublime. Aside from its appealing aesthetic, the chair has grooves on each arm that adjust to four different heights, allowing for easy lounging.
Find at: High Camp Home
10191 Donner Pass Road, Truckee
www.highcamphome.com
(530) 582-6866
---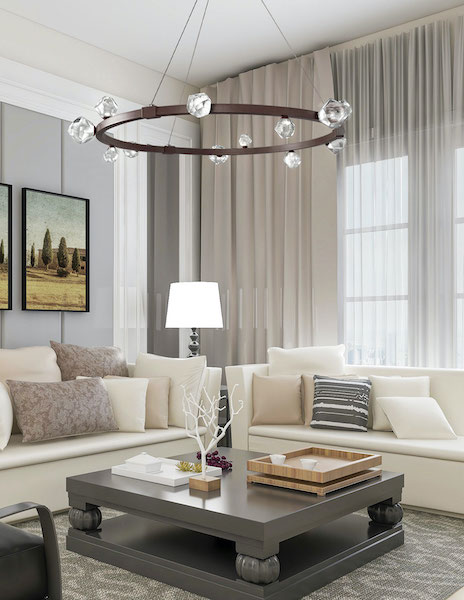 HAMMERTON STELLA RADIAL RING CHANDELIER
$3,495
The Lighting Showroom in Kings Beach is full of awe-inspiring light fixtures, including the newest introduction from Hammerton Studio in Salt Lake City—the Stella collection. This dazzling line brings celestial intrigue to a minimalist fixture design, with sparkling LED-lit geometric diffusers in artisan cast glass that appear to twinkle like stars. Hammerton's cast glass artisans create these diffusers one at a time by pouring molten glass into steel jigs that are designed and built in-house. The Stella collection includes pendant, multi-port, ring chandelier (pictured), linear suspension and sconce fixtures in 3,000K integrated LED, with a choice of eight finishes. Check out the full line on The Lighting Showroom website or call to schedule an appointment.
Find at: The Lighting Showroom
8726 N. Lake Blvd., Kings Beach
(530) 546-3902
---

BAJA CHANDELIER
$2,600
North Lake Tahoe residents do not have to venture from their mountain paradise to find quality furnishings. Located in Tahoe City, Alpine Home Furnishings houses a wide range of beautiful home decor items. Included in their well-appointed showroom is the Baja Chandelier, featuring layered concentric construction crafted from wood and coconut beads strung along an antique brass frame showcasing a melange of smoky hues. Coconut shell talons hang from the wood bead strands. Though light and airy, this three-light chandelier establishes a strong natural presence in any setting.
Find at: Alpine Home Furnishings
700 N Lake Blvd, Tahoe City
(530) 564-0971
---

DIAMOND SPAS: THE MONARCH
$26,500+
After a hard-charging day on the slopes—or any day, for that matter—there's nothing quite like soaking your aches, pains and troubles away in a luxurious spa. Renowned for their impeccable quality, Diamond Spas features a stocked portable hot tub, The Monarch, that is the perfect solution for homeowners who prefer a standard design with a faster ship date. This fully insulated five- to six-person spa with bench seating, LED lights and 14 jets is fabricated with a stainless-steel frame and removable access panels on all four sides for easy maintenance. Panel options include stainless steel, copper or no panels for drop-in installation or client choice. Foam cover options are gray or brown and are ASTM certified.
Find at: Diamond Spas
---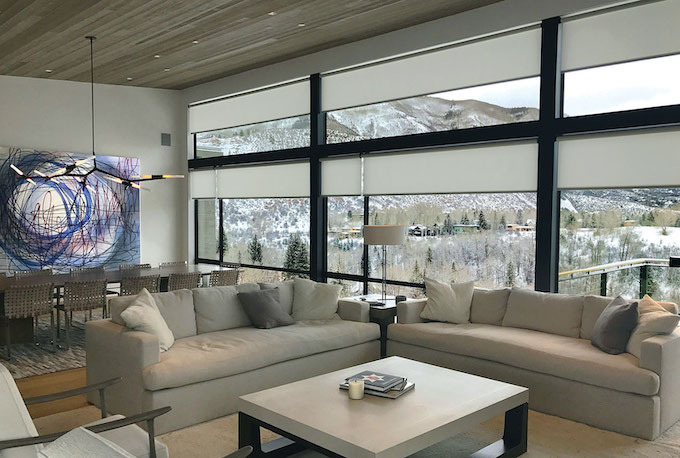 J GEIGER SHADING SYSTEMS
48×60 Motorized Black D Series: $782
Why hide something that can be pretty? These days, homeowners can opt for a window covering solution that is aesthetically pleasing with the help of hidden hardware. The J Geiger shading systems, available at Aspen Leaf Interiors, provide modern, motorized functionality in a sleek, minimalist package—no valance, fascia or ceiling pocket required. The hardware is thoughtfully designed to conceal unsightly screws and wires, to create a streamlined look that blends seamlessly with architecture. If you are looking for a shading system to install simply, with no construction involved, this could be the solution. The shades, which are priced by square footage, are handcrafted and tailored to specific project specifications, with textile options including blackout, translucent and sheer.
Find at: Aspen Leaf Interiors
739 Plumas Street, Reno
(775) 470-5494
---
VINTAGE SKI LIFT CHAIRS
$1,500
Feeling nostalgic about that perfect bluebird powder day? Relive that epic ski experience while taking your cozy home aesthetic to the next level with a vintage-inspired ski lift chair. Available at Mountain Hardware and Sports in Truckee and Blairsden, this ski lift chair is the perfect fit for any mountain home. Using quality repurposing methods, the chair is also sure to last, making it the ideal home addition whether inside or out.
Find at: Mountain Hardware and Sports
11320 Donner Pass Road, Truckee
www.mountainhardwareandsports.com
(530) 587-4844
---

ATLAS TABLETOP SCULPTURE LOG LIFT
$389
In Greek mythology, Atlas was the Titan god of endurance, tasked by Zeus with holding up the celestial heavens for eternity. This story is represented in gorgeously crafted fashion by Phillips Collection, available at Found by Truckee interior designer Julie Johnson-Holland. Carefully designed and built from natural solid wood—and measuring 14x6x10 inches—Atlas is a perfect example of Phillips Collection's ethos: modern organic. Through exquisite design and craftsmanship, it combines nature's finest castaways in a warm, contemporary setting fit for Tahoe's finest modern homes.
Find at: Found
10382 Donner Pass Road, Ste. 1, Truckee, info@interiordesignbyjjh.com