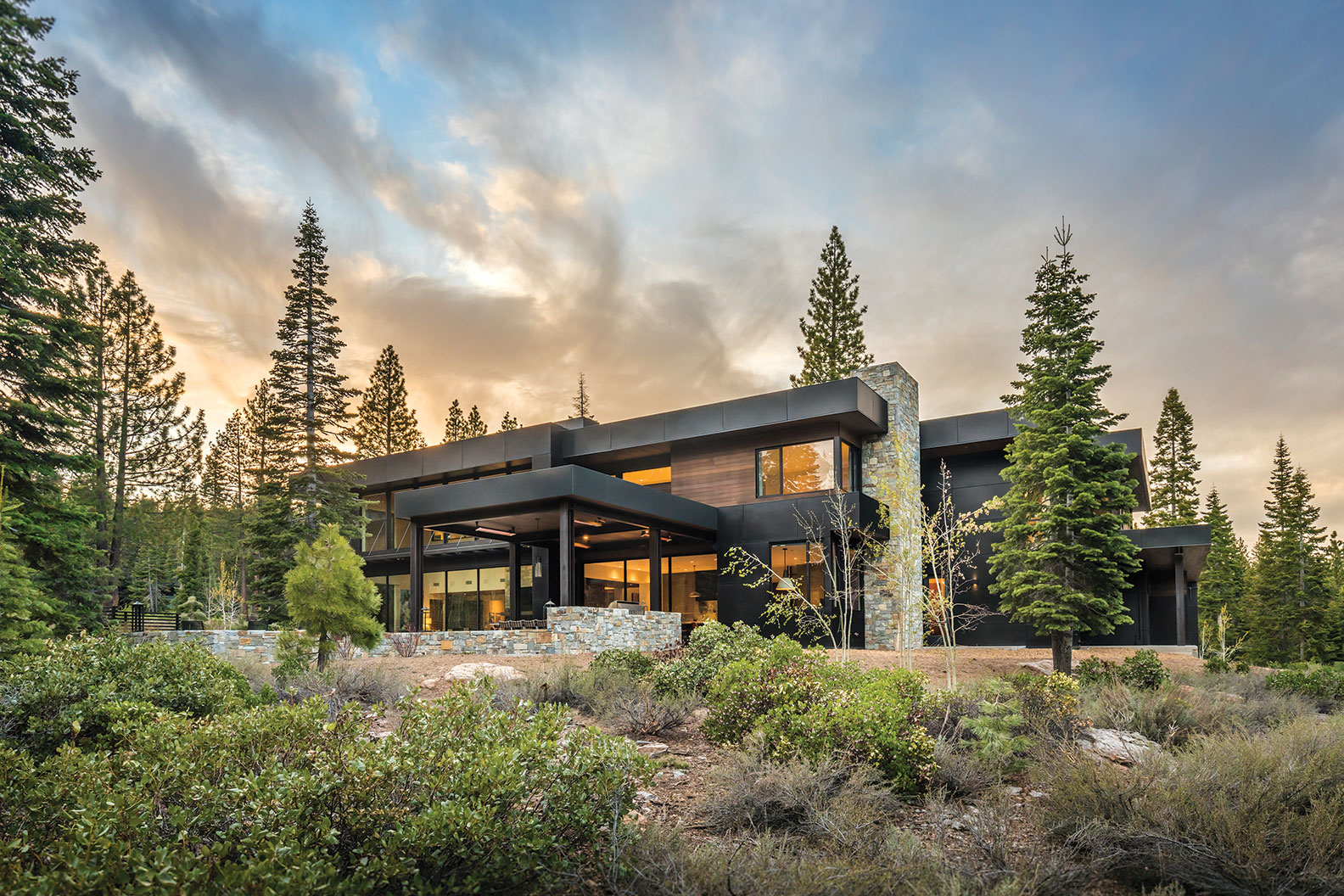 This 8,000-square-foot, seven-bedroom home in Martis Camp is made up of 15 separate modular units constructed off site by Method Homes
Modular and Majestic
Stout in form and grand in scale, the swanky structure on Martis Camp Lot 94 puts to rest any negative notions about modular home design.
This 8,000-square-foot, seven-bedroom home was custom designed to serve as both a luxurious weekend getaway for a social extended family and a business retreat for the owner and his team.
Designed by Toby Long of Oakland-based Clever Homes, with interiors by Meghan Field Lopez, the home is comprised of 15 separate modular units constructed off site by Method Homes in Ferndale, Washington. After being delivered, Truckee's Daniel Fraiman Construction executed the extensive finishing touches required to bring the home to life.
The finished product is distinctly mountain modern in style, with multiple flat roofs and an attractive exterior clad in clear cedar siding, with large hot-rolled steel panels, Wyoming ledgestone veneer and an abundance of glass.
Among the highlights of the interior, a soaring great room with a 24-foot-high ceiling connects seamlessly to an extensive back patio and forested lot through a 32-foot-wide folding glass door. Windows above run the length of the room, creating a floor-to-ceiling wall of nearly uninterrupted glass. A massive stone fireplace installed by Johansen Masonry, with a concrete hearth and mantle by Clastic Designs and metalwork by Mountain Forge, commands attention in this grandiose space.
"The great room is amazing. It feels like a giant opera house," says Fraiman, whose team has taken on a number of high-end modular projects in the Truckee-Tahoe area in recent years.
The living area, complete with a plush seating area in front of the fireplace, flows into an impressive kitchen with a large granite waterfall island, walnut cabinets and Wolf, Sub-Zero and Miele appliances. Glass doors connect the kitchen with a covered exterior cooking and dining area set under multiple heaters. A fire pit, cozy lounge area and built-in spa await nearby.
Lutron lighting control, radiant floors and a movie theater with elevated seating are just a few of the other high-end amenities in this extravagant custom home, which effectively quashes any stereotypes about the lack of quality in modular homes.
"I've been working in the prefab space for 20 years," says Long, "and for the first 10 years of my practice we were swimming against the current because prefabricated homes were associated with low quality. But things have changed. There's been a bit of a renaissance in this space, and it's nice to be out in front of it."
merit Award:

Modular Home
Building Design: Clever Homes
Builder: Daniel Fraiman Construction
Interior Design: Interior Occupations
Square Feet: 8,000
Year Complete: 2016