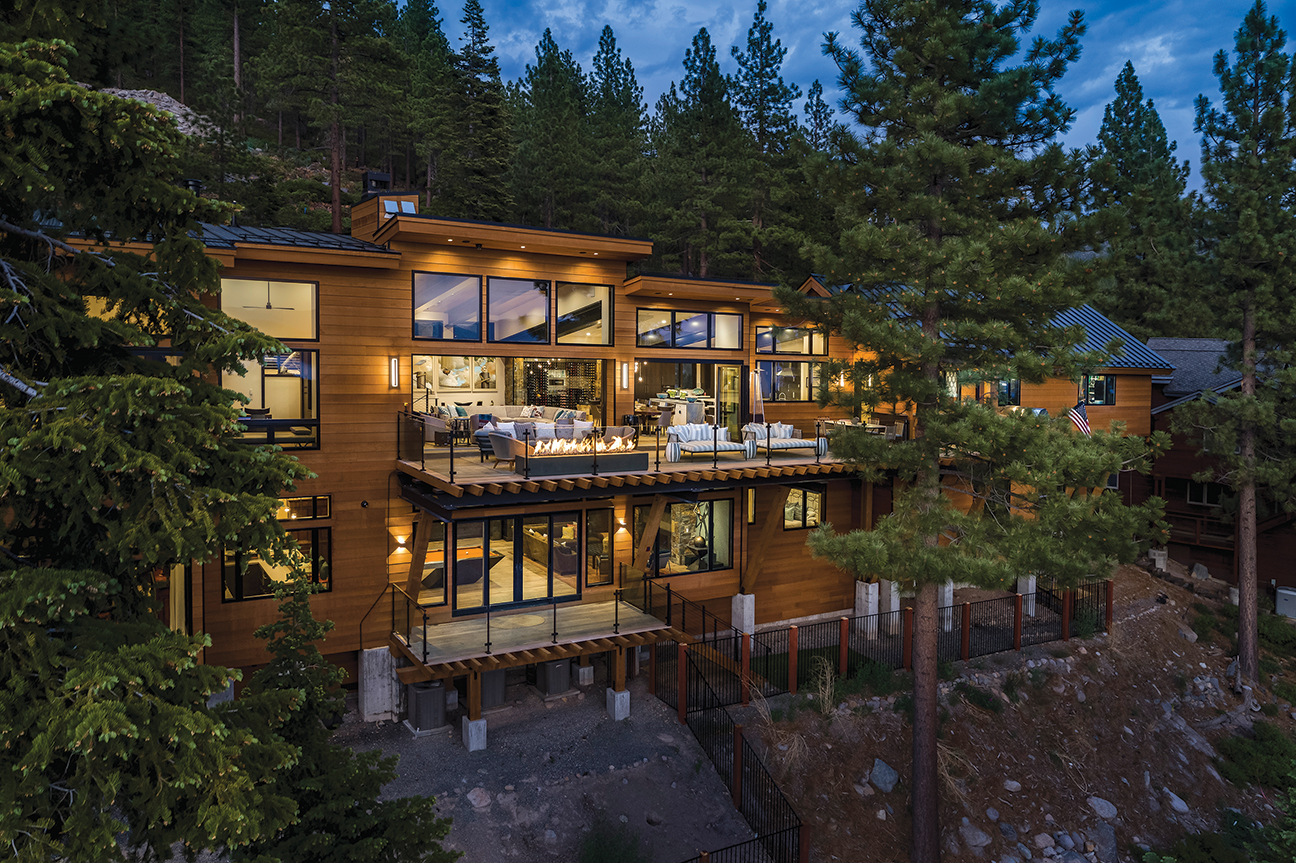 Architect Elise Fett drew up plans for a cantilevered structure that rises above the hillside to maximize views
22 Feb

A Hillside Home That Rises to the Occasion

Elise Fett thrives on a good engineering challenge. So when tasked with siting an Incline Village home on a steep lot between two roads—while maintaining privacy and maximizing views to Lake Tahoe below—she delivered in expert fashion.

Drawing up plans for the experienced spec builders at High Vista Construction and Development, the home also needed to be attractive, with functional indoor-outdoor living for a couple on the top floor and space for hosting and entertaining family and friends. The finished product checks all those boxes and then some.

"We had complete creative freedom while designing and working through the allowable height and coverage puzzle with the speculative builders across the table," says Fett, whose architecture and engineering firm is based in nearby Crystal Bay.

Their design resulted in a chic, nearly 7,000-square-foot structure that cantilevers out over the sloping hillside while providing all the modern amenities a homeowner could want, as well as incredible lake views from nearly every room in the house.

Because the owners purchased the property early in the construction process, they were highly involved in the interior design, working with Katherine Buckton and Sierra Verde Designs to achieve a mountain-modern aesthetic. They also worked closely with Keri McCarron of Hill and Dale Landscapes to create a lush front yard complete with a spectacular water feature. 

Made of metal, concrete and rock, the sculptural feature starts at street level and cascades over numerous waterfalls to a rocky stream bed below. An impressive bridge spans the stream, connecting the street level to the front entry, which is elevated a half-level above the main floor.

While enjoying the sights and sounds of the water feature from the bridge, guests are treated to views of the lake through high windows at the front of the home. Upon entry, an awe-inspiring view of Lake Tahoe takes center stage through floor-to-ceiling glass. An elevator here connects all three levels of the home, while an adjacent staircase with metal-and-cable railings and floating wood treads leads down to the great room—a grand, open space that includes the living, dining and kitchen areas.

A sleek LED-lit concrete fireplace bookends one side of the room, which spills out through gaping bi-fold and pocketing sliding glass doors to a sizable deck. Plush furniture and a 10-foot-long fire pit set in front of the deck's glass railing make for an ideal outdoor gathering area, highlighted, of course, by Lake Tahoe's brilliant blue water shimmering in the distance.

Among other highlights, the main floor also includes a glass-walled wine room, master suite and office, mudroom and, on the far end of the house, a garage complete with lake-facing windows—"not a bad workbench location," says Fett.

The staircase winds down to a lower level that is outfitted to both host and entertain. Cozy yet spacious, it includes a generous sitting area in front of a large-screen TV and fireplace, along with a bar area and TV on the opposite end of the room. A slick custom pool table—purchased by the owner from Mitchell Pool Tables in Clearwater, Florida—splits the space. Glass doors and numerous windows provide views to the lake and access to a smaller covered deck with glass railings. Four bedrooms on this level, including a second master suite, allow plenty of sleeping space for guests.

In the end, the home's voluminous quarters, intimate privacy and lofty views above the steep property would not have been possible without Fett's engineering savvy. Combined with the collaborative efforts of a talented team, the home is a timeless treasure that is sure to be enjoyed for generations to come.
merit Award

:

Site Integration
Building Design: Elise Fett & Associates
Builder: High Vista Construction and Development
Interior Design: Katherine Buckton; Sierra Verde Designs
Square Feet: 6,966
Year Complete: 2019