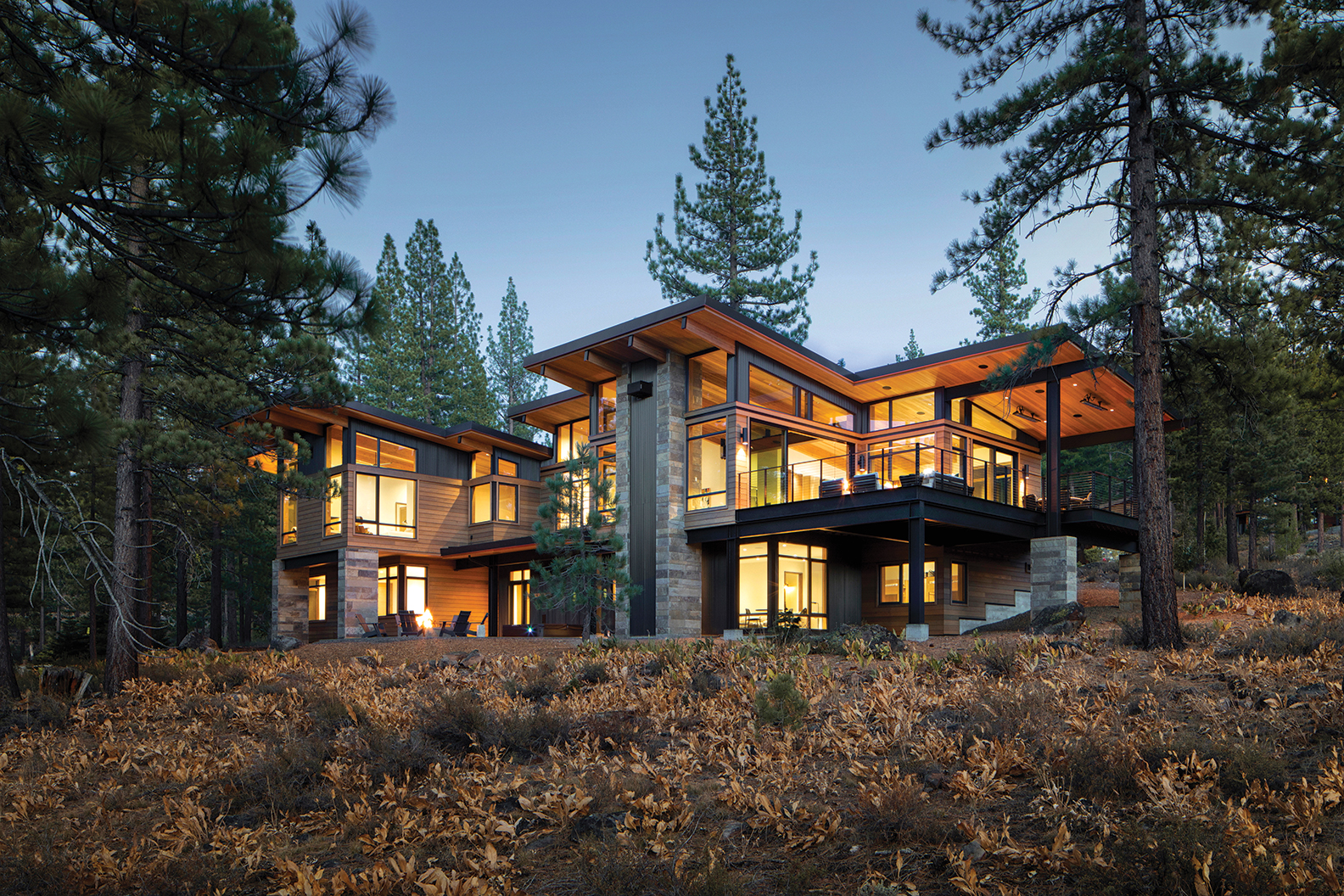 Designed by Ted Brobst of Ward-Young Architecture, the home was sited to capture views of Northstar and the Pacific Crest through floor-to-ceiling glass
22 Feb

Beauty in the Boldness
Strong lines and clean, detailed design highlight this Martis Camp retreat in the woods
Miami is about as far as you can get from Tahoe, in just about every way. But for a former Bay Area couple now living in Southern Florida, their quest for the perfect place for their grown family to gather year-round finally found a home in Martis Camp.
He, a Brooklyn-born physician, and she, a former physical therapist from Southern California, took regular ski trips to Tahoe in the 1980s. When their adult children moved West for their careers, they doubled down on their search for the ideal vacation destination.
"We looked for ski homes for years," she says. "But we never found the right place until friends introduced us to Martis Camp, where we fell in love with the multitude of multi-generational activities, particularly the ski access and the golf course. We are long-term skiers and new golfers."
To manifest their Martis retreat, they hired Ted Brobst, principal at Truckee-based Ward-Young Architecture, and gave him specific goals for their acre-sized parcel near the community's ski lodge and Northstar lift: modern mountain styling with spaces oriented to capture light, views and connection to the outdoors. "Ted's creativity and vision exceeded our expectations," the homeowner says.
Brobst, who has nearly 30 Martis Camp projects to his credit, many in the mountain-modern style, angled for a unique approach on this five-bedroom, five-and-a-half bath home, employing several strong linear elements to both add interest and draw the eye to the house.
Sited to capture views of the Pacific Crest and Northstar's Lookout Mountain, the angular placement of the structure's spaces, shed roofs and steel support posts provide bold lines, as does the clear western red cedar siding, with its clean shiplap groove. A steel-and-cable bridge with thermally treated white ash planks leads to an elevated entryway, beckoning almost. Sandstone supports with their repeating rectangular, earth-toned forms lend their own leading lines toward a sturdy yet welcoming bench near a hefty glass, wood and steel pivot front door. All these dynamic edges wrap around a mature pine tree that was saved instead of removed.
"Everyone saw this big, nice tree in the middle, so we designed around that," says Brobst. "Rather than filling everything in from the driveway to the front door, we came up with the concept to just bridge it and create an elevated entrance—something a little bit different, especially since this house has the living on the top floor with the bedrooms below."
"This layout also allows a nice light well into the lower area instead of having it buried," like a walkout basement, adds Joan Jones, whose Truckee-based Jones Corda Construction specializes in custom homes and commercial projects, and has collaborated with Brobst on some dozen houses in Martis Camp.
Rounding out the project team, interior designer Sarah Jones (no relation to Joan) brought an elegant touch and sense of familiarity.
"I've previously worked with Joan and Ted on other projects, so we had a well-established line of communication and were able to collaborate productively whenever challenges came up or decisions had to be made," says Sarah Jones, who has offices in Truckee and Whitefish, Montana. "The homeowners always provided great energy and were so appreciative and grateful for the work the design-construction team was providing, which made the project that much more enjoyable. We shared many laughs along the way."
Inside, a warm and welcoming main living area is framed by cedar-lined sloped ceilings, which, with near full-height windows, helps capture mountain and forest vistas and loads of natural light. The hearth, clad in black hot-rolled steel with an aged bronze finish and sandstone surround, carries those exterior elements indoors and anchors the open main living space. An exposed steel support beam overhead runs perpendicular to the room.
Spacious and open, the sleek kitchen is outfitted with stained white rift oak cabinetry with flush overlay doors and concrete backsplash; five cylindrical pendants dropped from the ceiling illuminate the lengthy island, whose gray, black and white streaked quartzite countertops are finished with waterfall edges. A durable and clean European white oak underfoot flows through the entire area.
Lift-and-slide Weiland doors fully open the inside to the outside and provide easy access to an expansive, partially covered deck where seating areas include heaters and a custom Mischou concrete fire pit.
The powder room for this area makes a strong statement with its floating gray concrete ramp sink and plumbing fixtures mounted to the side wall. An integrated custom-crafted cabinet below, textured tile and steel branch motif lighting complete the look.
On the other side of the front door, a light and open windowed gallery leads to an office and den/TV room, en-suite guest room with views of Northstar's Lookout Mountain, laundry and mudroom with built-in benches, cubbies, shelves and plentiful oversized snowflake motif hooks. A drop zone is conveniently positioned adjacent to the access for the south-facing three-bay garage.
The master suite, following current trends, is intentionally snug, with a floaty treehouse feel focused on the floor-to-ceiling windows, whose electronic shades disappear into pocket casings. Wrapped beams carry through to the outside, reaching for the forested surroundings.
"Part of the challenge for this project was the few houses below, so we tried to position it as best we could," says Brobst, who was able to carve a very private space for his clients. "We even got plans for those houses to understand their elevations and design the views out over rather than looking at those structures."
Windows here are punctuated by a three-sided Ortal fireplace whose glass corners allow unobstructed views from the pair of swivel chairs flanking each side of the concrete hearth. Sizable his-and-hers closets lead to the high-ceilinged, spa-like bathroom boasting a soaking tub tucked into a corner window, vertically tiled steam shower with built-in concrete bench, double vanity, under-cabinet lighting and steel-framed mirrors that match the light fixtures.
The large, near full-height window at the end of this hallway provides both beautiful light and views as well as a visual pull. "We often stretch homes out like this to capture views from many rooms," says Brobst. "As such, people don't want to feel like they're in a long, enclosed hallway, so we break it up with windows at the ends, and on the sides. That's why we call them galleries; it's actually an old architectural term."
Access to the downstairs is via a nearly invisible staircase. "The owners felt very strongly that they did not want the stairway to be an 'open pit,'" says Brobst. To minimize its presence near the main entry, Brobst made this set of steps a narrow single run with windows, "so that when you walk in, you're looking past the stairwell as much as possible," he says. "Treads are made of the same flooring material with steel risers so that it has the look of a floating stair without actually being a floating stair." The steel-and-cable railing adds to the transparency effort.
In this downstairs living area, a conditioned wine room with hardwood floors is fully on display behind a clear glass door. Opposite, a wet bar stands at the ready for this well-lit relaxation zone with its large-screen TV, corner windows and access to a lower deck, hot tub and fire pit.
A very adult-styled bunk room complete with a built-in closet boasts a pair of ladder-accessed upper berths perpendicular to the lower queen-sized beds, all outfitted with nooks with lights and power. The spacious bunk bath features large-format tile on the floor and a concrete surround on the tub. Two additional en-suite guest bedrooms are also located on the ground floor.
The hallway/gallery on this level also includes a window at its end, as well as one that offers a view back up to the very angular elements at the front of the house.
"I love this window because it really shows off the details of the house structure, including a nice view of the bridge," says Jones. And a nice way to bring this house built with strong lines full circle.
Award

:

Mountain Modern
Building Design: Ward-Young Architecture
Builder: Jones Corda Construction
Interior Design: Sarah Jones Interior Design
Square Feet: 5,221
Year Complete: 2017