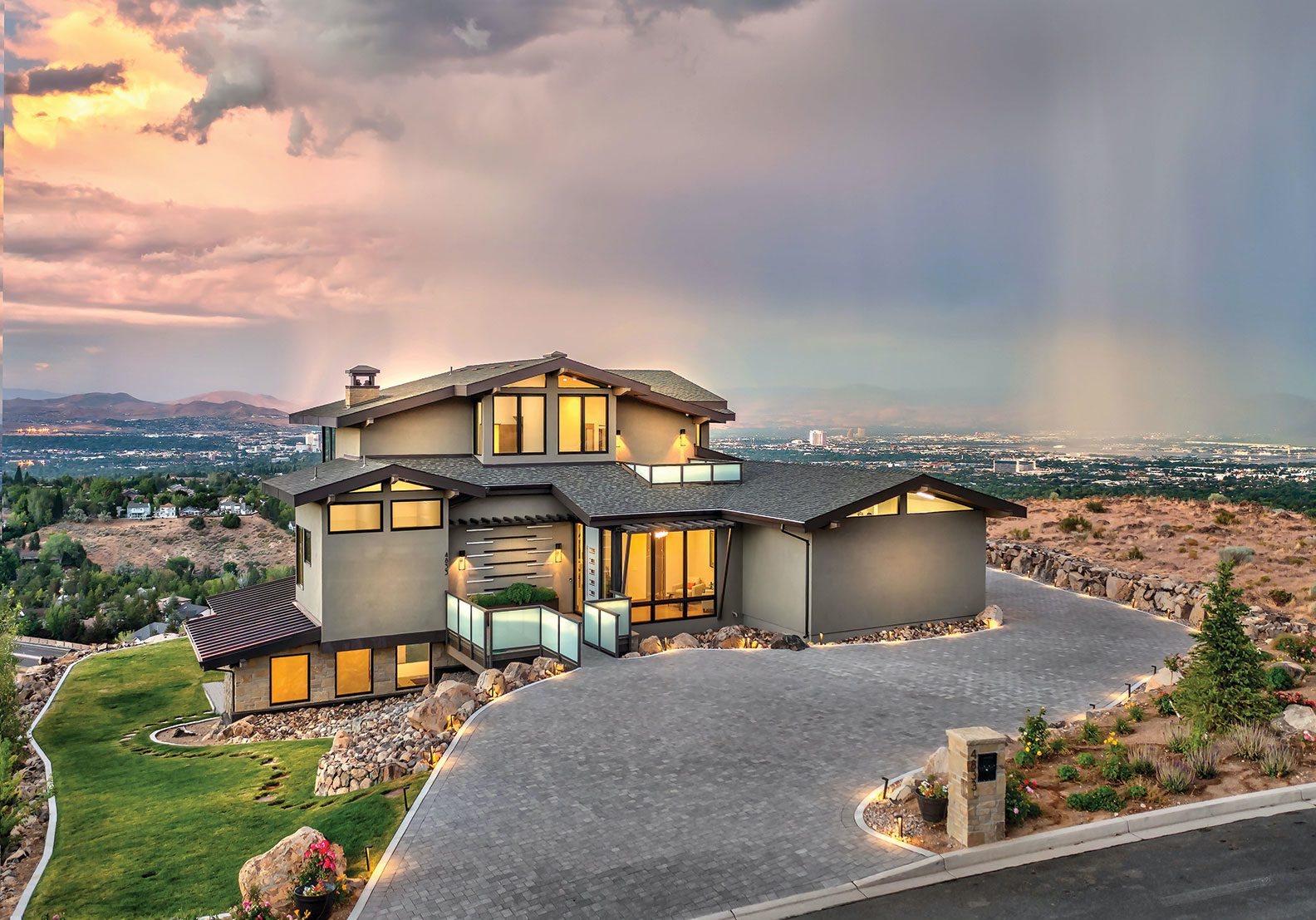 Located on a gradually sloped hillside, the home is sited to maximize views overlooking Reno and the Truckee Meadows
24 Feb

A Noble Perspective

It's no Chicago. But for a retired couple from the "Windy City," their sweeping views of Reno—framed through floor-to-ceiling glass meant to mimic their Chicago condominium—will have to suffice as they age in comfort and style in their lavish new home.

In addition to capturing views of the city, the owners, both former doctors, desired a clean and contemporary design that was also low maintenance. To achieve this goal, architect and engineer Elise Fett, whose firm is based in Crystal Bay, created an open living space with sleek lines and quality materials that are time-tested and easy to maintain.

The end result is a beautifully designed and executed three-story home tucked into a gradually sloping hillside, with customized details throughout and all the amenities the couple could ever need. Built by Incline Village-based Hummel Construction, the 7,000-square-foot home includes a 50-foot-long heated lap pool connected to a 10-person spa; a gym; a garden room connected to the kitchen; an elevator; a caretaker unit; outdoor living spaces that maximize views while blocking the prevailing wind; and even a prayer (or pooja) room that adheres to the Vastu Shastra principles of design.

The project, which began in 2019 and ended in 2021, was not without its challenges.

"During construction we were hit with COVID-19 and all the lockdowns," says Jason Hummel of Hummel Construction. "Even though we were able to keep working, we had to deal with employees getting sick, including employees from subcontractors, and manufacturing delays. The worst being that the tile plant in Italy was shut down for about 12 weeks. … Also the Thermador appliances were delayed so much that we ended up installing the last of them after the home was complete."

Another delay occurred in November of 2020 when the project team was evacuated because of the Pinehaven Fire, which was ignited by a power line in the shrubby forest near the home. Fueled by strong winds, the blaze destroyed five homes in the neighborhood and damaged another two dozen.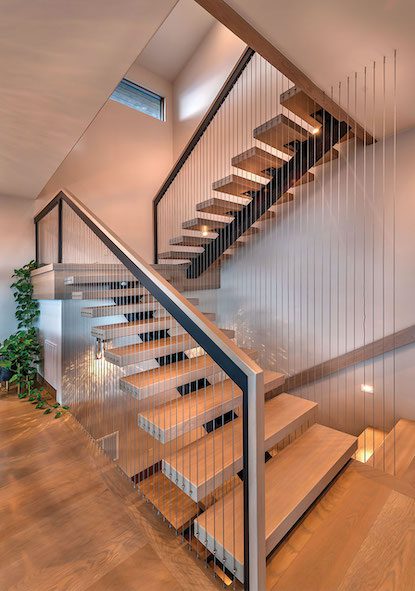 "The fire came onto the property and was within 20 feet of burning our job trailer," says Hummel. "If it were not for the neighbor who stayed behind and watered down the dry bushes around the house, it could have been much worse."   
Disaster averted, the team forged ahead.
The home they created is stunning from the moment guests arrive, with an entry patio featuring railings made of white laminated privacy glass and steel, along with hidden LED strip lights that shine down on the glass to provide a warm, inviting glow at night.
From the home's primary second level, impressive views of Reno take center stage through walls of glass that line the open room. A sleek hot-rolled steel fireplace—with a vertical strip of white oak running its 10-foot height—splits the space, with a cozy formal living room on one side and a family great room with kitchen on the other.
"The concept [for the fireplace] was for it to be narrow as possible and dark so it does not distract from the view when you enter or are in the dining area," says Fett, adding that the owners worked with her firm's intern, Armando Pinal, on the finish design.
A floating staircase that connects the home's three levels stands out as another striking showpiece. Reminiscent of a giant harp, it features vertical stainless steel wires serving as guardrails and treads of solid white oak.
"It meets the guardrail code, yet it gives an open, floating feeling without the maintenance of glass," Fett says of the stair design.
In the end, the team delivered a stylish and functional modern home with breathtaking city views that rival any.
merit Award

:

High Desert
Building Design: Elise Fett & Associates, Ltd.
Builder: Hummel Construction
Interior Design: Elise Fett & Associates, Ltd.
Landscape Design: Artistic Gardens
Square Feet: 7,006