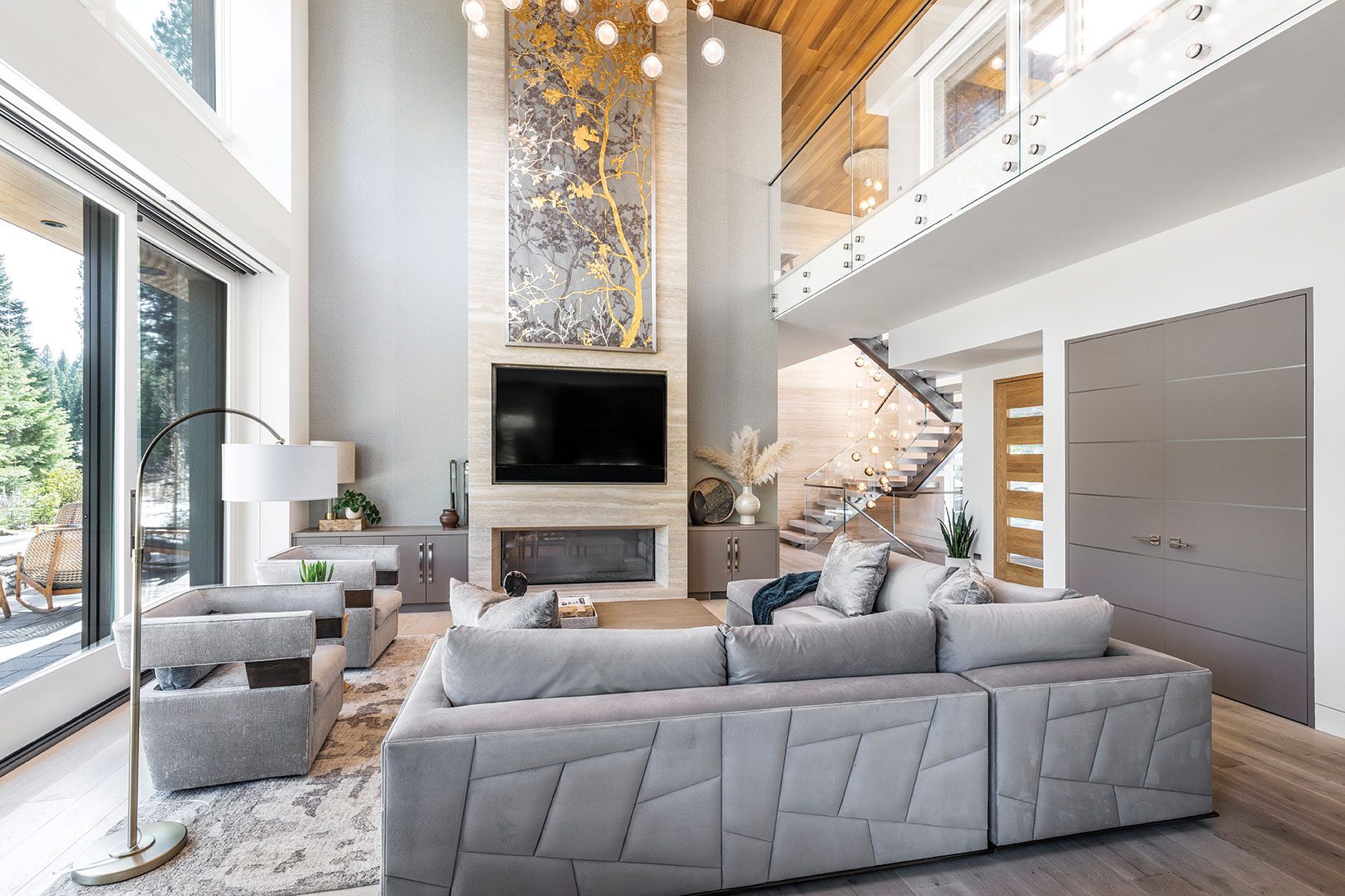 A 12-foot-tall custom steel artwork by San Francisco artist 
Mirang Wonne adorns the floor-to-ceiling stone fireplace in the airy living room, photo by Katey Hamill
24 Feb

Inside the Jewelry Box
Elegant even by Martis Camp standards, this showstopper home is still durable enough for a full-time family
Martis Camp is mostly second (or third or fourth) homes, but as one family bought into the development, they quickly decided they wanted to make the mountain community their primary residence.
"They are a family of four with two teenage boys and a dog that moved from the Saratoga area," says Truckee-based interior designer Emily Roose. "In the beginning, it was going to be a vacation home, but as we were starting the design process, they decided they wanted to put their kids in the expedition school in Truckee, so they made the transition. They wanted a different life for their sons than what they had living in the city."
The house, on one of Martis Camp's cabin lots, had originally been a speculative project by Vineyard Custom Homes, which tapped Todd Mather of Tahoe City-based TGM Architect for the building design. Roose, who has since started her own company—Emily Roose Interiors—was Vineyard's in-house interior designer on the project.
Once the family purchased the property, the architectural blueprint stayed mainly the same. "I think this speaks to the thoughtfulness of my design in that it did fit our perceived client like a hand in glove. It seemed to fit them perfectly," says Mather, who marks this as his 12th home project in the Martis Camp development.
Mather describes the home as a "geode."
"It is a compact and stout building sitting boldly on one of the busiest corners in Martis Camp," he says. The exterior is modern, incorporating a mix of wood, stacked stone and steel. Mather emphasized the home's unique geometry by using 90-degree outward sloping rake walls, clad in black standing-seam metal to give the appearance of multiple roofs within a single shed roofline, as well as asymmetrical windows.
Furthering the idea of a geode, Mather describes the building as "seemingly a hard shell protecting the 'glam' that's found within."
Inside, the home is, indeed, glamorous, finding a balance between sleek and elegant while also durable and practical for the family.
"As we began designing and looking at different materials and ideas, it became a mixture of warm and cool tones," Roose says. "They loved textures, so we incorporated bold and subtle textures in the tiles, decorative lighting, wallpapers, area rugs, furnishings and the custom bedding." Roose created a palette to include grays, blues, taupe, white, gold, silver, all complemented by the home's warm cedar ceilings. Roose says it's "like a jewelry box when peeking in from the outside."
The home opens into an airy living room. A highlight is the two-sided stone fireplace, which features a 12-foot-high custom steel artwork by San Francisco artist Mirang Wonne. Commissioned in a mix of warm and cool golds, blues and grays, the artwork sets the stage for the home's color palette while bringing in a sense of nature. A 60-pendant chandelier by Brooklyn company Shakúff Custom Lighting hangs overhead.
In the kitchen, eucalyptus cabinetry is by Snaidero, an Italian company with a showroom in San Francisco. The countertops, backsplash and waterfalled island are Neolith, a durable engineered product from Spain, in a Calcutta marble design, which also adorns the push-open pantry door. Mather designed under-cabinet windows that go from flush to the countertops up to the floating shelves as a way of allowing more natural light into the kitchen and pantry. "This gives daylight onto working surfaces without sacrificing cabinetry or storage," he says.
The dining table is an award-winning design of Roose's. While the owners had found similar styles they liked, "They did not love the large price tag of $70,000 to $80,000," Roose says. "They wanted it to be inspired by the natural surrounding mountain landscape, but to be a modern take on it, not completely literal."
Her design uses an abstract branch base, powder-coated in silver, topped with thick, 12-foot-long oak.
"The process for anything that I design starts with digging into what the client wants and needs and making sure the custom piece not only fits those wants and needs but fits perfectly into the overall design," she says. The table pairs with custom, built-in banquette seating with hidden storage.
A primary suite is also on this main floor. Like the rest of the home, it is tasteful and elegant, with two wallpapers for texture and richness, plus organically inspired furnishings. Window shades in concealed valances allow for unobstructed mountain views. The bathroom features the same marbled slab as the kitchen in the shower and on the tub wall, with a rich ledgestone on the vanity wall and a shimmery mica wallpaper covering the remaining walls.
While the Martis Camp cabin lots are capped at 3,250 square feet, Mather maximized living space by taking advantage of the home's exterior. A back patio has a fire pit and is surrounded by rocking chairs, while an exterior dining room, complete with a ceiling and surrounded by walls on three sides, is heated by flush-mounted overhead heaters. Here, a wall-mounted television hangs over a two-way fireplace that can also be enjoyed from the great room. Heavy outdoor draperies, made by Roose's friend Victoria Carrillo of Pillows and Create, who also created the home's custom bedding, can open and close this space off.
"This outdoor space is heated with overhead heaters built into the ceiling and yet with curtains across our main outdoor opening (the fourth wall-less wall), it stays really toasty in the cool months and cool in the summer months," Mather says.
Back indoors, the three-story stairwell, going down to the wine and mechanical room or up to the second floor, is as much sculptural as functional. Made of glass, steel and heavy oak treads that match the home's flooring, the stairwell is highlighted by a 16-foot-long cascading glass globe chandelier, also by Shakúff.
Upstairs is an office/lounge, the two boys' rooms and a bunk room; a connecting bridge element opens to the downstairs living room.
When the home transitioned to a full-time residence, the owners found they needed more storage. In the boys' rooms, Roose designed built-in beds with storage drawers on each side, as well as integrated nightstands with pop-up doors and hidden outlets for devices. Each en-suite bathroom features glass-tiled accents in the shower and three-dimensional tiles on the vanity wall—the younger son's with shades of blue, the older son's in whites and grays—allowing the spaces to feel youthful yet sophisticated. An upstairs bunk room sleeps another eight; adorned with heavily textured wood-like wallpaper, the space includes sliding ladders for the bunk beds, which incorporate charging areas, reading lights and storage in the lower bunks.
In the high-ceilinged upstairs lounge, Roose designed a unique, four-person desk for the whole family; a long cabinet with sliding frosted doors stores office equipment nearby. The walls are covered on the lower section with a blue-green grasscloth wallpaper by Kravet and on the upper with a silver cork wallpaper by Phillip Jeffries.
Oak flooring throughout is stained to balance cool tones with infused warmth. Instead of traditional baseboards, the home uses stainless-steel metal inlays. Layers of complexity and richness come from numerous textures and colors. Glamorous touches abound throughout the home. In the main floor powder room, a three-dimensional taupe tile covers the vanity wall while shimmery mica wallpaper adorns the other three walls. A freestanding sink is overmounted by a rock crystal pendant and here, as in all the bathrooms, is a wall-mounted LED mirror.
"It was several years of close work with my clients carefully and thoughtfully designing every detail to ensure that in the end it would be a place they would love to call home and share with their friends and family," Roose says.
Mather agrees. "I think this home exhibits the best of a design team," he says. "Emily's expertise and my knowledge of snow-country design, familiarity with Martis Camp's ethos and standards, and a design-savvy client—along with a good builder—truly make this home special among some outstanding homes in the immediate vicinity."
Award

:

Mountain Glam
Building Design: TGM Architect
Builder: Vineyard Custom Homes
Interior Design: Emily Roose Interiors
Landscape Design: Tahoe Landscaping
Square Feet: 3,219