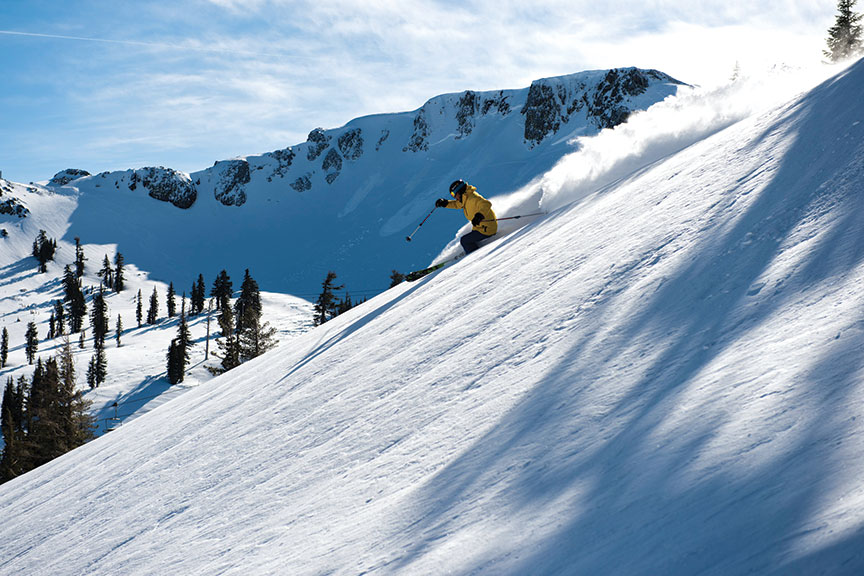 Jonny Moseley skis at Squaw Valley, photo by Hank de Vre, courtesy Squaw Valley
Moseley Inducted into Bay Area Hall of Fame
The latest inductees into the Bay Area Sports Hall of Fame are associated with prodigious home runs and accurate tee shots, championship ball teams and—for the first time in the organization's 36-year history—skiing.
Jonny Moseley will be in good company at the Hall's enshrinement banquet on May 11. The Squaw Valley skier who won Olympic gold in moguls at the 1998 Winter Games is set to join Barry Bonds, Dusty Baker, Roger Maltbie and Franklin Mieuli in the Bay Area Sports Hall of Fame's Class of 2015.
"I'm honored that they saw me in that light," says Moseley of his induction among the Hall's mostly ball and stick athletes.
Of the 160 athletes, coaches and owners inducted since the Hall's inception in 1979—stars like Willie Mays, Bill Russell, Joe Montana, Willie Shoemaker and Billie Jean King—Moseley is the only skier. The closest-related athletes are ice skaters Peggy Fleming and Kristi Yamaguchi.
"We put him on the ballot for the first time this year, and he got enough votes to get in," says Anthony Savicke of the Bay Area Sports Hall of Fame, explaining how, once an athlete is nominated, a ballot goes out to a panel of between 60 and 70 veteran Bay Area sportswriters and newscasters for a vote. A 60 percent vote is needed.
Inductees receive a bronze plaque of their likeness that is displayed after the banquet in the United Airlines terminal at the San Francisco International Airport, where it remains for two or three years before moving to a permanent location of the inductee's choosing.
"So in Jonny's case, maybe he'll want it to be up at Squaw Valley," Savicke says.
Moseley, who was raised in Tiburon, where he still resides, plans to have a large crew of family and supporters on hand at the enshrinement banquet, which is held each spring at San Francisco's Westin St. Francis Hotel. Following a short video highlighting his career, Moseley will be introduced by Andy Wirth, CEO of Squaw Valley Ski Holdings, before giving his acceptance speech.
Aside from the honor, Moseley says he looks forward to meeting the other inductees—particularly Bonds, a former San Francisco Giant and Major League Baseball's all-time home run leader, and Baker, who enjoyed a 19-year playing career and 20 years managing.
"That just really elevated it for me, that I was put in their class," Moseley says.
Among the others in the 2015 class, Roger Maltbie is a former professional golfer and current analyst with NBC Sports, while the late Franklin Mieuli is best known for his 23-year ownership of the Golden State Warriors.
Moseley is also a member of the U.S. Ski and Snowboard Hall of Fame. He was an innovator on the slopes, winning gold at age 22 with a progressive 360 mute grab at the 1998 Olympics. Moseley went on to challenge the U.S. Freestyle Team to allow athletes to compete in professional freeskiing events such as the X Games, where in 1999 he innovated a new trick for competition that he called the dinner roll—or flat-spin 720.
He then took the unprecedented trick to the 2002 Olympics in Salt Lake City. The semi-inverted spinning maneuver bordered on illegal at the time, however, and it proved too progressive for the judges. He placed fourth. But his run forever changed the nature of moguls competition. One year later, top moguls skiers were performing similar tricks. Inverted airs are now the norm in moguls.
Moseley also starred in several ski movies in the early 2000s, proving that his dynamic skill set translated well to big-mountain terrain and the relatively new world of terrain parks.
"At that time, I knew this was the place to be and it was where the sport was going," he says. "But as I get further away from that, I do seek some validation that I executed a good post-Olympics career. A goal of mine after the Olympics was to not squander it and to make the most of it. This induction gives some validation that I didn't piss everybody off or anything."