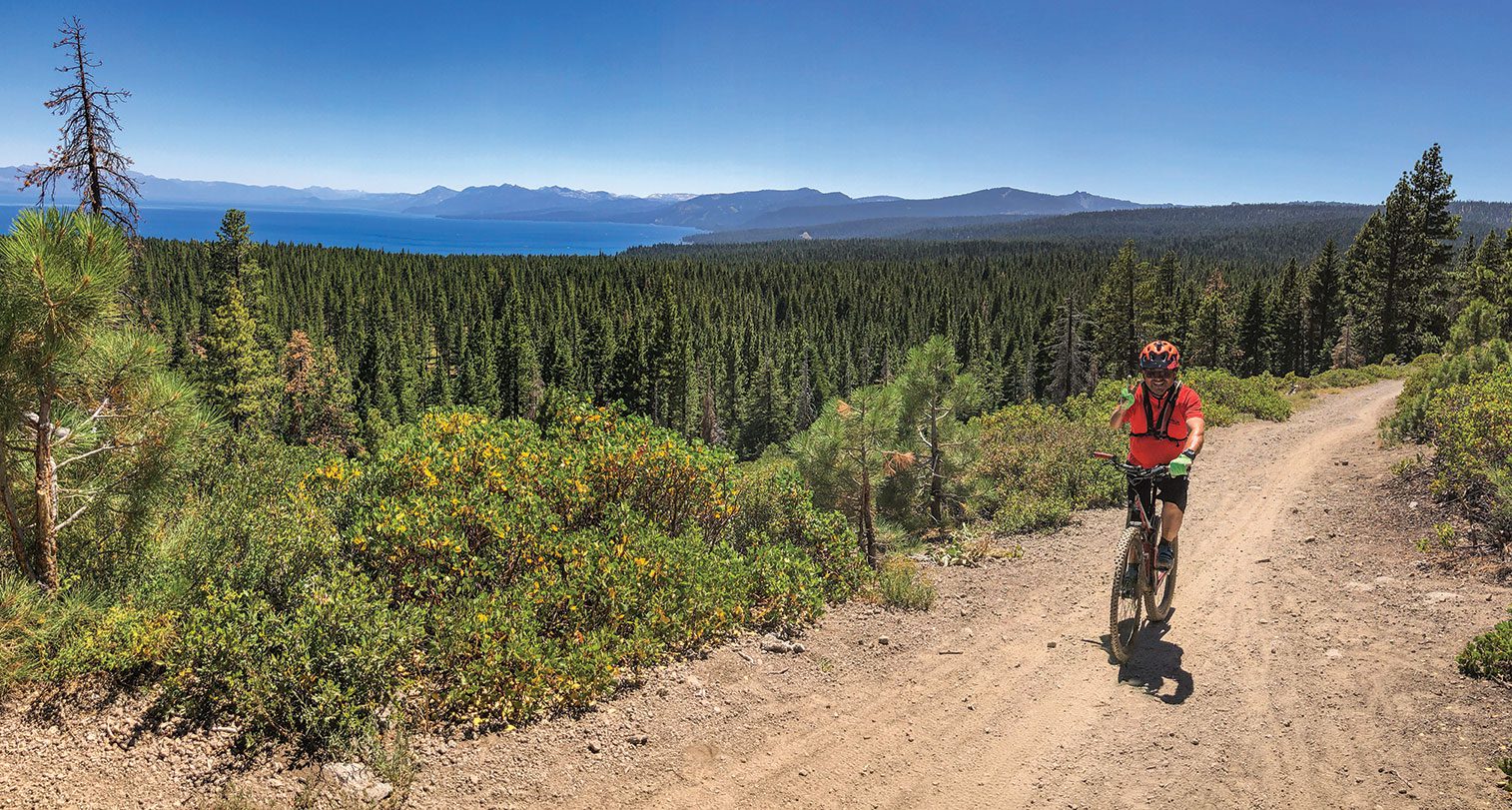 The exposed trails of Tahoe XC are some of the first to melt out come spring, photo by Megan Delehanty
26 Apr

Springing Into Mountain Bike Season
On the heels of a huge winter, here's where to find the best early-season riding in the Tahoe region
It seems like just yesterday we were hanging up our bikes for a much-needed rest after a long riding season. But as the calendar and warming weather indicate, spring is back in full swing in Tahoe, where outdoor pursuits shift from resort laps and skin tracks to hero dirt and singletracks. While ski season may not be over quite yet after a banner snow year, the longer days signal that it's time once again to dust off the bikes and play in the mountains on a different set of toys.
Given the seemingly endless stream of atmospheric rivers and near-record-breaking snowfall, it will undoubtedly take a little longer than usual for trails to emerge. But fear not: It will happen. Slowly but surely, this winter's heavy blanket of snow will melt off to reveal ribbons of sweet singletrack that have laid dormant for months.
Lower elevations and south-facing aspects are first to shed their winter coat as the snow line rises, eventually allowing access to the entirety of the Tahoe region's extensive trail network. When that happens can vary quite dramatically, however, depending on the season's snowpack, and winters like 2023 require mountain bikers to be more patient than usual. Although many of the higher-elevation trails may be snowbound for months to come, it won't be long for many of the typical early-season spots in and around Tahoe to be ready for your tires. Here are some of the best options.
Truckee
In the Truckee area, some of the first trails to melt out are the Commemorative Emigrant Trail, Sawtooth Ridge (including nearby trails like Happy Face and the Wood Splitter Jump Trail) and the well-maintained network on Jackass Ridge. Heading east from town, the recently completed Tahoe Pyramid Bikeway makes for a beautiful early-season out-and-back or point-to-point ride as it parallels the Truckee River between Glenshire and Verdi.
Lake Tahoe: North Shore
On the North Shore of the lake, the extensive trail system within Tahoe Cross Country Ski Area—aka Tahoe XC, or the Nordic Center—is typically the first to come back into play near Tahoe City. The variety of relatively mellow double and singletrack trails provides options for loops and rides of various lengths. Just above Kings Beach, quick laps on fun options like Beaver Tail and Rise and Shine are easy to access and make for an enjoyable reentry to the riding season.
Lake Tahoe: South Shore
On Tahoe's South Shore, rising right above the "Y," the relative lack of tree cover and southern exposure means the trails on Tahoe Mountain's south side are almost always the first to be revealed in the spring. Recently burned in the Caldor Fire, trails like Upper Corral, Sidewinder and the Armstrong Connector are now more exposed to the sun, making them passable much sooner than they used to be.
Outside the Basin
Can't wait? If you want to jumpstart your bike season, need a break from the cold and snow, or simply want to see some colors other than white, there's no shortage of quality nearby riding options to get your dirt fix. Savvy Tahoe riders know they can scratch their mountain biking itch and get the cranks spinning just a short drive down the hill to the east or west. In fact, some of these trails are even rideable year-round, depending on the winter, of course. 
Auburn
About an hour's drive west of Truckee at around 1,500 feet in elevation, Auburn has long been a go-to winter and spring destination for Tahoe riders. Within the Auburn State Recreation Area, the 10-mile-long Foresthill Divide Loop trail straddles the ridge between the North and Middle Forks of the American River while passing through meadows and forests of oak, madrone and manzanita. Combine it with the Connector Trail to make a lollipop loop, or with a fun descent down the flowy Culvert Trail to the Confluence Trail for a longer ride. Those seeking more advanced riding can easily find it on neighboring trails like Stonewall, Eastside or Grizzly Bear within the Mammoth Bar OHV Park.
Nevada City
With a strong riding community, dedicated volunteers and skilled trail builders, the riding options near Nevada City continue to expand, and it has become an increasingly popular mountain bike destination in turn. About a 45-minute drive west of Truckee on State Highway 20, Harmony Ridge rises above Scotts Flat Reservoir and serves as the epicenter of riding in the area. Trails like Hoot, Scotts Flat, Pioneer and Miner's are all easily accessed from the Harmony Ridge Market and can be ridden on their own or combined to create longer rides. A new network of mountain bike-specific trails, known as the Parliament Trails, is currently under construction a short distance to the east. Two of the several planned descents, Talon Show and Perma-grine, are already completed, providing more fun and playful riding options.
Sly Park
Just outside Pollock Pines, about an hour's drive west of South Lake Tahoe on U.S. Route 50, the Sly Park Recreation Area is home to a picturesque reservoir known as Jenkinson Lake and some quality cross-country riding. A roughly 9-mile lakeside trail dips and dives its way around the reservoir just above the shoreline at the edge of the forest. Nearby, the aptly named trail 8 is an 8-mile cross-country loop that circumnavigates the Fleming Meadows area next to Jenkinson Lake. Either ride is good for getting your riding legs back under you. Plus, they can be combined for a longer adventure.
Carson City
The Carson Valley is a short drive east from Tahoe and is home to a growing number of quality riding options. Just west of downtown Carson City, Ash Canyon boasts a small network of fun singletrack trails that melt out quickly and make for quick laps and loops of varying lengths. The Ash to Kings trail climbs from Ash Canyon up and over to Kings Canyon with excellent views and plenty of turns that will keep you on your toes. Off Jacks Valley Road, the Clear Creek Trail is another excellent option that climbs gradually out of the sagebrush and up into the pines, ultimately topping out at Spooner Summit and its junction with the Tahoe Rim Trail. In the spring, this ride is typically ridden as an out-and-back to the snow line, although some new trails have recently been built on the south side of the road that can now be incorporated.
Reno
Reno is a short drive northeast of Truckee and is home to some stellar mountain bike riding. Peavine Mountain dominates the skyline northwest of town, and it is among the most popular riding spots in Reno thanks to its heavy concentration of singletrack trails. With so many trails, there's no limit to the ways they can be linked together to create rides of any difficulty or length. When timed right, the spring flower bloom is truly incredible and can make it hard to focus on the trail ahead of you. It's also worth mentioning that Peavine has some of the stickiest peanut butter mud known to man, so consider yourself warned and use good judgment when conditions seem questionable.
Lend a Hand (or a Buck)
Trails in the Tahoe region don't maintain themselves, and after a winter like 2023, many of them will need repairs and maintenance. Thankfully, there are many local organizations that do just that. Those who would like to help may volunteer for trail work days or donate money to the following organizations:
Tahoe Basin:
Tahoe Area Mountain Biking Association (TAMBA)
Truckee:
Reno:
Biggest Little Trail Stewardship
Carson City:
Carson Valley Trails Association
Auburn/Nevada City:
Folsom Auburn Trail Riders Action Coalition (FATRAC)
Lost Sierra: Sierra Buttes Trail Stewardship
---
Jeremy Benson is the author of Mountain Bike Tahoe and has spent the past 22 years spinning his wheels on the trails around the lake. When he's not riding one of his bikes, he's typically writing about them as a product tester, reviewer and managing editor at Bikerumor.com.