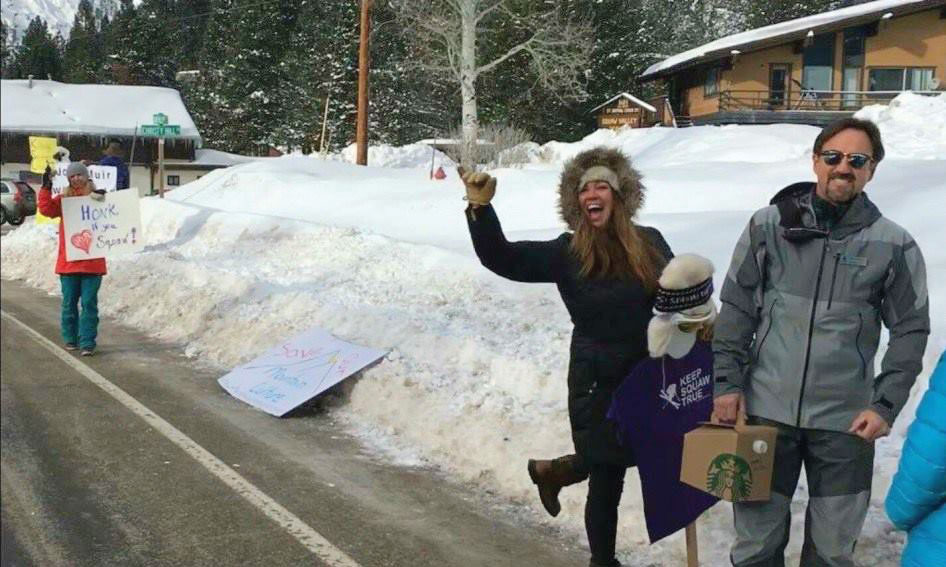 Squaw Valley Ski Holdings CEO Andy Wirth passes out Starbucks to demonstrator Monica Berger on December 27, photo by Isaac Silverman
01 Mar

Squaw Expansion Marches Forward, Under Protest

With frigid temperatures in the single digits, Jennifer Gurecki wasn't hanging out by the side of Squaw Valley Road on December 27 just for kicks. She joined about 30 demonstrators, holding signs reading "Honk for Squaw's Future," "Save our Mountain Culture," "Keep Squaw True" and "Shirley Canyon is for hiking, not for homesites," near the Squaw Valley Post Office during the morning ski commute.

"We just basically froze everything off for a good cause," she says.

Vehicles filled with holiday skiers slowed to a crawl to read the signs. Some honked and waved; one car offered double fingers.

Whether or not the tourists understood what the demonstration was really about is a key point: proponents and opponents of the proposed Village at Squaw Valley expansion realize public opinion will weigh heavily on whether Placer County approves the controversial project in late spring or summer.

"Turnout is really important. Public opinion is extremely important," says David Stepner, a member of the Friends of Squaw Valley.

The grassroots group wants the project scaled back from its current design of nearly 1,500 rooms in hotel, condo and timeshare lodging, a 90,000 square foot indoor Mountain Adventure Center, 31 fractional ownership cabins scattered on the slopes near Shirley Canyon, nearly 300,000 square feet of retail and restaurants, a transit center, employee housing, parking structures and skier services.

The bulk of the 85-acre village will be built on the parking lot at the base of Squaw Valley, while the employee housing is located on a 9-acre parcel near Olympic Valley's eastern entrance.

While a vocal group of local residents oppose it, and an organized group of second homeowners support it, there is also a vast constituency of skiers and riders whose primary focus is the excellent snow conditions bringing them back to the hallowed slopes of the 1960 Olympics.

"That's a big concern," Stepner says, adding that opponents and proponents have the same problem. "How do you energize the people who aren't here?"

The freezing cold demonstrators were hoping the signs would at least encourage people to start asking questions.

"The point of the demonstration is to bring recognition to the issues facing the valley. If people understood how the development will affect their experience, they wouldn't support it," says Gurecki.

One person who took notice of the demonstration was Squaw Valley Ski Holdings CEO Andy Wirth, who brought hot chocolate from Starbucks to warm the protesters' hands.

He says he would like to see the "soaring rhetoric" turn into statements of facts, such as that construction will not last 20 to 25 consecutive years—only portions over that timeframe. Or, the acknowledgement that the village will be built on a large, asphalt parking lot, not an unmarred landscape. "It is certainly not a meadow," Wirth says. "I just keep hoping we can move away from the acrimonious rhetoric and go to serious dialogue."

Wirth adds there have been more than 350 meetings with stakeholders, which have resulted in direct input into the proposal.

However, visions for Squaw Valley's future continue to clash.

"What it really comes down to is that we don't want the hot chocolate. We want a plan for Squaw Valley and North Lake Tahoe that makes sense," says Isaac Silverman, an attorney with Sierra Watch, an organization that watchdogs development threats in the Sierra.

Sierra Watch's "Keep Squaw True" campaign has handed out thousands of bumper stickers and gathered 1,539 signatures on a petition to the Placer County Board of Supervisors (as of January 17) stating that the proposed development doesn't sync with Squaw Valley's scenery, terrain, unique sense of place and heritage.

"Squaw Valley has always been that place—for all the environmental sins that have happened there—that's about skiing, about being outside. What Squaw Valley hasn't been is a built-up area, with high-rise condos, indoor water park, restaurants, shops and malls," Silverman says.

Sierra Watch recently submitted a letter to the Placer County Board of Supervisors from more than 40 Tahoe-Truckee businesses opposing the development and its environmental and economic impacts on neighboring Lake Tahoe and its surrounding businesses.

"They understand there's a real threat," Silverman says. "I think awareness is getting pretty good in the Tahoe area."

The Tahoe Regional Planning Agency also just voiced its concerns about the impacts to the Tahoe Basin in a letter to the county saying that the village development will "significantly affect Lake Tahoe's physical environment through increased vehicle trips into, and the amount of vehicle miles traveled within, the Tahoe Basin."

Traffic is a key issue for the proposed project, and Stepner says Squaw officials are suggesting new mitigation measures at a recent Squaw Valley Municipal Advisory Council meeting to help solve the issue, such as using an intra-valley shuttle service to get residents out of their cars.

A group of residents concerned about the impacts and scale of the Village at Squaw Valley proposal demonstrate
December 27 alongside Squaw Valley Road in an effort to educate skiers about the development proposal,
photo by Isaac Silverman
A strong mass transit system is crucial for North Lake Tahoe, says Wirth, adding that Squaw Valley is "very much at the table," but he says it is a challenge for the whole region to take on, not just one ski area alone. "If we truly, genuinely care, we'll make a mass transit system and take 35 percent of the cars off the road," Wirth says.
First proposed in December 2011, the Village at Squaw Valley Specific Plan is nearing the point where the county could be making decisions on its fate.
Currently, Placer County staff is responding to 343 pieces of correspondence from the draft Environmental Impact Report.
"There are long and detailed comments which require long and detailed responses," says Placer County senior planner Alex Fisch.
Once the responses are completed, the final Environmental Impact Report will be circulated for ten days to public agencies. Fisch expects that to happen in mid-April. Then, an entitlement package will be presented to the Placer County Planning Commission for a recommendation before it goes to the Placer County Board of Supervisors for a final decision.
An entitlement package essentially gives the developer the right to build and sets parameters, restrictions, terms and conditions, timing and financial commitments for the development.
For example, one issue being discussed for the entitlement package is the timing of Squaw Creek's restoration. Currently, the concrete channel will be restored as a creek bed once 40 percent of the development's housing is built, but the Friends of Squaw Valley and the county would like to see it done in an earlier construction phase, Fisch said.
While county staff works on the entitlement package, county supervisors are being worked on by special interests.
For one, Friends of Squaw Valley is lobbying the five supervisors, asking the board to reject the development until it is scaled down. Stepner says the Tahoe area representative, Jennifer Montgomery, is on record saying she is looking for a compromise, but the others are not forthcoming.
"We got varying degrees of acceptance of our positions," he says.
The importance of political sway was powerfully highlighted when Incorporate Olympic Valley (IOV) withdrew its petition to incorporate Olympic Valley on December 1.
"All eight members of our board voted unanimously to withdraw our petition," writes IOV board chair Fred Ilfeld. "Given the impasse with LAFCO [Local Agency Formation Commission] combined with opposition by Placer County, plus stiff and heavily funded opposition from Squaw Valley Ski Holdings, we saw no way to continue moving forward."
After the California State Controller reviewed a draft Comprehensive Fiscal Analysis Report on cityhood last fall, the staff of the Placer County LAFCO disagreed with IOV and its consultants about its results, saying a proposed city in Olympic Valley would not be fiscally viable.
"We don't feel they were being neutral," Ilfeld says. "We couldn't control the way they interpreted it. The bottom line, they put their spin on the state controller's report."
The LAFCO board would need to approve incorporation before the issue could go before voters, and IOV couldn't count enough votes for cityhood.
Squaw Valley Ski Holdings fought against incorporation to the tune of nearly $800,000 funneled into a nonprofit, Save Olympic Valley, composed of property owners, community members and business owners.
"There's no question we fundamentally disagreed with the financial viability of their proposed town," Wirth says. "It was a financial threat not just to Olympic Valley, but to North Lake Tahoe."
Whether the issue was serious enough to justify the expenditure, Wirth says, "Unfortunately, the answer is yes."
IOV spent around $600,000, with most of the money going to consultants and about $75,000 toward advocacy, Ilfeld says.
"It would be fair to say we've both spent a great deal of money," Wirth says, adding that $1.5 million would have been better spent on a pragmatic mass transit system, instead of an incorporation battle.
IOV will be disbanded, but another nonprofit, charitable organization with a new name, mission and board will take its place, focusing on community benefit projects for Squaw Valley and Alpine Meadows, Ilfeld says.
Within ten minutes of receiving IOV's press release, Wirth called Ilfeld to offer an olive branch and his hopes to work together on issues they agree upon, such as transit and trails.
"Aside from the differences, we both share a very real passion for the community and for Squaw Valley," Wirth says.