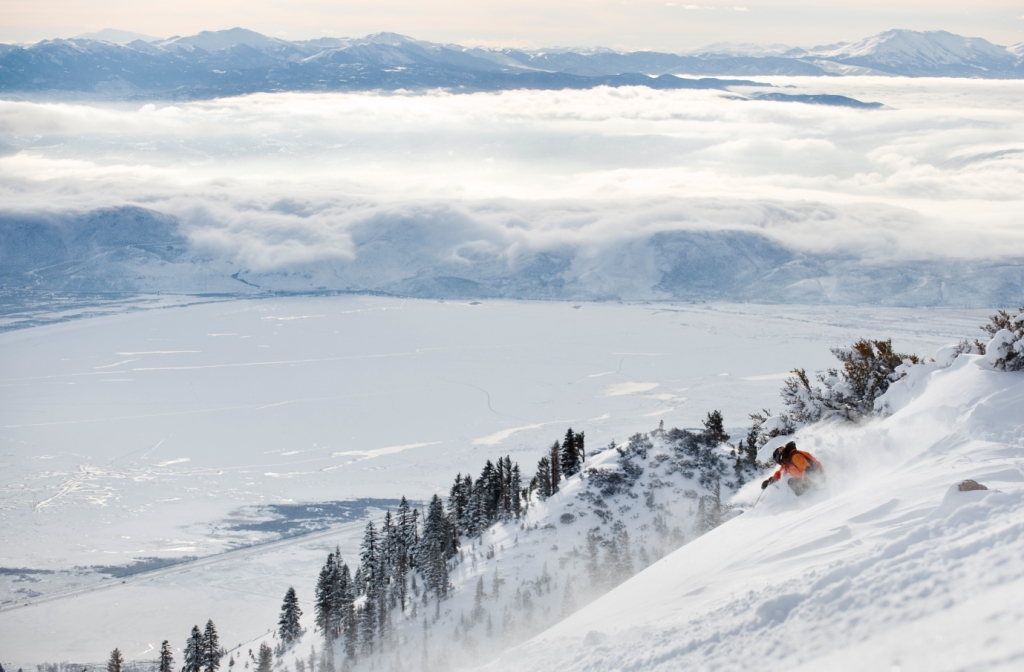 07 Feb

The Slopes Beyond the Ropes

Originally Published Winter 2010-2011

Loosely defined, sidecountry is legal out-of-bounds areas or backcountry terrain that is accessed from a ski resort. Over the past decade, sidecountry skiing and riding has exploded in popularity in North America. Liberal boundary policies, the proliferation of fat skis (which increase flotation in deep snow) and improved avalanche awareness have helped fuel the rapid growth of this emerging segment of the ski industry.

With six resorts around the Tahoe Basin boasting open boundaries, there is no lack of sidecountry terrain—and more importantly, fresh snow—for those ready, willing and able to tackle the slopes beyond the ropes.

These are some of my time-tested Tahoe sidecountry favorites:
Alpine Meadows
This is my tenth season as an Alpine Meadows passholder. While the resort boasts excellent and challenging off-piste terrain inbounds, its backcountry has always been a highlight for me. The ridgelines of both Ward and Scott peaks make for easy travel and skiing in all directions. Protected trees, steep spines, open bowls and wide-open cruising terrain is all accessible for one quick run or a whole day of back country fun. Guided tours of hike-to inbounds terrain and the sidecountry are available when conditions allow.
"Some of my favorite terrain at Alpine is outside the boundaries, and when you take all of the sidecountry into account it more than doubles the size of the resort," says Tahoe City resident and professional freeskier Lynn Kennen, a longtime Alpine regular.
Homewood Mountain Resort
West Shore's Homewood Mountain Resort is renowned for its uncrowded and wind-sheltered slopes, and lake views from every chair and run. It also boasts wide-open boundaries and terrific sidecountry terrain. A short hike up to the North Bowl or a quick tour up to Ellis Peak offers an untouched, peaceful outing. You can then drop back into the resort for a quick lap or head into Blackwood Canyon for a whole day of backcountry touring.
Sugar Bowl
Sugar Bowl's perch atop Donner Summit on Old Highway 40 destined the resort for sidecountry greatness. A one-ride—or "up and out" ticket—up to the Pacific Crest, Mt. Judah or Donner Peak provides immediate access to the terrain beyond the boundaries, including Anderson Ridge and Coldstream Canyon. Truckee resident, Sugar Bowl ambassador and four-time- Olympian-turned-professional-freeskier Daron Rahlves is a big fan of the resort's sidecountry opportunities.
"I'm being drawn more towards the adventure and the experience as I move away from competitive skiing," he says. "And that's what skiing the sidecountry is—it's adventure skiing."
Sugar Bowl has once again partnered with Alpine Skills International in the Backcountry Adventure Center, which provides education, guide services, rentals and information. Multiple guided sidecountry programs are designed to teach safe backcountry travel and route finding techniques while seeking out powder and smooth snow beyond the resort's boundary.
Mt. Rose Ski Tahoe
Not as well known for its open boundaries, Mt. Rose has some stellar sidecountry terrain. From the top of the Blazing Zephyr 6 lift, skiers can yo-yo laps on Hank's run, cutting out into the sidecountry and then back to the lifts at the bottom. When the stars align and the storms come in cold, you can also ski Davis Creek all the way down to the Carson Valley floor. If conditions permit, and you know where you're going, you can take one of the longest runs in the Tahoe area, 4,000 vertical feet from the top of the ski area to the valley.
Heavenly Mountain Resort
The same goes for Heavenly, where you can exit the resort through three backcountry gates. The Firebreak and Raley's Gulch gates both open onto some great turns and eventually land you at the lifts. The Fullstone gate requires a car shuttle and some serious backcountry navigation skills; if you're lucky, you can make your way nearly to Gardnerville.
Kirkwood Mountain Resort
Beyond some of the most scenic terrain in the Northern Sierra, Kirkwood is best known for its prodigious snowfalls and, for the past several years, hosting the North American Freeskiing Championships. A bit of a geographic anomaly, Kirkwood boasts the highest snowfall totals of nearly every storm cycle.
"When conditions are right, the terrain outside the resort boundary can be spectacular," says Jon Copeland, director of Expedition: Kirkwood. "There are a lot of options to choose from if you know where to go." I have to agree. Two Sno-Parks and multiple access points around the resort bless Kirkwood with more sidecountry than you could tackle in a season and more snow than you can shake a ski pole at. Not a bad combination.
Sidecountry Risks
If you're thinking of heading into the sidecountry at your favorite Tahoe resort, make sure you've got the essentials: a partner, avalanche beacon, shovel, probe and the know-how to use them. Make no mistake, the ease of access to backcountry terrain that you can find at these resorts by no means reduces the risks associated with sidecountry skiing. It provides the opportunity to ski untouched snow, escape crowds and get in touch with the natural world. But, be sure to know where you're going and never blindly follow other skiers' tracks— they could belong to Daron Rahlves!